A record-book whitetail falls on a Badger State QDM co-op
Rack Report Details
Buck:
185 inches
Time of Year:
November 23, 2019
Place:
Shawano County, Wisconsin
Weapon:
Rifle Rifle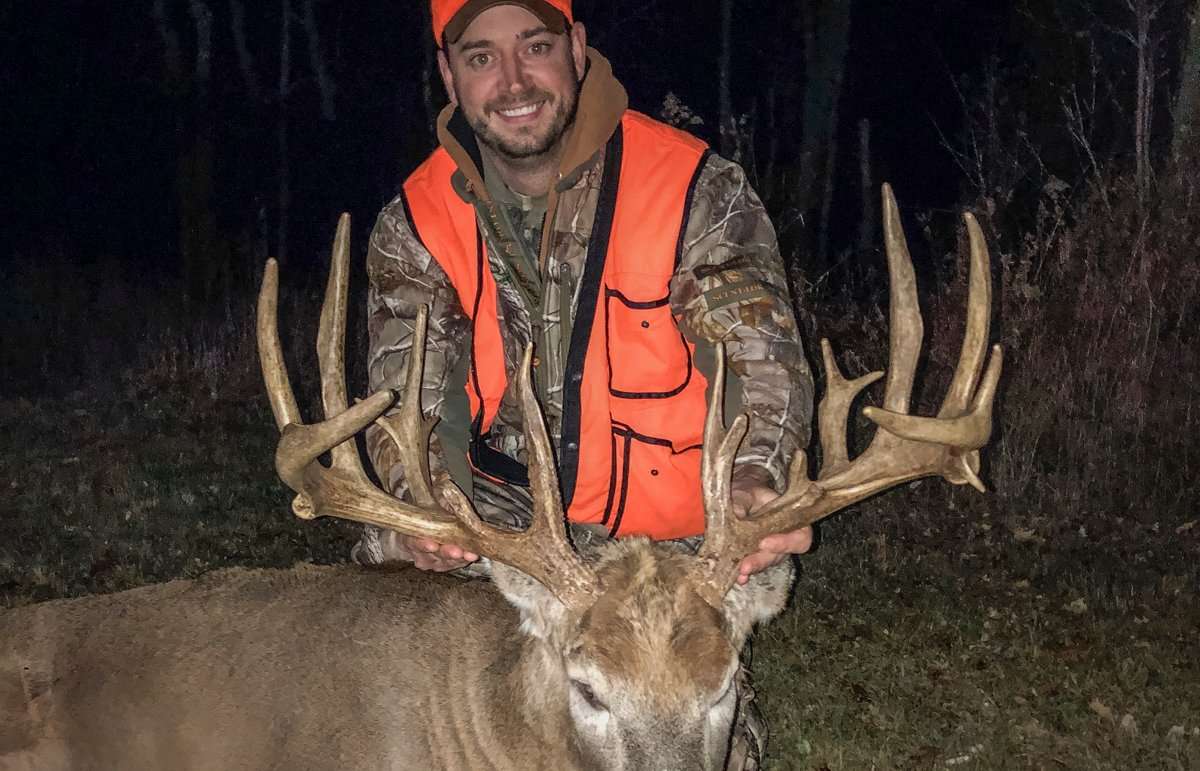 Wisconsin is known for having a substantial population of hunters, but it gets the nod for big bucks, too. Many of the Badger State's top-end deer come from areas where landowners manage habitat and the hunting cooperatively. Travis Mlodik hunts a 200-acre farm nestled in one such area.
In early October, Travis was fortunate enough to punch his bow tag with a hefty 150-class buck. Little did he know he'd best it during gun season with a deer that would make any hunter proud. The deer showed up on camera on October 24, but Travis didn't know about it. He hadn't checked that camera in a while.
My dad called me on October 29 and said that he'd missed a big buck with his bow, Travis says. He said that it looked like a mid-160s 10-pointer. I told him that we didn't have any bucks like that on our property. We monitor the farm quite intensely, and I knew that we didn't have a mid-160-class buck around.
Once he pulled that trail cam, however, a surprised Travis realized the 160-class deer was very real — but much bigger than that. He recognized it. They knew the buck had originally lived more than a mile away from their farm. A few neighbors had talked about him, and even found his sheds last spring. Now that he was using their farm, Travis told his father that, despite the miss, he needed to keep hunting that buck.
With my bow tag filled, I told him I'd help by watching the outskirts of the property, Travis says. I felt that if I could help pattern the buck, he could get another opportunity to harvest it.
Waiting on gun season and his second buck tag, he decided to focus on antlerless deer and helping to pattern the giant. He hoped his father would get the buck.
On Nov. 3, Travis sat on the far end of the property in hopes of shooting a doe. Instead, a couple of nice 2-year-old bucks walked by. Then a doe came running over the hill, with the giant buck right behind her.
For the next two weeks, the buck stayed locked down in a 20-acre section, often bedding on a south-facing sidehill. Once, while the Mlodiks were driving to hunt, they spotted the deer bedded 80 yards away with a doe.
When I squeezed, nothing happened. I realized I hadn't flicked the safety off.
At last, Wisconsin's 2019-gun opener arrived. Travis reached his stand well before legal shooting time. While it was still dark, one small deer and a much larger one passed by his stand, but he couldn't identify them.
By noon, I hadn't seen much, he says. So I moved to another location. Meanwhile, a neighbor texted me and said he'd been seeing a lot of bucks. I replied that I hadn't seen a single one.
About 2 p.m., the woods started opening up, and Travis saw about 15 does and fawns.
At about 3:45 p.m., I looked back toward the stand I'd been hunting earlier that day. I saw some deer come out and they were traveling straight east. I realized that I wouldn't have many shooting opportunities (at deer traveling that same route). I studied them with my binoculars and found two small openings; one was 2 feet wide and the other about 4 feet wide.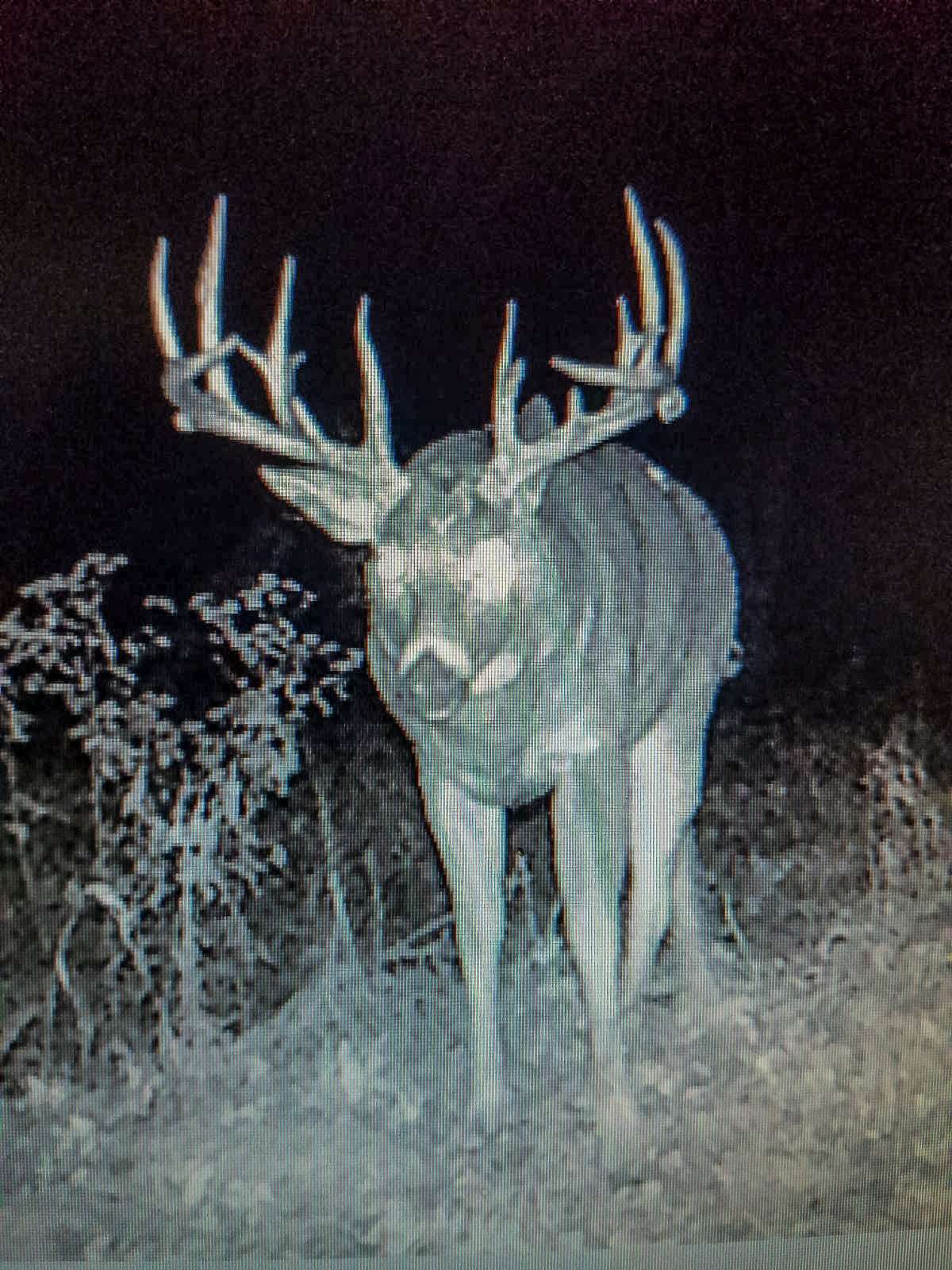 Finally, at 4 p.m., the first buck of the day showed up - a spike. Next, a 2 1/2-year-old 8-pointer stepped out of the swamp. The buck had its hackles up, and Travis knew it wasn't alone. Suddenly, a doe shot out of the swamp.
I instantly saw a big-bodied deer behind her. I could tell it was the buck. As luck would have it, they walked within 30 yards of the stand I'd been hunting from earlier. They started heading east on the route every other deer had taken.
He had those two tight windows of opportunity. Travis opened the blind window and slipped his rifle onto the sill. He kept telling himself to breathe and squeeze the trigger when the buck hit the first window.
I did exactly that, but when I squeezed, nothing happened, he says. I realized I hadn't flicked the safety off. I zoomed my scope to nine power and found the doe he was following. She went into another little opening about 205 yards away. It's pretty thick, so I knew I'd have to make the shot of my lifetime when he entered it.
When the giant walked into the window, Travis squeezed off the shot. In an instant, the buck was gone.
I knew I either killed him or hit a tree, he says. I told my dad what happened. I got down within 10 minutes to go search for blood. I had to know if I killed the deer or not. I honestly had a difficult time trying to find where the buck was standing when I shot. I found nothing and doubt started creeping in. I walked out to a logging road and looked straight east. He was dead right on the road. He'd only gone 50 yards.
Travis called his dad with the good news. Not wanting to disturb other nearby co-op hunters, he sat down on a stump and admired his buck for nearly an hour, until it got dark. By the time they got the buck back to the cabin, a train of cars had piled in to see the buck.
He was a local legend, Travis says. Everyone in the area knew about him. One of our neighbors walked up to me and handed me a pair of the buck's sheds.
Stretching the tape to 185 inches, I'd say he was a local legend. Bucks like that don't come around very often.
Don't Miss: Ohio Buck Sports Quadruple Drop Tines
Check out more stories, videos and educational how-to's on deer hunting.
Watch all the latest video episodes