After biding his time through gun season, a low-impact, last-minute plan pays off
Rack Report Details
Buck:
185 inches (green gross score)
Time of Year:
December 29, 2019
Place:
Monroe County, Iowa
Weapon:
CVA Accura Muzzleloader Muzzleloader
Like most hunters, Drake Lamb didn't start out killing Booners. No one in his family really hunted, and he didn't go on his first deer hunt until friends took him when he was 14. He's been hooked ever since.
Today, Lamb is an experienced deer hunter, but he spends most of his fall filming other hunters on shows like Midwest Whitetail and Chasing November. He's filmed a lot of record-book deer, but in 2019 he tagged a 6 ½-year-old giant of his own. You can watch the entire hunt on Realtree 365.
Last summer, Lamb moved to southern Iowa. He didn't own land, so he busted his butt to gain permission on as much private land as possible. Five different landowners granted him access, and one of those properties held a true giant.
While Lamb didn't have any history with the deer, plenty of other hunters in the area did. One neighbor had sheds and trail camera photos from the 2018-19 season. Lamb, however, didn't get photos of the buck until he checked one camera in the back of the property in late October. The buck had been hanging out near what he knew to be some of the best bedding in the area and adjacent to a giant, open bottom of CRP grass - perfect habitat for mature deer.
I had to learn the property as I hunted it, which was just a few times, Lamb says. Once I knew the buck was there, I was very picky about when I decided to hunt and check cameras.
Lamb wanted perfect conditions to hunt the property, but they were scarce. He only hunted the property twice during the early season.
We had some great hunts and encounters with other bucks on this farm, just not with him, Lamb says. I continued to run a camera on the scrape close to the bedding area on the edge of this giant CRP field. He was all over it in daylight all the way through late October, November, and early December.
In the meantime, Lamb hunted some of the other farms he'd gained permission on. He ended up tagging a great buck elsewhere with his bow. He also spent plenty of time filming other hunters. As gun season loomed, though, his thoughts kept turning back to the big buck.
I was most worried about the shotgun seasons, Lamb says. I knew the area was going to receive significant hunting pressure with large groups pushing the adjacent properties.
That gave him an idea. Pressure was likely causing this buck to hole-up in the thickest cover around. So, rather than check the camera that was already in that area, he ran a trail camera closer to the road. Its sole purpose was to help Lamb confirm that the deer was still alive.
He'd show up in the middle of the night all throughout the shotgun seasons, but never in daylight, Lamb says. That just gave me more [proof] that he was bedding way in the back of the property.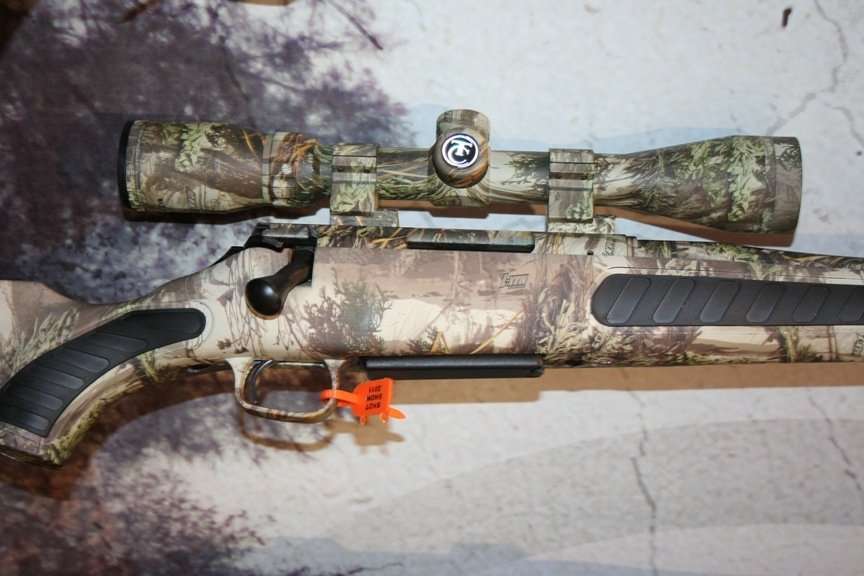 From there, it became a waiting game. The buck was alive and already escaping neighboring hunting pressure. It only needed to survive a little longer so Lamb could make his move during muzzleloader season.
Dec. 29 brought misting rain and a strong southwest wind. At 32 degrees, it wasn't quite as cold as Lamb would have liked, but he was running out of time. Alone and intending to film his own hunt, Lamb carefully made his way back to the CRP field. He camped out on the ground in a finger of trees and watched the grass-filled bottom.
A big drainage ditch separated the CRP from a cut cornfield behind me, Lamb says. So, I was able to walk the wooded terrace all the way to where I could overlook the whole field and most of the bedding area, hoping to catch the deer coming from the bedding area. I accessed [the spot cleanly], without spooking any deer on my way in.
Around 3:30 p.m., the neighbors started shooting - a lot. Target shooting, perhaps. A few minutes later, Lamb looked behind him into the neighbor's cornfield and saw someone in blaze orange walking out. Lamb suspected that hunter left after the gunshots messed up his hunt. A few minutes after that, two fawns ran into the open and looked back toward where Lamb had heard all the shots.
I really thought about walking out and giving up on the hunt because they were shooting so much, Lamb says. But I decided to stay and sit it out because this was the first time I'd gotten to hunt the place since bow season.
Around 4:20 p.m., he looked across the CRP toward the ridge where his other camera was located. The buck was standing right there. Then, he walked straight toward Lamb.
I was literally in disbelief, he says. I was self-filming and scrambling around trying to get the camera on him and my gun set up. He was still a good 500 yards away in the CRP.
It didn't take long for the deer to close within 80 yards, but some branches were in the way.
I assume he was coming to this terrace to watch over the cut cornfield that was behind me before he made his way out to feed for the night, Lamb says. The buck managed to get to the base of the terrace before I could make an ethical shot on him. Although he was coming straight at me, I knew if I could hit him in the chest, he would expire quicker than a lung shot.
So, he took it.
The buck dropped, got back up, ran a few more yards, and then fell for the last time.
This deer means a lot to me, Lamb says. I know it wasn't a deer I had years of history with, but to just have the pieces come together, especially after gun season, is incredible. This is a hunt that I will remember for the rest of my life.
After killing the 185-inch buck, Lamb finally pulled the camera that was close to the bedding area. It was filled with pictures of the giant. The neighbors also had tons of daylight pictures of this deer during the shotgun season. Lamb believes not pressuring his side of the property line really helped.
I only hunted the edges of the property, Lamb says. I never once went up into the bedding area on that farm. The less impact on those bedding areas, the better. I didn't let this deer know I was hunting him. I had a pretty good idea of where he was bedding, and I had bulletproof access and a perfect wind. But I still wouldn't have ever thought that I would see this deer after all of the pressure. You don't know if you don't go.
Don't Miss: Travis Mlodik's 185-inch Wisconsin Giant
Check out more stories, videos and educational how-to's on deer hunting.
Watch all the latest video episodes