The story behind a Deep South crossbow kill
Rack Report Details
Buck:
179 4/8 inches
Time of Year:
October 27, 2019
Place:
Madison County, Alabama
Weapon:
Crossbow Bowhunting, Crossbow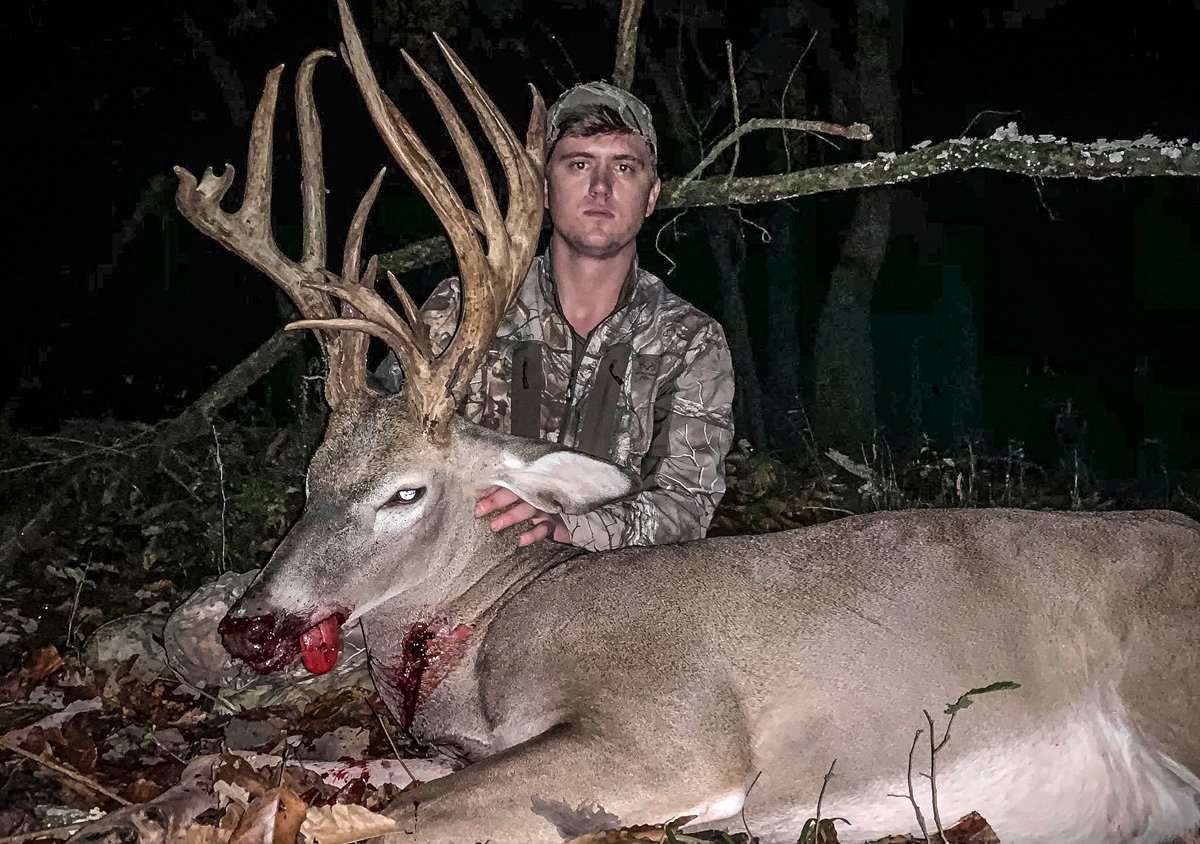 Brock Creel was never a diehard deer hunter. He'd hunted whitetails from time to time over the last 12 years, but mostly, he favored duck hunting. That all changed when a near-180-inch Alabama buck showed up on camera last season.
We've had permission to hunt the property for five years now, Creel says, referring to his dad. And all we've hunted until this year were ducks in a small timber hole at the back of the place.
Creel had decided to put out a trail camera, and he immediately captured images of a giant buck. The second photo clearly showed the huge deer in all its glory. Creel was stunned when he realized the buck was traveling through the area and hitting his camera so much.
Nearly two weeks later, on Oct. 27, Creel borrowed a crossbow from his stepdad, Bruce McClure. It was a calm day, with almost no wind. Temperatures were moderate, around 60 to 65 degrees. He had chosen to hunt some thick, nasty hardwoods surrounded by swamp. There was one open shooting lane, and it was directly in front of his treestand. Creel settled in and waited for the woods to come alive.
He was hunting a fairly suburban area, however, and there were people making noise nearby. He heard cars all afternoon, but also saw a couple young deer and a few racoons. Finally, the deer and the racoons looked at something behind Creel's treestand. Creel knew something was coming, and he slowly looked over his shoulder.
The big buck stepped into the open. Creel cringed as someone started dribbling a basketball close by. Fortunately, the buck seemed used to it, and didn't pay much attention to the noise.
He came trotting in and ran off those deer and racoons, Creel says. While he was doing that, I checked to make sure my crossbow bolt was placed correctly and that the red dot sight was working. Then I grabbed my rangefinder, hit him at 16 yards, and flipped the safety.
The buck turned and offered a slightly quartering-away shot. Creel aimed just behind the shoulder blade and let the bolt fly. He knew as soon as it left the crossbow that it wasn't the shot he envisioned.
I squeezed the trigger too hard and pulled the shot about 4 inches to the right, Creel said. The bolt entered just to the right of its shoulder blade, in the lower neck.
Fortunately, the broadhead struck the jugular. The deer ran about 15 yards and piled up. After Creel climbed down, his brother and two good friends came straight out there to help drag the buck to the truck.
I am still shocked I actually killed that deer, Creel says. That deer means way more to me than people might think … and has started a whole new future of hunting for me. I bought a new bow and a lot of new equipment. I have learned tons of deer hunting tips and tricks from conversations about that deer with people. Just about everyone has told me I won't shoot another that big in Alabama.
Despite the buck's large rack in an area that's not known for them, Creel's taxidermist estimates the deer was only 3½ years old, which suggests incredible genetics. The buck scored 179 4/8-inches.
Don't Miss: Guner Womack's Huge 16-point Oklahoma Typical
Check out more stories, videos and educational how-to's on deer hunting.
Watch all the latest video episodes