An all-day stalk-and-wait plan finally comes together on a giant Colorado buck
Rack Report Details
Buck:
201 4/8 inches
Time of Year:
December 3, 2019
Place:
Idalia, Colorado
Weapon:
CVA 6.5 Creedmoor Rifle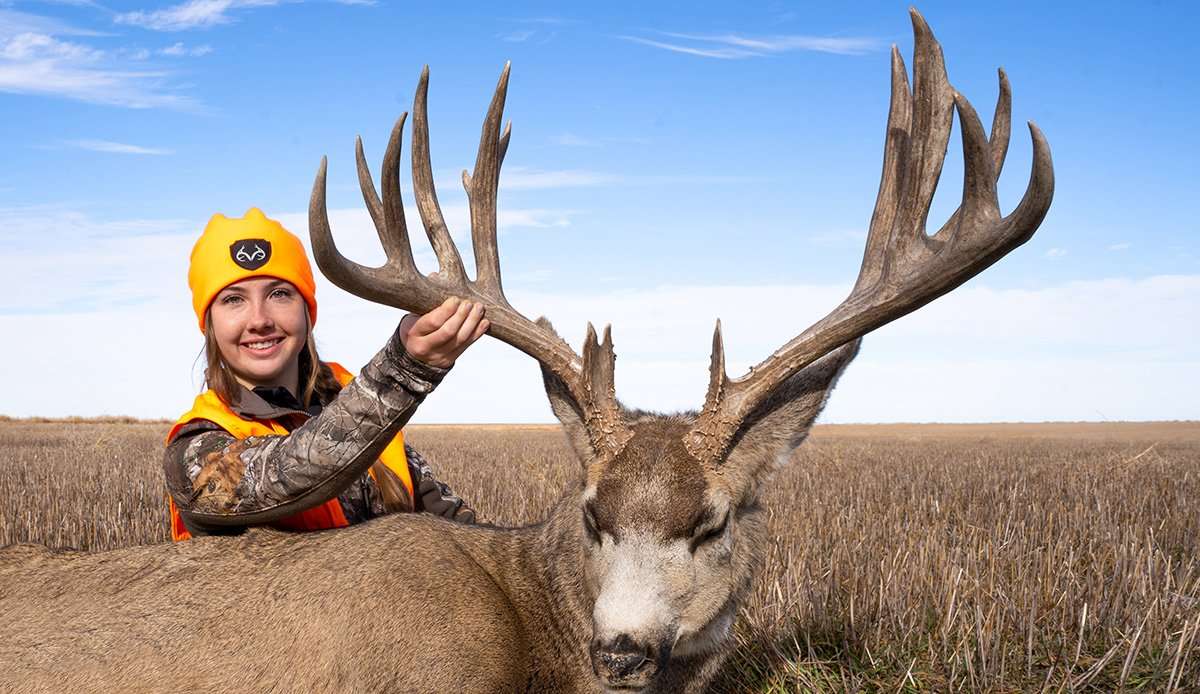 It isn't all that common for someone to kill a 200-inch mule deer, let alone for a young hunter to do so. But Jaylee Danker, the 16-year-old daughter of BuckVentures co-host Jeff Danker, can say she has.
One of Jeff's friends invited them to come out and hunt in eastern Colorado. They got a map of the area they could hunt and spent their first afternoon driving around and looking at property boundaries.
The day that we got to camp, I was really excited, says Jaylee, an Oklahoma resident. I had never been on a mule deer hunt, so this was my first. We went and looked at the land we would be hunting, and then prepared for the next day.
The next morning was a bitter 29 degrees. The Dankers were hunting farm ground mixed with big canyons, plum thickets and sage brush.
We started the morning driving around some really muddy roads, Jeff says. We actually spotted a group of deer on another property, but they were headed toward the 2,500 acres we could hunt. As we glassed them, we saw several does and two little bucks. About five minutes went by and I looked about a quarter mile behind the group.
That's when they spotted the giant muley. The Dankers immediately discussed their options and made a long, 2.5-mile loop to get in position.
A doe caught our movement, so we just laid down, Jeff says. She stared for at least 30 minutes, trying to figure out what we were. Finally, she turned and went over the side hill she was on. Jaylee, Cole Cannon (our field producer) and I quickly snuck up the hill.
Eventually, they set up on the side of a canyon and spotted quite a few deer, but didn't see the big one. When they finally did, it was on a neighboring property. He stood up from behind a big sage bush, Jeff says. We couldn't believe it.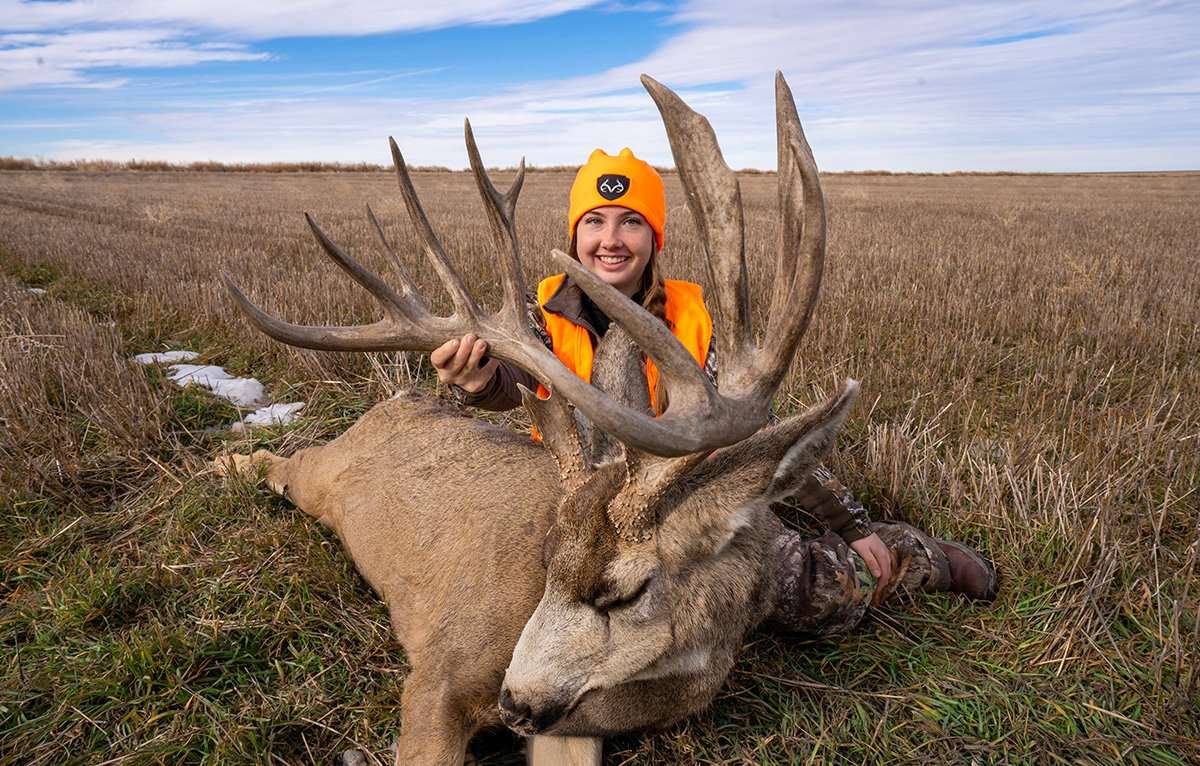 The buck and several other deer milled around and bedded down for hours. They watched the big buck lay his head down and conk out, sound asleep.
I was blown away at how big he was, Jaylee says. I had never seen a buck that big, let alone had the chance to hunt him. We thought he could possibly come over onto our property. So, we decided to wait as long as it would take.
They watched the deer as the day wore on. Eventually, Jeff decided they should make a move. The buck could go in different directions when he woke up, and they needed to be in a spot that covered as many of those as possible. The three of them belly crawled up the hill as the deer slept. The ground was full of cacti, sand burrs and other hazards. After a painstakingly slow stalk, they eased into their new vantage point and continued waiting.
Jaylee tucked in behind a big yucca bush and set up on her bipod. Jeff sat just to her left. The hunters sat all day with nothing to eat, but were able to watch the buck's every move. He remained 35 yards off of the property they could hunt, just on the other side of the fence. As long as he traveled north, east or west that evening, they would be in pretty good shape.
About an hour before dark, a few deer stood and started feeding. Naturally, they went the opposite direction the Dankers needed them to - to the south. The giant buck followed the rest of the deer over the hill and out of the hunters' lives.
It was hard watching my daughter. I knew her heart sank, Jeff says. I was so very proud of her for crawling, getting all muddy, not eating and never complaining. She has been around long enough to know deer like this are once-in-a-lifetime. You couldn't have drug her off that hillside.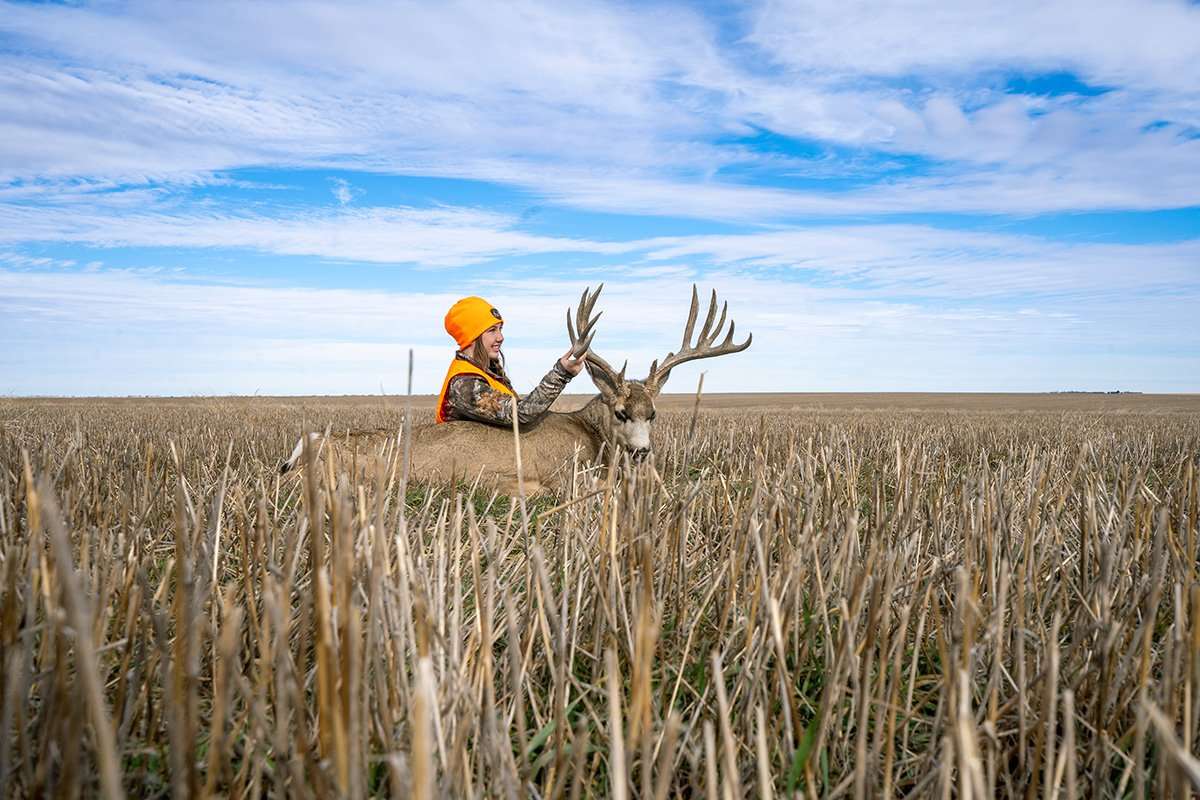 Then, miraculously, a doe ran back over the hill straight toward the hunters, with the giant trailing right behind. Both deer jumped the fence and stopped broadside at 190 yards. Jaylee settled the crosshairs and touched off the shot.
The buck ran off. The hunters hustled to the top of the hill in hopes of seeing the deer fall. They saw quite a few deer standing there, but not the one she had shot. They backed out to give the buck time.
I honestly felt sick, Jaylee says. I had been waiting all day for the chance at the buck of my dreams and I hit him back. After watching the footage, we were sure it was a fatal shot, but we would have to wait until the morning to recover him.
It was a long night. The next morning, they searched for blood but found none. They walked and glassed for hours, but couldn't find the deer, either. Finally, Jeff discovered a single speck of blood. He walked in the direction he thought the buck might have ran, and discovered the buck.
I hollered for Jaylee, and she came with tears streaming down her face, Jeff says. I can't explain that moment in words, and if you have never experienced that, you can really never know the depth of a dad and his daughter out in the middle of nowhere on a hillside crying together over a hunt.
Jeff says it felt like the whole county showed up to see the 6½-year-old, 201 4/8-inch deer.
I was overjoyed, Jaylee says. I immediately prayed and thanked the Lord for not only letting me find my buck, but for all the lessons He taught me.
Don't Miss: Brock Creel's Alabama 180
Check out more stories, videos and educational how-to's on deer hunting.
Watch all the latest video episodes