Rack Report Details
Buck:
165-inch Typical
Time of Year:
September 8, 2020
Place:
Keya Paha County, Nebraska
Weapon:
Hoyt RX-4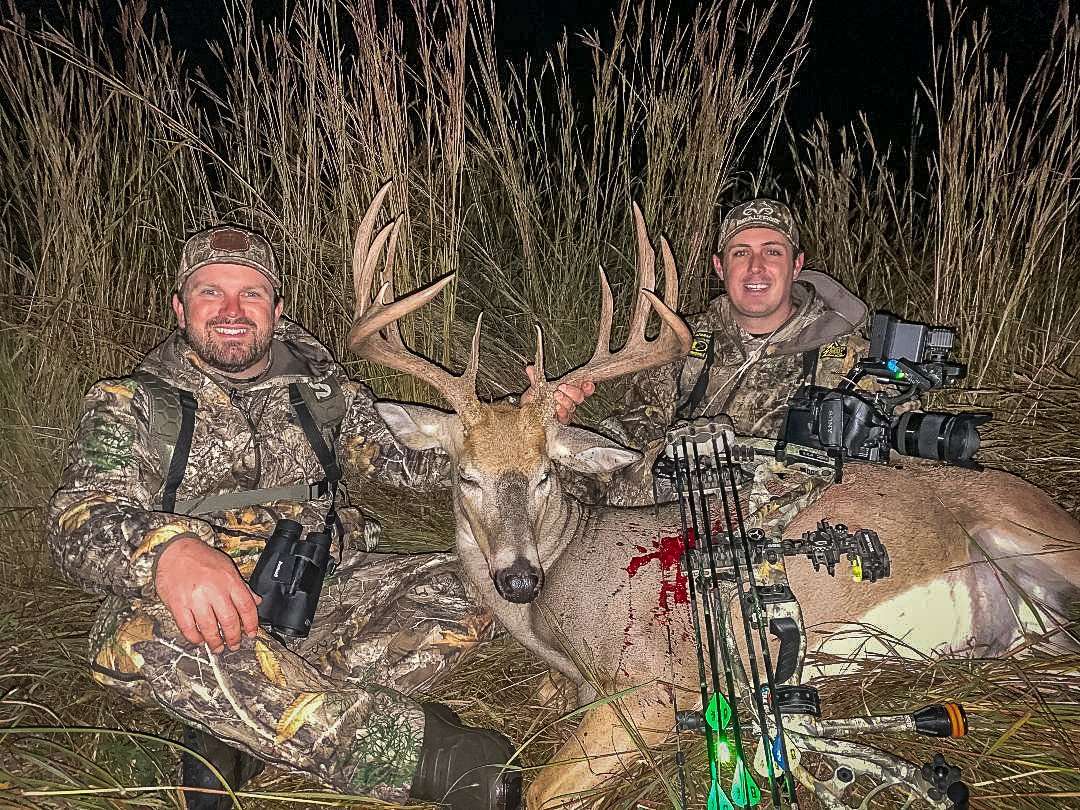 Many a bet has been made at hunting camp, but few hunters can say they've won a wager against Tyler Jordan that led to a chance at a 165-inch buck. But that's exactly the story behind Realtree Cameraman Bryan Brown's Nebraska buck that he and Jordan nicknamed "Big Heavy."
Our history with this buck dates back to July when we first put out Spartan cameras, Brown says. He was a regular. Brown and Jordan invested a chunk of time scouting the deer throughout the pre-season. A typical Nebraska whitetail, it spent a lot of time out in large alfalfa fields. In mid-August, a farmer cut the field it frequented, and it transitioned to another feeding area.
The two hunters arrived in deer camp several days before the opener to glass some fields. Fortunately, the buck's preferred alfalfa field — the one cut in mid-August — regenerated and the deer started feeding there again. The bad part? It only showed up after dark. By the Sept. 1 opener, they still hadn't seen the buck in person. The wind was bad for that area anyway, so they tried another spot to start the season. They had no luck.
On the second day, the wind was more favorable to hunt Big Heavy's core area, and that deer was the third buck to enter the open. Unfortunately, it stayed out of range, and fed 100 yards from the treestand until dark.
The duo bounced all around the alfalfa for the next several days. They saw the buck almost every trip afield, and it usually came from the northern or eastern sides of the field. But when it walked from the north, it always crossed through a row of cottonwood trees.
On Sept. 7, Brown and Jordan decided to hang a set of Primal treestands downwind of the trail that passed through that clump of cover. After prepping the spot, the two hunters ran back to camp for a quick lunch. While there, a series of interesting events unfolded.
Brown had filmed Jordan for the past week, but he knew that day was going to be a good one. So, he made a bet with Jordan. I'm going to sling one arrow at 50. If I hit inside the dot, I shoot first, Brown offered.
With the camera running, Jordan said, Document that. One shot.
The shot was perfect. Pretty darn impressive, Jordan said. Well, go kill him.
Jordan grabbed the camera, and Brown gathered his hunting gear. Later that day, a major cold front pushed through, and deer started moving. We knew that if we put our time in, it would be a killing spot, Brown says.
They saw multiple shooter bucks, but Big Heavy didn't show. Still, they were optimistic. The cold temps and preferred northerly wind were forecast to hold. The next day was 42 degrees with a stiff 25-mph wind. Conditions seemed perfect. I kept my eyes glued to the Sandhills to the north, Brown says. I felt like that was our only shot to get him within range.
An hour later, Jordan spotted Big Heavy coming to the field from the east. Brown was disappointed. Usually, if the deer got to the middle of the alfalfa, they fed in one area until dark, making the odds of a shot slim. Fortunately, they had 2 1/2 hours of daylight left. For 45 agonizing minutes of that, Big Heavy fed in the alfalfa with about 80 other deer. Then, two small bucks started sparring underneath their treestand location. The big deer watched them, and the fighting piqued its interest. Brown scanned the area to be sure no deer were spooked, and then looked back at Big Heavy. By the time he did, the giant was at 40 yards and closing.
He pulled back his bow string, and waited for an opportunity. The deer stopped, and offered a broadside shot at just 12 yards. Brown buried his pin, and the buck ran about 200 yards after the shot, tipping over in some tall CRP along the edge of the hay field.
I was pumped up, and immediately called our buddy Shawn Heyden to join in the recovery, Brown says. We found it a short time later, and it was celebration time from there!
Click here to see the complete story of Big Heavy. Catch this hunt, and many more to come, on Realtree Road Trips.
Watch all the latest video episodes