Bowhunter tags early-season giant during a morning hunt
Rack Report Details
Buck:
172 7/8
Time of Year:
Sept. 6, 2020
Place:
Kentucky
Weapon:
Mathews Halon 6 Bowhunting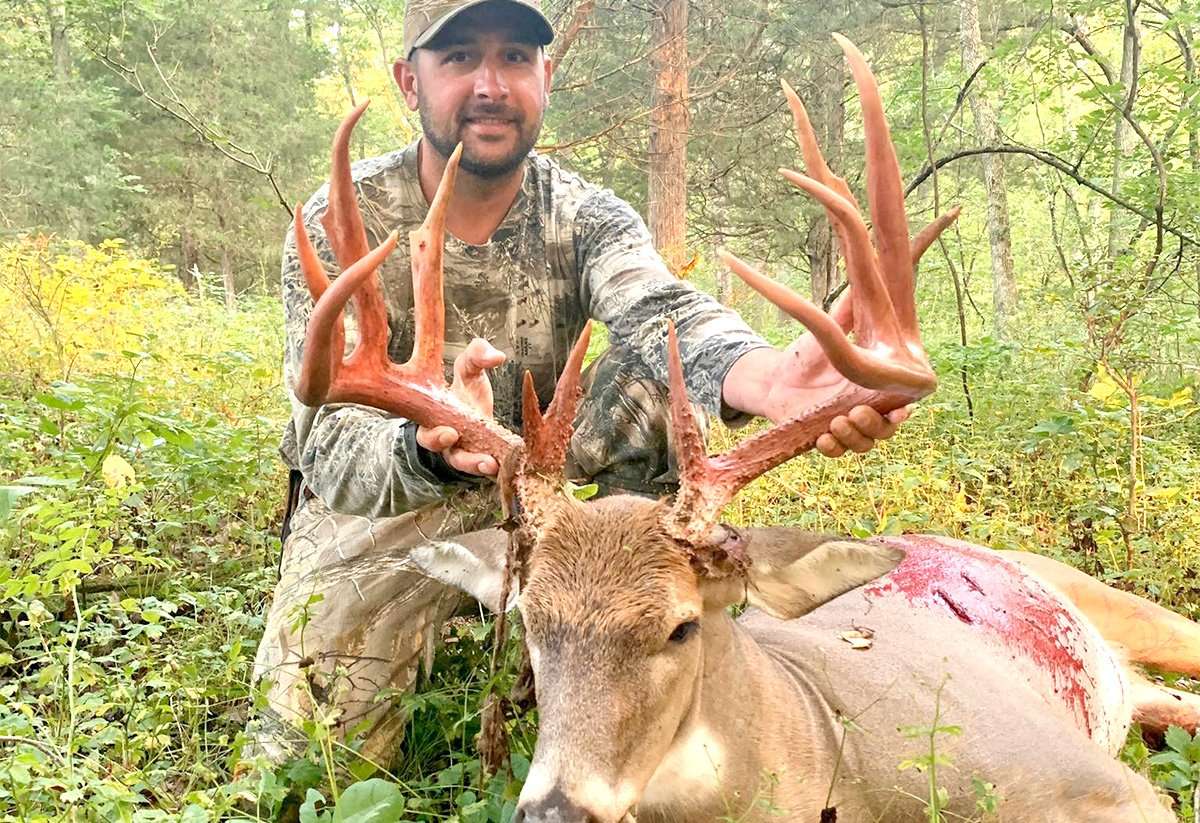 Not many stories start out with nine toothy coyotes and a monster buck, but this one does.
Last year, Dustin French had a stud 4 1/2-year-old deer at 20 yards. He was drawn back and ready to let his broadhead make some backstrap when a pack of voracious canines charged the scene. In a frustrated state of mind, French appropriately dispatched two of the songdogs before the rest figured out what was up.
The remainder of the 2019 season passed by with minimal action, but French hoped to drill down on the target buck in 2020. He scouted the farm, put out cameras, checked stand locations and more, all in an attempt to relocate this deer.
It worked. He started getting photos of the 5 1/2-year-old buck in velvet, which became a preseason regular on the farm. The pics didn't lie. It had transformed into a giant, and French's focus narrowed to this old whitetail.
After four years of hunting the farm, he felt confident in his abilities to anticipate the movements of his target buck. On the morning of Sept. 6, with a pattern and a plan in mind, he slowly headed toward his treestand location.
His perch rested along the edge of a wood line. Behind him stretched a field thick with brush and briars. A lush, green clover field waved in the wind to his right. A creek bubbled, gurgled, foamed, and frothed to his left. The stage was set.
It was 60 degrees, not terrible for Kentucky this time of year. The deer had been moving in daylight, too, and French hoped it would do it one more time.
"Some people jump out of planes and other crazy stuff to feel a rush. But there is no better rush to me than killing a big buck."
Then, five minutes after legal shooting light started, a doe and fawn appeared out of nowhere. He could barely make out their outline as they meandered into the open.
Another five minutes passed, and there it was. A half rack deer was walking around, but the giant stood at the ready, scanning the scene in search of danger.
By the time I saw him, he was already at 20 yards and facing me, French says. He turned broadside, and I drew my bow.
He'd no sooner brought the bow to full draw when the buck turned back to face him. French held his ground. Finally, the monarch turned slightly quartering away, and the Bluegrass bowhunter took the 20-yard shot.
The buck didn't even know what hit it. The deer ran 40 yards, then turned back broadside as if to examine what had happened. French sent another arrow that flew right through the boiler room, too. The deer dashed about 15 yards into the woods and dropped.
The shaken bowhunter sat in the stand until his wife and father arrived. The trio retrieved the first arrow. Then, they took up the short tracking job. The buck hadn't gone anywhere.
Look at the size of that deer, French said.
High-fives and congratulations, then silent awe, admiration, and respect, followed their find. All three individuals couldn't believe the scene before them.
This hunt goes to show that with the right property layout, good entry routes, and a daylight-walking deer, early-season bowhunters can score on morning hunts. And this guy wouldn't have it any other way.
Hunting is life, French says, looking back. Some people jump out of planes and other crazy stuff to feel a rush. But there is no better rush to me than killing a big buck.
Everyone said it was a deer of a lifetime and that I was deserving of it because of the time and effort I put into it, French continues. This deer means the world to me. I spend a lot of time and money chasing these deer, and my first son is due in December. I was going to be limited in the woods this year.
Watch all the latest video episodes