Southern Stud: Story of a Monster Georgia Buck
Rack Report Details
Buck:
172 5/8
Time of Year:
Sept. 22, 2020
Place:
Harris County, Georgia
Weapon:
Hoyt Carbon Spyder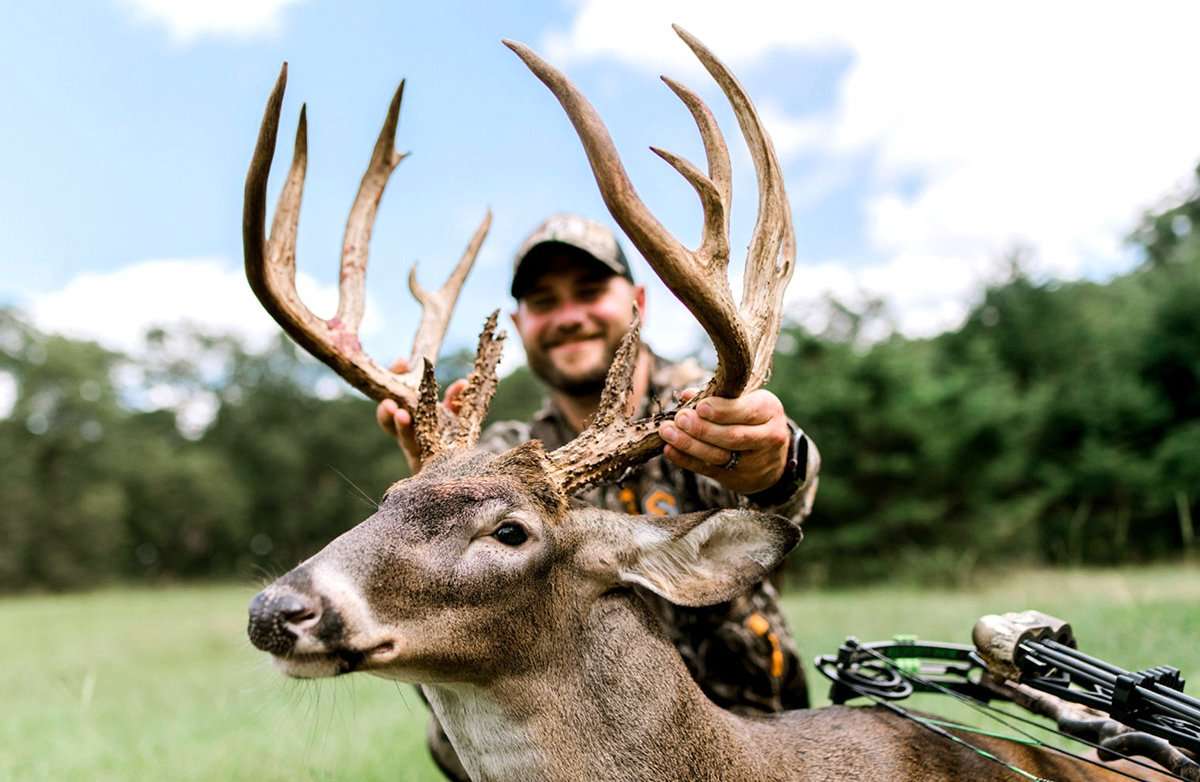 Georgia bowhunter Aaron Harrison says his entire life led up to an afternoon in late September, when this stud of a Peach State buck walked into bow range of his stand. Harrison has been a hunter since he could walk. He killed his first deer at age 6, and he's dreamt of tagging a whitetail like this one ever since.
Hunting with my father lit a fire in me, he says. He gave me the best gift any father could give his son. In the woods, he taught me how to be a man, and many life skills and tricks I use to this day. Most importantly, he gave us a place of peace to go and be alone with God.
For Harrison, one such place is a property he's had access to for the past two seasons but didn't deer hunt on last year. I messed up, and should have ran some cameras and hung some new sets there, he says. He didn't make the same mistake twice and started taking inventory on the property over the summer of 2020. A giant buck guesstimated at 8 1/2 years old was the first deer to hit the camera. Harrison thought about the whitetail all summer long.
When deer season finally opened, he hunted the buck pretty hard. He saw it in bow range early on, but it never provided a broadside shot opportunity. But as the season progressed, Harrison stayed after it. On Sept. 22, conditions aligned, and he headed afield once again. It was overcast, and temperatures hovered in the mid-60s. An easterly wind blew about 4 to 5 mph.
He slowly walked through the timber, carefully picking and choosing steps as he went. Once at his destination, he settled in the stand and scanned the hardwood ridges and creek bottom for movement. He expected deer to come from the heavy pinewood thicket at the top of the ridge. That's where the giant frequently bedded during daytime hours.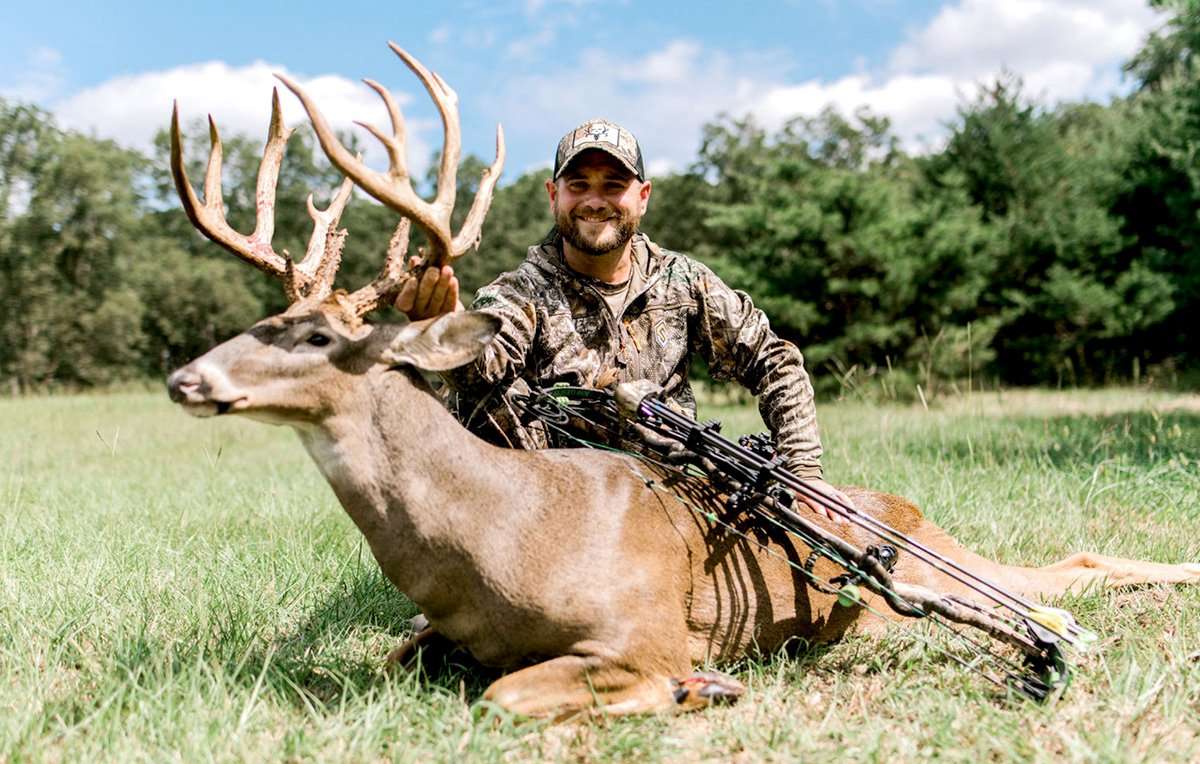 The clock ticked, squirrels barked, and birds chirped. Harrison could feel the anticipation in his bones and felt confident he'd have an encounter with the big deer. As the hunt unfolded, three mature does walked into view. They passed by, and then a 2-year-old 8-pointer followed suit. A trio of bucks — including a good 9-pointer, a good 8-pointer, and a yearling 6-pointer — appeared next. They eased along the edge of cover, then faded from view.
Minutes passed, and things got quiet, and very still. Harrison knew something was happening, but the seconds ticked away before the giant finally made its appearance. I first saw him at 150 yards in the bottom working his way toward me, he says.
It didn't take long for the buck to close the gap. The Booner walked within 22 yards rather quickly, turned broadside, and presented a shot opportunity. Harrison took it, and the Georgia giant ran just 20 yards before tipping over. Harrison's father, Don, and close friend, Shawn Morman, helped recover the buck. The moment was filled with man hugs and high-fives, of course.
Harrison credits understanding what gets deer on their feet during daylight, learning this buck's patterns, and hunting with the right winds as the primary reasons he tagged the huge whitetail, which taped out at 172 5/8.
I'm speechless and thankful to have shot a deer of this size, he says. I feel the hunt couldn't have been more perfect. I have dreamed about this for a very long time, and all of my hard work finally paid off.
(Don't Miss: Have You Ever Rattled Up a Buck with a Climbing Stand?)
Watch all the latest video episodes