A pioneer in outdoor television, the Buckmaster is still stacking big deer in the truck bed.
Rack Report Details
Buck:
179 inches (green gross score)
Time of Year:
October 2020
Place:
Eastern Montana
Weapon:
Mathews VXR Bowhunting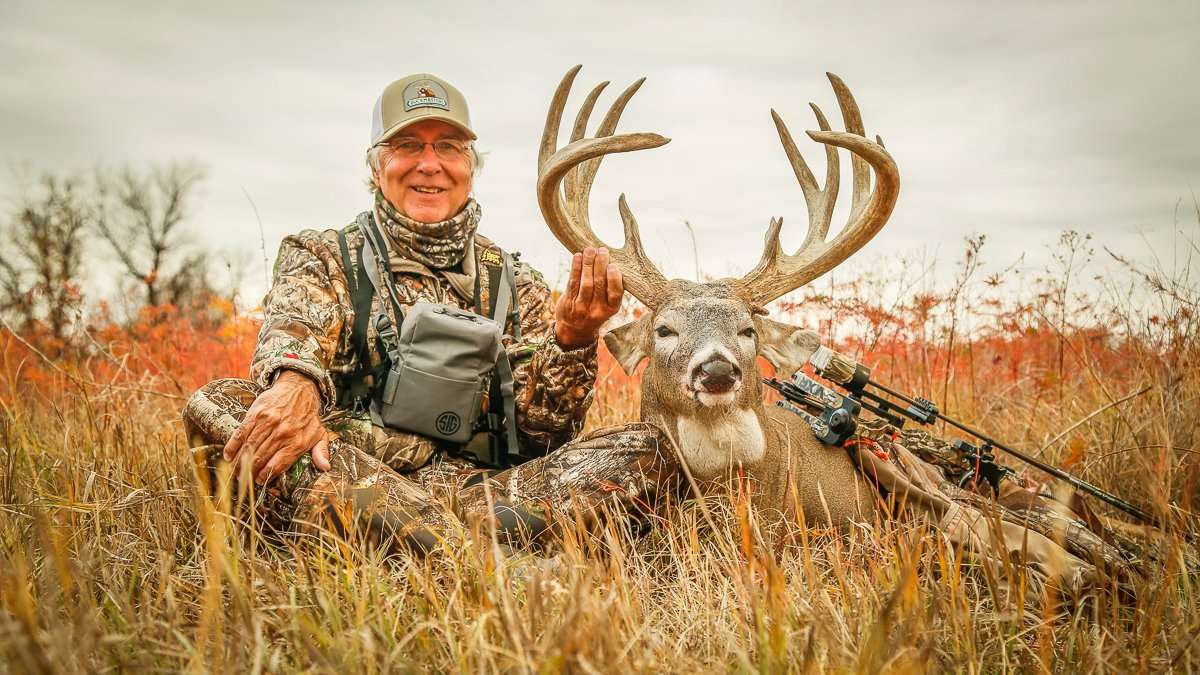 Most who have packed a rifle or bow into the deer woods have heard of Buckmasters and Jackie Bushman. The names are ingrained in the outdoor space, and Bushman has a strong legacy as an industry pioneer.
Sure, he's spent much of his airtime reflecting on the hunts of others, but he's killed a lot of big bucks, too, including the Montana giant he arrowed this season. He's been hunting the area for 30 years, and it's probably one of the most unique states to hunt — with big deer and beautiful scenery.
It's a phenomenal place, especially during those early-season sits when deer are on bed-to-feed patterns. Here, major food sources, condensed bedding cover, and classic transition areas all come into play. Bushman and company have hunted that way for years, and for the past couple of seasons, one particular stud has stayed on their radar.
(Don't Miss: There's Another Hunter in Your Stand. Now What?)
It could have been a deer we saw last year, Bushman says, although they weren't completely sure. He didn't have a split G2, but this year he did, so we called him the split G2 buck. He has to be 6 years old, at least.
In September, Bushman went to Montana to hunt this deer. Unfortunately, they never got the northerly afternoon wind needed to really push in and hunt it.
Normally, we need a south to southwest wind to hunt these sets of a morning, and we have to have it flip in the afternoons, Bushman says. During our first trip, we saw this deer three different mornings, and got within 70 yards of him. We had two double sets and saw him each time we rotated stands. We'd hunt one with a southeast and the other with a southwest.
Of course, they knew where he was hooking back in to go to bed, but their afternoon setups called for a northerly wind they didn't get.
We knew he was a good buck, but not how good, Bushman says. He was a shooter buck, and we already had encounters, so we wanted to try to stay after him. We weren't 100% we'd catch up with him, but we knew where he was, and we hadn't bumped him yet. That was key. We've been doing it long enough to know you just can't bump them. It's a matter of tightening up, and tightening up, hoping they'll come through.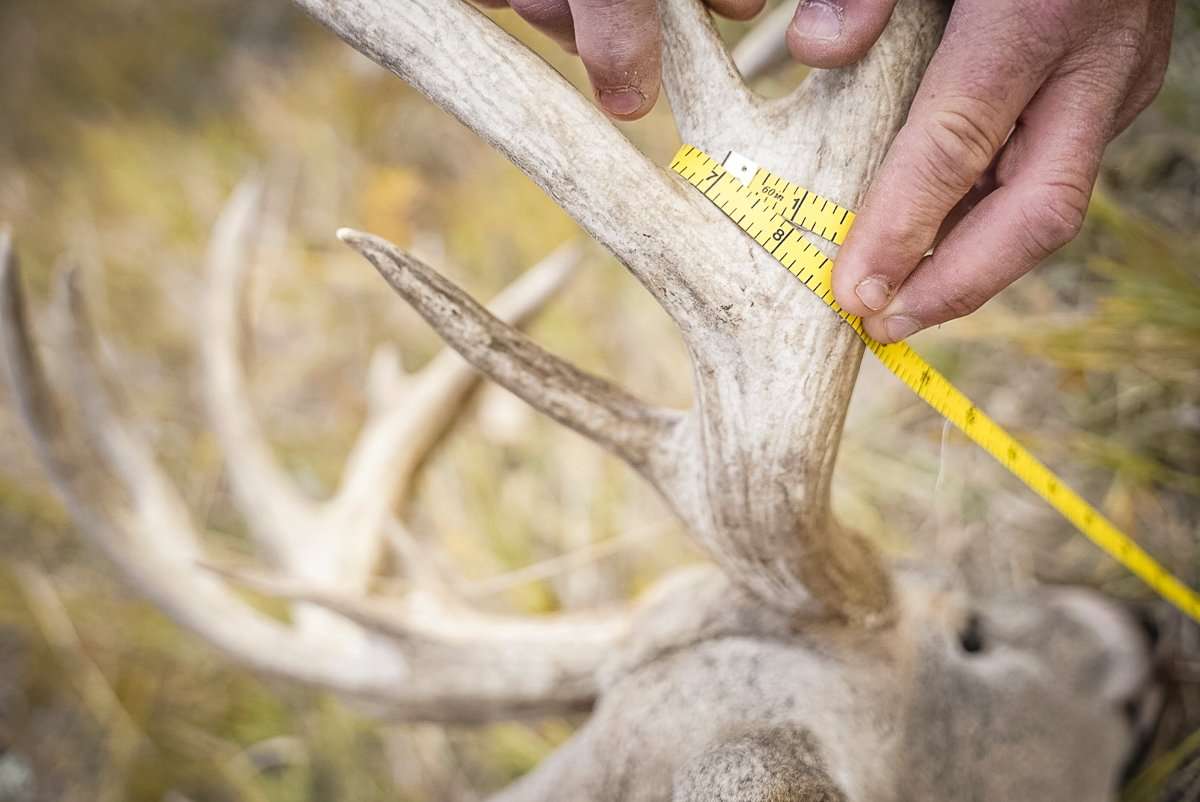 Two weeks later, in early October, they returned to Montana. Finally, the northerly winds they needed pushed into the region, and temperatures dipped into the high 50s, perfect for the time of year.
On the first afternoon, he eased into a stand location overlooking dense bedding cover. It was really thick stuff, but Bushman prefers to get as close as possible to the bedding area without spooking deer. He'll gradually push in until he starts seeing targets during daylight.
They usually get within about 100 yards. The strategy has been successful in the past. At this treestand location, he had to climb up the ladder and look toward the bedding area. Sometimes bucks are close enough to see from the stand.
We always look toward that area and make sure nothing is bedded too close, Bushman says. The alfalfa field is probably a mile from this treestand. So, it just goes to show that some of these big deer aren't getting there until after dark.
Upon climbing up, they didn't spot anything on the fringe of the bedding area. In fact, it was a while before they glassed the first deer of the evening. But then they kept coming. Several smaller bucks and does fed along the transition area and disappeared toward destination food sources.
(Don't Miss: 7 Serious Field-Dressing Mistakes)
A lot of your does get up early and go to those fields, Bushman says. As long as we don't get busted with the first waves of does and small bucks, we're usually OK. But that's what a northwest wind does for us. That tree was on the west side of the setup, and they walk by without smelling us.
Later in the afternoon, the giant stood up and walked into the open. Bushman glassed the deer, and watched as it inched closer to their setup. The buck moved slowly, and camera light was fading fast.
He was just standing there feeding with another buck, Bushman says. It just kept getting darker and darker. We had about five more minutes of video light, and that was it. Finally, he picked up and started walking. The buck stepped out at 30 yards.
Bushman has two pins: one set to 25 and the other, 35. He split the pins over the vitals and let the arrow fly. Upon impact, he realized a lot of arrow was still sticking out on the entry-wound side. He didn't get a complete pass-through.
Fortunately, it was right behind the shoulder, Bushman says. He ducked a little bit, and the arrow hit that opposite shoulder. He ran with it for a while, and then I heard a big crack. I thought that was either him crashing or the arrow breaking.
They waited about an hour. Once they got down and started blood trailing, there really wasn't much of a trail to follow. It was certainly a lethal shot, but a high entry and lack of a pass-through generally results in little external blood loss. Instead, it fills up the chest cavity.
For about 80 yards they didn't find much sign. Then, they started finding specks. A few yards later, they recovered the broken arrow. Bushman walked another 75 yards and spotted the 179-inch buck piled up.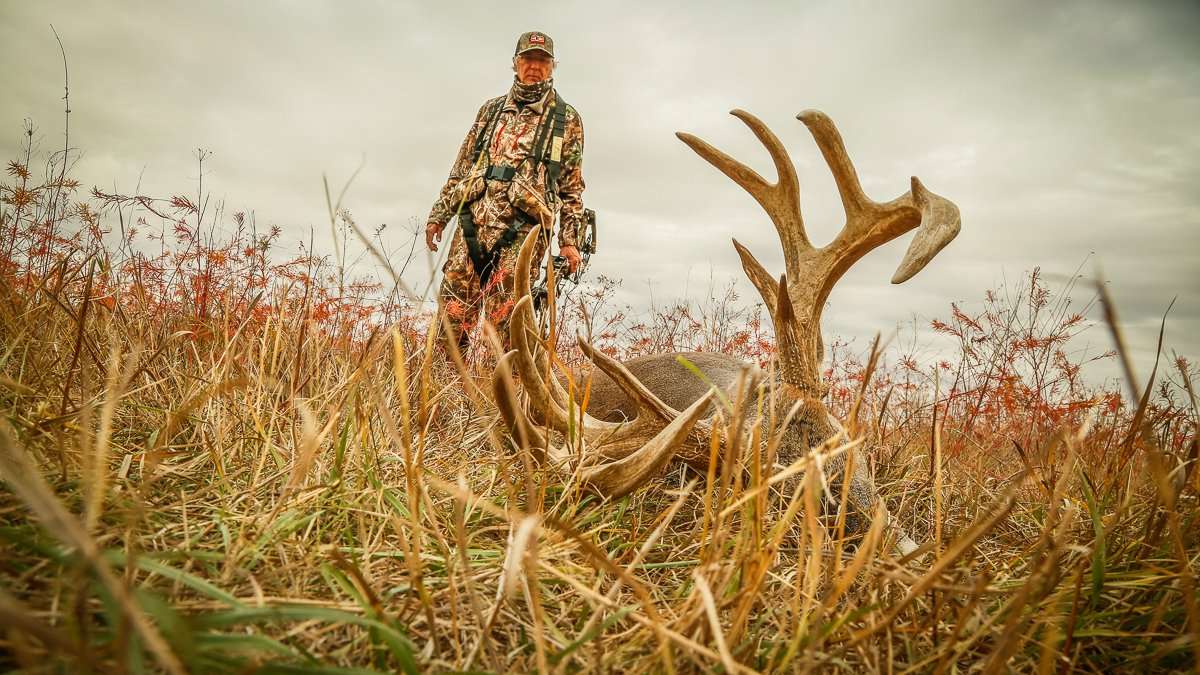 Out of all the deer I've shot for television, this one actually grew, Bushman says. Most of them will shrink when you walk up on them. This deer grew, and his mass carried all of the way out. That's the biggest deer that's been taken off of the ranch. I shot a 175-inch double-drop a few years ago, and I didn't think anything would beat that.
I've been doing this a long time, and I can't explain that feeling when you walk up on them, Bushman continues. That heart gets to beating when you watch that deer come in and make it inside your wheelhouse. When I get tired of that, it's time to hang it up.
Watch all the latest video episodes