Why wait three or four years to draw an Iowa tag when you can hunt there more often?
Rack Report Details
Buck:
164 inches
Time of Year:
Dec. 5, 2020
Place:
Southeastern Iowa (Fauntain Outfitting)
Weapon:
CVA Accura MR muzzleloader Muzzleloader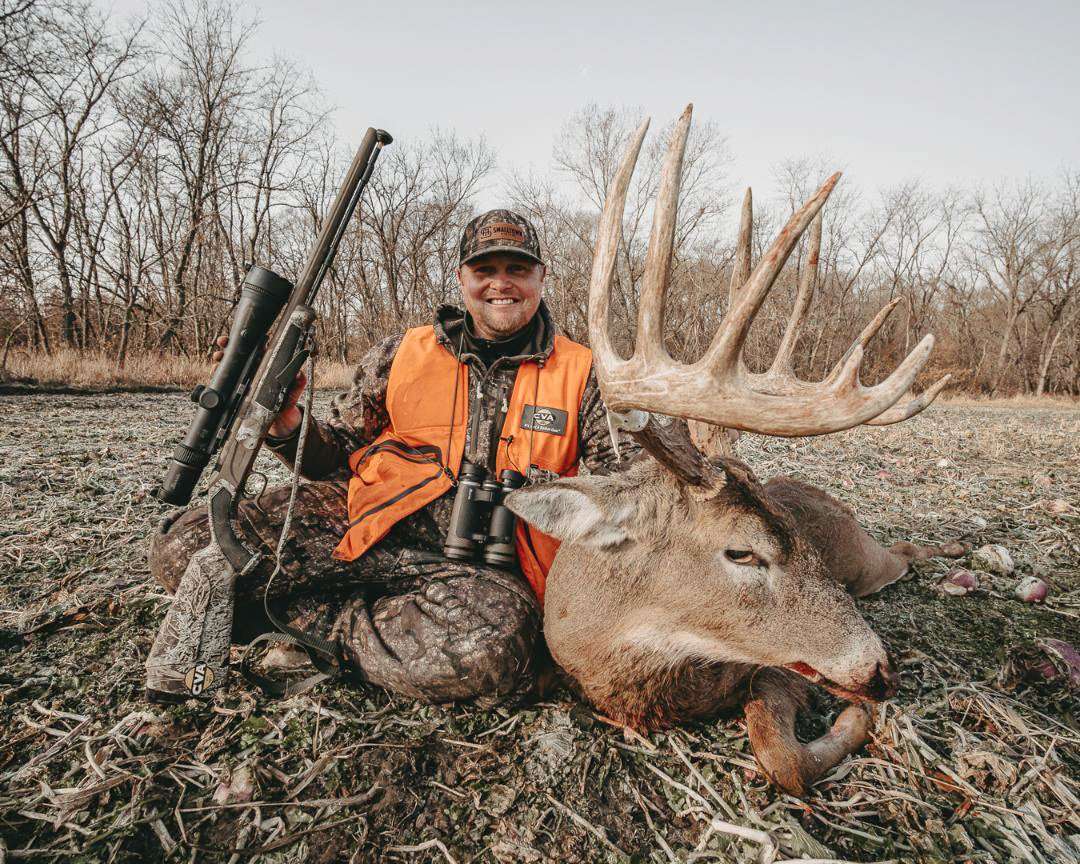 Iowa has long been one of the most coveted nonresident deer hunting destinations. For most, it takes three to four years to draw a bow tag. That's not the case for late-season muzzleloader tags, though. Forget long waits between Iowa trips.
It's one of my favorite hunts, and you can draw the tag [more often], Cody Kelley says. If you have food, and get the cold weather, it's great.
Kelley and the rest of his Small Town Hunting buddies have a long history of hunting with Paul Fauntain of Fauntain Outfitting. Some of the elder members — think back to when they were part of the Primos crew — have been going there for almost 20 years.
Keith Burgess and Chris Ashley were hunting there for a long time before I started, Kelley says. Then, when we went out on our own, we continued going there. It's always been unbelievable. He puts you on a farm and says, here's what I would do. Then it's up to you. That's why we've always loved hunting with him.
Another reason? Big deer. One particular buck they knew of was a 160-plus-inch deer that showed up in October. They'd planted some wheat, as well as Backwoods Attraction Sugar Rush — a brassica blend — and deer started pounding it, including the giant.
(Don't Miss: Oklahoma Monster Has Triple Main Beams)
He pretty much stayed on the farm, Kelley says. But he went on a trip during the rut. After I shot the buck, we actually had a neighbor text us — located a mile to a mile and a half away — who had photos of the deer.
So, on Dec. 4, Kelley and company went out for a scouting mission to a hill where you can pull up and glass the food plot. That's what they did. As soon as they put it in park and started glassing, he spotted the deer.
We pulled up, and I was like, 'Man, there's a big deer standing in the corner of the field.' I kept looking at him, and it ended up being him, Kelley says.
The next day, on Dec. 5, they settled in the blind about 11 o'clock. Around 1:40 p.m., a 150-inch 8-pointer stepped into the food plot.
We were set up to shoot to the right, but he came out to the left, Kelley says. We did everything we could to get a shot. But he left the field.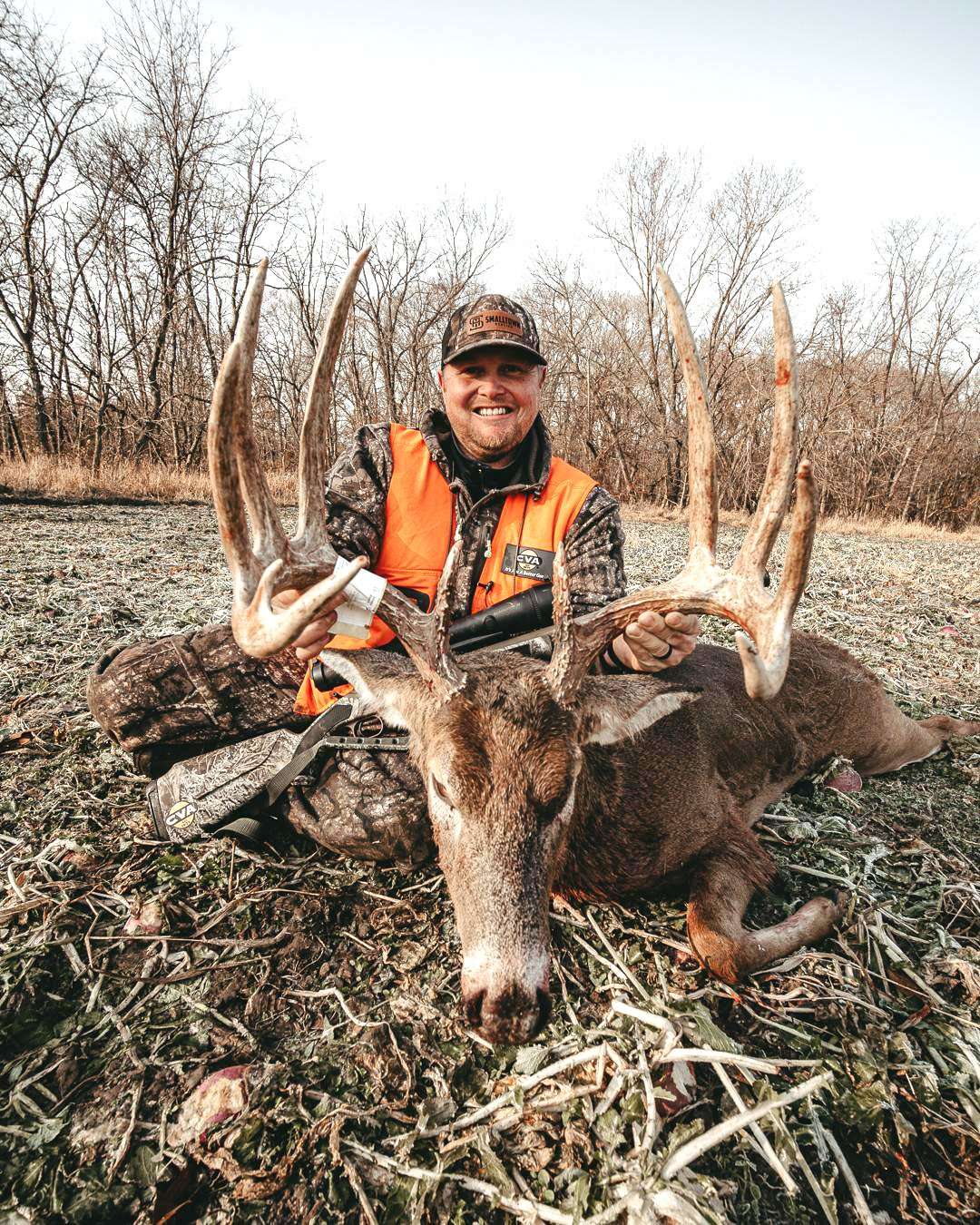 It went quiet for a few minutes. Around 2:20, the big 8-pointer reemerged. They tried to get on the deer again, but he wasn't out long enough before going right back into the woods. After that, the big-buck movement halted for a while. Lots of does and small bucks filtered through the food plot and off into the distance — probably 25 to 30 different deer at some point or another.
In this particular spot, the deer are headed to distant crop fields, and the area clears out well before dark, Kelley says. A lot of times, we get down at dark and don't even spook any deer, because everything is gone.
He looked at his cameraman, Hunter Norris, and said, Man, it's crazy that they always do this.
Do you ever have a shooter come in at dark like they oftentimes do? Norris asked.
Not here, Kelley replied. A lot of the time, you've seen what you're going to see by 4:40 to 4:45.
No sooner had they finished talking, though, when Kelley saw the giant buck's rack materialize in the CRP. Kelley got on him with the gun, and Norris hit record and zoomed in with the camera. The monarch kept stepping toward them, soon closed within 40 yards, then turned broadside.
(Don't Miss: Cody Kelley Bags His Biggest Buck Ever)
Lining up his muzzleloader, Kelley inhaled, exhaled, and pulled the trigger. Smoke rolled, and a cloud of it went swirling up into the air. The buck immediately bolted, sprinted about 50 yards, and fell over right there in the open.
In shock that everything had come together so quickly, Kelley didn't know what to think. He'd filled a tag on the first afternoon. With his mass and tine length, at the time, I had never experienced misjudging a deer that bad, Kelley says. He had so many points that it looked like his beams were short. But [when] I shot him and walked out there, everything was bigger. The beams were longer. It was one of those rare occasions that he had ground growage.
The 5 1/2-year-old Iowa monster scored 164 inches. But it wasn't nearly as big as the Mississippi giant Kelley would meet up with just 10 days later.
Watch all the latest video episodes