Brandon Williams Massive Kentucky Velvet Monster
Rack Report Details
Buck:
184 gross green
Time of Year:
September 4, 2021
Place:
Shelby County, KY
Weapon:
Mathews V3
Brandon Williams knew he was looking at a special deer on his trail-camera photos. The buck looked young, probably 3 1/2 years old, and was already pushing 150 inches of antler. Williams made the decision to pass on the buck if it came by in hopes that it would blow up into a true trophy with another year.
His resolve was tested when the buck came by at 30 yards on the opening day of the 2020 season. Williams stayed true to his word and simply watched the young buck walk away. That was the last time he laid eyes on the deer for the year. No sightings, no trail-cam photos — the buck just disappeared.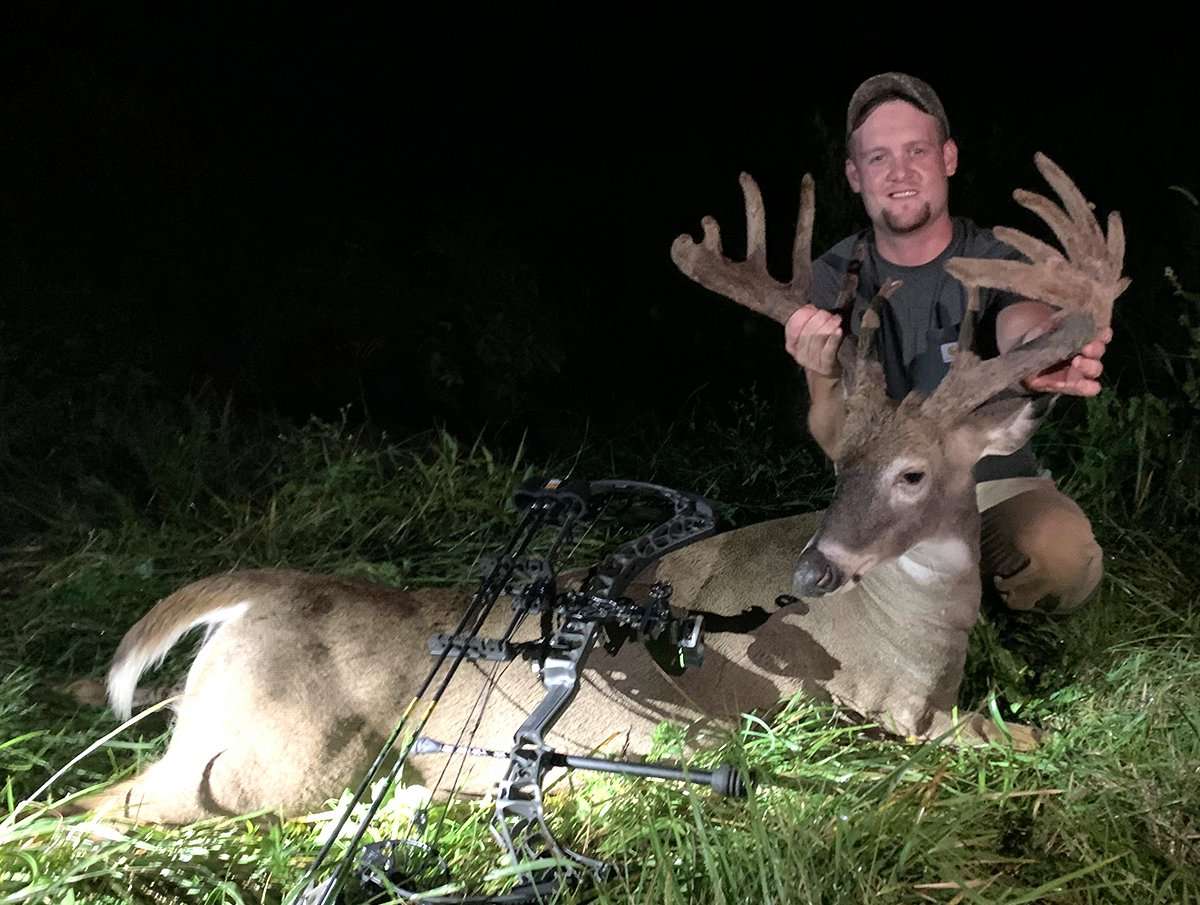 Last spring, Williams was excited when a farm worker found one of the buck's shed antlers. He knew then that the buck had at least lived through the season, and he immediately started putting out cameras over mineral licks.
(Don't Miss: 10 Things You Didn't Know About Velvet Bucks)
His cams paid off. By late May, Williams was getting regular photos of the buck at his mineral licks. That buck was one of the most regular deer I had on camera. He was showing up at least six nights a week throughout the summer, he says.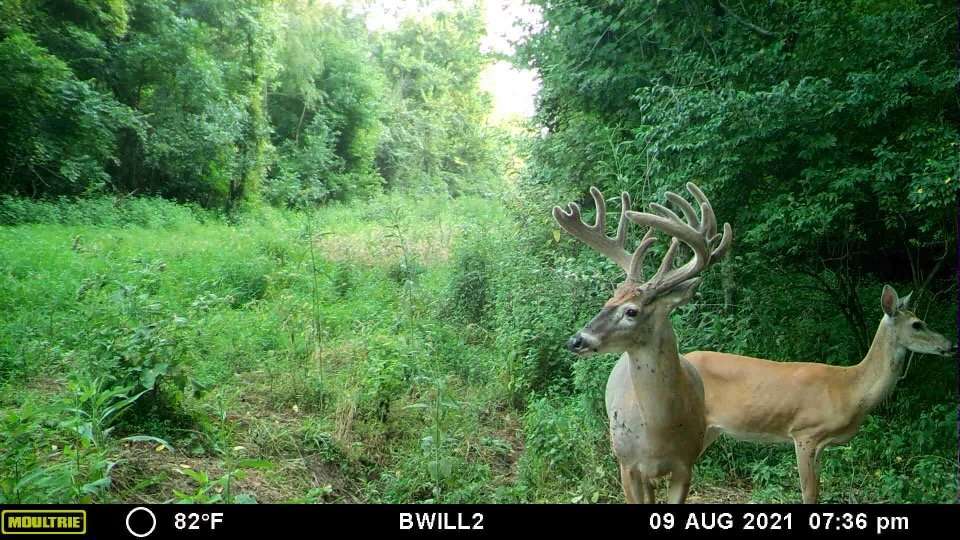 The big buck stayed on his pattern all summer. He would occasionally miss one night but never two nights in a row, says Williams. When the buck didn't show up on the Friday night before the season opener, I had a really good feeling that he would be there the next evening and I knew I needed to be in that stand.
Williams got into his stand early but just barely beat the first deer to come in. I had only been in the stand for a few minutes when the first deer filtered in, he says. Throughout the evening, he had deer around him almost the entire time. I was worried all evening that one of the deer was going to get downwind and ruin the whole hunt.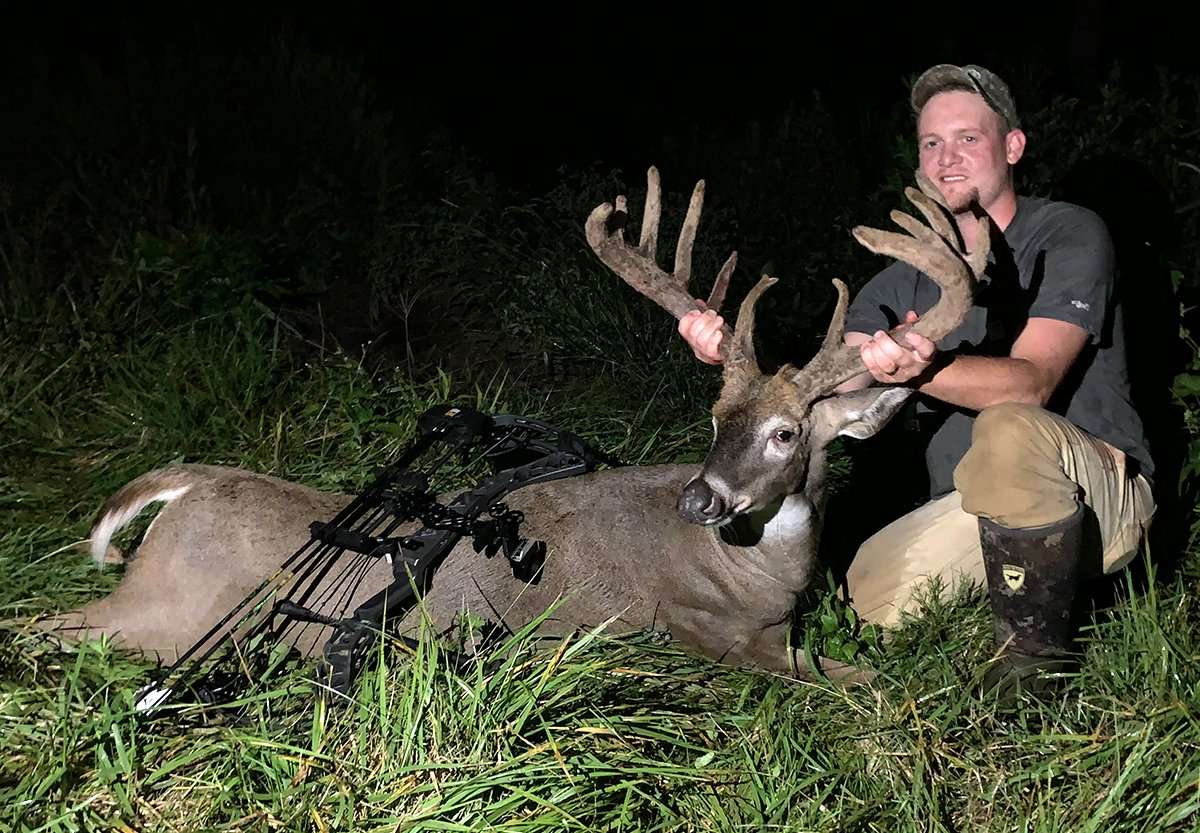 Luckily, none of the deer ever caught his scent. But the normal time the big buck would usually show up came and went with no sightings. With just a few minutes of shooting light left, Williams was starting to get worried.
(Keep your gear in reach: EZ Hanger Bow Holder Combo Pack)
Then he saw him. The deer was coming from almost straight downwind but wasn't catching the hunter's scent. I watched him work all the way around me in a circle, says Williams. The buck finally passed behind a large tree and Williams came to a full draw.
The buck stepped out at just 15 yards but was quartering hard to him, giving him no shot.
I held at full draw for probably two minutes. It felt like forever. I knew I couldn't let down, but I also knew I couldn't hold that position much longer, Williams says.
Finally, the buck turned just a bit. He was still quartering to the hunter but not quite as hard. I put my pin right on his shoulder, hoping to take out at least one lung and his heart, Williams says. He released the arrow and watched it hit the deer right where he was aiming.
The buck spun and crashed up a thick power-line right of way and went out of sight.
Williams was confident in his shot but didn't want to rush things and risk pushing the buck.
He quietly climbed out of his stand and slipped out of his hunting area. Almost immediately, he received a call from a buddy saying he had also shot a good buck. Williams went to help his friend track and recover his deer before coming back to look for his buck.
By the time he got back to his hunting spot, nearly four hours had passed since the shot. Williams took up the trail and walked straight to his deer. It had gone only 80 to 100 yards from the spot of the shot.
Williams' deer featured a 6x6 frame with two additional kickers. With main beams measuring 25 inches and heavy mass all over, his buck taped out at over a 180-inch green gross score.