Nicole Weller Larson wasn't expecting much on that hot early season evening, but a light calling sequence pulled in this Minnesota bruiser on a string
Rack Report Details
Buck:
155 (typical)
Time of Year:
September 21, 2021
Place:
Ottertail County, Minnesota
Weapon:
Hoyt Eclipse bow Bowhunting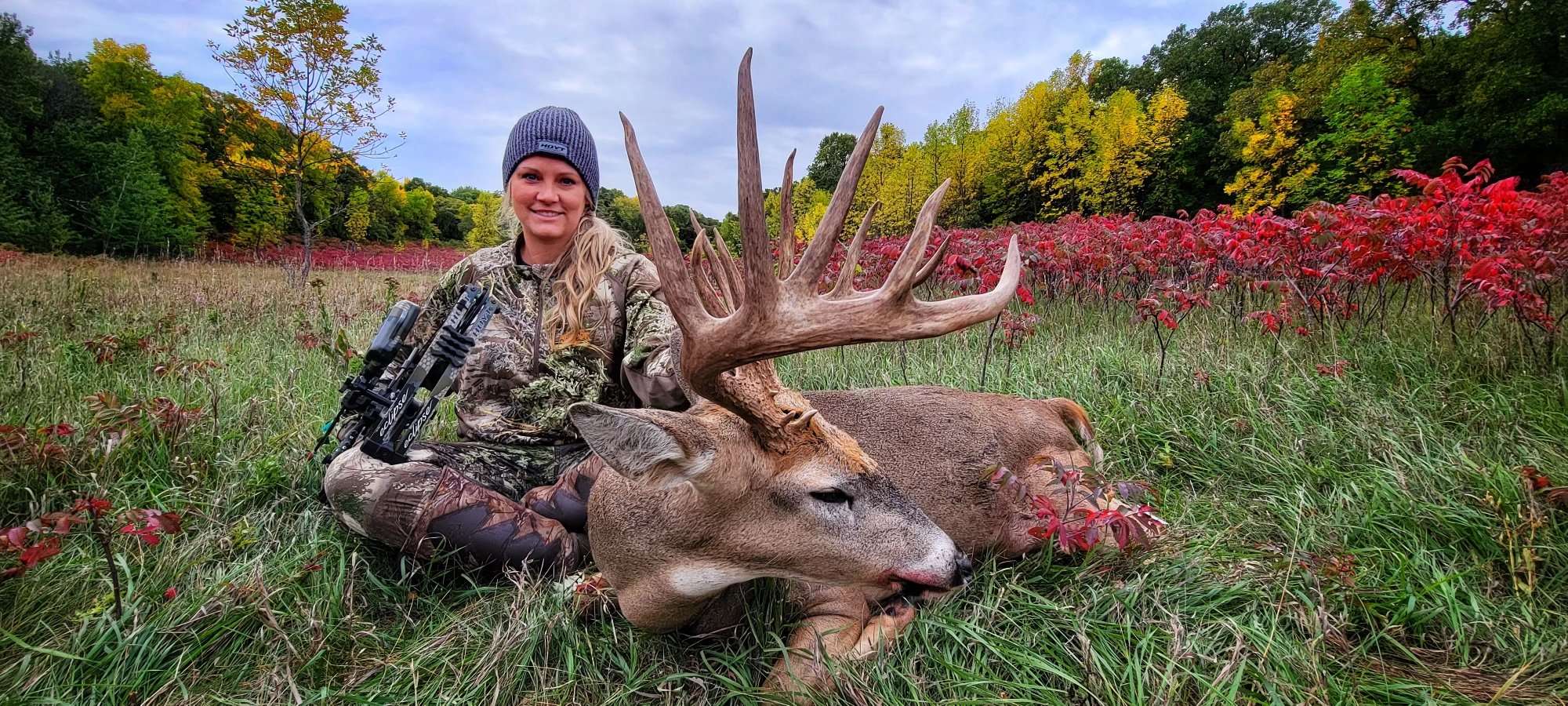 Wildlife artist Nicole Weller Larson and her husband, Brent, put a lot of time and effort into hunting whitetails, and they don't settle for just any buck. Their goal is to harvest mature deer only. The properties they hunt are thick with does, too, so they usually try to shoot a couple before they shoot a buck.
On opening night, we sat at the back of our 40-acre home property in one of our enclosed box stands, Larson says. We didn't have any real expectations that afternoon. We just wanted to be out there. We saw a pile of bucks and does. With the temperatures in the 80s, we decided to pass on shooting a doe. It was fun just to be out there. It was mostly a photography mission to capture photos for my paintings anyway.
Larson works from home in her art studio, and on the Tuesday following the opener, she felt the itch to get out of the house.
We run our trail cameras year-round, but we hadn't captured any target bucks since August, she remembers. I asked my husband if he wanted to hunt, but he declined due to a long day at work. He told me that he'd watch our son, Chase, and that I could go sit. Just like opening day, I had no expectations because we had no recent mature-buck pictures.
(Buy Alert: Realtree Camo Pro Staff Performance Hoodie)
Larson took her time sneaking to her stand, and enjoyed all of the sights and sounds along the way.
I was really enjoying the weather and taking pictures, she says. I wasn't even halfway up the ladder when two does entered the plot and came toward me. It was hot, just as it had been on opening day, so I made no effort to shoot one. They walked right by and then directly downwind, but they never spooked.
I finished climbing up the ladder and then I had eight more does and fawns come through, all downwind, Larson says. Eventually, I decided to do a rattling sequence because I've had good success with it over the years. Soon after rattling, I heard something coming. Strangely, it was a cow, and it walked right beneath my stand. After it left, I let things calm down.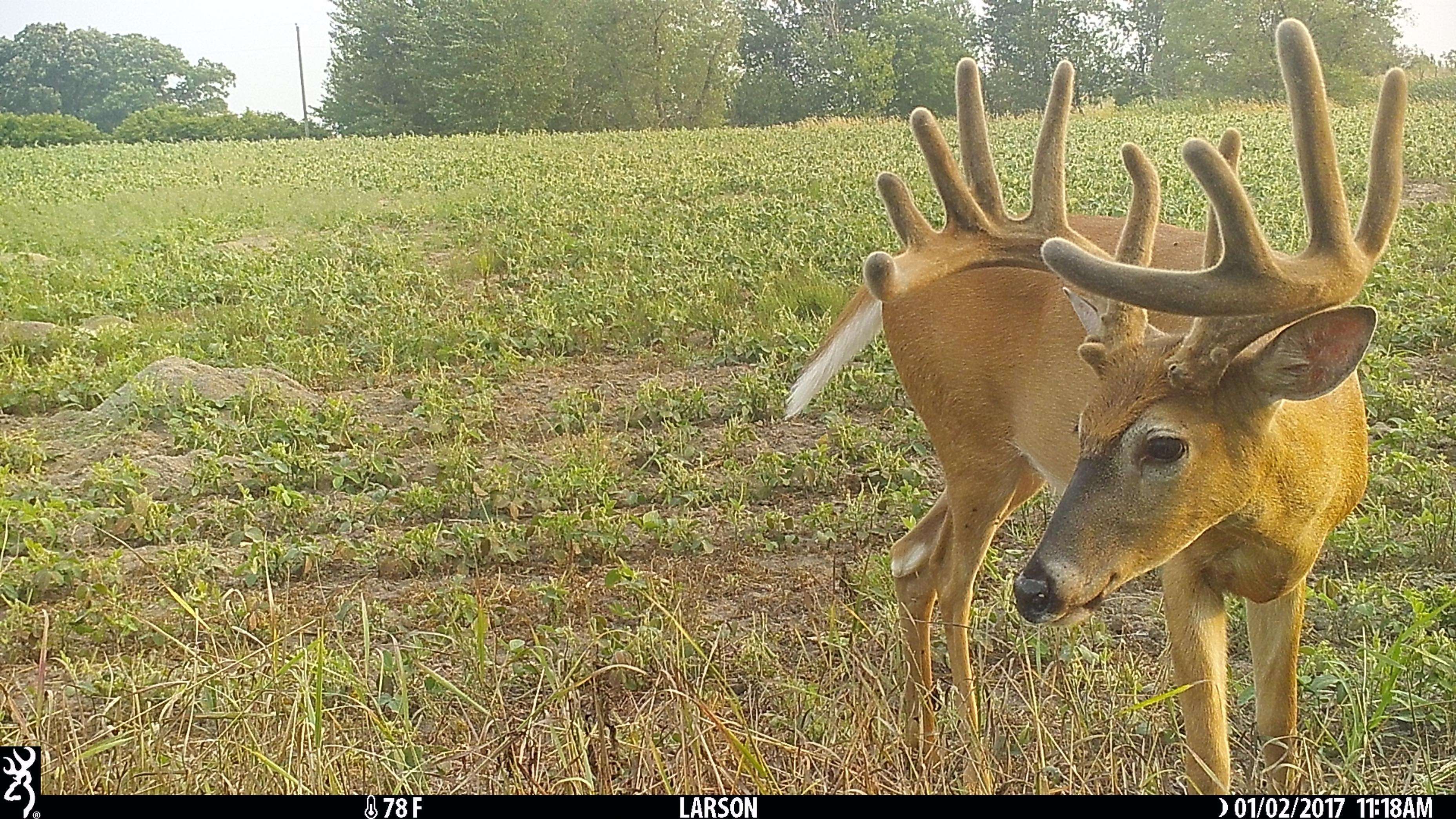 About 20 minutes following the cow episode, Larson picked up the antlers and rattled once again.
I heard another noise and thought, 'Great! The cow is coming back,' she says. But on closer look, I saw some antlers with really nice brow tines. The buck was coming right at me and obviously was responding to my rattling. Instead of walking down a trail, he started weaving through the thick stuff. I was struggling to determine if he was a shooter. Then, he turned his head just right and I noticed that he was a nice 4-year-old buck we call 'G3.'
(Don't Miss: Katie Van Slyke's Freaky Tennessee Buck)
He reached the trail that leads right by my stand and began running, Larson says. I drew my bow and mouth-grunted to stop him at 9 yards. I made the shot, and he ran about 30 yards down into a swamp and tipped over.
Admittedly, Larson was slightly surprised at the outcome, although she believes the Lord, hard work and time on stand ultimately led to the unusual encounter on that hot September afternoon.
I just wanted to enjoy some time out in the field, she says. I was out there mostly to take some pictures and enjoy the peace and quiet. And then, this great buck came in and gave me an opportunity. Just like the does had done earlier in the afternoon, he came in straight downwind and never smelled me.
Watch all the latest video episodes