This Legends of the Fall co-host wasted no time tagging a giant this deer season. It's her biggest buck ever
Rack Report Details
Buck:
187 inches
Time of Year:
Oct. 7, 2021
Place:
Kleberg County, Texas
Weapon:
Elite Kure Bowhunting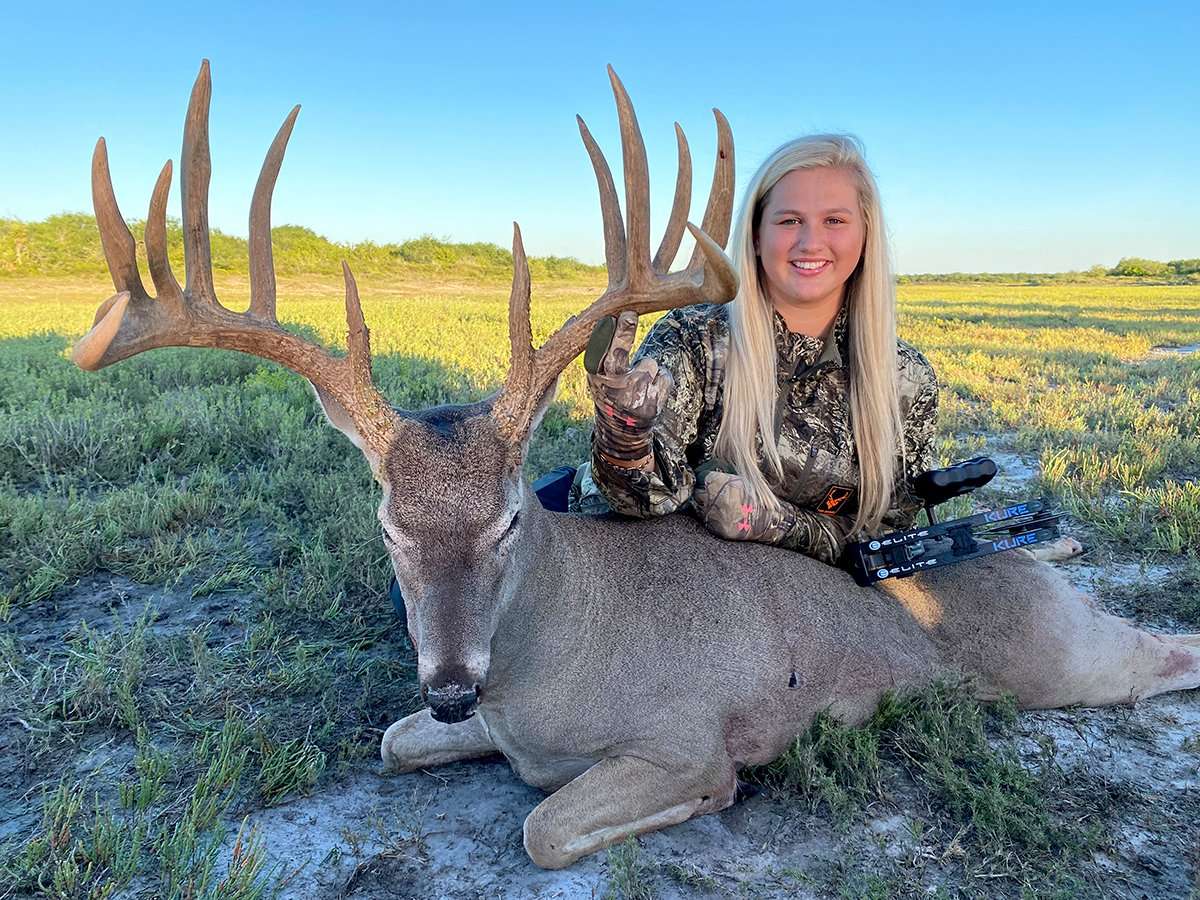 Georgia-Kate McFerrin, daughter of Mike and Bonnie, is a monster buck killer. She's been doing it for years. My parents have been deer hunting since before I was born. So, since I was little, I have been hunting, she said. I am 22 years old and have been on the ranch my entire life. I shot my first deer with a bow when I was 8.
Of course, her latest success affirms that she's following in her parents' footsteps. She recently arrowed a 7 1/2-year-old Texas giant, which they'd been following for a while now.
We have about two years of history with this buck, McFerrin said. [We] had an encounter with him last season and decided to give him another year. We had been running trail cameras in this area because of that encounter we had with this buck.
This year, hoping to cross paths with the giant, she and her father, Mike, patterned the deer and positioned some blinds focused solely on that buck. She hunted Oct. 5 and 6 and almost got a shot. We had one encounter with him the evening before I got him, she said. He filtered through our spot but never gave me a shot opportunity.
On Oct. 7, she decided to move in and hunt the buck again. She eased along a low-impact entry route and settled in long before daylight. Eventually, the sun rose, and so did her anticipation, but she still wasn't quite sure if everything would come together.
(Don't Miss: 186 Georgia Bow Buck is Tyler Jordan's Biggest Archery Kill Yet)
With clear skies and highs in the mid-80s, the conditions weren't great. A storm had recently pushed up out of the Gulf, so there was standing water in a lot of places. But the deer were moving during daylight. That's all that mattered.
She opted to sit a spot in a small opening around a lot of thick cover. This is a very familiar area for me, she said. Behind us, there was thick mesquite trees. To my left, right, and front, there were also a lot of mesquite trees, but some open areas with short grass as well.
The afternoon started slow, but she occasionally heard deer and pigs walking through the standing water. We had a lot of deer come through, McFerrin said. A couple good young bucks and some does with their fawns. Still, the giant hadn't showed up.
As the sun continued rising, her expectations sank. It was actually getting late in the morning, and we were not sure if the deer were still moving, she said. Then, he came walking in.
After several tense moments, the buck finally made it within bow range and turned broadside, presenting a 26-yard shot opportunity. She drew back, anchored, settled the pin, and released an arrow. It blew through the vitals. The deer dashed out of sight, disappearing into some thick mesquite brush. After a few seconds of madness, all went silent.
(Buy Alert: Men's Realtree Excape Camo Early Dawn Sherpa Shell Vest)
She gave the deer some time to expire, then took up the heavy blood trail. Forty yards inside of the thick stuff, she quickly found the buck. Upon recovering the deer, it was all smiles for her and cameraman Harmon Blanton.
[I'm] very grateful to be able to harvest a buck like this, and blessed that everything worked out so well, McFerrin said. Everyone was very excited.
Given that her entire family hunts, it's long been a tradition they enjoy together. She grew up around it. While the deer already meant a lot, this is also her biggest buck ever.
This buck means a lot to me — my biggest buck to date, McFerrin said. I was blessed last year with an amazing buck, and for it to happen again this year, I couldn't be happier. It's rewarding because we had passed on this buck last year and took that risk of maybe never seeing him again. For him to blow up this year, it couldn't be more exciting.
More than 187 inches of Texas antler added to the excitement and appreciation for the hunt. McFerrin will see that buck on the wall, and reflect on the hunt, for a long time to come.
(Don't Miss: Dan Infalt Arrows Another Public-Land Booner)
Watch all the latest video episodes