Kirsten Godfrey, a soon-to-be mother, says her daughter was her big-buck good luck charm
Rack Report Details
Buck:
161 6/8 inches (gross)
Time of Year:
November 13, 2021
Place:
Hardin County, Kentucky
Weapon:
Ruger .25-06 Rifle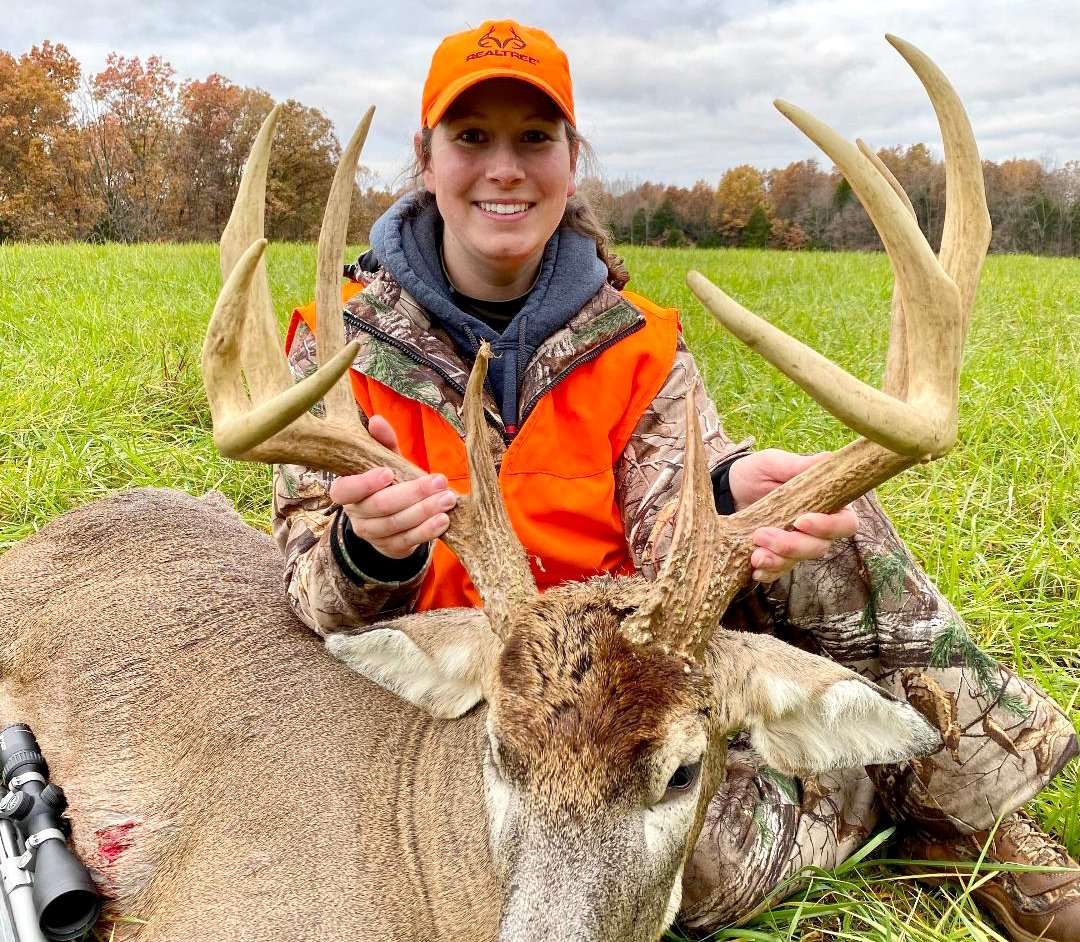 Kirsten Godfrey has been deer hunting since she was a teenager, and getting a shot at a giant buck has long been a dream. This year she started getting consistent trail camera photos of a buck that definitely made the grade. It was a deer that she'd been seeing on camera since 2019, but she'd never crossed paths with it. This year, she couldn't start hunting until mid-October, but once she moved in on the deer, she didn't let up on the gas.
Godfrey made 16 sits over the course of the next month, and had six encounters with the deer during that time, but the buck was always out of crossbow range. Her fortunes changed on November 13, opening day of rifle season.
The morning hunt began with a pre-dawn walk across the farm. She carefully eased through the rolling hills and open hay fields, hoping she wouldn't bump any deer on her way to the blind.
The property consists of hardwoods, fields, and islands of trees. But given the gun opener, Godfrey selected a location right on the edge of a big field and settled into her ground blind. That way, she was able to maximize the range of her weapon.
I remember when it was still too dark to shoot, I could see silhouettes of deer out in the field, and I would look through my binoculars to see if I could make out what they were, but couldn't, she said. Still, I felt great and confident in the deer sign and movement.
Soon after settling in, the sun started to rise, and the world came alive around her. It was partly cloudy and about 30 degrees. To her left, Godfrey had about 800 yards of clear, open pasture. To her right, she had more pasture — about 300 yards of it — with a fence line and neighboring hardwoods beyond that. Behind her was more timber. And in front was an island of woods that deer often use.

The air was cold and crisp, and leaves were still changing color, Godfrey said. I expected to hear a lot of shots since it was opening day of rifle season, but I only heard two distant shots.
Hers would soon be added to the mix, though. As it got more daylight, I saw a few smaller bucks chasing does to my left, she said. Around 7 a.m., I had does to my right in the field, and it was only a few short minutes later I saw my buck appear.
She watched as the heavy-antlered deer walked over one of the rolling hills. Godfrey grabbed her binoculars, and instantly recognized it as her target buck. She picked up her rifle, poked the gun barrel out of the blind, and waited for an opportunity. All the while, the buck chased does straight toward her. Within seconds, the deer was within range.
Knowing this was the opportunity she'd been waiting for, Godfrey controlled her breathing and placed the crosshairs on the buck's shoulder. She settled in, slowly squeezed the trigger, and took the broadside, 80-yard shot.
The bullet struck the heart, and the deer only took a few sluggish steps before falling. It couldn't have happened more perfectly, Godfrey said. It all happened so fast. I didn't have to sit very long before making a shot, and I normally never have quick hunts. This is my biggest buck to date and to say I'm smitten is an understatement.
After the deer fell, she sat there and enjoyed the moment for a while. She was hunting by herself, as she often does, but soon called her husband to help load the buck. He was shocked at just how big the deer was.
Uh, I think he's bigger than we thought, he said.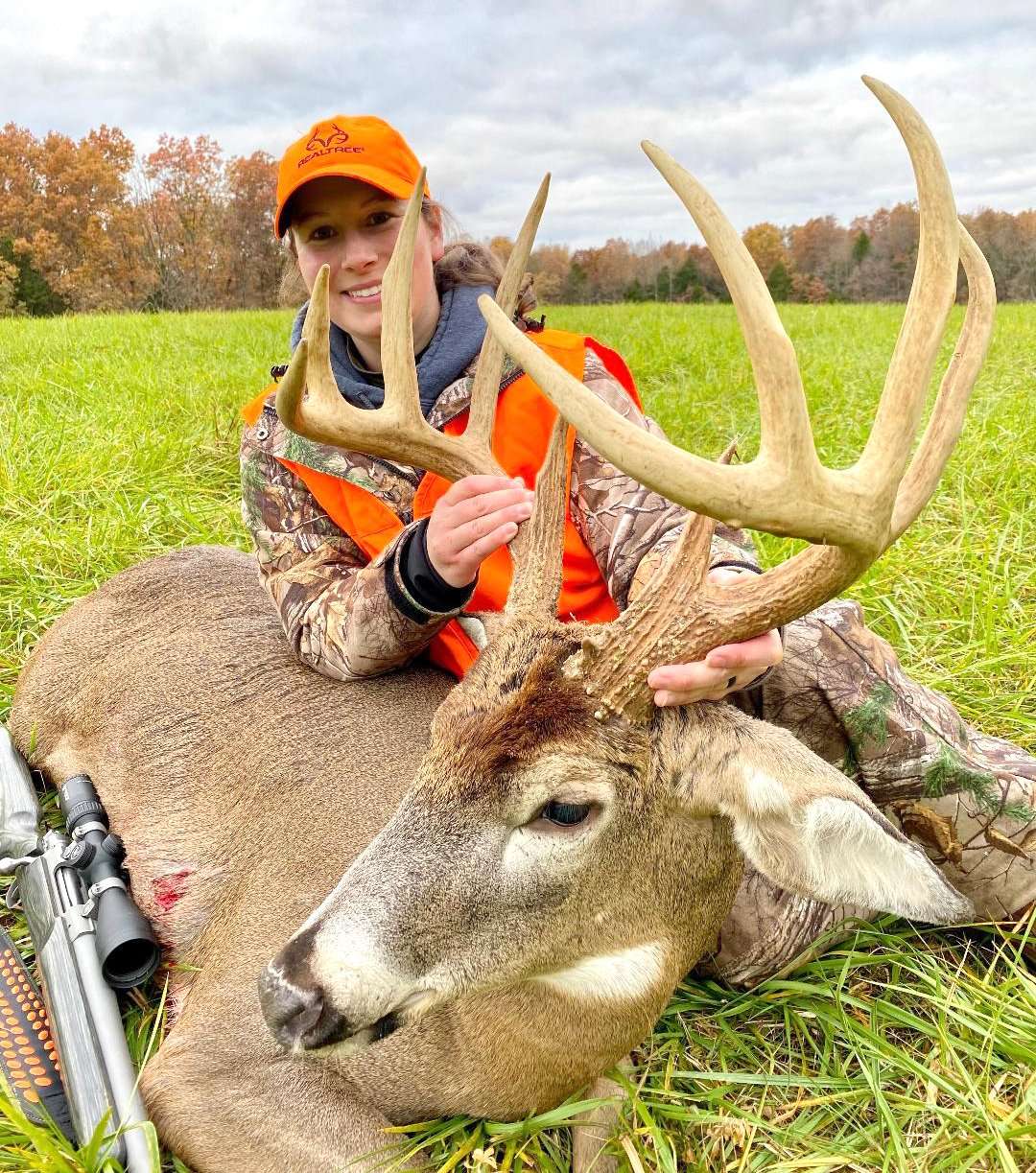 From the trail cameras, they had guessed the deer to be in the 150s, but the giant easily surpassed the 160 mark. In fact, it grossed 161 6/8 inches.
Of course, Godfrey's family, friends, and co-workers were excited for her. They all knew just how hard she'd been hunting this buck, and it finally paid off. It had also been two years since she killed a good buck, and it felt great to be on the board again.
She notes that it was a long five years of hunting that property before finally harvesting a buck on it. She passed a lot of deer in hopes of getting some to older age classes.
We have put in food plots, apple trees, chestnut trees, corn, and mineral consistently over the years, Godfrey said. I love providing for the deer with food plots and trees, and getting pictures of them, more so than harvesting them. Although that's the point and to provide food, there's something even more rewarding about improving the overall land and habitat for them.
She also contributes her success to cellular trail cameras, which helped keep her out of the woods unless conditions and deer movement were right. She also contributes it to something else.
Deer hunting is so important to me, Godfrey said. It's something I truly enjoy. I'm expecting my first baby, and I thought it was neat that I got to share my first hunt with her and clearly, she's my good luck charm. I can't wait for our little girl to get here so we can share the love of hunting with her.
(Don't Miss: A 170 Illinois 8 Named Buster Douglas)
Watch all the latest video episodes