Rack Report Details
Buck:
188 3/8 non-typical
Time of Year:
Nov. 30, 2021
Place:
Shelby County, Ohio
Weapon:
Ruger .350 Legend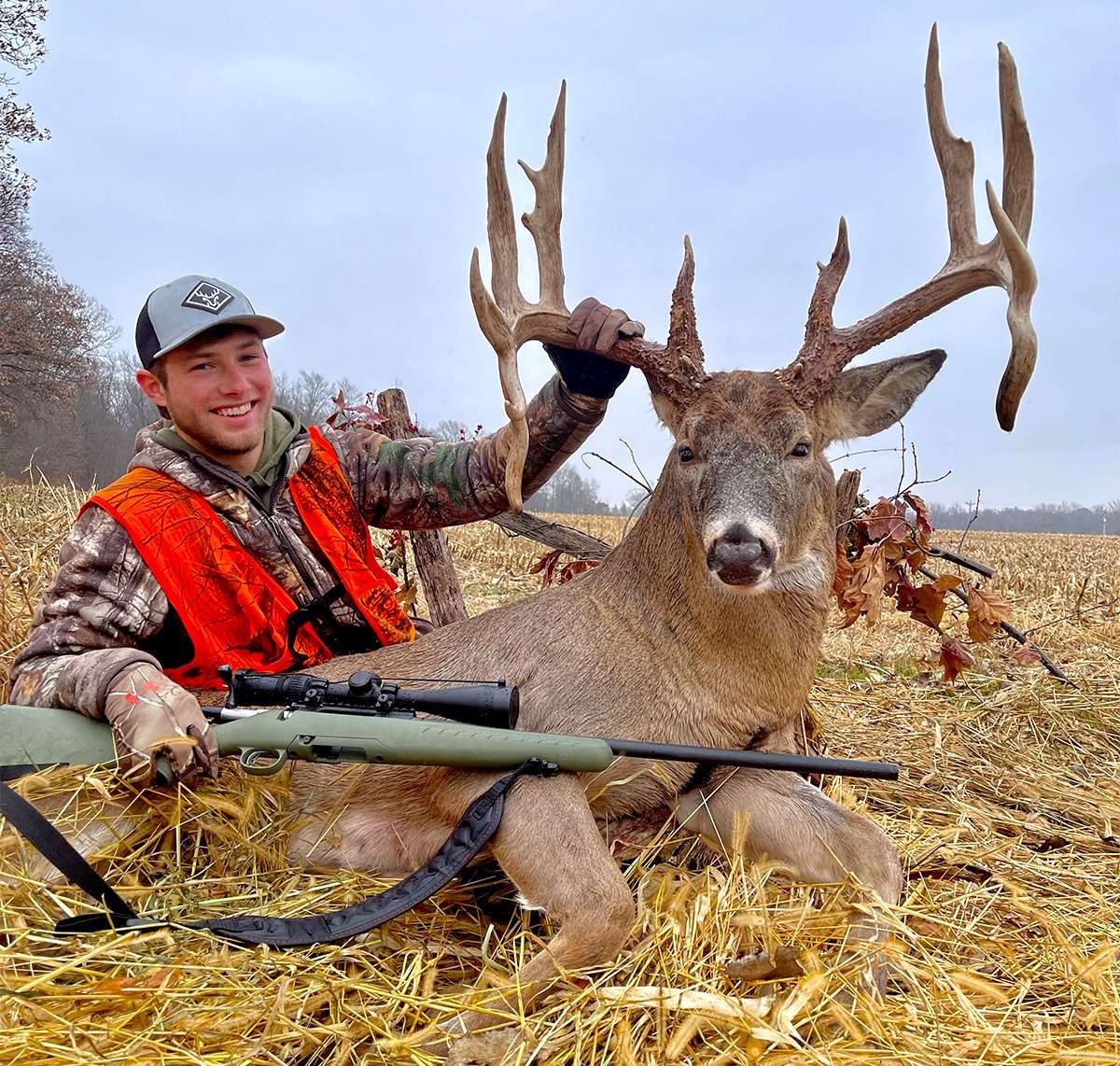 Shooting a world-class, free-ranging buck is seldom easy. That's why the most serious deer hunters pour hours of labor into preparing before the season opens, and then hunt hard when the magic days arrive. The pinnacle of all the effort is when the work yields a shot opportunity at a magnum buck. Ohio hunter Hayden Billing found that out this fall on the last day of November when he anchored a huge buck with two drop tines.
As with many dedicated deer hunters, food plot work is the heart of Billing's whitetail program, and it was instrumental on this hunt. On the properties I hunt, we plant beans, corn, and clover, he said. A lot of early-season preparation goes into our food plots. We also set different stands for specific wind directions. We've built multiple tower blinds over the years, and those require some annual upkeep. Plus, we run about 10 to 15 trail cameras across a couple different farms.
Though not his target buck, a nice buck with a split G2 and a drop tine appeared on one of Billing's farms following the 2020 Ohio firearms season.
I got a lot of trail camera pictures of him last year, Billing said. Last year was the first year that he was recognizable. I didn't hunt for him in 2020, so I didn't encounter him at all. He was maybe around 150 inches with the drop tine. But, he added on a pile of inches in 2021.
As the 2021 season progressed, Billing passed up a few bucks in the 140- to 150-inch bracket.
I was keeping the drop tine buck in mind, he explained. My focus was on killing that specific buck. Despite that, I had basically no intel on his movements during the early part of the season because my farm was surrounded by corn. I was sure he'd show up later in the season, as he had in 2020. I hunted where I felt I had chances of encountering him, but I didn't hunt too hard because I didn't want to pressure the area.
(Don't Miss: Willie Robertson Shoots Giant Arkansas Swamp Buck)
Billing's first encounter with the buck wasn't until November 30, but he made it count. Typically, most rutting activity in the area is over by then, but Billing's huge buck showed no signs of slowing down.
Around 2 p.m. on the second afternoon of the (gun) season, I headed out toward a treestand that I selected to hunt, he said. There were already deer in the field, so I held back about 100 yards from the treestand and sat on the ground along a creek bank with the wind in my favor.
About an hour and a half later, eight does and fawns entered the field about 500 yards away. All were alert. Then, a 140-inch 10-pointer came out and began chasing does around in the field.
Shortly after, the 10-pointer's demeanor changed, Billing said. He began staring toward the woods, and the big drop-tine buck stepped out into the field 500 yards away. I called my father and told him the buck was in front of me, and I asked him to pray that I'd get an opportunity to shoot the deer and also make a great shot. He assured me that he would, then he told me to calm down and not to look at the antlers.
For the following hour and a half, the buck put on a show.
He sparred with the younger 10-pointer and ran him off the field, Billing said. He also was grunting so loudly that I could hear him from all the way across the field. Once he broke the 300-yard mark, I was ranging him constantly as he approached. By now, I'd watched him for so long that I was very calm and just focusing on making a good shot when the opportunity came.
At that point, I had 10 does and fawns 100 yards away in the field, he continued. He was coming right toward them. I'd been laying prone the entire time, but I cautiously sat up when he reached 150 yards. He continued in to about 100 yards and was pushing some does around. Finally, he paused to eat. I ranged him at exactly 100 yards. I got on him, took a deep breath and began squeezing the trigger.
I immediately knew I'd hit him, Billing said. He ran toward me, and I fired a follow-up shot. Soon after, he was down in the field. I said, 'Lord, thank you for allowing me to get this buck.' I was shaking badly as I called my father and mother. My father and a couple of friends came out to help me load him up, and the celebration began.

Watch all the latest video episodes