After tagging a 184-inch nontypical, Mike Reed bagged another Booner a week later
Rack Report Details
Buck:
170 inches (5 to 6 inches broken off)
Time of Year:
Nov. 17, 2021
Place:
Iowa
Weapon:
Hoyt Carbon RX-5 Bowhunting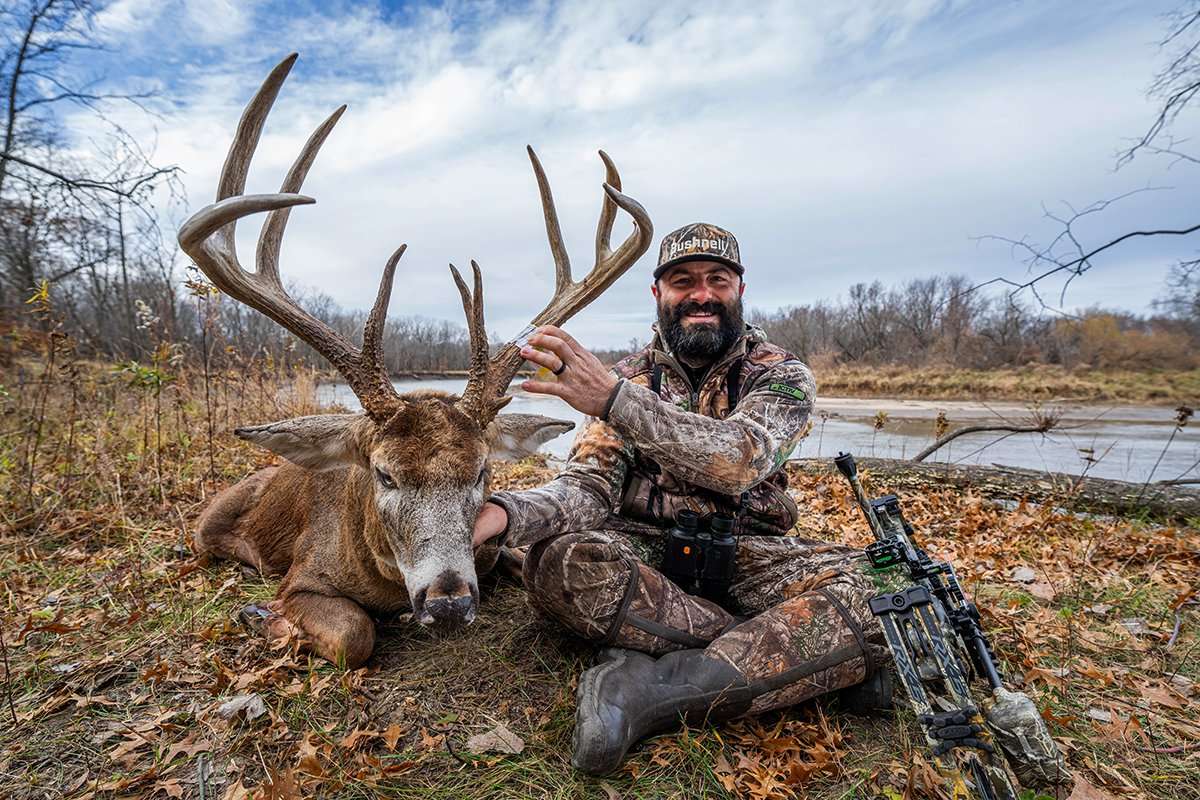 Mike Reed, co-host of Midwest Whitetail, had an incredible 2021 deer season. On Nov. 10, he connected on a 184 5/8-inch buck he nicknamed Chubbs. Then, a week later, he arrowed a massive 170-inch deer he and his hunting buddy and fellow co-host, Jared Mills, called Dak. But the story doesn't start there.
In 2017, they bought the farm this buck called home. With three years of history, both have hunted this 6 ½-year-old for quite some time. In 2019, they had many encounters with it. In 2020, they hunted the deer for approximately 30 days, which led to three encounters, but no shot opportunities. The deer just wasn't easy to kill.
In 2021, they started getting trail-camera photos of the deer yet again. Though Reed spent the first part of the season hunting the buck he called Chubbs, once that tag was filled, he decided to go after Dak. It didn't take long to connect.
The morning of Nov. 17 marked his fifth day of targeting the deer. He and his cameraman, Rye Ludwig, settled into a familiar spot on a property with river-bottom wetland habitat full of open timber and thick wetland grasses. Their stand location was a pinch point between the river and slough and the edge of the grasses.
The conditions were much better than the day he arrowed Chubbs. Brisk west-northwest winds carried in cloud cover and 30-degree temperatures — much closer to the weather rut hunters want to see in November.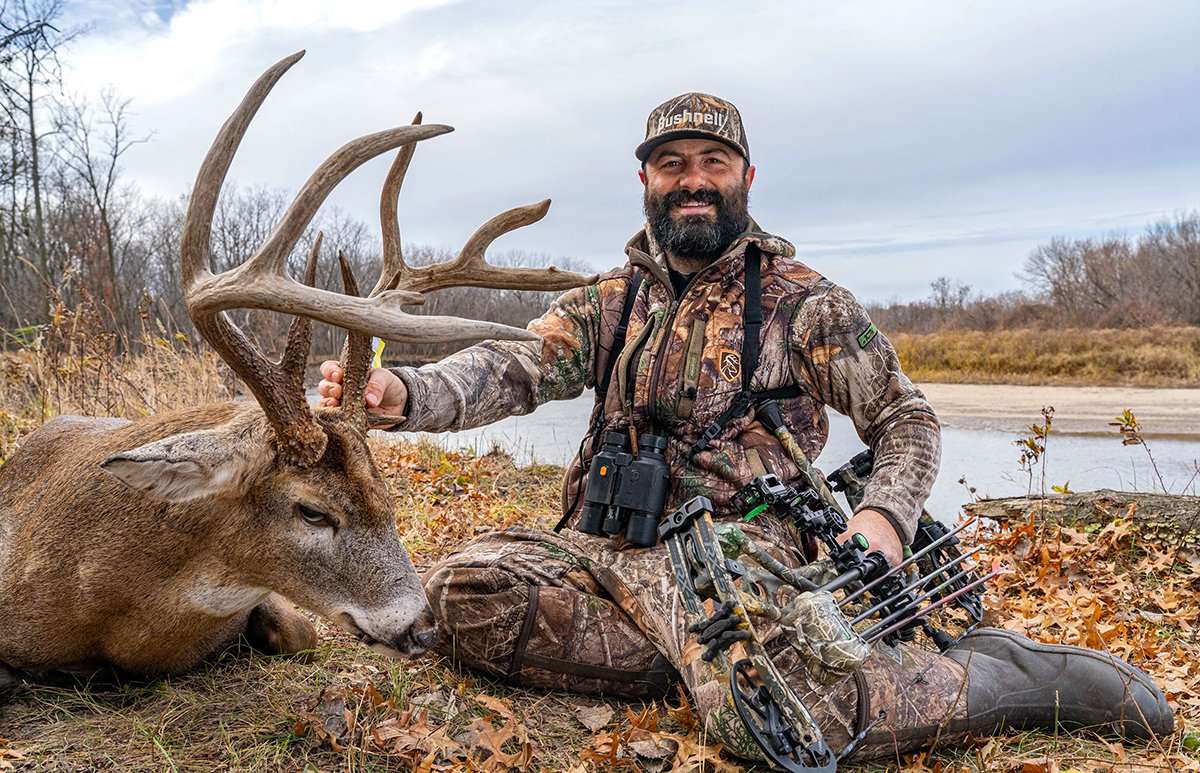 At first light, two bucks worked under the treestand and disappeared back into the bedding area. Afterward, it was very slow for an hour or so. Right when Reed thought the hunt was likely over, a couple of younger bucks cruised off in the distance. Then, after a few more minutes of waiting, Reed turned around and spotted a massive buck coming right toward the treestand. At first, he didn't realize what deer it was. Then, it clicked.
I heard him coming in an area I couldn't see very well and spotted him cruising toward us about 60 yards [away], Reed said. He came straight to the tree.
It all happened so quickly. Dak walked to within 10 yards and offered a perfect, broadside shot opportunity. Reed was ready and waiting at full draw. Given the steep shot angle, he made sure to bend at the hips — and not his shoulders — to maintain good shooting form and released the arrow. It blew through the vitals with ease. The buck ran 80 yards and fell over.
Reed gave the deer some time. After a couple of hours, he returned with his five kids and let them take point on finding the huge deer. A massive blood trail made the job easy. My five kids followed the blood and led us down the trail to the buck, he said. Great recovery.

Reflecting on the hunt, Reed attributes his success to hunting a well-used natural funnel during the lockdown phase. There, he was able to spot cruising bucks that were between does.
We were all very excited, Reed said. This buck wasn't spending much time on the farm. To be able to catch him during lockdown was a welcome surprise.
This Iowa whitetail scored 170 inches, with 5 to 6 inches broken off. But the score wasn't what made this deer so special. It was more about the journey, and all the days he and his buddy Mills had spent hunting the animal. Although he didn't have to invest much time pursuing the buck this season, they'd tallied many hours on stand for him the previous year.
This was such a stark contrast in the hunt for Chubbs, Reed said. Lots of sits, encounters, frustrations with Chubbs, and even in daylight, but it was hard to get him in bow range. Then, the hunt for Dak was a few sits and he walked right in.
No complaints there.
You can watch the hunt here.
(Don't Miss: Booner Loses Buck Fight, Shifts Its Core Area, and Gets Shot by Dedicated Bowhunter)