Kyle Olson's North Dakota Opening Day Buck
Rack Report Details
Buck:
166 7/8
Time of Year:
September 2, 2022
Place:
Towner County, North Dakota
Weapon:
Mathews Z7
Kyle Olson knew the buck he was looking at on his trail camera. He had several photos of him from the previous year. The first thing I thought is that he really blew up this year. I bet he put on 40 inches of antler, Olson said.
The buck was on a regular pattern throughout summer and early fall as he traveled back and forth through a thick slough between bean and wheat fields. As the season neared, the buck would show up several evenings in a row but then be gone for a few days. Olson's last daylight photo came on the Tuesday before the Friday opener. If the buck stuck to his pattern, Olson knew he should be back about the end of the week.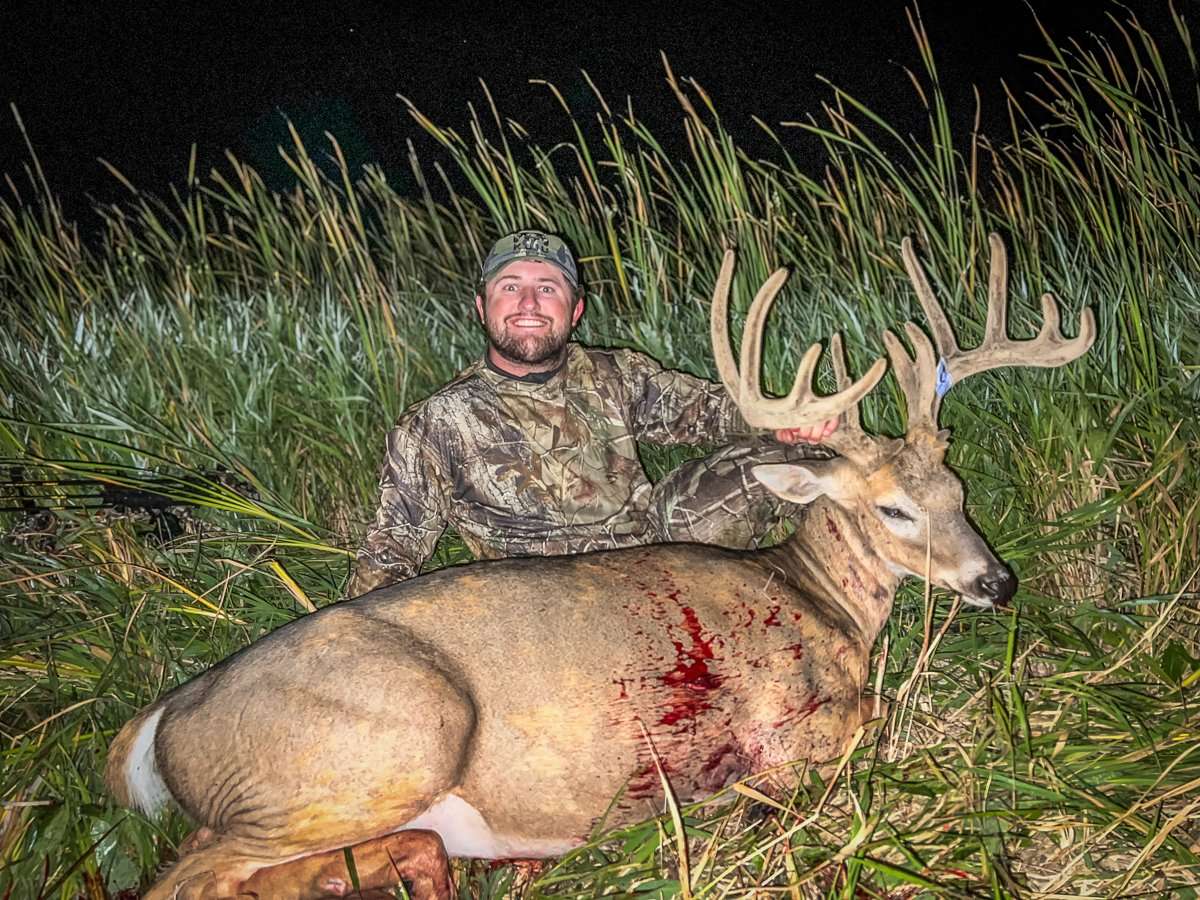 On opening day, Olson climbed into his stand early. At 5 p.m., a doe and fawn came in. The pair milled around for a bit and left. A couple of hours later, another doe and fawn came in. At 7:30 p.m., Olson saw a large-bodied deer making its way through the adjoining wheat field. It was about then that the first doe came back in. Olson's attention was attracted to the two does as they began to fight below his stand. He lost track of the big-bodied deer he had seen earlier.
(Don't Miss: Hunting the 3 States with the Most Deer)

After a few minutes of commotion, one of the does chased the other off. Unfortunately, she ended up downwind of Olson's location. She soon caught his scent and blew, causing him to worry that she would alert other deer in the area. It's probably a good thing I didn't have a clear shot at her at that point, he said.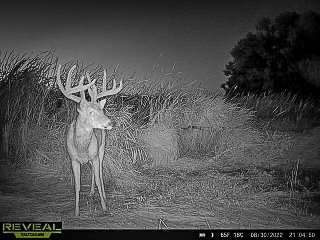 Finally, the does left, and things settled down for the last few minutes of shooting light.
My stand location was in a small tree, so I couldn't move around much," Olson said. "The deer at this spot always came in from the west, so I had my back to the open bean field behind me to the east. I soon heard something moving through the beans behind me, but I assumed it was just a coon or a skunk, because I'd never seen a deer come in from that direction."
Eventually, curiosity got the best of the Olson, and he slowly turned his head. It was the buck, just 50 yards away and coming straight at him.
I couldn't move," he said. "With the small tree and thick cover back there, there was no way to turn around and get a shot. I just had to sit still and watch as the buck got closer and closer. We are pretty serious about scent control with our skin and clothes and use ozone products, but this buck was coming in straight downwind, and I just knew he was going to catch my scent."
To make matters worse, soon after climbing up, Olson had dropped his Thermacell.
The bugs weren't bad, so I didn't climb down to get it," he said. "Sure enough, the buck walks right up to the Thermacell under my stand and starts sniffing it. I was about to come apart at that point. I was shaking and trying not to breathe. I was just begging him to keep moving and get out in front of me for a shot."
(Don't Miss: EHD Confirmed in Ohio, New York, Other States)
After what seemed like an eternity, the buck finally moved away from the base of the tree and out in front of Olson, offering an open shot.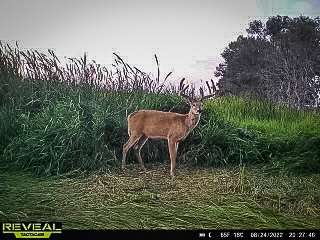 I just shifted my bow on my leg a little bit and the buck looked straight at me," he said. "After a few seconds, he started walking again, and I was able to draw. I've been shooting this bow for years, and its never done this, but this time it squeaked just a little as I drew."
The buck again lifted his head to stare in Olson's direction.
I knew it was now or never, he said.
He settled his pin and released the arrow. The shot looked good, and the buck bolted into the thick cover.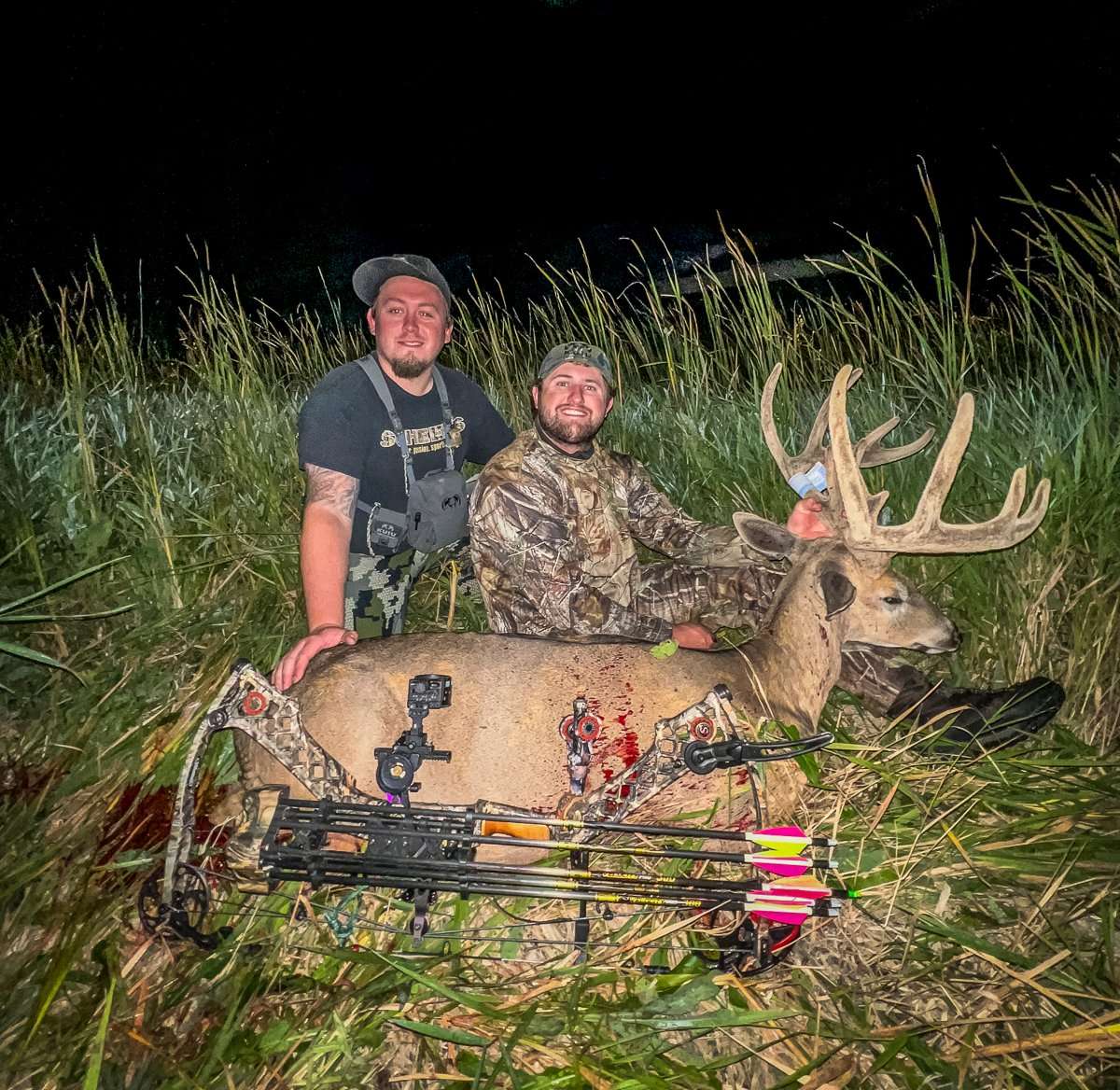 He went about 80 yards and stopped and then crashed," he said. "I could hear him taking his last breaths, and I knew then that he was down."
The buck featured a mainframe 5-by-5 rack with split brows and two kicker points. The rack had great mass and taped out at 166 ⅞ inches green-score in velvet.
Watch all the latest video episodes