Rocco Besednjak spends his time helping others, and the universe rewarded him
Rack Report Details
Buck:
175 inches
Time of Year:
Sept. 3, 2022
Place:
Estill County, Kentucky
Weapon:
Crossbow Bowhunting, Crossbow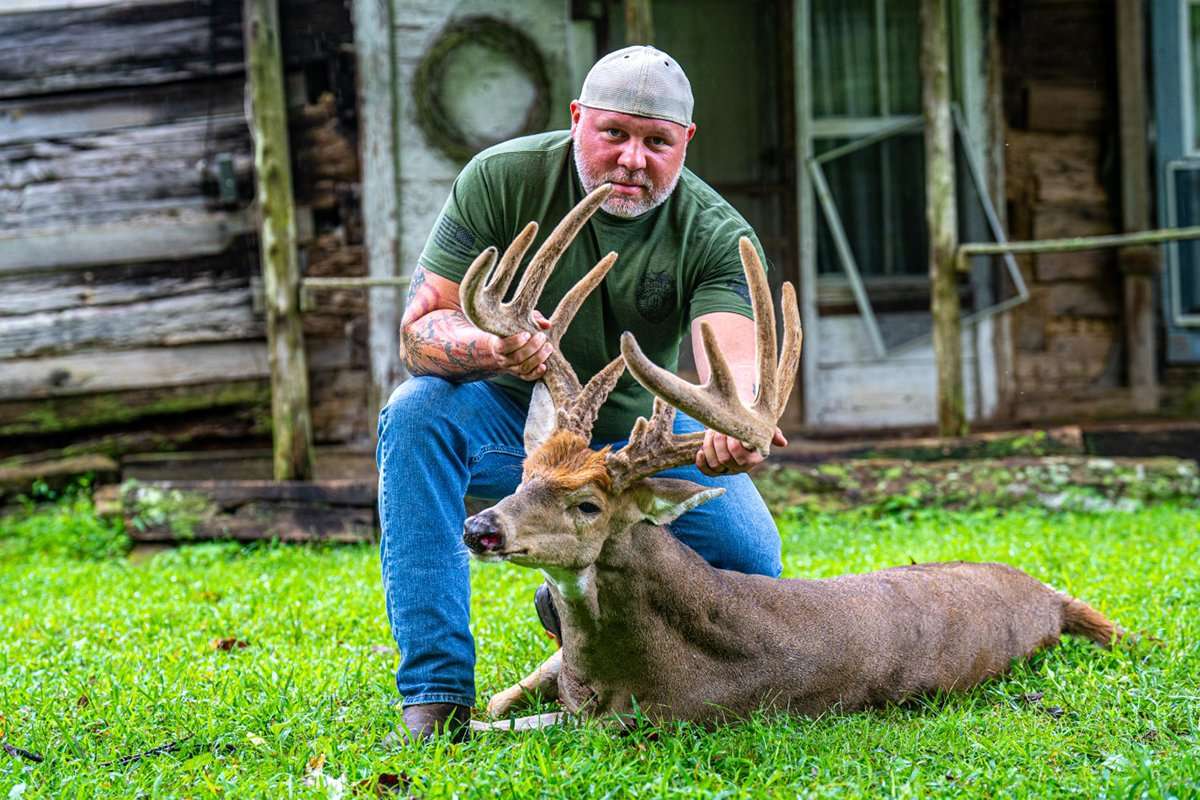 Rocco Besednjak is a retired police officer, and because of spinal injuries suffered while on duty, he commonly hunts with a crossbow. He obtained a medical permit that lets him use it concurrent with the compound bow season, which lets him enjoy more time in the woods. He's hunted since he was 14, and nothing will get in the way of continuing that way of life. It's his method for decompressing and enjoying nature.
I currently run a nonprofit, Camp Hero (CampHeroKY.org), where we host veterans and first responders for mental health support through outdoor activities, Besednjak said. We currently own or lease more than 1,400 acres in the area, and my cousin just bought this 100-acre tract in July and allows us to hold Camp Hero hunts on it.
Besednjak started seeing a massive buck soon after gaining access. He continued scouting the deer and kept tabs on it before the season. The deer fell into a pattern, making it huntable.
On Sept. 3, opening day, Besednjak eased into his stand, settling in about 4 p.m. The weather was cloudy, and temperatures were in the 70s. Located in a 10-acre field with small trees, thick cover and a pond, the stand is otherwise surrounded by mountains and big timber.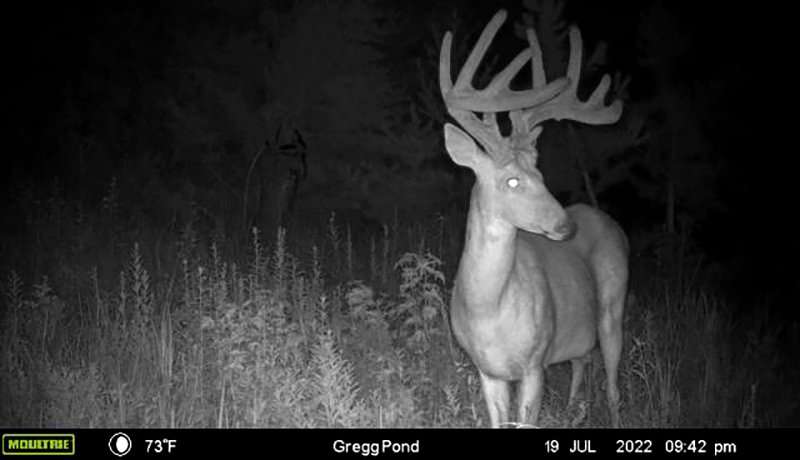 We were in a large hickory tree on the southern edge of the field, he said. In the front was a small group of trees, one of which had a bag feeder about 15 yards from me. To the left was an overgrown field edge that led up the mountain. To the right was an overgrown field edge that led to the bottoms.
The afternoon produced minimal activity. The sit was uneventful until about 10 minutes after sunset.
I happened to look up and saw a deer amongst the small group of trees, standing about 20 yards from me, Besednjak said. I looked harder and realized it was a smaller 8 that typically came out before the big buck (based on previous trail camera pictures). That buck had us pegged and stared at us for three to four minutes straight, but he never spooked.
The younger buck kept staring, but after another minute or two, something caught its eye. Looking to his right, Besednjak spotted the huge target buck emerge from some tall grass. The younger deer trotted off, and the big fellow walked underneath the stand and straight to the feeder.
After several minutes of waiting for an opportunity, Besednjak took the shot and spined the deer. He quickly followed with another shot and finished the big whitetail.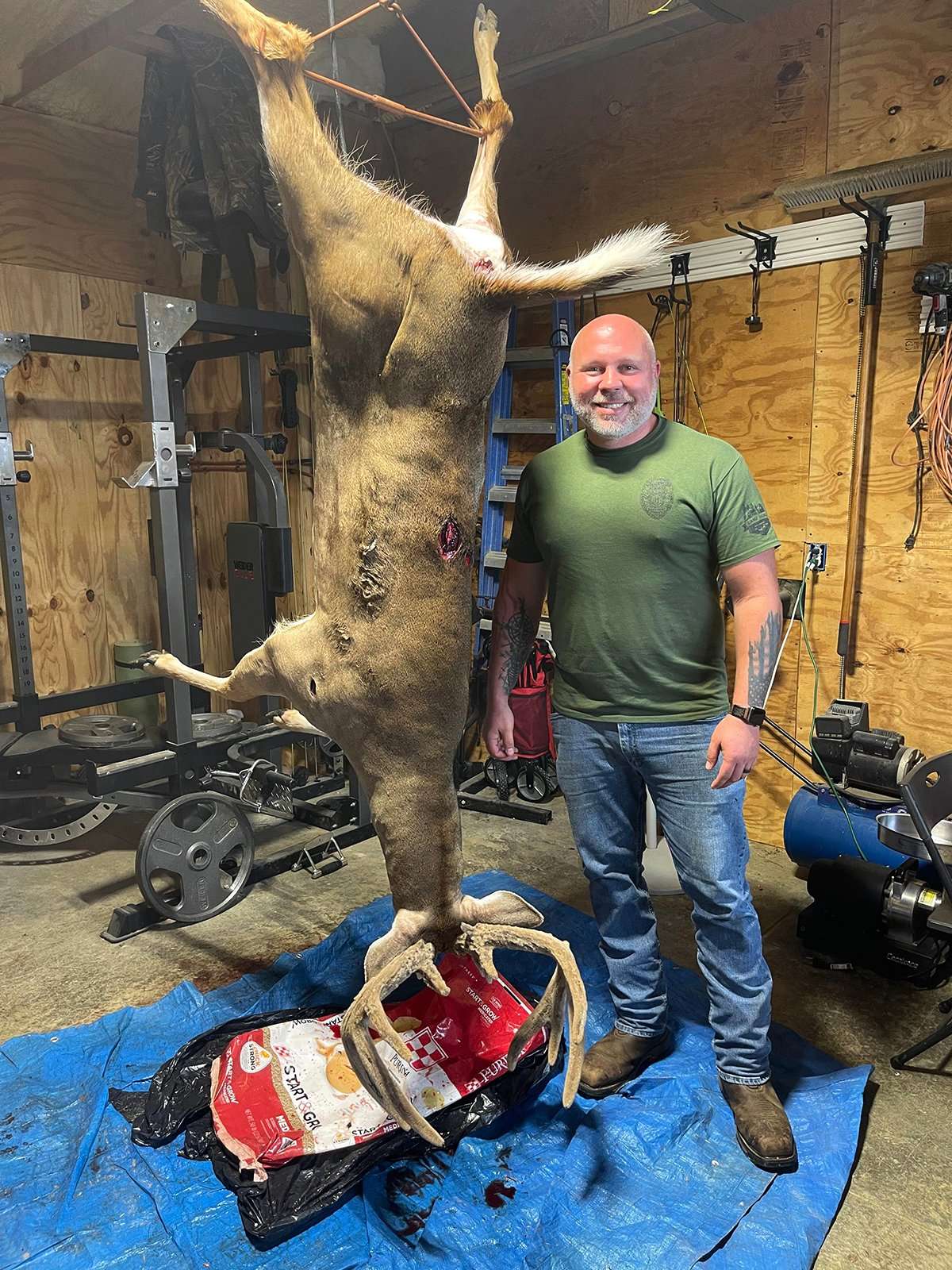 I haven't killed a buck in seven years, and with Camp Hero, I have always put everyone else ahead of myself when it comes to hunting and harvesting animals, he said. When this deer showed up on camera, all my friends, family and staff told me that I needed to hunt this deer, and that I deserved to do something for myself. I truly believe that because of the unselfishness that I have shown, God rewarded me with the opportunity to harvest this fine animal.
His friend and army veteran Matt Greene was in the tree filming, and they couldn't believe what happened.
We did it, Greene said. That thing is a monster. Look at that body.
Looking back, Besednjak also attributes his success to drilling down the buck's early-season pattern. He also had very favorable conditions. All of that led to a monster buck. The deer had a live weight of about 300 pounds, and it field-dressed at 235 pounds. The rack scored 175 inches. The buck was guesstimated to be 6-½-plus years old.
Learn more about Camp Hero at CampHeroKY.org.
(Don't Miss: The Sleepover Buck)

Watch all the latest video episodes