Andrew Dusek used the trusty compound made possible by his Grandpa Ben to arrow the buck of a lifetime
Rack Report Details
Buck:
173 5/8 inches (gross)
Time of Year:
September 3, 2022
Place:
Pembina County, North Dakota
Weapon:
Bowtech Insanity CPX Bowhunting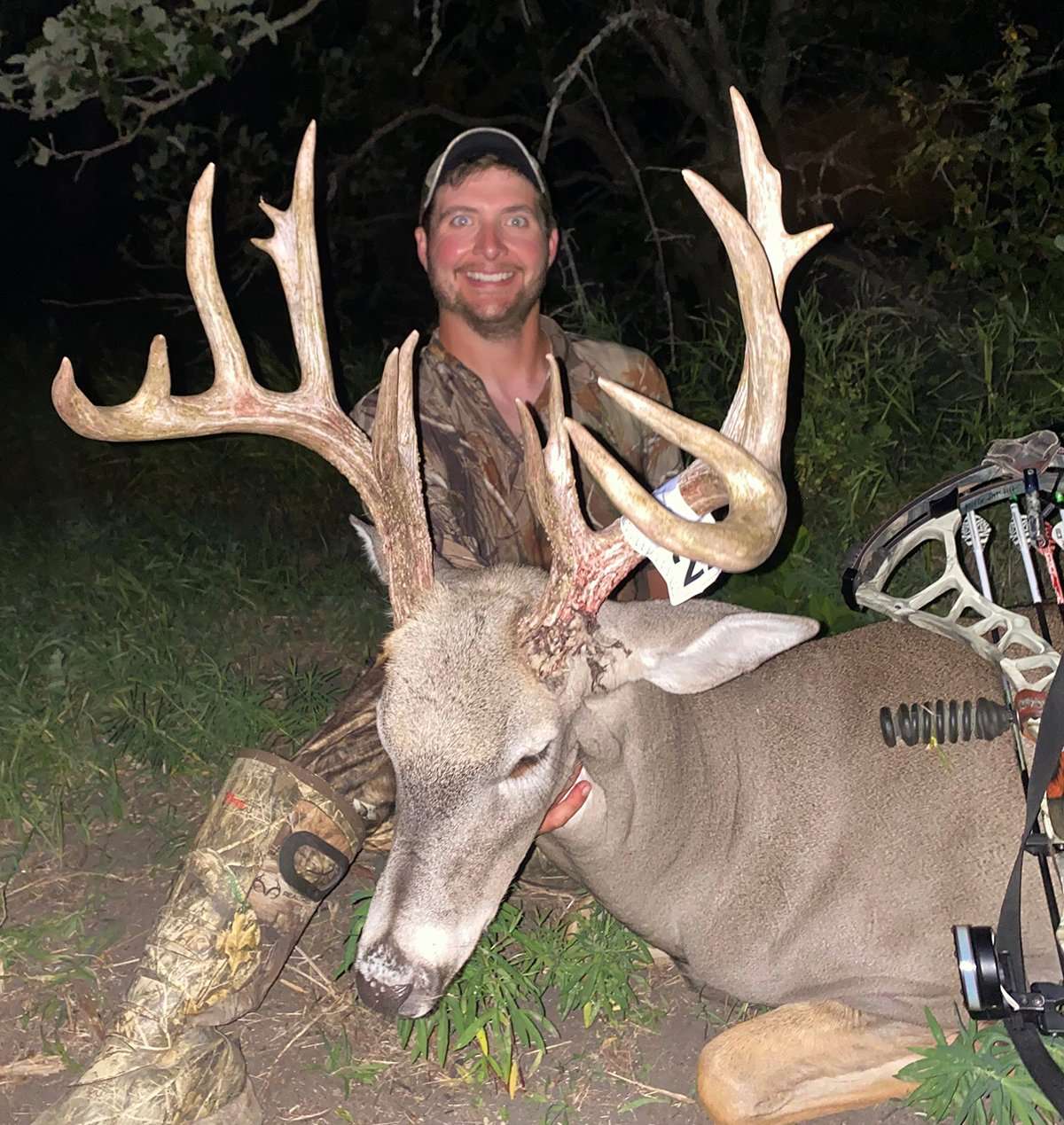 North Dakota is home to a lot of Pope & Young whitetails. It's a land rich with bowhunting opportunity that few hunters capitalize on, but Andrew Dusek does. This season, he arrowed a great early season buck.
He grew up hunting with family and friends, including one he called his best hunting partner, Grandpa Ben. Sadly, his grandfather passed away, and with some money left to him by Grandpa Ben, Dusek purchased a Bowtech compound. Around that time, he started shooting bigger bucks. He's continued that trend ever since.
After gaining permission to hunt a new property, Dusek started scouting, and it seemed like a good area. He didn't have any history with this deer, but it showed up on trail cameras. That sparked the pursuit.
I had no idea he was living in the property prior, Dusek said. It was a very nice surprise. That's one thing I can say we all enjoy about hunting — anything can happen at any time.
Leading up to the hunt, the weather was hot, reaching into the 90s. Fortunately, the temperature started dipping lower. September 3 brought calm winds and a wave of cooler weather. It was the cold front he needed to see a mature deer moving in daylight.
Deer were bedding in various locations where edge cover abounded in the heavily wooded area Dusek chose. They staged up in the edge of the woods along a grassy flat before transitioning into an ag field to feed. Knowing these patterns, Dusek set up along a good travel route through thick cover.
The acorns had been falling very heavily, banging off every branch on the way down, which I knew was going to affect the deer's pattern, Dusek said. I wasn't seeing much other than a few very obese grey squirrels running around in a panic, shoveling away as many acorns as possible for our harsh northern winter.
Later in the afternoon, coyotes fired up and started howling. The squirrels disappeared, but the deer begun moving. Two does and a fawn entered the ag field first. Worried he was in the wrong spot, he texted a friend and they discussed moving the treestand to a new location. After a short talk, they decided it was still in the best spot.
Then, 20 minutes later, the big deer showed up. Caught a little off guard by movement out of the corner of my eye, I realized the buck was headed right up the main trail my stand was positioned on, Dusek said.
The trail split off in three directions, and the deer chose the furthest one, which meant a long 38-yard shot. It was downhill, Dusek said. I held low, right behind the shoulder. It was very calm, and when I released the arrow, he heard the bow string snap. He tried to duck the shot, and the arrow penetrated deep in his right hip socket. I was sick seeing where the arrow hit, as anyone would be. But there was nothing I could do.
Despite being a negative shot outcome, the broadhead centered the location where the aortic and femoral arteries meet, which is a quick, lethal wound. He was bleeding out of the entrance hole rapidly, and he wasn't using that leg, he said. I knew the shot was more than likely fatal.
He called several hunting buddies to talk about the encounter, as well as the shot. Unable to wait any longer, he descended the tree and started searching.
I waited for a little bit…walked to the point of impact and saw a blood trail anyone could follow, Dusek said. It was everywhere, all the way up the trail. I just kept following it. I had the gut feeling he wouldn't be far, and the feeling was right. Not far ahead, I saw my lighted nock on a log, and right behind it the buck laid in his final bed. I couldn't believe how lucky I was to stumble upon an animal of this caliber on a new piece of property. It just seemed like it was meant to be. I was upset I didn't 12-ring him, but like I said, a lot can happen with a 40-yard shot. Everyone congratulated me, even the neighbors. They said I deserved the buck because I put my time in and did the hard work it takes to be successful at archery hunting.
Some people have joked around, saying he's lucky. But Dusek thinks otherwise. I always explain to people who give me a hard time, a wall full of big bucks comes with a little guidance, and maybe the 10-year-old Bowtech I purchased, he said. I just can't seem to trade that old girl off because, well, I'm too attached to it.
It sure played its part in tagging a 5 ½-year-old, 173 5/8-inch buck. This North Dakota deer will be a memory he never forgets.
Deer hunting means everything to me, Dusek concluded. It's a real-life, real-world connection to the wild Earth that many people don't ever get to experience. It has helped me develop a set of skills and a way of thinking that to some would be hard to comprehend. I always remember my grandpa. In an up-and-down world when many people are looking for something real to hold onto, I have deer hunting, family, and close friends. Each of these have helped me get through the hard days and have always kept me looking forward.
(Don't Miss: North Carolina Bowhunter Bags Crazy Club Buck on Opening Day)

Watch all the latest video episodes