Beehive State resident Scott Flinders notched his coveted tag after a huge buck caught his attention opening morning.
Rack Report Details
Buck:
181 6/8 inches
Time of Year:
Sept. 28, 2022
Place:
Southern Utah
Weapon:
Remington 700 Ultimate .50-caliber muzzleloader Muzzleloader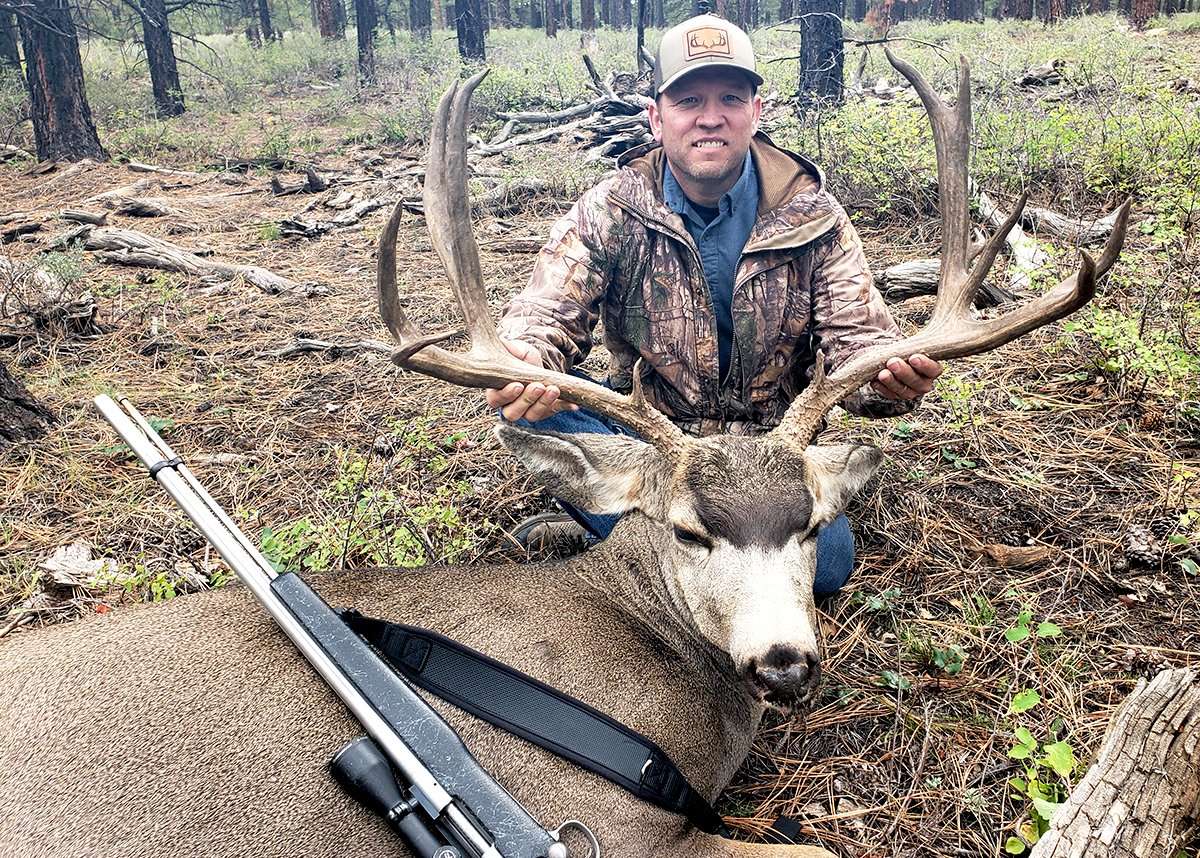 If your dream was to kill a world-class mule deer buck, how long would you be willing to wait to hunt where giants roam? Some dreams — including hunting big mule deer bucks in a premium draw unit — take years to become reality. Utah's Scott Flinders knows that well.
For 19 years, he accumulated bonus points toward a limited-entry Utah deer tag. This year (No. 20), he settled on a specific tag that would put him in a premium unit during the muzzleloader season. He burned his bonus points, drew the dream tag and began planning his long-awaited do-it-yourself public-land hunt.
I'd actually never been to the unit before, Flinders said. I did a few different scouting trips during the summer, which gave me a feel for what the unit has to offer. Obviously, I knew that it has the potential to produce quality bucks. However, my scouting efforts revealed no next-level bucks. Sure, I saw lots of bucks, including some good ones, but none that I considered a really nice shooter.
Flinders networked with other hunters and learned that some folks were seeing big deer. He also learned that hunters had taken some monsters during the archery season. So despite his lack of world-class buck sightings while scouting, he remained hopeful. Flinders was prepared to hunt all nine days of the muzzleloader hunt, figuring it might take that long to uncover a buck on which he'd happily hang his premium tag.
On opening morning, I checked out a spot that I'd scouted during the summer and quickly found some bucks, he said. They weren't the quality of bucks I was after. It got later in the morning, and so I was making my way back to camp on my ATV when I saw what appeared to be a pretty good buck on the edge of some trees. I didn't get the best look at him. So I pulled forward for a couple of hundred yards and was going to circle around the trees where he was heading to get a better look. As I started to circle around, I noticed another buck standing broadside and staring at me from about 150 yards away.
Flinders noticed that the buck had a big frame that seemed to be pushing 30 inches wide.
I raised my binoculars and saw that he had four points per side plus a little cheater point on his left antler, he said. I quickly decided that he was a shooter for me, even though it was only the opening morning.
Flinders slowly crept to a large dead tree about 10 yards ahead and used it as a rest for his Remington muzzleloader.
I got the gun nice and steady, he said. As I was preparing to squeeze the trigger, the buck decided that he'd been there long enough and had seen enough of me. I shot right as he turned to leave, which resulted in a slightly quartering angle. The bullet entered at the back of his ribs and ended up lodging just under the skin of his front shoulder on the opposite side. As he bounded away, the buck that I'd originally seen reappeared, also bounding away. He'd been in the trees just behind my buck. Fortunately, I shot the larger of the two.
Flinders worked to where the buck had been standing at the time of the shot. Unable to find blood, he started walking slowly in the direction the buck had run as he continued looking for blood.
After going about 15 to 20 yards, I saw the buck lying down about 50 yards ahead facing away from me, he said. Since he still had his head up, I slowly moved forward, got a good view of his vitals and finished him off. I'm very satisfied with this buck. Not only is he wider than I thought, but he's a 4-by-6. He has an inline point that I hadn't noticed when I decided to shoot him.
Flinders had previously taken a buck that grossed about the same as this deer, but that buck was a more traditionally framed 4-by-4 with deep forks. The 2022 buck is a nontypical with more character, and it put Flinders in the 30-inch club.
He measures 33 inches wide, he said. I'm really excited to have finally tagged a mule deer buck over 30 inches wide.
Utah's big-game hunts — even general hunts — are distributed through a draw system. That means that you aren't guaranteed to receive tags each year. Basically, there are more hunters applying than tags available. However, Flinders wisely decided decades ago as a broke college student to scrape together $500 and purchase a lifetime hunting license. Utah has since discontinued the lifetime license, but those who purchased it when it was available are grandfathered in and guaranteed to draw a general tag every year. So that's what he does while waiting to draw better tags in Utah and Colorado.
Would you say Flinders' 20-year wait was worth it? Considering that his buck grosses more than 180 inches and sports a colossal 33-inch spread, it seems the hunt was indeed a dream worth waiting for.
(Don't Miss: Mother-to-Be Arrows 17-Point Buck)