Orlando Vivone's Birthday Buck: A Monster Iowa Non-Typical
Rack Report Details
Buck:
195 1/8
Time of Year:
October 17, 2022
Place:
Madison County, Iowa
Weapon:
Mission Dagger Crossbow
When Orlando Vivone first saw the non-typical buck show up on his camera, he knew it was a deer he wanted to kill. The big buck was a regular on the property through August, but it only appeared at night and showed no regular pattern. A few of Vivone's more experienced hunting friends cautioned that the big buck might be transitional and could move before season came in.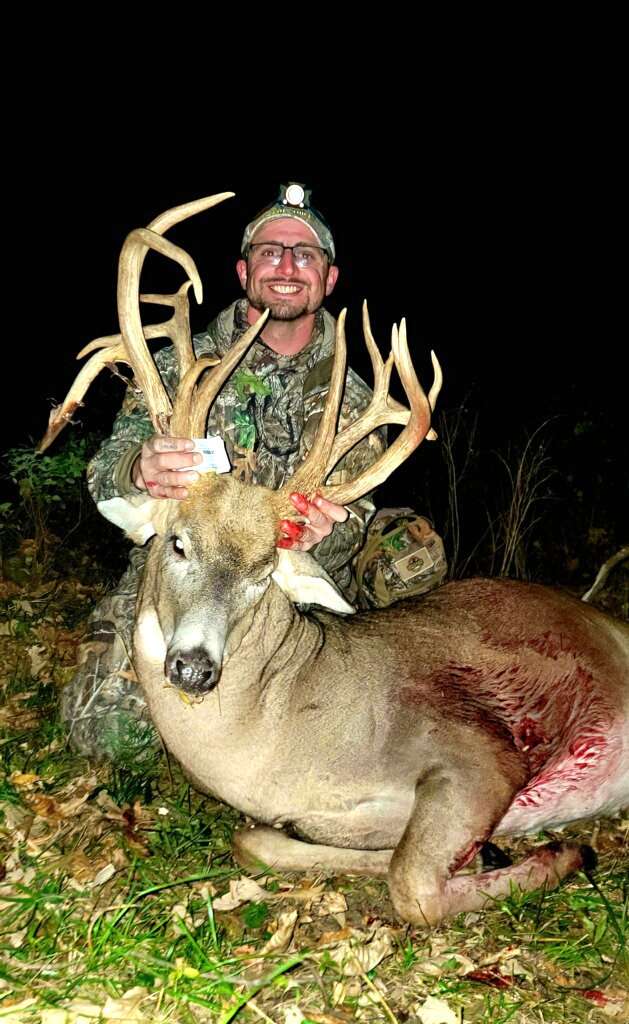 But Vivone didn't give up. Come October, he and his brother decided to hunt the area where he had last gotten photos of the big non-typical. After busting through 500 yards of thick cover to get to the area to hang stands, Vivone could only hope that they hadn't blown the deer out of the country. After hunting the spot, Vivone decided that they would be better off if they backed out and moved their stands to a different area of the farm.
Wanting to give the new stand location a few days to rest, Vivone and a friend decided to hunt another farm he had permission on that was a little over a mile away from his main spot. He had a couple of stands set on the farm. He and his buddy walked in to the first spot and Vivone offered his friend the opportunity to hunt whichever spot he wanted. His friend looked around and decided to hunt the other stand set. He messaged me later after he was set up and told me he had chosen correctly and that he was in a much better spot than where I was, Vivone said.
Almost 45 days had passed since Vivone had gotten a photo of the big non-typical buck from August. Even though the deer stayed in the back of his mind, Vivone had decided that any of the other big bucks he had on camera would do, and that he probably wasn't going to hold out for the now-missing buck.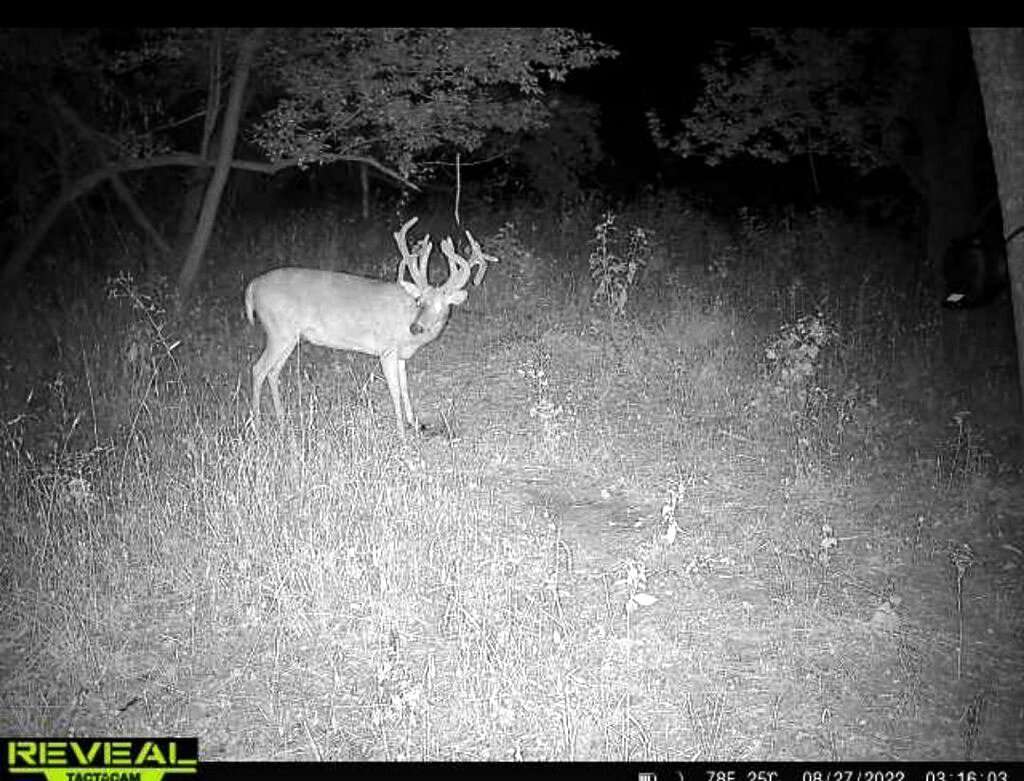 The new spot seemed like it was going to work, too. Vivone saw two bucks that weren't quite what he was looking for cruise through, along with a few does. There was enough deer action that Vivone returned to the stand for his next hunt. I watched two shooters come through about 100 yards away, bumping does. I was sitting there considering moving the stand to get closer to where I'd seen those bucks, Vivone said.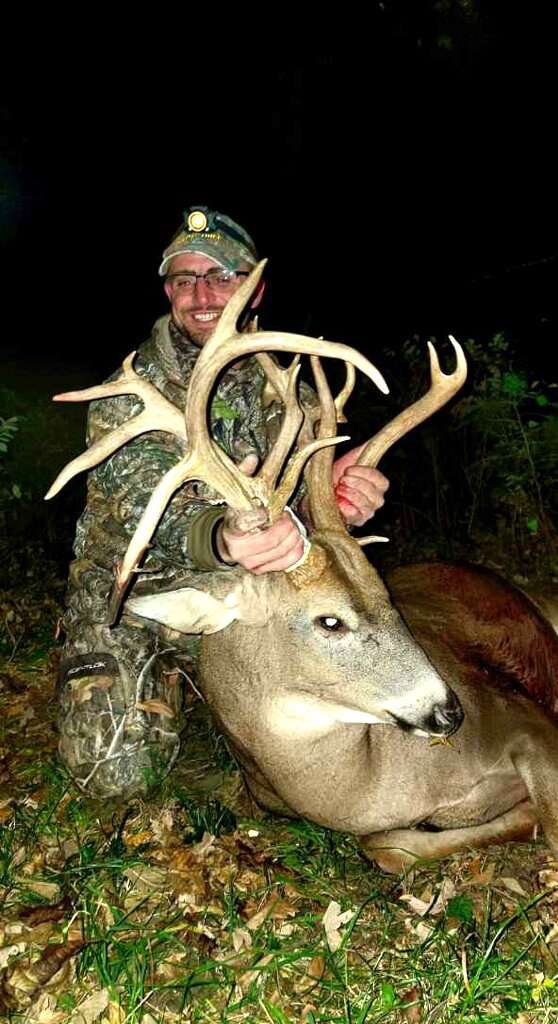 That's when he looked up and saw a small buck working his way down the trail. Vivone ranged the buck at around 25 yards and knew he would have a good shot if another deer walked by on the same trail.
As the evening grew to a close, Vivone only had about 10 minutes of shooting light left when he looked up to see a large-bodied deer working down the same trail the smaller buck had taken. I stared at the deer and then I made out a large rack and a drop tine. At that point, I quit looking at the rack and concentrated on the deer and getting a good range, Vivone said.
As the buck passed by at 22 yards, Vivone bleated softly. The big buck stopped, broadside, and Vivone pulled the trigger on his Mission Dagger crossbow that had been passed down to him from his grandfather. The shot looked good and Vivone watched the deer run up the trail. I thought I saw him crash into a fence, but it was getting pretty dark by then, Vivone said.
He quickly texted his buddy that he had shot a buck. Once his friend arrived, the pair went over the shot and talked about where the buck might have gone. An hour after the shot, they started down the buck's trail. The blood was heavy and the trail was easy to follow. The hunters quickly reached the point where Vivone had lost sight of the deer after the shot. Just a few yards down the trail, they found the buck.
We just stared at the deer. I couldn't believe it. It was the buck I had pictures of back in the summer. The shot had happened so fast, shooting light was getting pretty low, so I had no idea it was the same buck, Vivone said.
The buck was every bit as massive as Vivone had thought he would be. With 17 scorable points and a jumble of tines going in every direction, the buck was unlike anything Vivone had ever seen. The guy that scored the buck just kept stopping and scratching his head. The rack was so non-typical that he wasn't sure what to count as points and what to count as beams, Vivone said.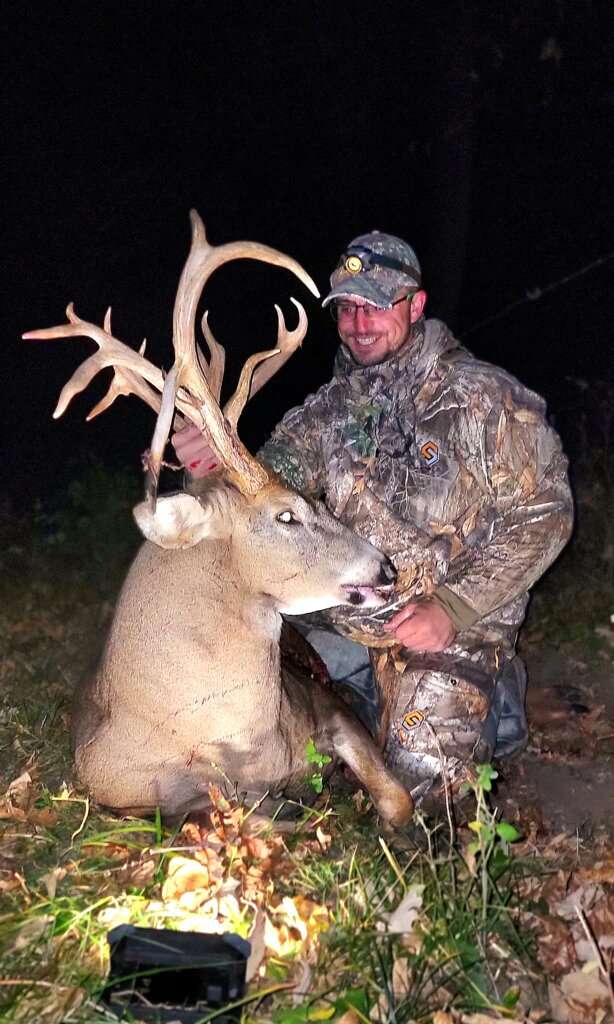 In addition to the massive rack, the buck's body was hefty as well, weighing in at the local sporting goods store at a massive 235 pounds field dressed.
(Don't Miss: 3 Off-the-Wall Whitetail Tactics)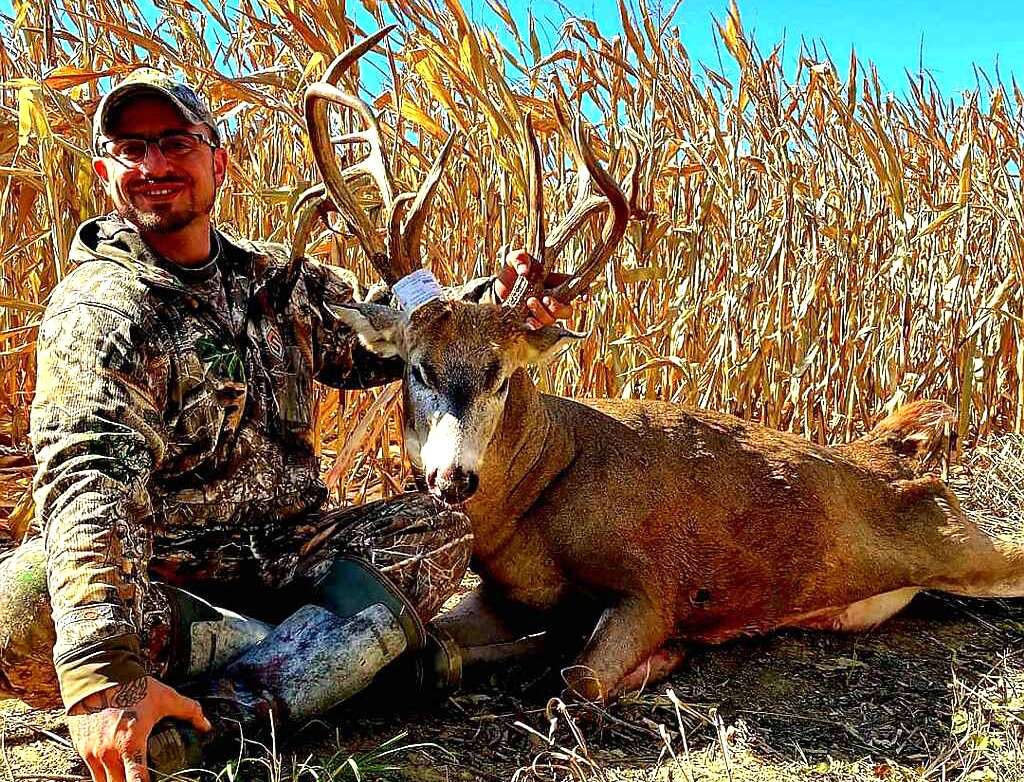 I was so excited to kill this buck. I was using my grandfather's crossbow and I killed it on my birthday. It just couldn't get much better. I have only been bowhunting a few years and this is only my third bow buck. But, in a way, it was a little sad, too. I'd been so pumped up seeing this deer on camera, it was going to be tough knowing I would never get another photo of him, Vivone said.


Watch all the latest video episodes