Joseph Willard's Surprise North Carolina Monster
Rack Report Details
Buck:
167
Time of Year:
October 25, 2022
Place:
Rockingham County, North Carolina
Weapon:
Obsession Bow
Joseph Willard had already had a pretty good 2022 North Carolina season. Just a few days into it, he arrowed a nice 147-inch velvet 8-pointer. Since North Carolina has a two buck limit, Willard then turned his attention to a big mainframe 13 he expected to score in the high 150s. He'd passed on the buck the season before, and it had paid off with several inches of additional antler growth.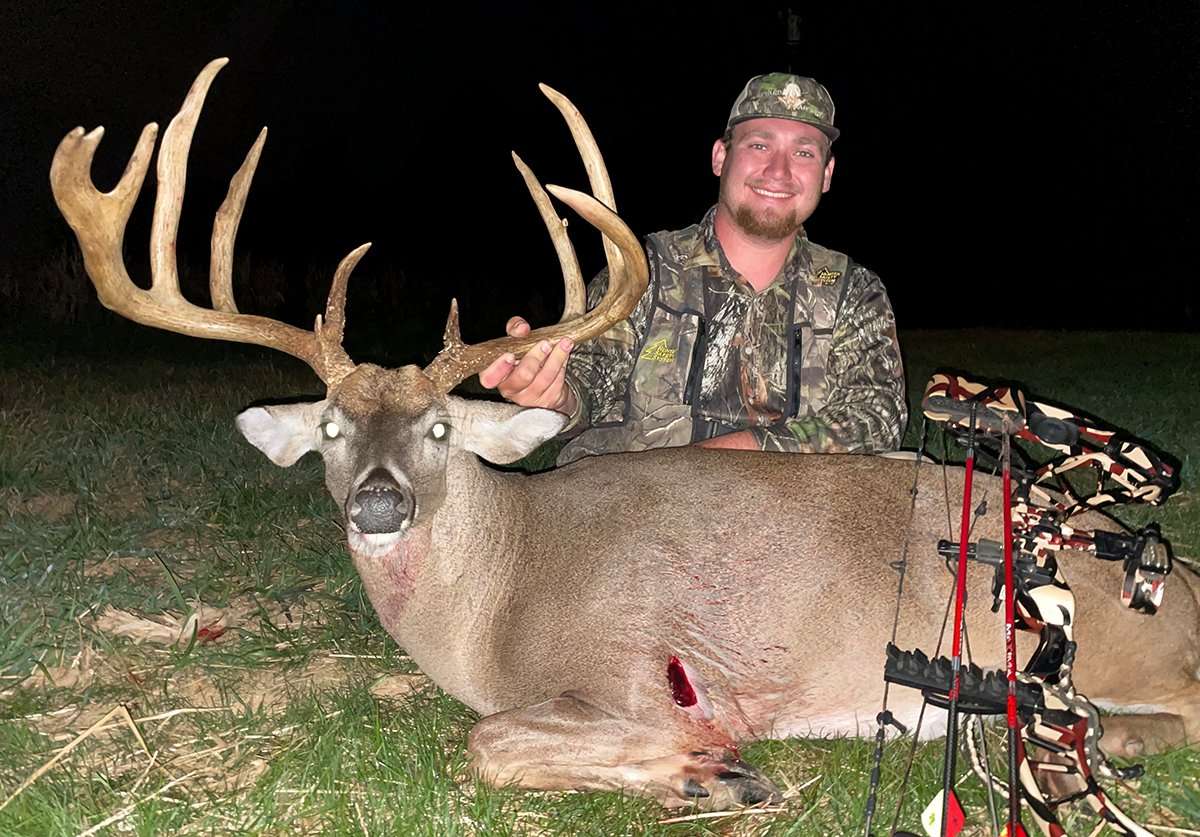 The farm Willard hunts is split into two sections separated by a highway. He'd been chasing a big buck on one side of the road when he started getting photos of him on the smaller section across the pavement.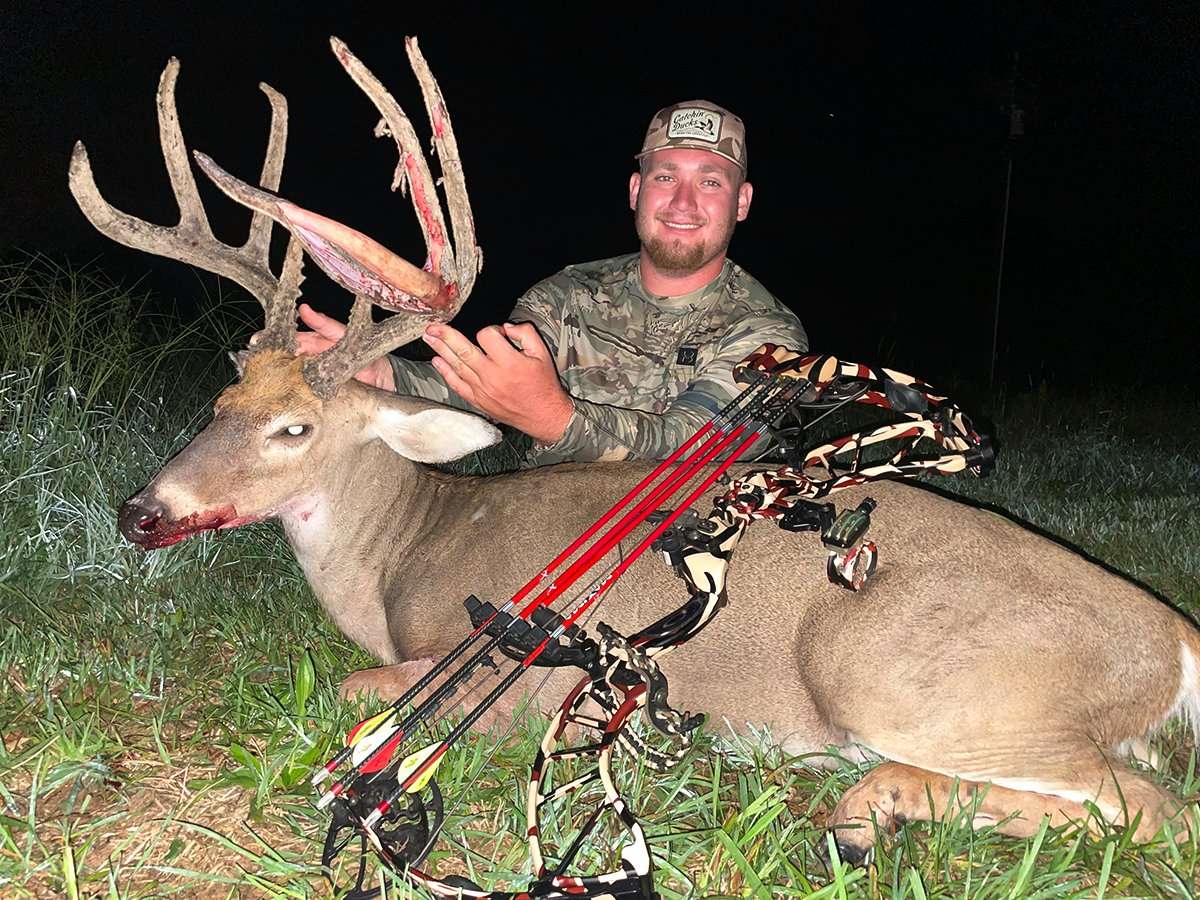 On October 25, he decided to head over and move a few cameras around. By midday, Willard had made his way to the edge of the farm bordered by a river. He grabbed a camera and intended to move it to a different location after scanning through the photos. He was just about through the card when a photo caught his eye. It was a giant buck, one he had never seen before, standing in front of the camera that very morning. Willard quickly scanned back through the photos just before and just after this one. It was the only picture he had of the buck.
Willard knew immediately that this was a deer he wanted to hunt, but there was a problem. The only stand location near that camera was set up for gun hunting, and any deer spotted there would be out of range for a bow. Since the North Carolina muzzleloading season was slated to come in the following weekend, Willard planned to wait and hunt that stand with his muzzleloader in hopes of catching a glimpse of the big buck.
By this point, it was getting pretty late in the day, and I decided to move as far away from that stand as possible and maybe see if I could shoot a doe for the freezer that evening, Willard said. He climbed up in a stand located on a one acre clover plot in an area where they had planted several fruit trees. The stand was nearly a thousand yards from where he had gotten a photo of the buck that morning — with some water and thick cover between the two locations.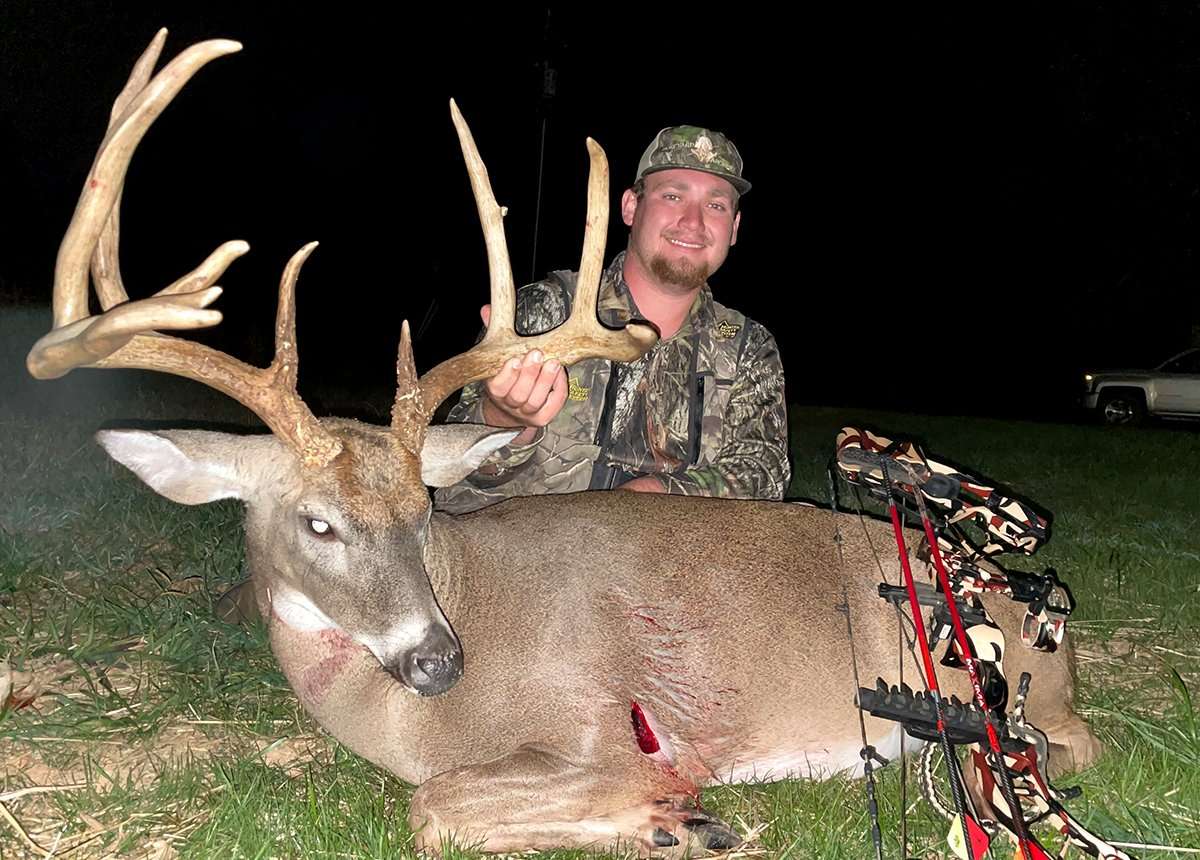 Soon, a doe and fawn entered the food plot. They made their way to a spot within easy bow range of Willard, but something made him hold off and watch. She was alert at first, but finally calmed down and started to feed, so I just watched her. I decided that, if she started to move away, I'd have time to shoot before she got out of range, Willard said.
After a bit, Willard decided to go ahead and shoot. He raised his bow, clipped on his release, and was about to draw when something made him glance down the other side of the L-shaped food plot.
There he stood. The buck from the morning photo. He had somehow made his way across the farm and was now on this side. The buck was out of range at nearly 140 yards away, but he was locked onto the doe that stood right in front of Willard.
The big buck began to make his way across the food plot. It probably took him 5 minutes to close the distance, Willard said.
As the buck drew close, the mature doe moved away but the fawn stayed. The buck continued in the hunter's direction. At 25 yards, the buck stopped broadside to Willard. He drew his bow and released the arrow.
(Don't Miss: Boom or Bust: Gun Hunters Have it Figured Out)
The shot was good. The buck ran only 80 yards before falling, never leaving the food plot. Willard's buck was a mainframe 9. One side was noticeably heavier than the other. When Willard hung the deer for processing, he noticed an old injury on the foot and leg, possibly the cause for the weaker side antler. The buck taped out at a whopping 167 inches. Since Willard is now out of tags, his dad has taken up the hunt for the 13-pointer Joseph had been after when this buck showed up.

Watch all the latest video episodes