Darin Williams planted a strategic food plot last summer, and then killed the world-class buck his crossbow in mid-November
Rack Report Details
Buck:
235 (nontypical)
Time of Year:
November 16, 2022
Place:
East-central Kansas
Weapon:
Ravin R29X Sniper crossbow Crossbow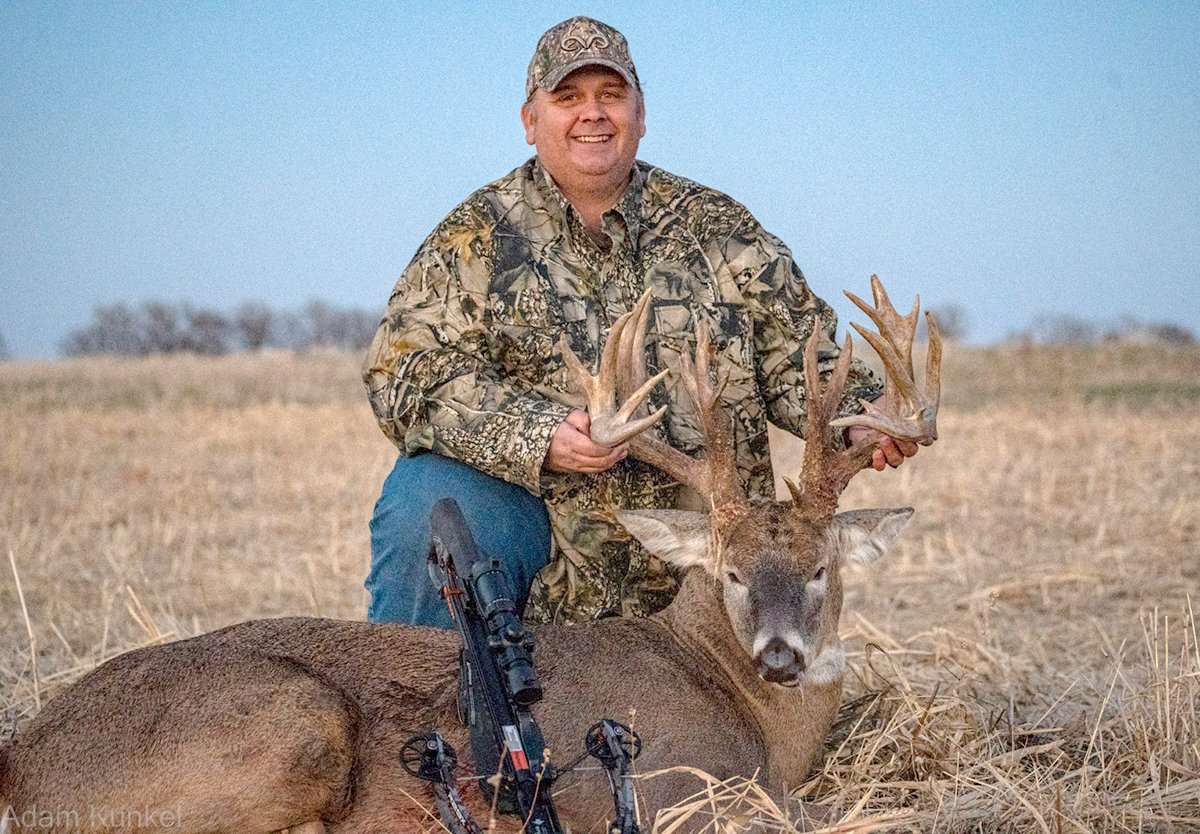 Following the 2021 Kansas deer season, farmer and hunter Darin Williams learned about a world-class buck in the neighborhood through an outfitter friend. The outfitter's client had gotten so rattled by an encounter with the buck that he shot underneath it at 20 yards.
I farm most of the ground where the buck was allegedly roaming, Williams explained. In March, I found his left shed while spraying fertilizer. The pursuit began immediately.
Williams determined that the buck was using his farm to get from point A to point B, and that he'd need to give deer reasons to live there.
I have very minimal timber, he noted, but I have a pond and plenty of agriculture. Given the drought, having that pond was a huge benefit — all of the deer in the area seemed to be frequenting it. I placed a trail camera and a Redneck blind. After harvesting 160 acres of oats, I made a 7-acre food plot of triticale and peas behind the pond so it wouldn't be visible from the road. We got some rain, and it started growing in mid-August. I also did a lot of brush cutting to create a staging area.
Williams hunted the Redneck blind very selectively due to wind, sitting just five or six times. The huge buck didn't appear during those outings. Williams had only about 10 or 12 good trail camera pictures of the deer between September and the end of October. In early November, one of his neighbors spotted the buck standing in the timber just off the road. Meanwhile, Williams hadn't gotten any pictures of the buck through the month of November.
One afternoon, while Williams was on the combine, a buddy called and said he'd seen the buck bedded with a doe just off the road, on the neighbor's property. And then on November 15, the deer was seen chasing on a doe around in the neighbor's beanfield.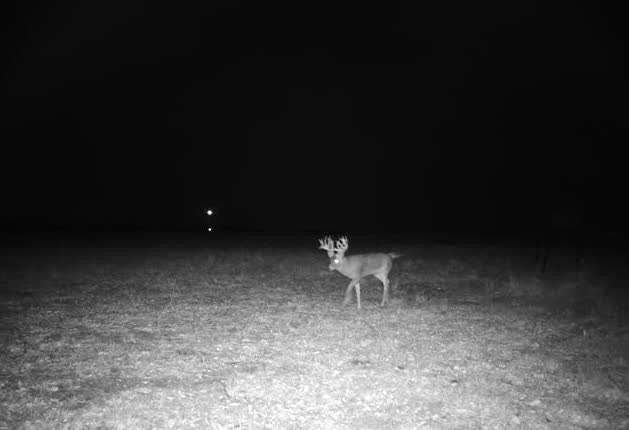 The following morning, I checked my trail camera, Williams said. He'd walked by it all alone at 5:40 a.m. Since he was locked down the day before, I felt that my odds were better now that he was alone, and since the wind was great. The northwest wind was blowing at 20 miles per hour. I sneaked in without making a sound. I was right near his bedding area. Everything felt right.
At about 4:45 p.m., Williams noticed a 6-pointer chasing a doe about 500 yards away. The doe beelined toward his food plot.
She was acting like she was in heat, he said. I thought she would come feed in the plot and be the perfect 'decoy.' Instead, she rocketed underneath my blind into the timber. The 6-point was charging right behind her, but he suddenly stopped. Then, I noticed an 8-point chasing a doe behind me.
The next thing I knew, two does were running in and out of the timber, he continued. The two young bucks were chasing them. If the big buck was nearby, I knew he wouldn't tolerate this. The 8-point chased a doe out into the plot. They grazed about 80 yards apart, and then the doe moved about 200 yards away. The 8-point couldn't decide what to do. Eventually, he walked up to within 50 yards of my blind and practically looked right through it."
That's when Williams noticed the monster buck behind his blind.
I nearly died, he said. I'd never before seen a deer like him, and he was only about 15 yards away moving through the thicket after a doe. He reminded me of a bull elk as he tilted his head just right to negotiate his huge antlers through the thicket. Then, he disappeared into the thicket for about 5 minutes. I thought it was over. I was sick.
Williams calmed down and tried to enjoy the moment, resisting his impulse to grunt or rattle.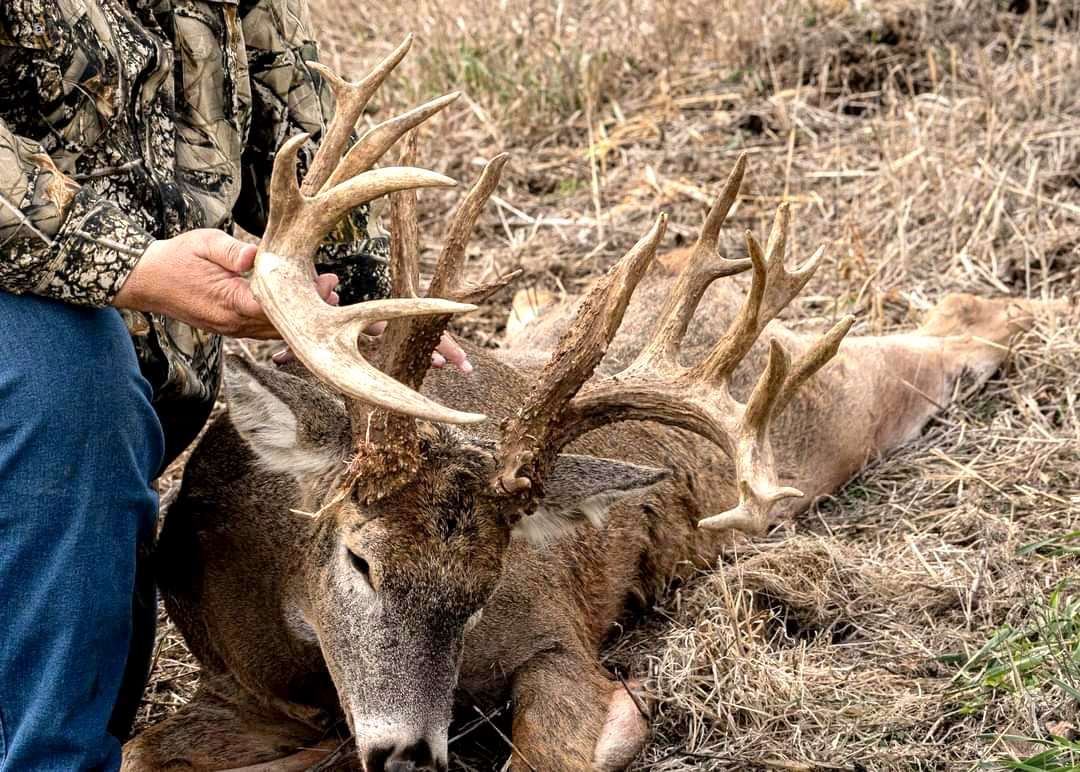 I was watching a trail that I'd cleared with my brush cutter and noticed four legs, Williams said. It was a doe, and she turned 180 degrees and walked right toward me. I couldn't believe it. She walked right out in front of my blind and began feeding 40 yards away.
I kept looking back and forth, he added, and about two or three minutes later, I saw him sniffing the ground right where she'd walked. He committed and started coming down the same trail. He walked right up to the blind and stopped 10 yards away right behind a cedar. I couldn't see him. Finally, his head cleared the cedar, and that was my first unobstructed view of his antlers.
Then, the tremendous buck walked to Williams' right and gave him about an 8-yard shot. However, he was unable to acquire the buck in his crossbow scope.
I had the crossbow in a BOG DeathGrip Tripod, he noted. I carefully grabbed the tripod with my left hand and lifted it up. I made sure that my arrow would clear the blind, and then I drilled him right through the heart. He ran about 35 yards out into the food plot, stopped and slammed to the ground. I absolutely lost it.
Williams added that his father passed away in August 2021. Though he wasn't really a hunter, he'd helped Williams get the farms on which he farms and plants food plots. Interestingly, Williams taught him how to hunt. About 2 years ago, he filmed his father kill a beautiful 10-pointer, and that was their last hunt together. So, it was fitting that Williams said, Dad, you're never going to believe what I just did, as he and his friends carted the buck out of the food plot.
(Don't Miss: Massachusetts Bowhunter Shoots 195-Inch Buck While Answering the Call of Nature)

Watch all the latest video episodes