A Missouri hunter went afield with 'zero expectations' yet scored a massive nontypical
Rack Report Details
Buck:
200 inches
Time of Year:
Nov. 21, 2022
Place:
Missouri
Weapon:
Weatherby .270 Rifle
Jesse Marlin, of Missouri, spends a lot of time chasing whitetails. He has hunted with bows and guns his entire life.
I've taken dozens of bucks from 150 to 180-plus inches, he said. My last buck was 186-6/8 inches with a bow. This buck ended a four-year dry spell.
Incredibly, he had no history with his 2022 buck. That changed on the afternoon of Nov. 21.
I headed into the woods with zero expectations of filling my tag, let alone coming face to face with a giant, he said.
Because it was gun season, Marlin decided to hunt on the ground without a blind. He selected a spot at an open field with small timber pockets and drainage ditches. Then he camped out along a terrace. The spot is what he calls an excellent rut hole, which serves as a perfect pinch-point deer commonly frequent. Bucks routinely travel the downwind side of the adjacent bedding area in search of does.
With dozens of hunting days already invested this season, Marlin was ready to capitalize, but he didn't have high hopes. The weather wasn't ideal, either. The barometric pressure was low, and it was warm.
The evening hunt started slowly. The sun burned toward the horizon, and time wore on without a deer sighting. Then, at about 3 p.m., Marlin was checking emails on his phone. While doing so, he noticed movement out of the corner of his eye.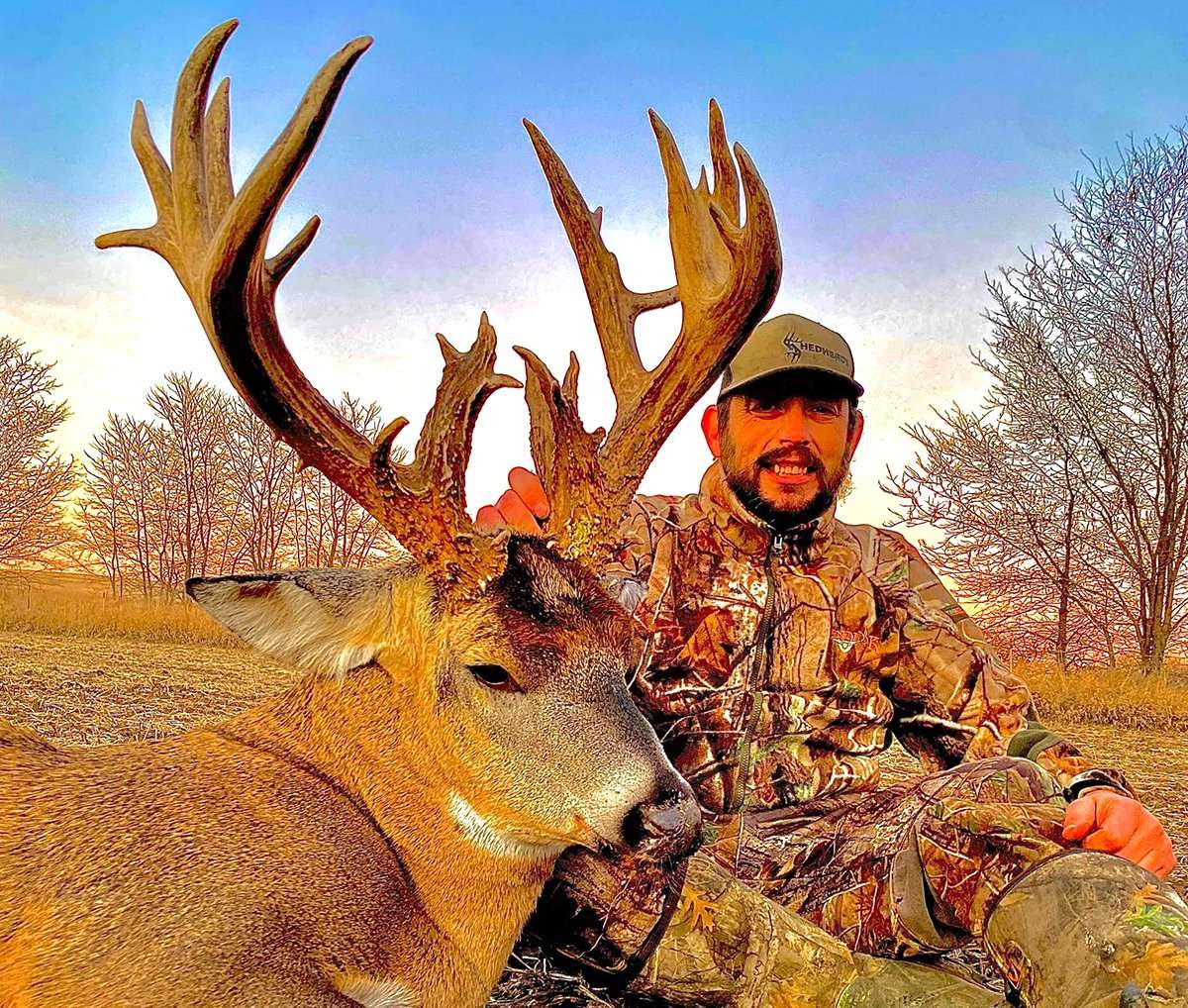 I saw a deer jumping the fence into my field, he said. I could tell it was a mature buck just from the body size. I took a quick look in my binos, and I thought it was a 150- to 160-inch 10-pointer with good mass and some trash.
The deer walked through the field a couple of hundred yards away. After a few seconds of analysis, Marlin decided it was a deer he'd take. He grabbed his rifle, took one last look at the buck and settled in for the broadside 200-yard shot.
I knew it was an old, mature buck, so when he paused, I took the shot and dropped him in his tracks, Marlin said. I FaceTimed my son and told him I had just shot a dandy. He asked how big it was. I said I don't know, but I think he's pretty good.
They stayed on FaceTime as Marlin walked to the downed deer. The closer he got, the more excited they became. Neither could believe the size of the buck.
We tried counting the points over 1 inch and kept coming up with different numbers, he said. We finally concluded on 24 scorable points. Once we got pictures and got him home, we rough-scored him at 200 inches. He is an unbelievable buck and my personal best by 14 inches.
Neither Marlin nor his son recognized the buck. They looked through three years of trail camera photos to find it as a younger deer but had no definitive luck. However, they found a couple that were potential candidates. Still, they don't know the true origins of the massive whitetail.
We've been hunting this farm for almost 15 years, run numerous cellular cameras and are usually familiar with every buck on the farm, Marlin said. This old bruiser was clearly just cruising for does. I'm really bummed my son couldn't be there for the hunt, but we have another trophy on the wall to admire.
(Don't Miss: Massachusetts Bowhunter Shoots 195-Inch Buck While Answering the Call of Nature)

Watch all the latest video episodes