What's better than taking a huge deer? How about self-filming it at close range? Oh, and then shooting another monster buck days later
Rack Report Details
Buck:
194 inches
Time of Year:
Oct. 26, 2022
Place:
Iowa
Weapon:
Hoyt bow Bowhunting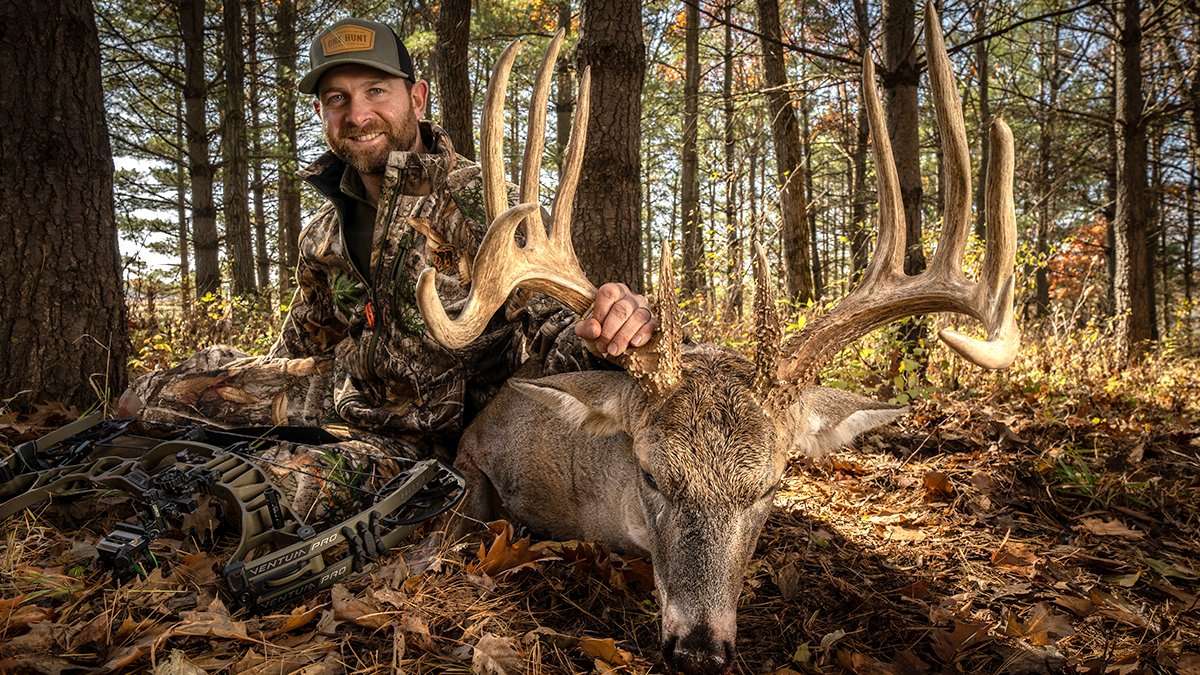 Jared Mills has been part of the whitetail video world for more than a decade. A longtime team member of Midwest Whitetail, he recently stepped away to start a new chapter, but his deer hunting hasn't taken a pause. In fact, he's having the best deer season of his life.
On Oct. 25, he helped a man with terminal cancer shoot a great deer. Having that experience was rewarding, and Mills wasn't really worried about shooting a buck of his own. The next day, Oct. 26, was just meant to be a relaxing trip to the woods. But Mills ended up arrowing his biggest buck at a permission tract.
But let's back up. Mills started working with that property almost 10 years ago. He helps manage it and has free rein to hunt it. Still, he'd never shot a buck there — until this year. He started getting photos of a big whitetail in late summer, and they continued into early fall. At the time, Mills wasn't certain of the buck's age.
On the morning of Oct. 3, the third day of Iowa's deer season, Mills saw the deer. He was in a ground blind overlooking a food source, hoping to shoot a doe. Instead, the buck was the first deer to walk by. It fed at 25 yards for about 15 minutes. Mills watched the buck as it departed, passing on the deer because he wasn't sure of its age. Plus, he was hoping to hunt another buck he'd seen during a previous season that hadn't returned yet. Unfortunately, it still hasn't, and Mills believes it's dead.
Fast forward to the morning of Oct. 26. A stiff west-northwest wind had pushed a cold front through the previous evening, and by morning, the wind faded to almost nothing. That made for a difficult walk to the stand without alerting deer, so Mills eased along his entry route slowly, taking one step every few seconds. A dirt road and ditch line carried him most of the way. He even walked past sparring bucks along the route.
Eventually, Mills reached the bedding area he hoped to hunt. After he breached the interior, he silently hung a treestand and settled in. Deer were spending lots of time in the area, which includes a small opening on the fringe of bedding cover, with a mix of oaks, pines and walnuts. Some people don't hunt that close to bedding areas, but Mills does, and for good reason.
You get to watch deer in a different [manner], he said. You get to see them in such a relaxed, natural state. I love spots where I can see deer like that.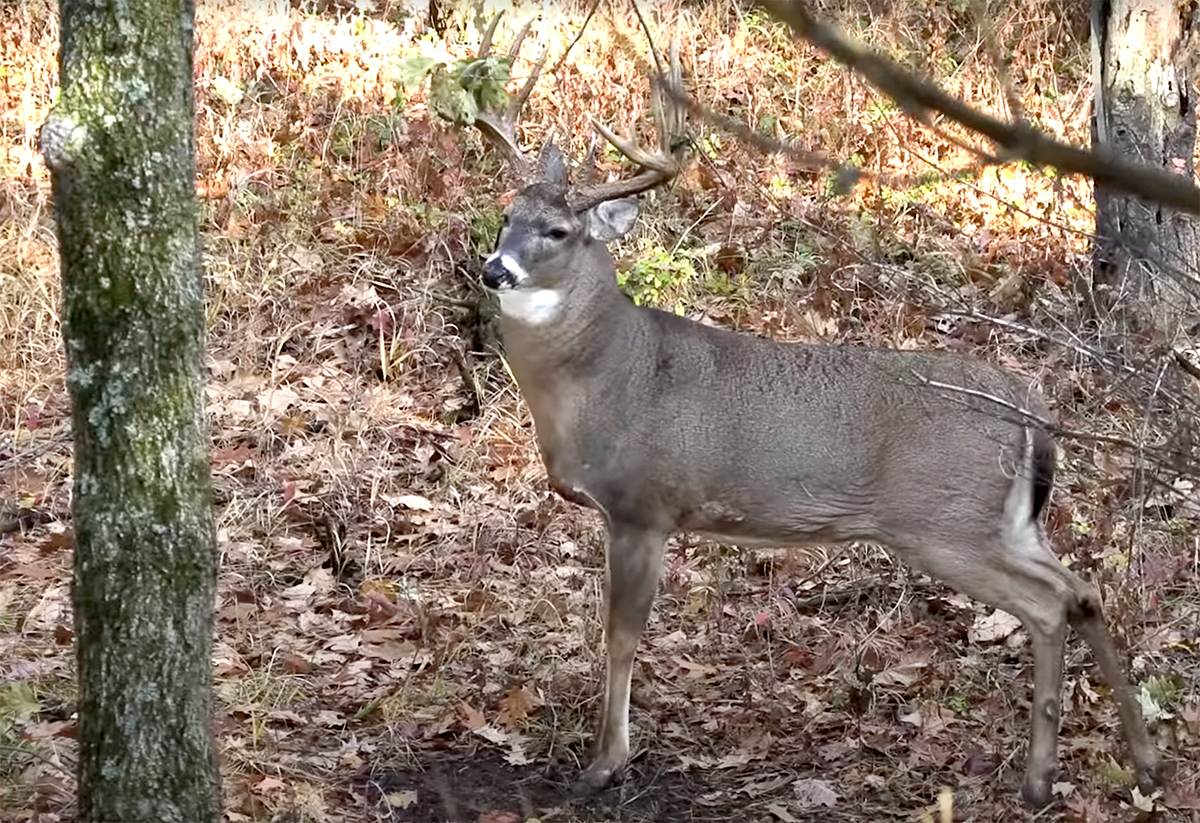 Finally, a hint of sunlight appeared in the distance, and the world awakened around Mills. Birds started chirping. Squirrels started doing squirrelly things. Mills stayed alert, and it wasn't long before some does appeared, feeding as they went. As the sun continued to climb, a few small bucks passed through, nudging does as they went.
It was a very enjoyable start to the morning, Mills said. Then, around 8:45 a.m., I could see a deer coming from the northeast. At first, I could just see its legs. It's so thick in there it's hard to see at times. Then, I caught a glimpse of his rack and knew it was that deer. He was just browsing. It was typical bedding area movement — slow and relaxed.
After several minutes, the buck bedded down 60 yards away. Mills filmed the deer for a while and wondered how to proceed. He hadn't planned to hunt sunup to sundown, but it was quickly turning into an all-day sit. Then, several does and fawns from the northwest walked toward his treestand.
He just watched those does, Mills said. They acted like they didn't know he was there, but he kept an eye on them. Then, a minute or two later, another doe came behind them. She was being so vocal and grunting loudly. She got 8 to 10 yards from my tree. He jumped out of his bed, sprinted to a scrape at 30 yards and worked it aggressively. I don't know if he was putting on a show for her or what.
The doe vocalizations were unlike anything Mills has ever heard, but they continued. And the buck got closer. All the while, Mills was self-filming and trying to draw back on the buck. In fact, he tried to stop the deer several times, but each attempt failed. The deer would not halt. It was dialed in on the doe.
I was almost yelling at him, and he wouldn't stop, Mills said. And it wasn't like he was at 40. He was at 5 yards.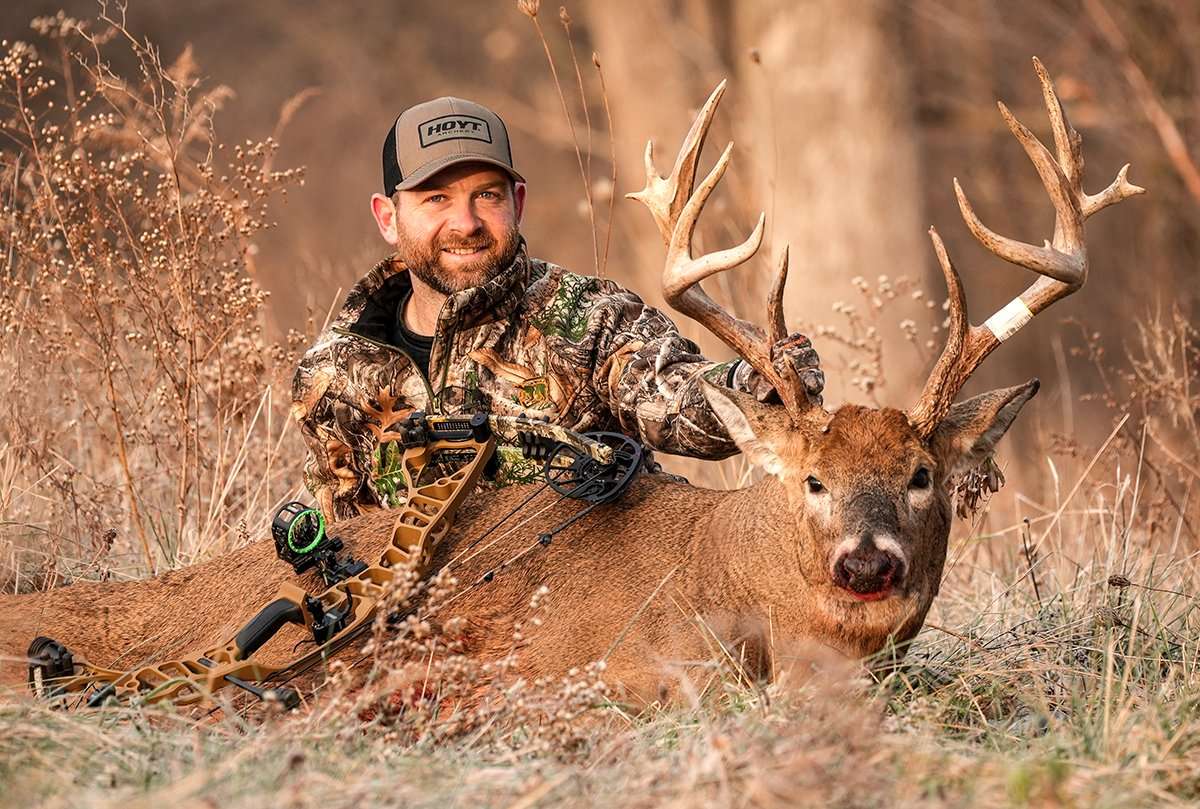 The deer quickly got behind cover, but he came back around and started lip curling right under the treestand. Mills kept the camera on him and waited for a good shot opportunity.
The buck started to walk away, and Mills tried again to stop it. One long, drawn-out bleat got its attention, and the buck looked back over its shoulder. Mills came to full draw, settled the 10-yard pin and sent an arrow through a shooting lane. The arrow buried up in the opposite-side shoulder, and the buck took off. It ran 40 yards and fell within sight.
It was just a cool experience, Mills said. It's my biggest to date. Anytime you can have a successful hunt and self-film, it's even more special. It was just a succession of cool events from the previous afternoon, with that gentleman to this hunt. And I didn't kill a deer last year, so it's even sweeter. It was just a fun hunt (because) I was able to document it.
Mills' first official sit for the buck resulted in a 5-½-year-old monarch that scored 194 inches. And it doesn't hurt that he followed it up days later with a 170-inch deer at a property he owns.
I just purchased a new property earlier in the summer, Mills said. (It's my) first solely owned property. I only hunted it a few times. I shot the deer early in the afternoon. My wife and daughter came and helped with the recovery. That's what made that one so special. I couldn't have drawn up a better season.
To bag a 194-inch or 170-inch buck is difficult. To tag both in one season is even more so. But Mills got it done. You can watch the hunt for the 194-inch deer here and the 170-inch buck here.
(Don't Miss: Massachusetts Bowhunter Shoots 195-Inch Buck While Answering the Call of Nature)

Watch all the latest video episodes