Bonnie McFerrin arrowed the giant whitetail from a ground blind
Rack Report Details
Buck:
195 2/8 inches
Time of Year:
October 8, 2022
Place:
Kleberg County, Texas
Weapon:
Elite Archery EnVision Bowhunting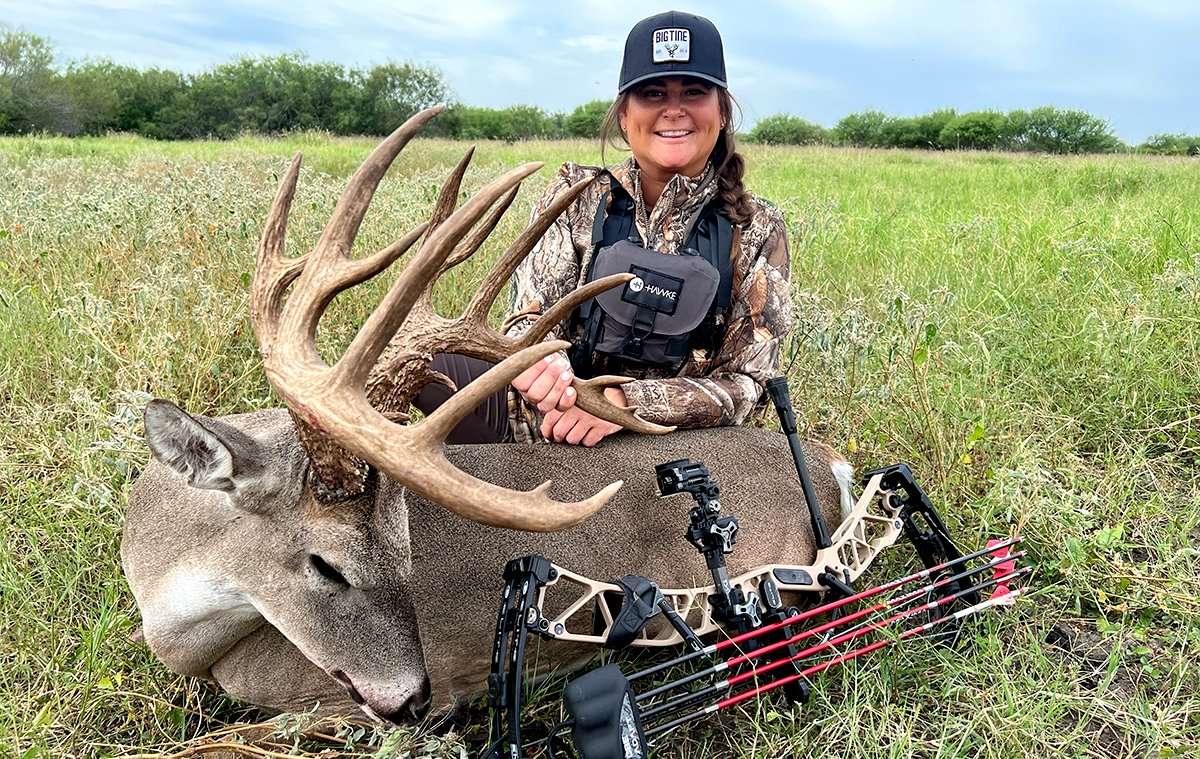 Legends of the Fall's Bonnie McFerrin has been tagging huge whitetails for two decades, and this season she added another monster to the list. Aged at 6 ½ years old, this fully mature whitetail is one that whitetail dreams are made of.
With two years of history with this deer, and a lot of trail camera photos, McFerrin was well-acquainted with the deer. She's hunted the general area for quite some time, too, and had more than enough experience to know when, where, and how to target the buck.
All that time and effort culminated with an opportunity on October 8, 2022. It was warm, but not as hot as usual for early October in South Texas. She anticipated a good hunt, especially since the temperature was slightly below historical averages.
Situated in the blind and scanning her surroundings, the area consisted of what you'd expect for the location. It's flat terrain full of brush, thorny shrubbery, and thick mesquite trees. I remember smelling cow manure, hearing cows move about, and deer moving to and from the area we were hunting, McFerrin said.
Several does, younger bucks, and even a few javelinas milled around in front of her. Then, after two days of targeting the buck, and the morning sun beating down, she caught a glimpse of a tine shining in the sunlight.
When the buck came out, he moved around feeding, she said. He was a latecomer, moved in slower than the rest. He was a mature whitetail and more cautious about his movements.
After several tense moments, she got her opportunity at the deer. Drawing back, she settled the pin, and took the broadside 20-yard shot. The arrow connected and the deer dashed for cover. It ran about 75 yards and fell over.
Overwhelmed with emotion, she tried to take in everything that just played out. It's just so incredible to be able to archery hunt a buck of this stature, McFerrin said. I was hunting with my daughter, which makes it even more special.
McFerrin, her husband Mike, daughter Georgia-Kate, and family friend Chris Luna all enjoyed the post-hunt celebration. Each of them was in awe of the buck's size and how well the hunt played out. After all, this was a true example of a monster buck.
This deer means so much to me, McFerrin said. The fact that I can get outdoors and make memories with my family, push myself mentally to archery hunt, have the reward of a buck like this, is unbelievable. Deer hunting is a challenge, a reward at times, time with God, and oneness with nature and enjoying the outdoors.
Looking back, she credits setting up the blind properly, reading the wind, and using her SpyPoint trail cameras wisely to pattern the buck. All of that and more resulted in a 195 2/8-inch Texas buck.
(Don't Miss: Massachusetts Bowhunter Shoots 195-Inch Buck While Answering the Call of Nature)

Watch all the latest video episodes