Missouri hunter Charles Gholson was aggressive on an out-of-the-way public spot, and the effort paid off
Rack Report Details
Buck:
160+ green
Time of Year:
September 15 2023
Place:
Central Missouri
Weapon:
Prime Rize
Tell most folks that your hunt only lasted five minutes on opening morning, and they'll call you lucky. Tell them you put three years and countless hours scouting and glassing fields through binoculars into preparing for that hunt, and they may reconsider.
That's exactly how it worked out for Missouri hunter Charles Gholson. "I first found this property, a small, almost overlooked piece of public land, three years ago. I glassed it a bunch and even videoed some mature bucks on it that first year. I think I even got this buck on video. The next summer, this buck was still there and made a heck of a jump to make the list of bucks I'd be happy to take. I watched him in that field just about all summer. I knew where he was bedding and the route he took between the two areas. I also knew that I had about a week to get on him before hunting pressure and changing patterns would make him leave the area," Gholson said.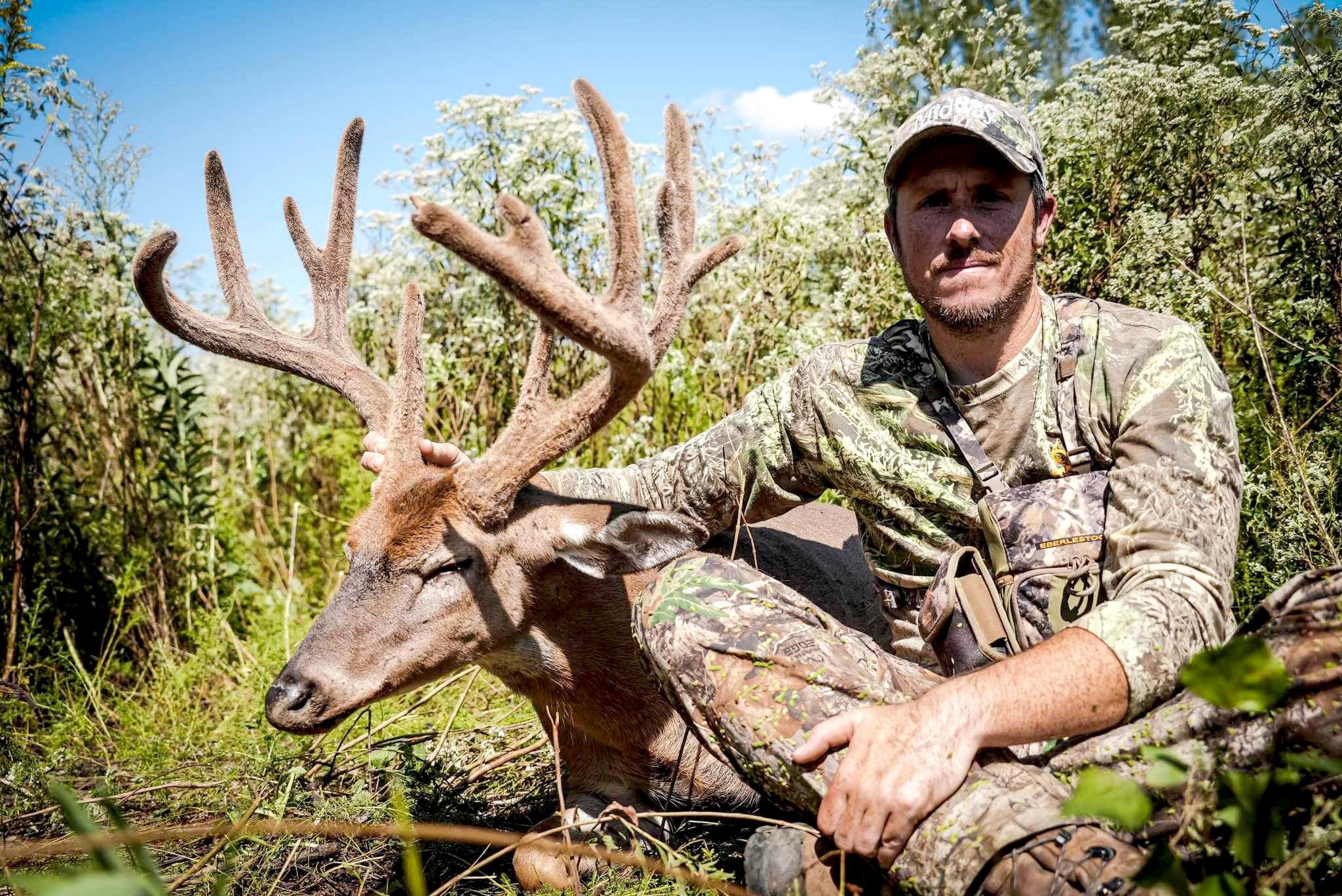 Missouri public land hunter Charles Gholson knew he would have to get aggressive early in the season for a shot at this public land buck.
Unfortunately, a death in the family caused Gholson to miss opening week of archery season last year and as he expected, the big buck left the area that week. Gholson never saw the deer again for the remainder of the season.
***Don't Miss: *HOW TO DEER HUNT THE MIDWEST
Fast forward to this year. The buck made it through the hunting season and had again packed on noticeably more antler than the year before. Gholson was back to glassing the area most evenings and could see that the buck was still on a similar pattern.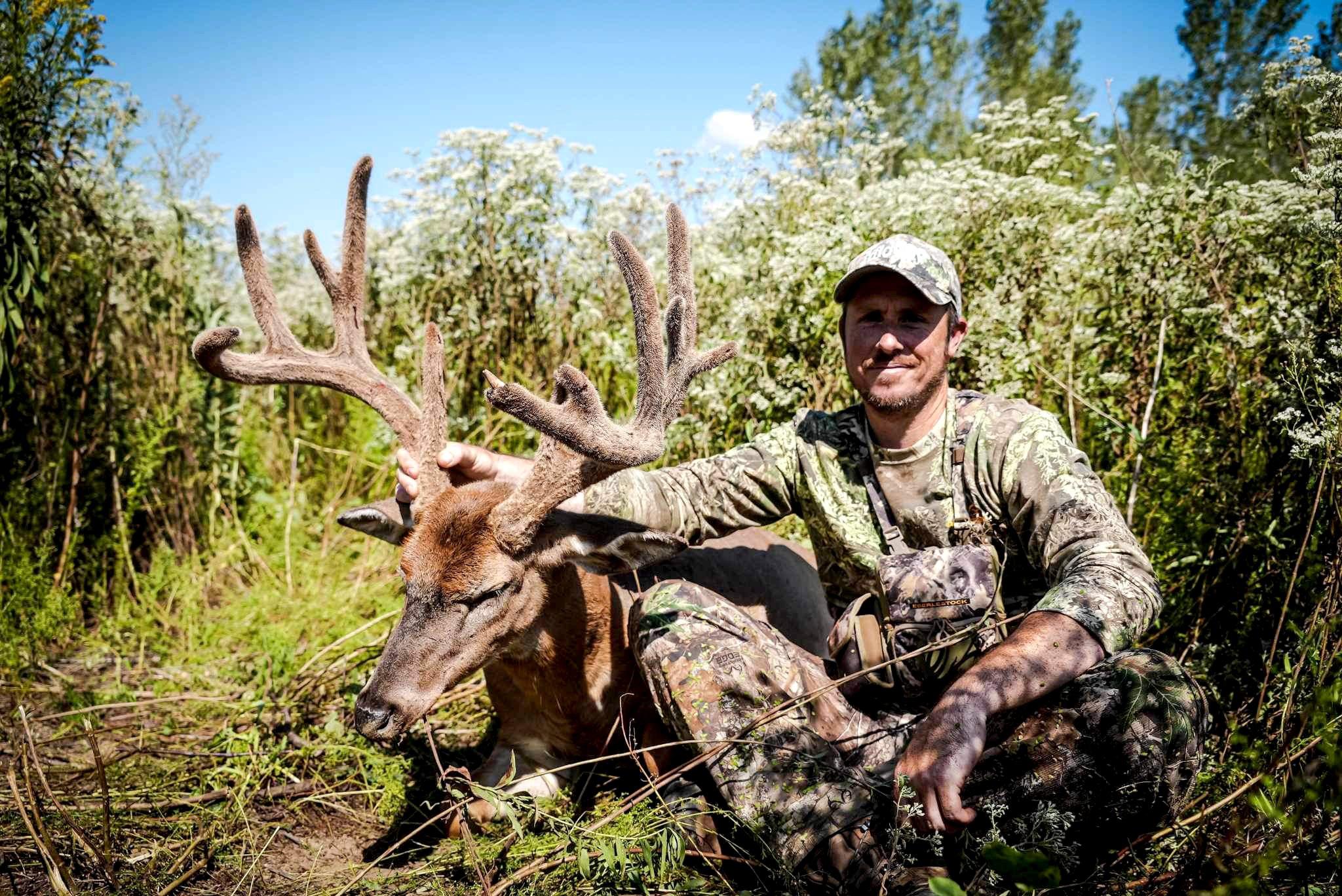 Gholson had been scouting this area for three years and hunting this buck for the past two seasons.
"I decided over the summer this would be my opening day spot, and had originally planned to hunt all day. I was going to do a semi-aggressive morning observation sit and move to my night spot after the thermals switched and the day winds picked up. I knew I had to go all in for the opening sit. This spot gets a lot of pressure and the beans were turning yellow fast. I wasn't sure the deer would still be there by the time I got to hunt it again. They usually only hold in this summer bedding spot for about a week. I got aggressive and used the thermals along a creek to my advantage and set up just along the backside of the bedding area," Gholson said.
On the opening morning of the Missouri season, Gholson arrived at the area early and parked about a half mile from the spot he intended to hunt. He wasn't the only one in the area. A good friend and hunting buddy was also hunting nearby that day. In order to not pressure the buck out of his small core area, Gholson didn't go in and hang a stand in advance, opting instead to carry in his gear as he entered the location that morning for the first time all summer. As he made his way into the area he wanted to hunt, he stopped. "You know how sometimes you get a feeling that you have gone too far? I had that. I stopped and backtracked about 20 yards to a tree I had just passed. I climbed up using ladder sticks and hung my Elevate Stand Co. Rize Treestand, then snapped a few limbs to open some shooting lanes. After I thought I had enough open space for a shot, I settled in and waited for daylight."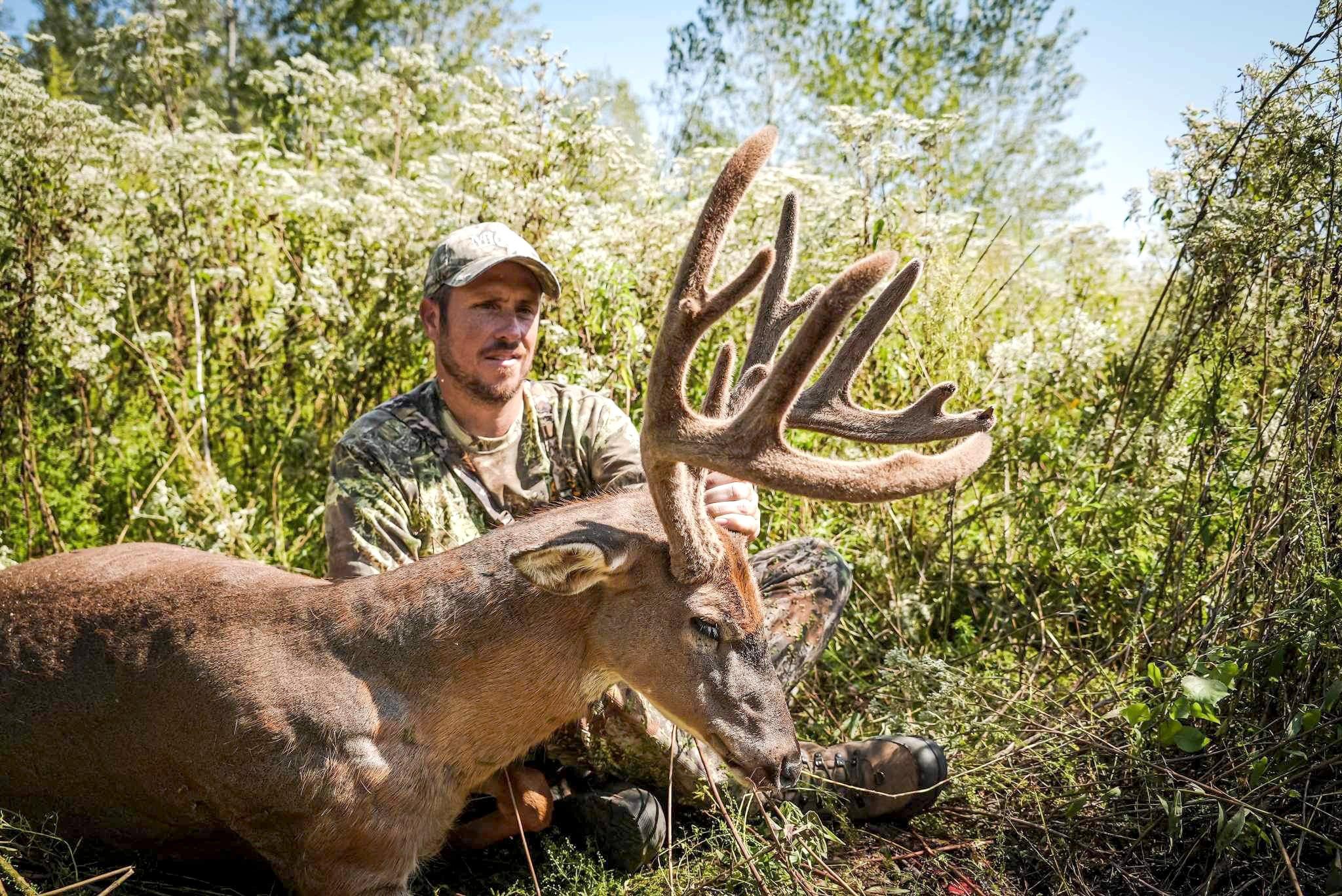 To keep from pressuring the buck out of the area, Gholson did a hang and hunt with sticks and a lock on stand in the predawn hours of opening day.
Gholson started to get antsy as dawn broke, knowing he was close to the bedding area, and then just before legal shooting time, he heard what sounded like a deer walking. "I was a Mortarman in the Marines, so my hearing isn't the best. I could hear the deer, but I couldn't tell what direction he was coming from," Gholson said.
After a frantic scan of the woods around him, he finally located the deer. It was a buck walking down a levee just 20 yards from his stand. "It was still pretty dark, and a little foggy. I could see the antlers, but they looked weird, almost fuzzy. I thought to myself that he was still in velvet, but I've been hunting the Missouri archery opener since I was 13 years old and I've never seen one in velvet this time of year. I wasn't sure exactly which buck this was, but there was no doubt that he was a shooter," Gholson said.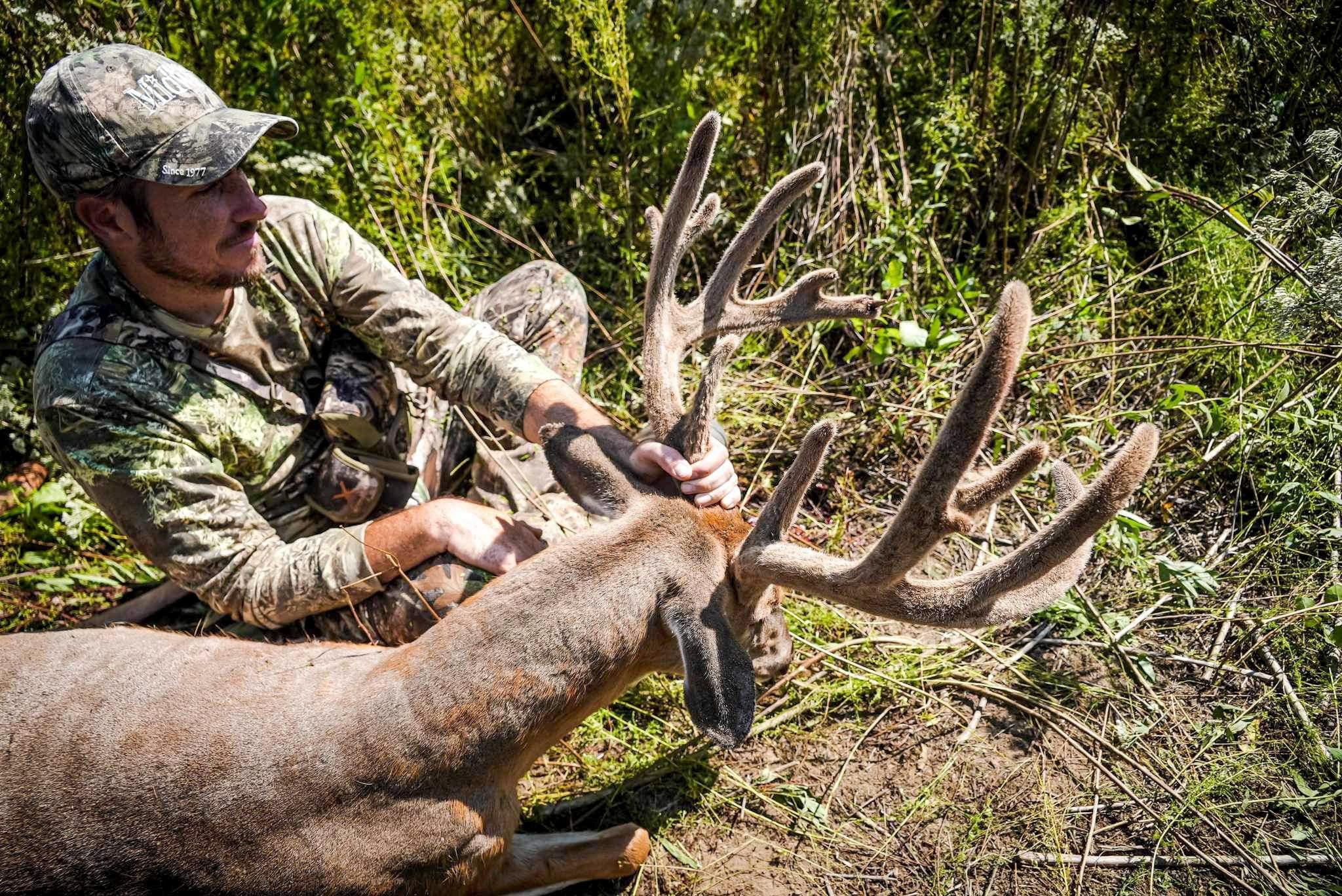 In a lifetime of hunting the Missouri opener, this is the first full velvet buck Gholson had ever seen from the stand.
With the buck silhouetted against the early sunrise, Gholson finally had enough light to make the shot. When the deer stopped, the hunter drew his bow and released the arrow. The shot was good. He watched the buck bound off about 30 yards, then stop and bed down. "In the next 15 minutes after I made the shot, I had three more deer inside 15 yards, including another shooter," said Gholson.
Since he knew his buddy was nearby, Gholson sat quietly in his stand and waited. He watched the second big buck feed for a while, then bed down. With the buck holding in one spot, Gholson messaged his buddy and suggested he try a stalk for the deer.
It didn't work; the other big buck slipped away. Gholson had seen a total of 10 bucks since daylight. Since his buddy was now nearby and it had been over two hours since the shot, Gholson climbed down and began the track. It was a short one. The buck was laying right where Gholson had watched it go down.
The mainframe 9-point featured over 8 inches of additional kickers. Gholson put a quick tape to it once they got home and came up with right at 160 inches, a fine buck anywhere, but especially for heavily pressured public ground. He admits that he was pretty conservative when measuring. Several of his buddies looked at the deer and suspect the official score will be even higher.
"Many people say they don't hunt mornings early season, but in the past couple years, some of my best sits have been mornings during the first 3 weeks of the season. I hunt when I can regardless of time of day, moon, and weather. The specific spot I hunt will depend on the wind and any historical data I have or intel I have picked up. I don't always go all in on the first sit, but more times than not, I error toward being too aggressive. If I blow out a spot, it's on to the next one. Overlooked spots are hard to find, but pay big dividends when you do find them. I walked about a half mile to make sure my entry route was clean, but the tree I did a hang and hunt in was only about 415 yards from a popular road," Gholson added.
Watch all the latest video episodes