One of the youngest and most successful tournament fishing pros in history talks about what it takes to succeed on today's pro tours in our first #BeReal feature story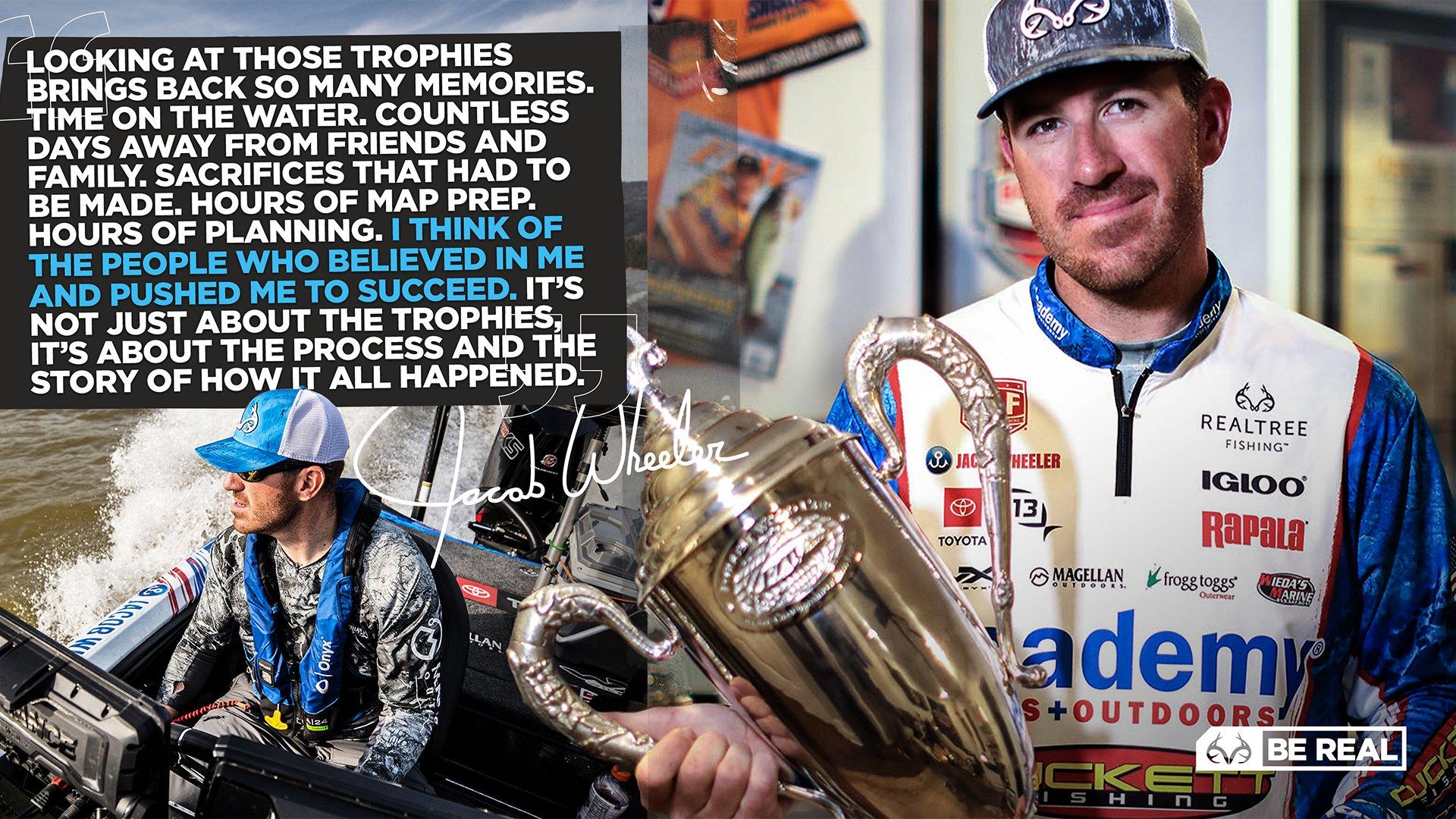 With 10 major professional wins under his belt and tournament winnings surpassing $2.5 million, Jacob Wheeler is widely recognized as one of the top tournament bass fishermen in the world. Claiming four Bass Pro Tour wins, two Bassmaster Elite Series wins, and a Major League Fishing World Championship, Wheeler credits a fiercely competitive drive and an early-found love for bass fishing for his quick rise to fishing fame. The passionate angler knows the exact moment he got hooked on the sport. He was barely out of diapers.
I was only a few years old and fishing on Eagle Creek Reservoir in Indiana in a rented paddleboat with my dad, Wheeler says. I was using a little push-button reel and a pre-rigged worm. You're supposed to use a slow technique, but like most young kids, I was impatient. I was constantly reeling it in. Dad told me to slow down and to let it sit there and sink. I was wanting to reel it in so badly, but I didn't. When I felt my line tighten, I set the hook and pulled in a 2 1/2-pound bass, which I thought was just enormous. I'll never forget watching it jump and feeling its weight on the line. That was it. That's when I was hooked.
Growing Passion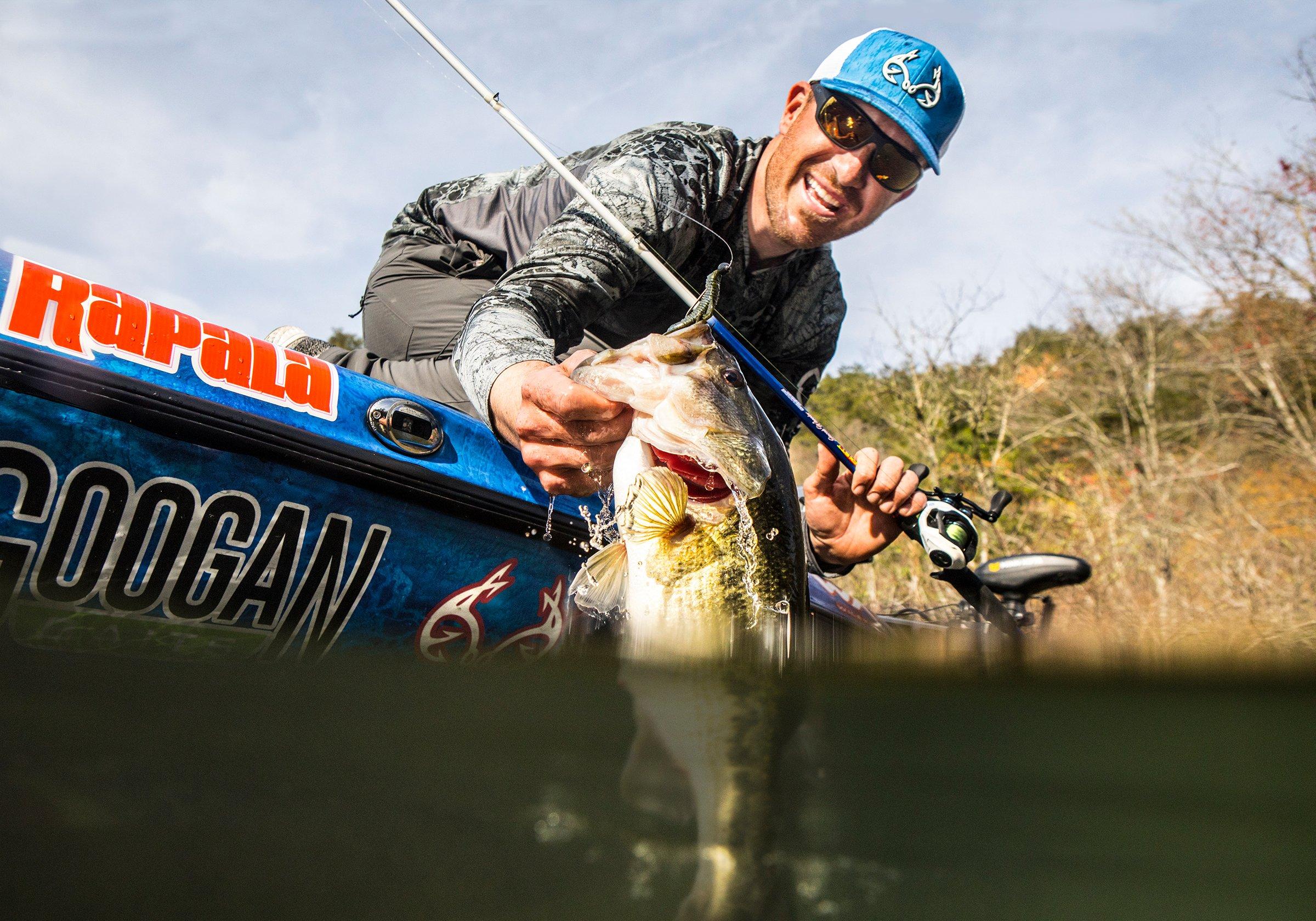 As Wheeler grew, so did his passion for catching bass.
Every birthday, my dad and uncle would take me fishing. It was my seventh or eighth birthday, and I was so sick with strep throat that I had to go to the hospital for several days. But I loved fishing so much that I still wanted to go with them. Of course, my mom said 'no.' I remember being so upset she wouldn't let me go. For me, it wasn't just about catching fish, it was also about spending time with my dad and uncle out on the water.
In fact, Wheeler says his dad, Curtis Wheeler, and his uncle Morry Wheeler are big reasons he pursued a career as a professional fisherman.
Best fishing cap ever made? Maybe so. $14.40 at the Realtree Store.
I have so many great memories fishing with both of them. Without them investing time with me on the water, I wouldn't be the person I am today.
When the younger Wheeler decided to start fishing in Junior Bassmaster tournaments, his father was his biggest fan. With his dad's support, the young boy quickly grew in both stature and skill. He decided to put college on the back burner to give professional fishing a try. At 19, he tied for the win in his first BFL tournament. In 2011, at just 20 years old, he became the youngest angler to win the BFL All-American. He made history again in 2012 as the youngest angler to win the FLW Outdoors Forrest Wood Cup. From there, his success continued.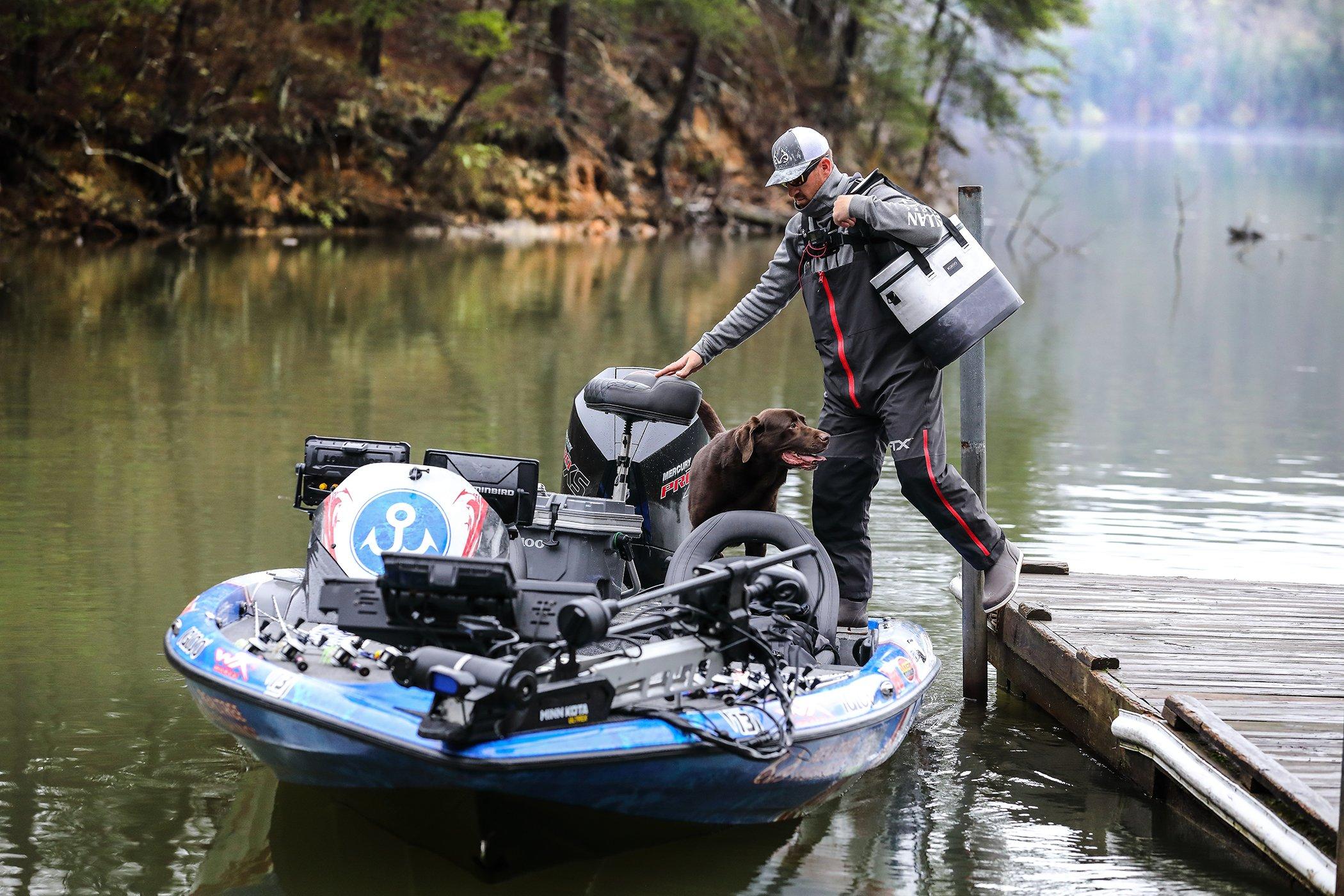 Keeping Up with the Changes
It's now been 10 years since his first professional tournament, and despite the hard work and challenges that come along with the profession, Wheeler says he never gets tired of it, perhaps because the sport of bass fishing is constantly changing.
Other sports like football and baseball change as well, but they're still fundamentally the same, he says. But with bass fishing, you're out there trying to catch living things. They evolve and change. The conditions change. The habitats change. The species you're fishing for may even change. Each lake is different. There are so many nuances that you have to understand and make adjustments for. That variety keeps it from ever getting old.
Wheeler says the irony is that for an angler to win consistently, he must change constantly.
He explains that back in the 1980s, '90s, and 2000s, competitive anglers were specialists, but these days they need to be generalists to succeed. A tournament angler must be able to catch fish in a foot of water and in deep water. He needs to be able to catch largemouth, smallmouth, and spotted bass. He must be flexible depending on the conditions and location and be willing to modify his style, techniques, and tactics at any moment.
But being a generalist doesn't mean you have to like every method of fishing equally. Wheeler admits he loves topwater fishing the most because he loves seeing a fish blow up at the water's surface. He also loves to power-fish and cover as much water as efficiently possible. But when these techniques and styles aren't working, he'll alter his tactics until he finds something that does.
Wheeler admits a big part of being successful on the water is having a natural instinct for catching fish. It's something that can't be taught.
Of course, Wheeler acknowledges that no matter your skills or knowledge, success is never guaranteed.
You can be the best fisherman for a year and then change to different fisheries or not make good adjustments and you'll end up doing poorly. It's hard to be consistent in this sport, he says. There are so many various bodies of water with so many nuances. Conditions and techniques change every year. That's the most difficult part of it.
And when it comes down to it, Wheeler admits a big part of being successful on the water is having a natural instinct for catching fish. It's something that can't be taught.
His natural instinct and competitive spirit have worked in unison to bolster his tournament wins, but even after winning so many tournaments, Wheeler still insists he gets goose bumps before each event.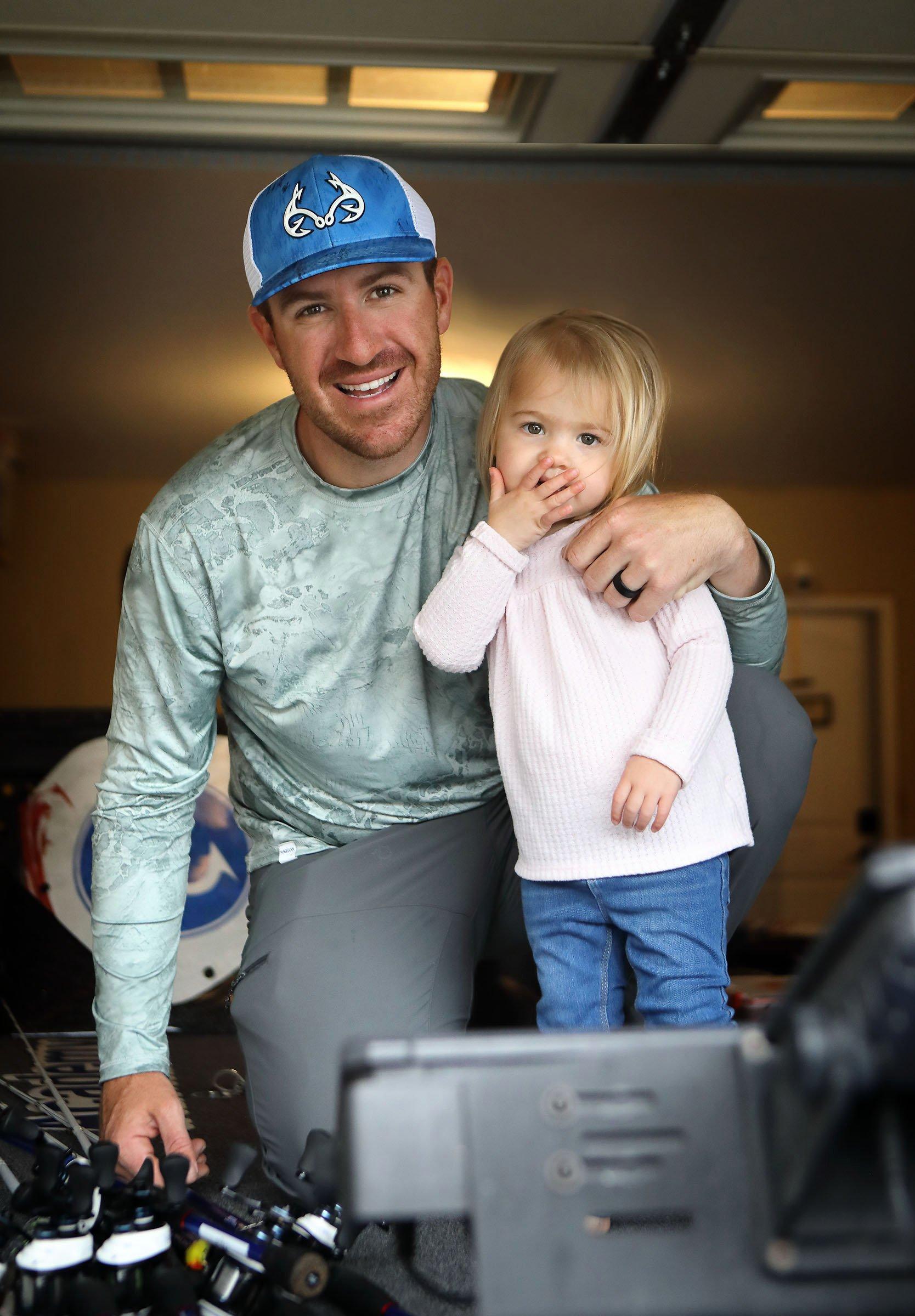 Love of the Competition
The competition side is what I love and live for, Wheeler says. When I'm competing against the best anglers, I know I have to bring it. And no matter how prepared I am, there's no guarantee. It's like opening a present on Christmas morning. Am I going to get coal or a good gift?
But it's not all fun and games.
Shop Realtree Aspect Fishing Gear. Gaiters starting at $7; shirts starting at $20.
The biggest challenge is time away from my family — from my little girl, Olivia, and pregnant wife, Alicia, he says. But fortunately, they do get to come with me on about half of my trips, so that helps.
Despite the sacrifices and hard work, Wheeler says he wouldn't change a thing. He knows how fortunate he is to be one of the few people who are getting to do what they love for a living. And when he stands in his trophy room and reflects on all his adventures and wins, he feels a great sense of pride and accomplishment.
Looking at those trophies brings back so many memories. Time on the water. Countless days away from friends and family. Sacrifices that had to be made. Hours of map prep. Hours of planning. I think of the people who believed in me and pushed me to succeed. It's not just about the trophies, it's about the process and the story of how it all happened.
And so far, Wheeler's story has been a happy one.
I've never doubted myself. Sure, there were times I wondered if I'd have the money or opportunity, but I'm here. I belong and I'm succeeding.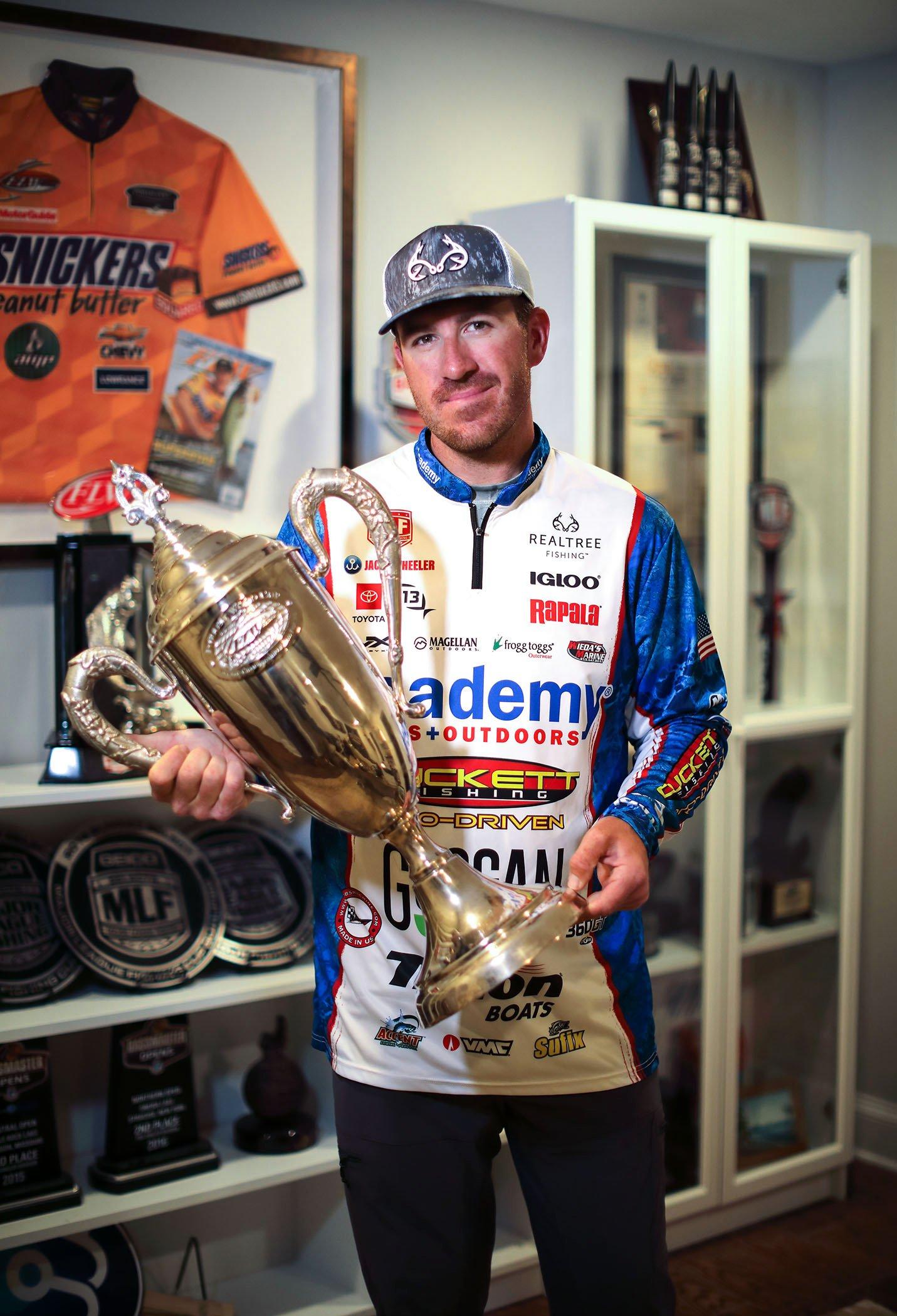 Sidebar: There's No Chill
Jacob Wheeler never ceases to amaze me. At just 30 years old, he is already atop the professional bass fishing world, ranked No. 1 by the sport's independent media sources, and still rolling along. His most recent performance, a dominating victory at the Bass Pro Tour's Massena, New York, event, was proof positive. There, Wheeler single-handedly caught over 350 pounds of bass in just three days.
Despite his age, Wheeler qualifies for veteran status. At 20, he won the sport's biggest amateur event, raking in $100,000 and never looking back. Yet, despite having spent his entire adult life on tour, Wheeler still fishes like an up-and-comer. It's likely his secret weapon.
This week found Wheeler again practicing for a bass tournament. He didn't need to. At the tail end of a spectacular season, his championship qualifications are assured. His yearly tournament earnings surpass a quarter-million dollars.
But Wheeler continues to push; there's no substitute for time on the water. He strives to think outside the box. For his recent win, Wheeler dedicated as much time as possible to fishing areas others simply wouldn't. He ran his boat hundreds of miles through the week and targeted the windiest areas of the massive St. Lawrence River, fighting big seas and specifically fishing for spawning bass in areas of hard current. It was the most grueling tournament I'd ever fished, he notes.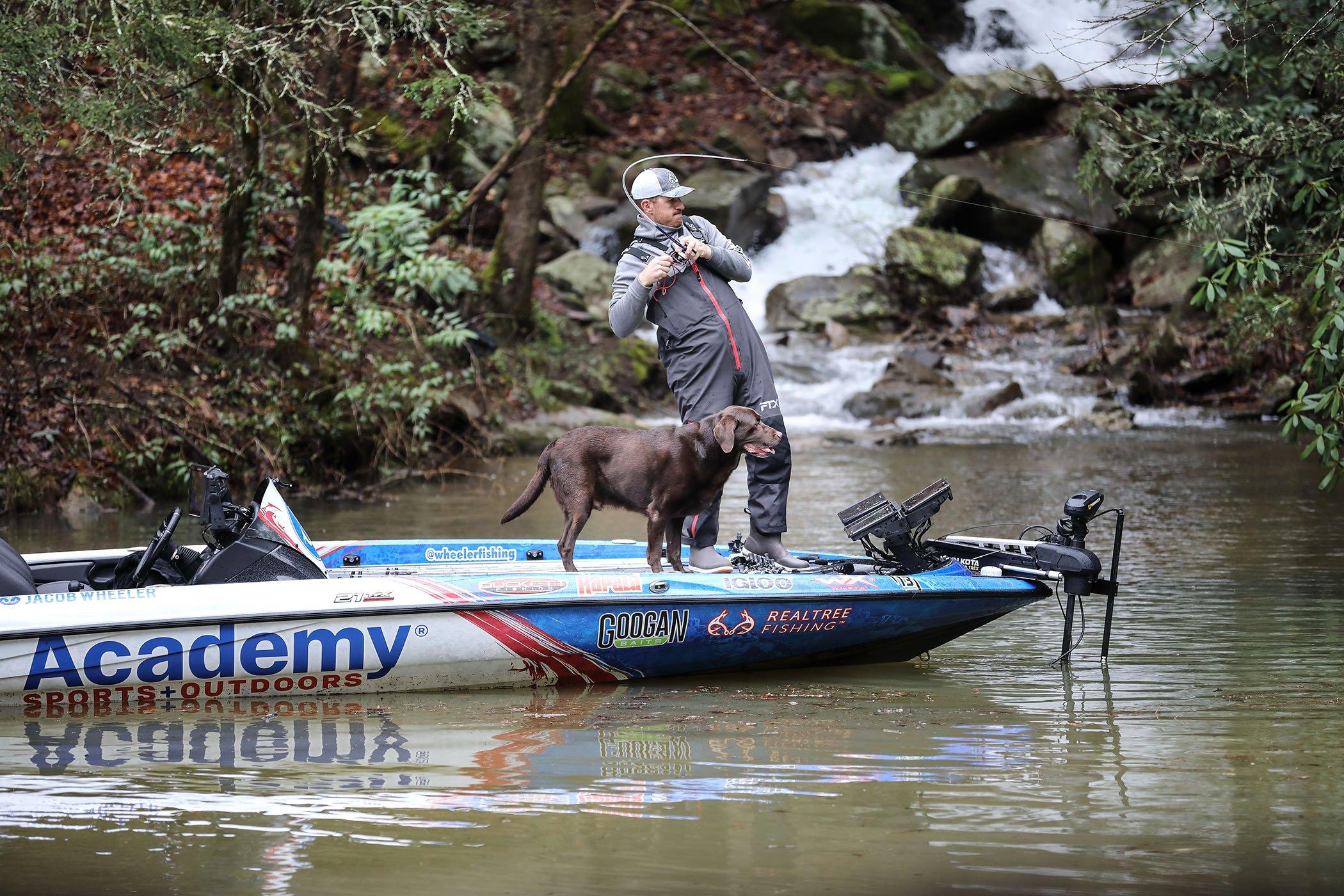 And although many of Wheeler's tactics were standard smallmouth bass techniques, a number of his biggest fish were caught with a method no one else seemed to try: a wacky-looking combo called the Tokyo rig.
It gives the fish a different profile, something that they haven't seen. I always look for that, he says.
Try techniques the others don't, in places the others won't. Go farther, push harder, and never let off. That's today's game plan of Jacob Wheeler. With two events to go in 2021, he will attempt to become the winningest pro in the short history of the Bass Pro Tour, and the only angler to win three events in a single season. During the offseason, he will continue to push, spending hundreds of hours working on his trade, including a structured schedule in the gym to increase his strength and balance for the season ahead.
Because, as the 30-year-old puts it, Youth only lasts so long. There's no chill.
That's good advice for his competitors.
— Joe Balog, Realtree.com Fishing Editor
When being real means being your best, that's when you know you've succeeded. Realtree's #BeReal stories offer you great profiles of men and women who took their own path, in their own way, and came out on top.