Looking for a New Big-Game Hunting Gun?
The Daniel Defense Ambush .308 in Realtree Xtra is the new benchmark for anyone demanding an accurate, fast-handling, hard-hitting platform capable of taking down any North American big-game animal. Built from the ground up, this rifle has been engineered to help you harvest that trophy with the precision and dependability you expect from Daniel Defense.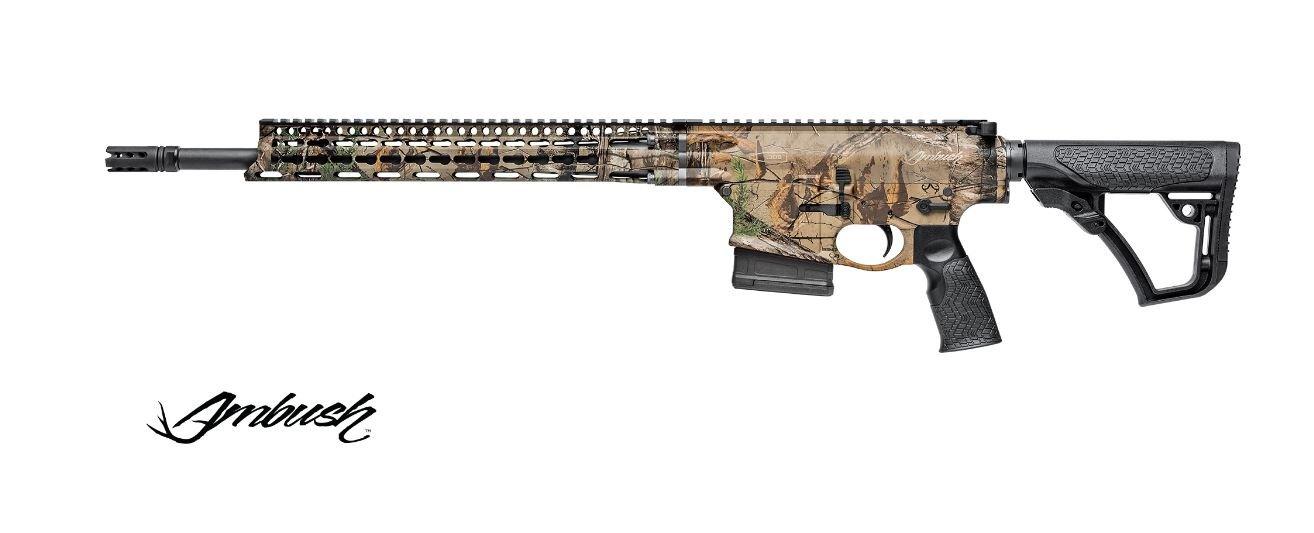 At its core is a free-floating, 18-inch Cold Hammer Forged barrel, which comes standard with the DD Superior Suppression Device Extended, for reduced muzzle-flash. This top-quality barrel connects directly to the upper receiver through a robust 4-Bolt Connection System with a patent pending barrel extension resulting in increased stability, better accuracy, and reduced weight.

Ambidextrous controls make operating the .308 Ambush comfortable and convenient for both right- and left-handed shooters. You can easily drop the magazine, release the bolt, or operate the safety selector from either side of the receiver. The charging handle is ambidextrous as well and also user-configurable — you can set up either side of the charging handle with a larger or smaller handle to accommodate magnified optics or iron sights for a snag-free setup. The water-transfer printing process (also known as hydro-graphics) of this finish makes for a durable, uniform coating that holds up to and resists even the harshest environments.

The Ambush is fed with an optimized bolt carrier group featuring a redesigned geometry and a new extremely slick, low-friction coating to ensure smooth, reliable feeding. As a sportsman, you have an obligation to take clean shots on your game, and a crisp 2-Stage Geissele Super Semi-Automatic (SSA®) Trigger gives you the advantage you need to deliver a precise, on-target shot that'll bring down that elusive trophy you worked so hard to get in your sights.
Editor's note: Product information posted here is directly from the manufacturer. For more photos and details on the Daniel Defense Ambush .308 in Realtree Xtra go here.
Want more Realtree guns and shooting? Follow us on Facebook.