Upgrades for Your Standard Firearm
When it comes to the rifle or shotgun that every hunter carries, there are some upgrades that could possibly turn that standard firearm into a greater firearm or better performer in the field.
I'm not knocking wood (pun intended) but one upgrade is a synthetic stock. These stocks tend to be more durable when the going gets tough or the rain begins to fall. Of course, in the other camp, wood is a classic and easy to love — or at least really like. Then there are also laminate wood stocks to consider because the many layers and resins in the building process of those stocks can create striking patterns and provide a more stable base for any rifle barrel.
Before you open your wallet and buy a replacement stock for your cherished firearm or favorite hunting rifle, however, there are questions that need answers.
You'll want to consider if you want the same style stock as original or possibly an upgrade, such as one with a thumbhole, or one with a higher cheek rest. Then there are other choices on whether you want laminated wood, what colors, how you want the barrel to fit into the stock, whether you want an adjustable stock, whether you want bedding in the forend, what synthetic material if any in the stock, and as you can tell, many more options and other concerns.
Of course there are wooden stocks to replace one that may have become cracked in a tumble.
To select the best stock, consider the main discipline the rifle is used for. Bench-rest stocks are far different from high-altitude hunting rifle stocks. The stock options are nearly endless.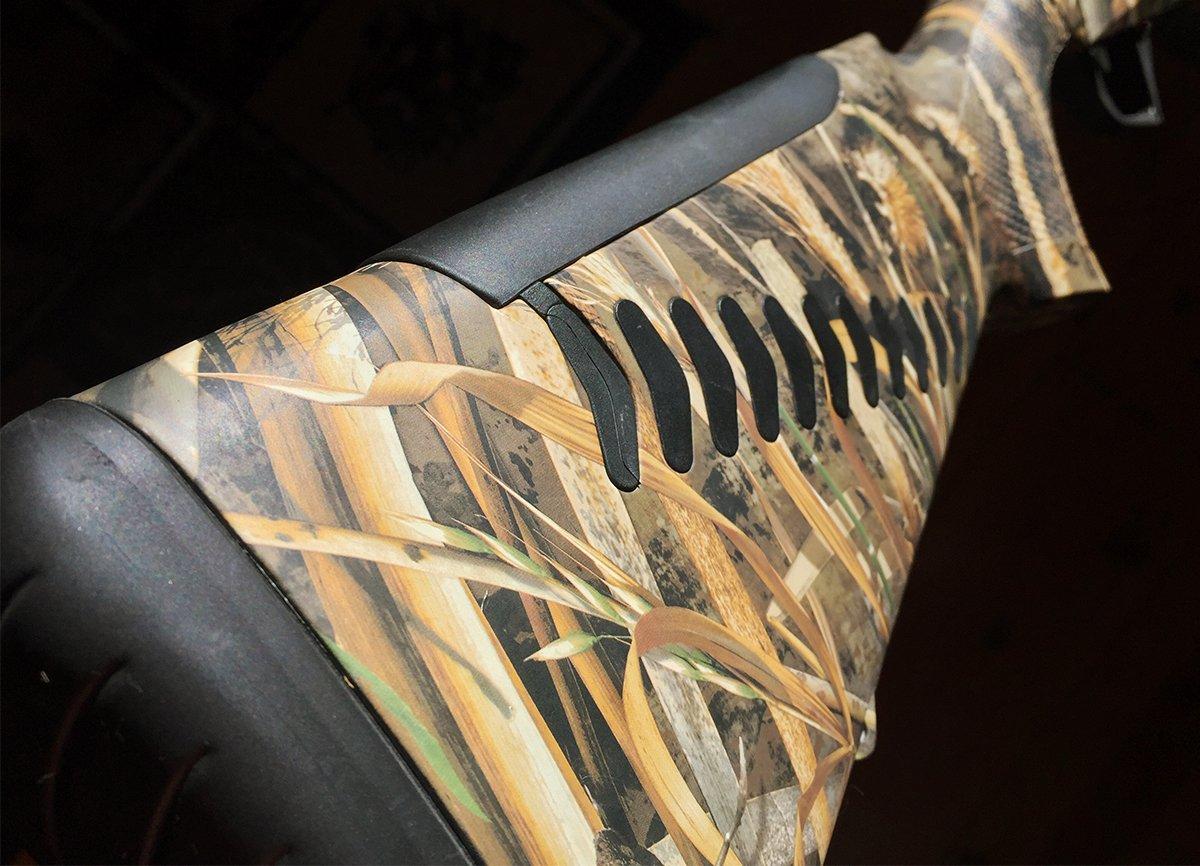 Here are some top sources for replacement stocks:
Boyd's Hardwood Gun Stocks
This company's website guides buyers through selecting the shape and finish desired. Hundreds of firearms are covered with hundreds of Boyd stocks. You simply enter details on the make and model.
For example, if you had a Remington Model 700, you'd have to determine details on the floor plate and action, then make a selection among nearly a dozen stocks ranging from classic to prairie hunter or possibly a varmint hunter layout. Then you could also consider selecting a thumbhole or featherweight model. And, yes, the company offers difficult-to-find left-hand options. The website can then guides to more options. I discovered great-looking and durable stocks with prices starting at $129.
If you still have questions, there is a FAQ section, and for bargain hunters a special sale section.
You can also buy a stock and finish it yourself as a DIY project. If you like to dream, be certain to look in Boyd's online design gallery section. There you will find more than a dozen basic styles of firearms and find replacement stock ideas. Then you must decide on colors ranging from green and brown to pink or blue. Another option permits having something engraved into the stock. You can create a custom firearm and install a custom hardwood stock on the firearm without hurting your wallet. But the company also offers numerous synthetic stock options in multiple designs and materials.
In fact there are so many options via Boyd's your new chore becomes just deciding on one stock or buying a couple.
Brownells.com
While this Iowa gun parts powerhouse is known mostly for gunsmithing tools, the company also offers gun stocks.
You can get wood and synthetic stocks and forends for shotguns and rifles, plus the same for classic to AR rifles. If you are building a stock, there become more options, like a bedded V Block for a Remington 700 rifle. Installation could require some woodworking or other experience.
For stock modifications, Brownell's offers guide books on checkering, glass bedding, or other projects. The company also has comprehensive online instructional videos to guide you every step of the process — plus all materials to complete a professional job. The good news is Brownell's customer service center has specialists who can answer questions and help you wade through the many options this company offers.
The best news is that Brownell's offers a huge selection of tools for making the adjustments that some stock blanks require before a trigger housing or barrel will fit into the new stock. Some stocks require sanding, and some require more, and Brownell's tools will help create a perfect fit.
For waterfowlers and shotgun owners, Brownell's offers numerous stocks, foreends and even an end cap in various Realtree camouflage patterns. I found stocks and forends for firearms by Remington, Beretta, Franchi, Benelli and others, and in patterns ranging from HD to All-Purpose patterns. Most component prices begin at around $100.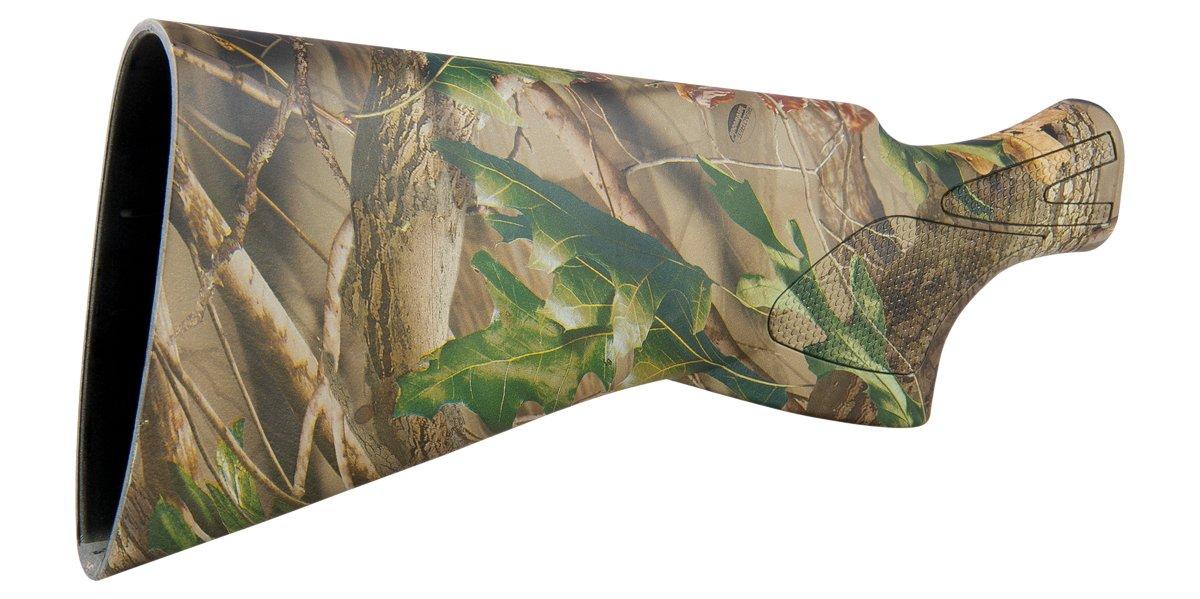 If you can't wait, Brownell's has a new store just off I-80 near Grinnell, Iowa. Place an order there and your parts are delivered to a pickup window in about 10 minutes.
Bell & Carlson
This Kansas-based manufacturer offers numerous stock options to refit firearms by more than a dozen major manufacturers, including Remington, Browning and Winchester.
This company also provides numerous stocks for the popular Mauser military-style rifles and for Ruger's well-owned 10-22 semi-auto rifle. The stocks can also be obtained from Bell & Carlson in more than a dozen colors, ranging from standard flat black to pink with spider webs.
For the ultimate upgrade for one of the most widely owned rifles in America, Remington's Model 700, look at Bell & Carlson's Varmint/Tactical stock with adjustments.
The stock permits adjustment of the cheek piece, length of the stock, and fit with left or right and up and down adjustments in the butt pad. For attachments, there's an integral rail in the forend. This stock weights more than five pounds, will fit short- and long-action rifles, plus heavy barrel rifles and retails for approximately $500.
For more details than the company website provides, call Bell & Carlson's customer service at 620-225-9095.
Houge
This well-known manufacturer of many items found in the sporting and outdoors gear arena, also makes rifle and shotgun stocks.
Gun owners can easily find a new or replacement stock for Remington, Winchester, Savage and Ruger. There are also recoil pads that can be added to the ordered stock, or existing stocks.
Hogue stocks have a patented overmold process that starts with a rigid base fiberglass stock frame and then applies durable synthetic rubber at high pressures. There are numerous standard stocks and several stylish models, such as the Tactical Thumbhole (SKU: 22070). There is also Versatile Rubber Overmold stock (SKU: 22610) for Ruger's 10-22 rifle with a .920-inch barrel. This rifle has sling swivel studs preinstalled.
To learn more, visit here or call 800-GET GRIP.
Ram-Line Stocks
This rifle and "long gun" stock manufacturer offers more than 50 rifle stocks, plus shotgun and youth stocks.
There are models available in numerous Realtree camouflage patterns. More details are found here or available by calling 270-749-2109.
Note: Some versions are now being discontinued and numerous stocks can be obtained at great closeout prices. Shop soon.
Changing the stock on a rifle offers benefits with the right choice, whether cutting ounces or pounds off the total weight, or to have a more durable stock or adding splash or appeal with new colors. Your next hunt could begin with a hunt for a new stock.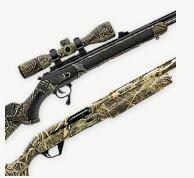 Dipping Delivers
There's another option to upgrade a favored firearm.
Hydrographics uses a thin film floating on top of a liquid to apply camouflage patterns to surfaces passed through the film, such as gun stocks or entire firearms.
One chain store with gunsmith shops, Gander Mountain offers services to camouflage existing firearms and stocks via hydrographic dips.
The Realtree patterns available here include: Realtree Xtra, Xtra Green, Max-5, Max-4, among others.
Dipping prices for a standard bolt-action rifle begin around $200. Full details are found here.
Go here for more Realtree Guns and Shooting posts.
Follow us on Facebook.