Rack Report Details
Buck:
198 green velvet
Time of Year:
Sept. 2, 2023
Place:
Henry County, Kentucky
Weapon:
Bow
Big bucks don't get big by being predictable and easy to pattern. That's what makes it so special when a hunter makes a plan for a particular deer and it actually comes together and works the way it was supposed to.
David Waterman had been planning for this buck for three years. Back in 2020, when the buck first popped up on his trail camera, it was impressive, but Waterman knew it was young and would likely grow into something really special.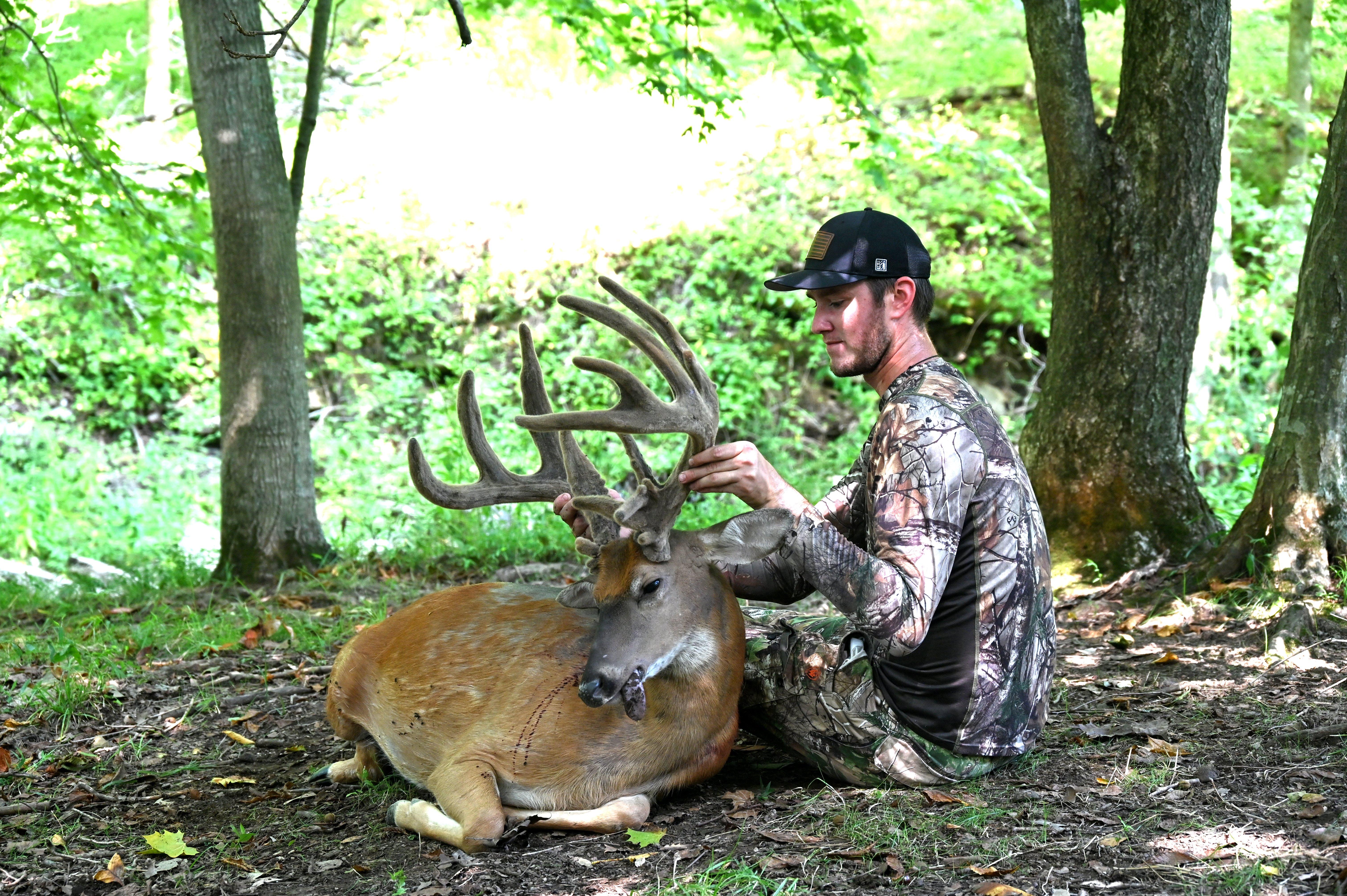 Waterman first saw the buck three years ago and knew he had the potential to grow into something massive.
His prediction was correct. In 2021, the buck packed on some serious growth. Trouble was, Waterman was recovering from a severe injury and missed nearly the entire season. He worried that the buck would travel during the rut and end up being taken on a neighboring farm.
The buck made it.
This past year, as the dog days of summer ticked by, the deer was coming in on a regular basis. Again, the buck had taken a serious jump in antler size. As the season neared, Waterman was happy to see the buck showing up in front of his stand regularly. But there was a problem. Waterman is ordained to perform wedding ceremonies. And one of his best non-hunting friends had asked him to officiate his wedding on opening weekend. Although he was happy to do it, Waterman knew he would probably miss his best opportunity at the buck. The deer was a regular during summer, but it had always disappeared after the first week or so of the season. "I'm still not sure where he went after his velvet shed, but we'd never see him again after the first few days of the season," Waterman said. "Sure enough, as I'm officiating the wedding on opening day, my phone is going off with daylight photos of the buck right in front of my stand."
***Don't Miss: *IS THERE A WHITETAIL FOOD PLOT SILVER BULLET?
With work limiting his early season stand time that year after opening weekend, Waterman never got a shot at the buck during the remainder of the '22 season. The deer, true to form, disappeared after shedding his velvet. Fast forward to this summer. In response to CWD discoveries in bordering states, the Kentucky Department of Fish and Wildlife pushed the state's legal time for putting out deer attractants to August 1 — about a month before the state's opening day of bow season.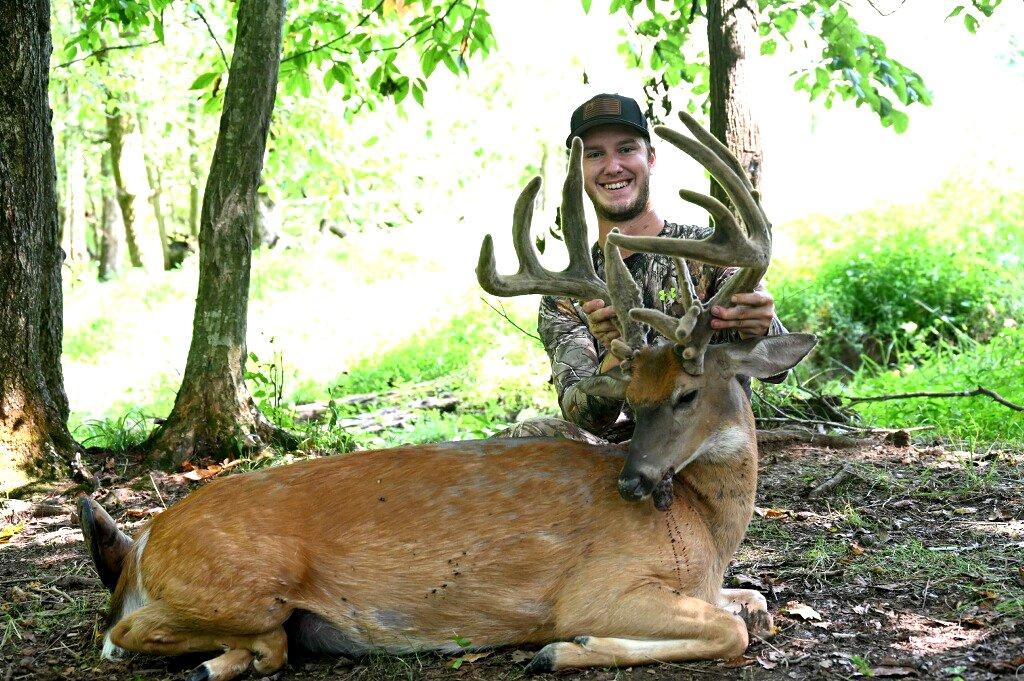 After missing a chance at the buck in 2022 while he was officiating a wedding, Waterman was determined to hunt only this deer in '23.
Full of anticipation about the buck, which he had now nicknamed "P7," Waterman was out at noon on the first legal day to put out bait. A few hours later, his phone buzzed with a message. It was a good friend who had access to his camera app. The message read, "You aren't going to believe this, but P7 is there." Waterman quickly opened his phone to see the buck, now a legitimate monster, right in front of his stand.
"I knew right then and there that I was going to target this deer this season," Waterman said. "I didn't even put out cameras on the other farms."
The buck remained regular for the first weeks of August. Around the middle of the month, Waterman glassed the buck one evening from a hilltop about 500 yards from his stand. The deer looked even bigger in person than in photos. Then his camera batteries died. An increased work load kept Waterman from getting back to freshen the bait and change camera batteries. He hoped the buck would hang around.
To add to the stress of a dead camera, Waterman noticed a small splinter on the limb of his Hoyt bow after a late-summer practice session. Not wanting to take a chance, he reached out to friends to see if anyone had a fully set-up backup bow he could use. One of his buddies came through with an Elite Energy 35. Waterman had just enough time between jobs to get it dialed in to where he was comfortable for the upcoming season.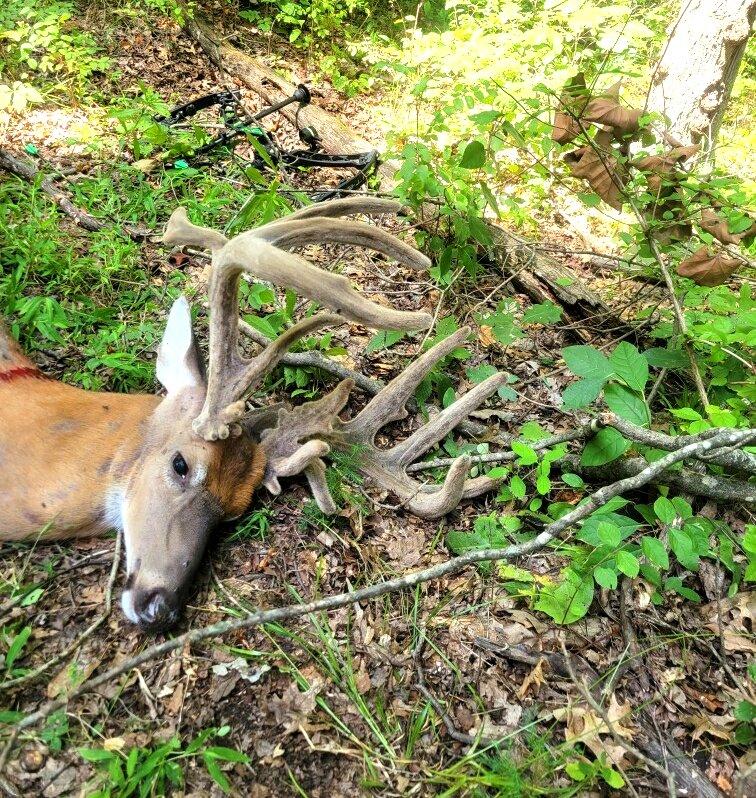 After a limb split on his main bow, Waterman was hunting with a backup bow on loan from a friend.
Just after midday of the season opener, Waterman, along with his good friend Jacob, who planned to film the hunt, headed to the stand. The pair parked nearly two miles from the stand location and then used electric bikes to quietly get close. They got there just after 1 p.m., because even with the summer heat, the deer had often shown up on camera early in the afternoon.
The hunters climbed up and settled in for a long afternoon. About 30 minutes into the hunt, Jacob joked that P7 was known for moving early in the day and that they should probably put their phones away and get ready.
Just a few minutes later, Waterman glanced to his left and saw a flash of movement. It was a deer's tail wagging. "I couldn't see the rest of the deer because of the thick cover, and Jacob couldn't see it at all," he said. "I thought it was a smaller deer at first. Then it took a couple of steps, and I caught a flash of velvet antler. I still didn't think it was P7, but I thought it might be his 8-point traveling companion."
The deer took another step into the open, removing any doubt. "I saw that flyer and I knew right away it was him," Waterman said.
The buck stood just 15 yards away, but Waterman had no shot because of the cover. When the deer stepped behind a tree, Waterman considered drawing but realized he likely wouldn't have a clear shot and held off. "The buck looked back straight in our direction and held his gaze," he said. "I was breathing so hard, and my hands were sweating. I was worried that a swirling wind would spook him any second. He stood there for probably seven or eight minutes. It was the longest stretch of time I think I've ever had."
Finally, a stick snapped on the opposite side of the buck from the waiting hunters. Waterman never saw the other deer, but assumes it was the buck's regular traveling partner. The sound seemed to calm the buck, and he finally continued his forward movement. When the buck turned to look in the direction of the snapped stick, Waterman came to full draw.
Waterman settled his pin and released the arrow. To his surprise, the buck collapsed where he stood. "As soon as I processed what had happened, I got another arrow ready to go," he said. "Before I could even get drawn, we heard him take his last breath. I knew I had him."
When they went back and reviewed the video in slow motion, Waterman and Jacob were amazed at how fast the buck dropped and started to spin at the shot, resulting in a high hit where the neck meets the shoulder. Luck was on Waterman's side. The arrow severed the buck's spine, killing him almost instantly.
***Don't Miss: *TICK-BORNE MEAT ALLERGY IS ON THE RISE
After climbing down and taking a quick recovery video and several photos, the hunters realized what they were up against. The fully mature buck was huge, and they were a long way from the closest road. With the early afternoon heat, they realized the best way to proceed was to break down the buck in the field and carry the meat and head out on their backs.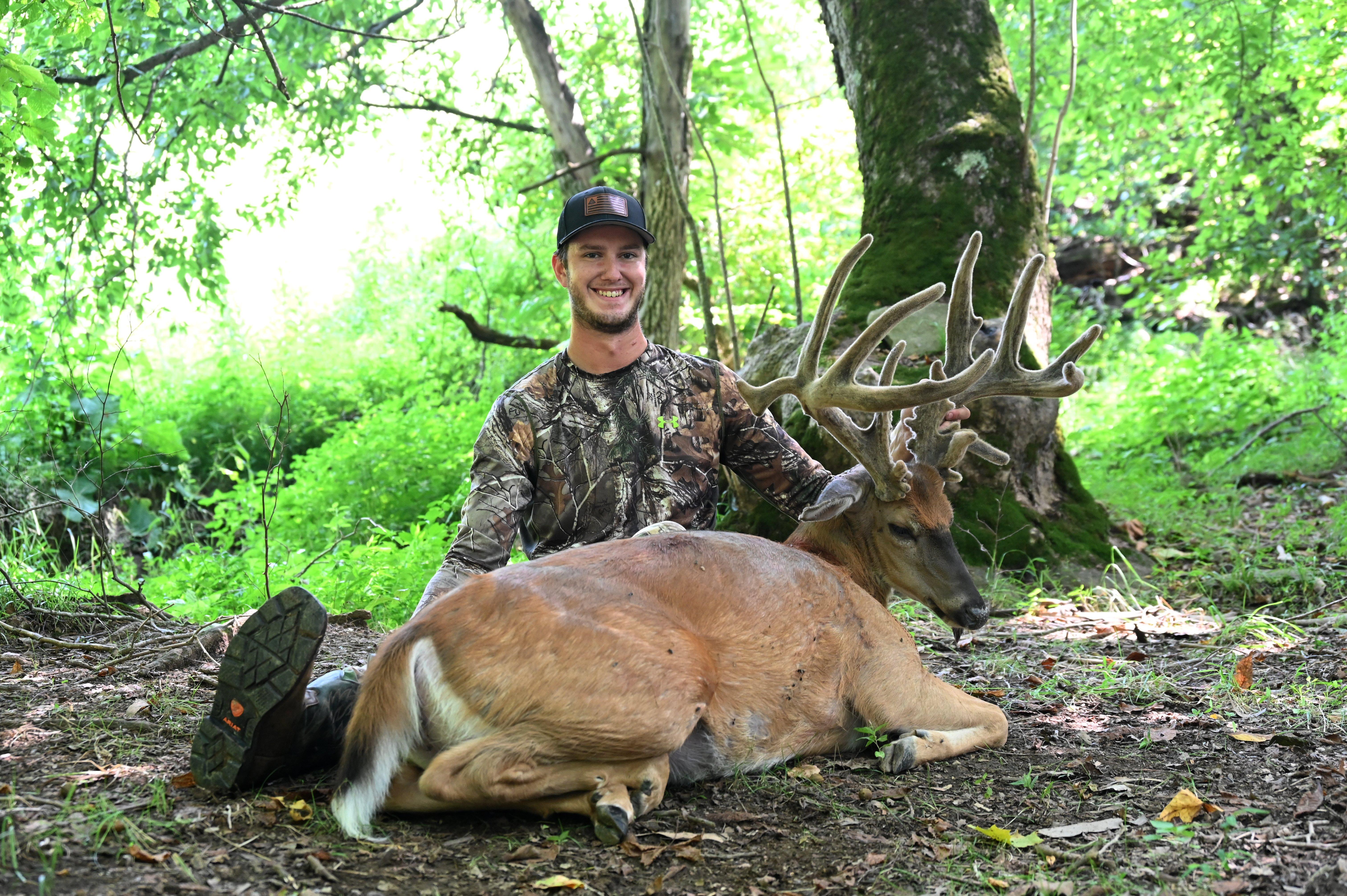 The buck's body was massive, and the stand was far from any road, so the hunters skinned and boned out the buck in the field so they could pack it out to waiting coolers.
Waterman's buck featured a massive 9-point main frame with 26- and 27-inch main beams and five additional scorable points. A quick measurement when they got home came up with a whopping 180-plus inches. After getting the buck cooled, a more detailed measurement with a seamstress tape came up with a massive 198-inch gross score, making this Waterman's largest buck to date.
Watch all the latest video episodes