Take a Look at Artist Ed Anderson's Work
Artist Ed Anderson recently wrote to us from Idaho and said:
This is a reminiscence of traveling to South Dakota with my dad. I couldn't tell you if the hunting was good or not, but it was such a departure from the suburbs. When I was a kid, those birds always struck me as exotic and left a big impression on me. Now I get to be the featured artist for Pheasants Forever and am really looking forward to getting back there and putting fresh eyes on the place.
His journal tells the story of a favored family gun and memorable experiences from his South Dakota hunts.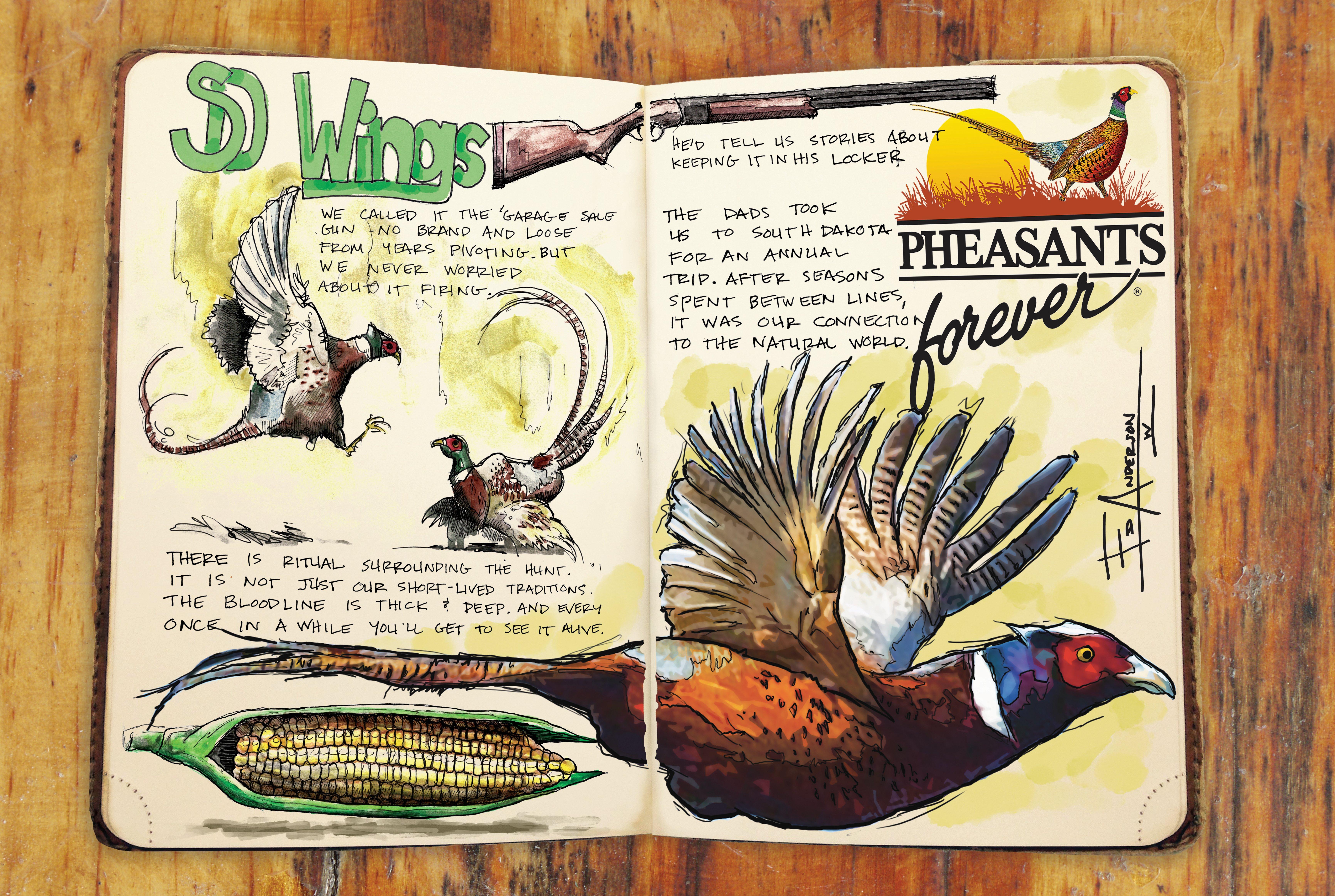 Ed Anderson is a contemporary fine artist and former Air Force officer transplanted to the mountains of Idaho from Minneapolis. His style has evolved from a lifetime with art and architecture. Bold lines and bright colors have come to define his compositions.
Most days you can find Ed in his home studio overlooking the Boise River on the eastern edge of town. You can usually find him painting to blaring music or beating the strings on an acoustic guitar. Probably you'll catch spirited twin daughters running in and out. In fact, if you do visit and it's quiet, it probably means he's off somewhere exploring in his Jackson kayak with his Boykin Spaniel, Mootie.
As Ed has told us, he strives to catalog Americana. His subjects are derived from vast experience in the outdoors, where the artist spends much of his time. Additionally, his extensive travels push him to investigate things unique to this country.
Today he may be working on a landscape at his No Business Lodge, or be on the flats in Florida trying to chase down a tarpon for a photo. Tomorrow he could be in the chutes sketching the moment a bull tears out with a rider on his back. Then again, you could find him in the mountains, bugling in an elk to 25 yards.
No matter where he may be, Ed is trying to capture his experience with his gestural style.
More Realtree small game hunting. Follow us on Facebook.