Here's how hardcore waterfowlers beat the crowds to find birds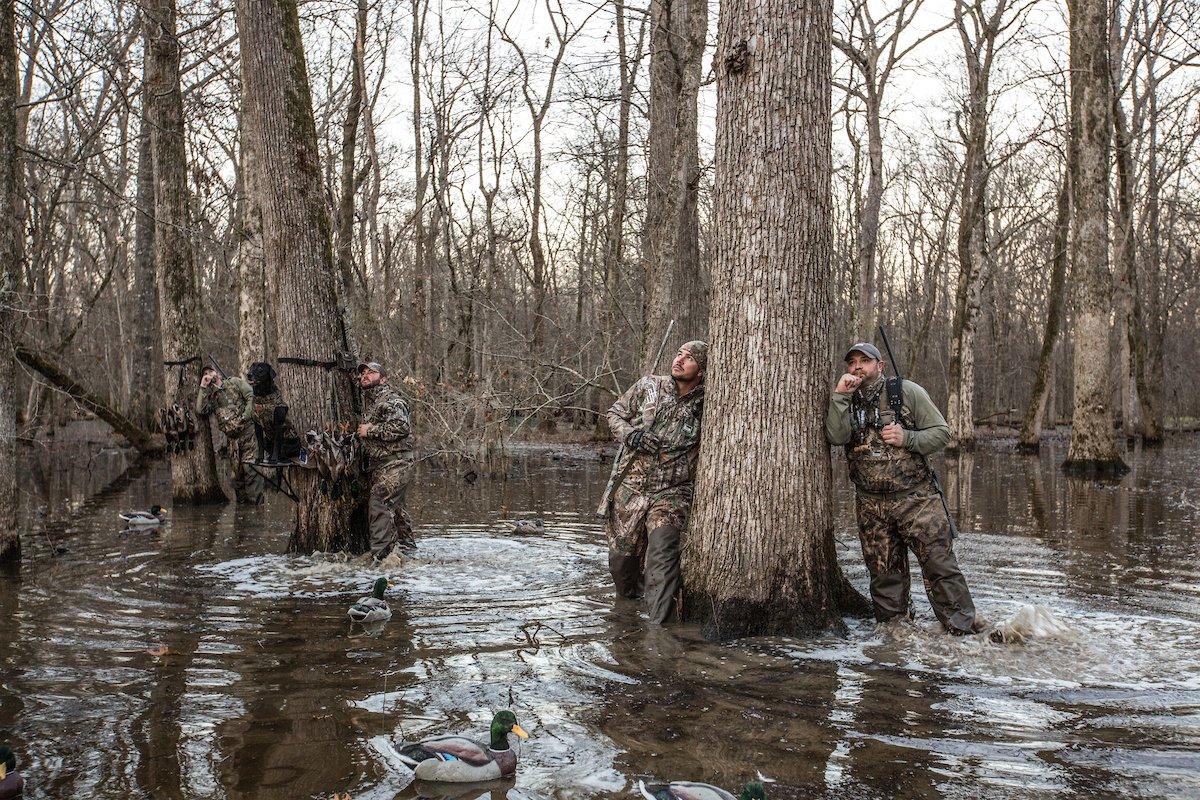 Public property offers an uncountable amount of waterfowling opportunity throughout the country. Trouble is, many folks don't take advantage because they don't want to compete with crowds or stare at a shot-out marsh.
It shouldn't be that way. True, hunting publicly accessible land or water isn't like walking into an exclusive club. You'll usually have competition, and birds will likely be educated. However, you can still enjoy quality gunning. Try these great public-land approaches this season.
Buice Advice
James Buice, frequent Realtree.com Duck Blog contributor, uses a straightforward approach to finding public-water ducks other people have overlooked.
I'll usually sacrifice a morning hunt and ride around in the boat taking notice of where people are hunting from a distance, he said. You'll see a lot of birds either working their spreads or, more often, flaring in high-pressure areas and flying off. I'll check the direction of where the birds are flying and try to follow them best I can. Typically, I'll find wads of ducks in really out-of-the-way places: little holes or hidden pockets nobody would think to hunt because most folks are focusing on the obvious feeding and loafing areas.
Those spots might not attract hundreds of ducks, Buice said, but they typically slowly fill up with singles or small groups throughout the morning.
If I see one or two ducks drop into a pocket that's sheltered from boat and hunter traffic, I'll watch that spot with binos for an hour or so, he said. Sometimes, nothing happens. Other times, singles or a few small groups will come in every 15 minutes or so. I'm looking for birds that are instantly committing and just locking up without hesitation. The next day, I'll go in and never put out more than six decoys, along with a Higdon Pulsator or a jerk string. Half of what I put out will be butt-up feeders with some additional white paint for visibility. The shooting is never fast and furious, but you can scratch out a limit shooting the ducks as they slowly filter in over a few hours.
The Dersham Method
Jeremy Dersham guides hunters on the world-famous Pool 9 of the Mississippi River, which attracts hundreds of thousands of canvasbacks and scores of hunter looking for those bulls. He beats the pressure by identifying multiple options.
My No. 1 strategy for public land is scouting, he said. There are no shortcuts to success. I try to have three to five different go to areas or spots. If one or two of my spots are taken, I have options. We've killed a lot of birds on traffic hunts. If I can't get on the X, I want to put myself between roosts and the X, which may include tree lines for puddle ducks, points or submerged sandbars for divers, or small rivers and hidden water holes for geese.
Finding good areas takes lots of time, but Dersham said that sacrifice equals success.
You have to put in the time to be successful, he said. I spend twice the amount of time scouting and watching ducks and geese as I do hunting them. Water levels, flight lines and bird numbers are constantly changing. It's my job to pay attention to what the birds are doing and make adjustments accordingly.
Dersham uses technology to scout from his computer or cell phone, and relies on map services such as ScoutLook, OnXMaps and Google Earth.
I may have six to 12 areas marked that look good on a map only to find the birds using three to four areas once I visually check them out, but I'm always looking at flight lines birds are taking, he said. There are many times we have other hunters hunting the X, where birds are feeding or loafing. I then try to set up on a flight line between the two points and have good success. We also look for hidden areas that are out of the way. They may not be holding as many birds, but you don't need hundreds of ducks to kill your limit.
Polar Extremes
I do most of my waterfowling in hunter-heavy Wisconsin. Ever wonder what it's like to be in a war? Hunt Horicon Marsh Wildlife Area on the duck opener. Seriously, the pressure can be ridiculous, but I've found two ways to beat it: Go big, or go small.
The big part is no secret. Friends and I hunt diving ducks on the vast open water of huge inland lakes or the Great Lakes. Unless gale-force winds are stirring whitecaps, we can hunt almost anywhere, far from other rigs or shoreline blinds. If competing hunters motor toward a favorite bay, we simply go a mile farther to another area. When we find a popular launch is packed, we'll drive down the road a bit until we're alone. It's pretty simple. The mobile approach of open-water layout-boat hunting lets us avoid crowds.
The small part takes more work. Basically, I scour satellite maps and then put boots on the ground to find tiny, hard-to-reach hunting areas 99 percent of folks overlook. They might include a small spring-fed creek next to a popular flowage, tiny springs deep within an intimidating cattail bog or willow-lined irrigation ponds in cattle pastures. It can be difficult to find these gems, and nine out of 10 promising areas are busts. However, those that pan out are priceless, letting me shoot a few birds in peace and solitude while other guys set up 50 yards apart and engage in swearing matches at shooting light.
Avoid the Pressure
Work harder this season to find quality public hunting. You'll probably get up earlier and sweat more than most guys. Then again, you'll likely clean more ducks than they do, too.
Click here for more Realtree waterfowl hunting content. And check us out on Facebook.