Realtree-Sponsored Program Gains Traction with Youngsters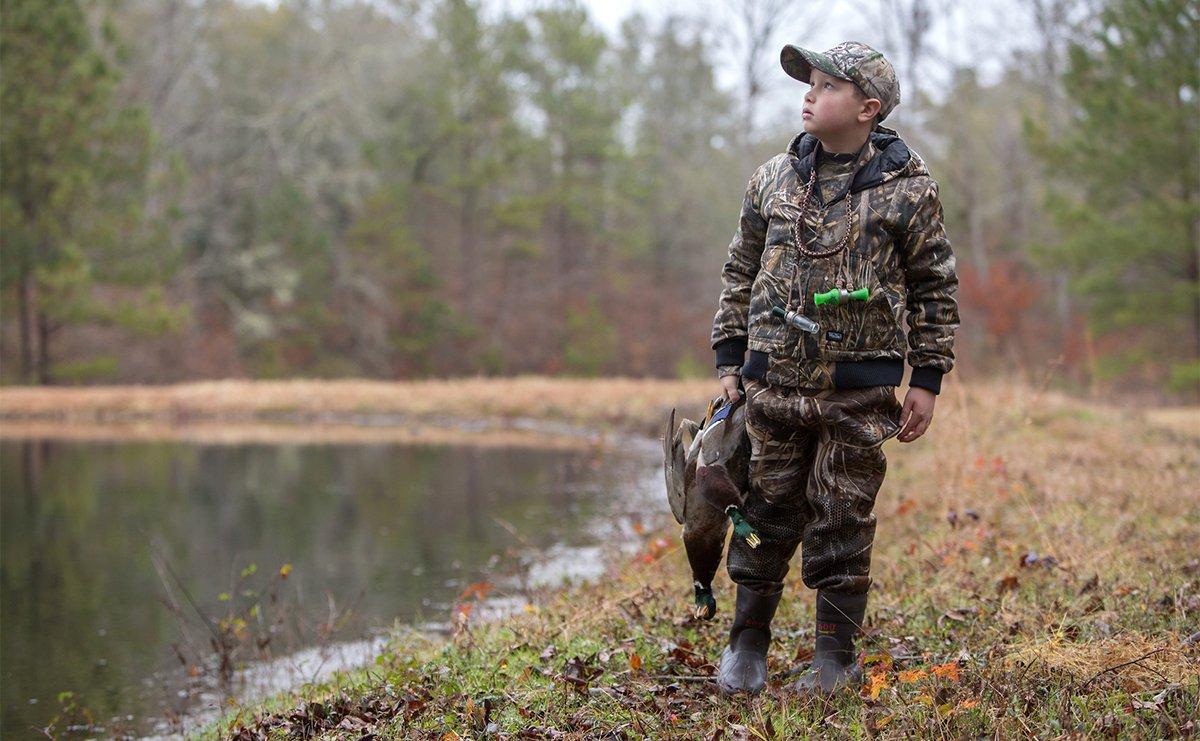 Delta Waterfowl helped bring new hunters into the fold this past season by awarding hundreds of youngsters with First-Duck Pins and certificates of recognition for taking their first waterfowl.
Realtree is the Official Camo Conservation Partner of Delta Waterfowl, and the Presenting Sponsor of Delta's First Hunt and First-Duck Pin programs, which are part of Delta's continuing work to recruit and retain waterfowl hunters in North America.
Since July 1, we have awarded 125 First-Duck Pins, said Paul Wait, editor/publisher of Delta Waterfowl. Also, we get more submissions each time we mail a magazine. We should easily top 150 for the year (July 1 to June 30).
Delta's First Hunt, the largest waterfowl-specific hunter recruitment program in North America, has introduced more than 50,000 people to the traditions of duck and goose hunting. First Hunt is delivered through Delta's growing network of volunteer chapters. Delta awards First-Duck Pins and a certificate of recognition to hunters who send in a story and photo of taking their first duck or goose.
And some of the stories from young First-Duck Pin recipients illustrate why the program is so important.
Bryce Schultz, DeSoto, Wisconsin
It was the night before my first duck hunt. I was really excited, and I couldn't sleep. I was hoping to get a drake wood duck. Around 4 a.m., my dad came down and woke me up, and then I remembered it was the youth hunt. My dad and I got dressed and put my gun in the case. We went out to our shed, got the boat hooked up and left for the boat landing. Then my dad and I set out for our lucky spot. Once we found it, we grabbed some decoys, my gun and some boxes of shells, and we walked and walked through mud.
Once we sat down, we had about 30 minutes until shooting time. Then I had a soda, and by the time I finished the soda, it was shooting time. We didn't see many ducks, and we were just about to leave, but then three ducks appeared — two drakes and one hen wood duck. I wanted to shoot one, so I clicked off the safety.
I shot once and missed, shot another time and missed, and on my last shell, I shot and dropped a drake on the water. Then our yellow lab, Laya, jumped into the water. It was a long swim for Laya because it was about 40 yards, and the river was cold. My dad thought I got a hen, but once Laya reached the shore, it was a beautiful drake wood duck. It was a pretty good year for my first duck hunt, I got the duck I wanted.
Xavier Ware, of Jennings, Louisiana
Saturday, Dec. 23, 2017, was the day I killed my first duck: a blue-winged teal drake. We got to the lease at about 5 in the morning and rode the Polaris out on the levee. We walked down to the spot where we drop our stuff. We walked a little ways to the blind and set up the decoys for a north-northwest wind. Shooting time was about to start, and 6:30 came like a flash. Birds started flying. A pair of blue-winged teal came around the front of the blind. I was all the way to the left. They came around to the left about 20 to 25 yards away. I took the shot with my 20-gauge pump-action shotgun. He started falling, so I took another shot. Dead duck. The hen flew off, but that drake was dead as an ant rolled over by one of those army trucks. He fell way back there. It took a while to find him. But when they got up to go get the ducks, my cousin found it. He said it was the prettiest teal he's ever seen, and indeed it was. A huge thanks to Andy for taking me hunting. Killing your first duck is a magical experience.
Rosie Nichols, MacGregor, Manitoba
This weekend was the best. Sept. 2, I participated in the Delta Youth Hunt in Portage. Although I did not shoot anything that day, I still had a lot of fun.
That evening, Mom, Dad and I went out scouting for birds to hunt the next morning. Mom, Dad and I, along with a few good friends, set up in the long grass along a barley field. It wasn't long, and the ducks started to come in.
We shot a few birds, and then a small flock of wood ducks came flying in. When they got close, Dad yelled, 'Shoot 'em.' I sat up in the long grass and started shooting.
A duck fell, and Mom yelled, 'You got 'em, Rosie.' I set my gun down and ran out to the field to get my very first duck. I couldn't believe that I actually shot a wood duck. It was so exciting.
Exciting indeed. No doubt, this program will continue to fan the hunting flame with youngsters everywhere, building a solid foundation for future generations of duck and goose hunters.
Click here for more Realtree waterfowl hunting content. And check us out on Facebook.