One Setup Can Work for Two Birds This Season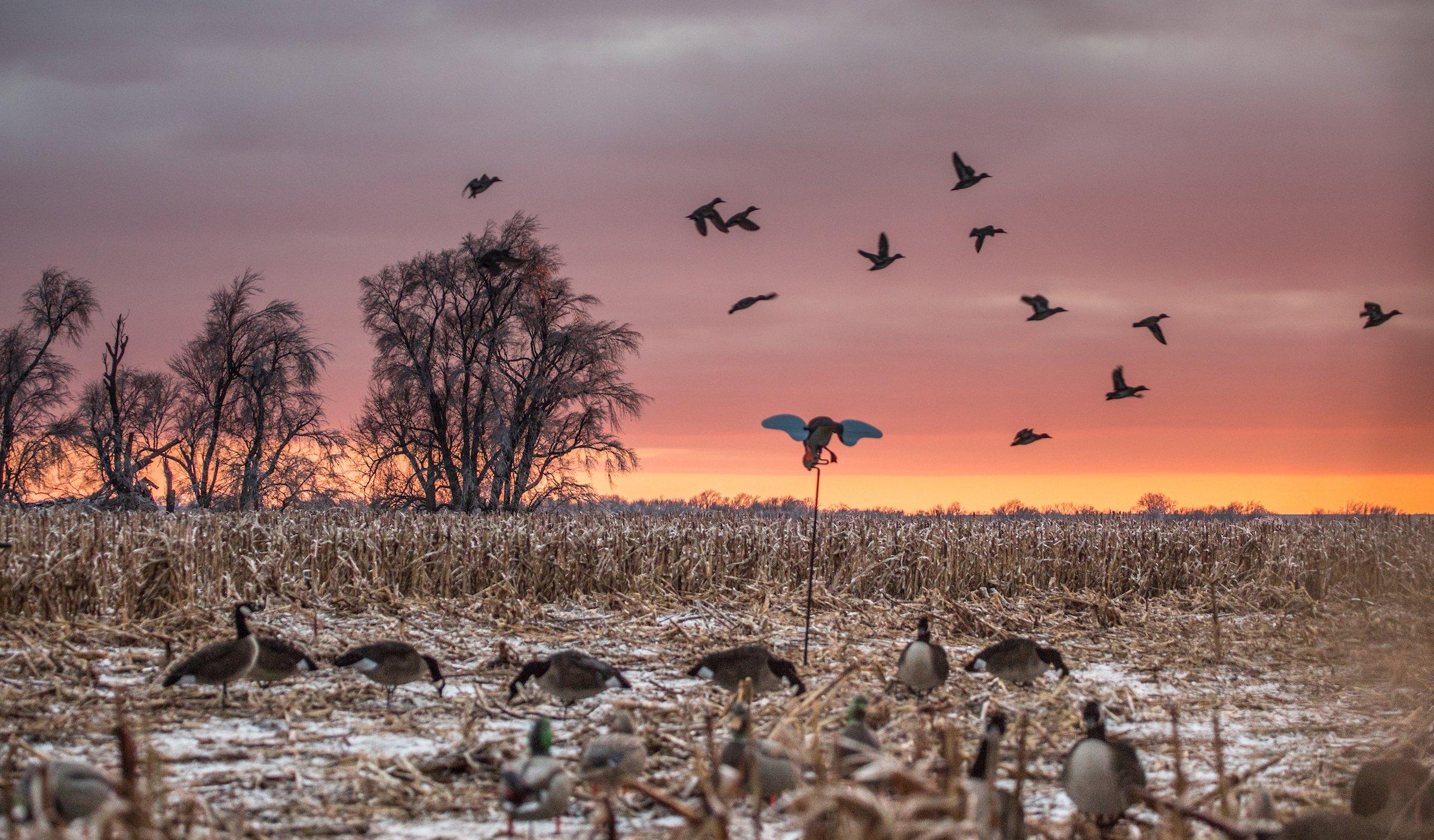 Many days, you head afield with one type of bird in mind. With some feeding or loafing situations, however, you might have equal opportunities for ducks and geese.
Taking advantage of these two-fer opportunities isn't that difficult. With some hunts, it can be as simple as stumbling onto a red-hot feed or playing the right notes on a goose call. Still, specialized approaches can increase your chances of taking ducks and geese during the same hunt. Here's how to do it.
Fields
This is the most common combo scenario, as puddle ducks and geese (honkers, snows, cacklers and white-fronts) will intermingle in ag fields with lots of waste grain — especially those with sheet water.
The first step, obviously, is finding a hot field. During daylight, search for geese, as they're far easier to spot and often feed in fields longer than ducks. Even when you find a field with nothing but geese, that does not mean ducks won't visit it early or late in the day. When you're scouting at first or last light, look for tornadoes of ducks over fields.
Second, focus on concealment, which is the critical aspect of any field hunt. If birds see you, it's finished. Enough said.
Also, forget about duck decoys. Mallards, pintails, black ducks and other puddlers will decoy beautifully to spreads of dark or light geese. Ducks associate geese with food and safety, so they typically show little hesitation about working goose blocks. Set your decoys as you would during a goose-only hunt.
Spinning-wing decoys can be critical for luring ducks close in fields. Place several throughout your spread, and have them on at first light. Often, ducks zip right in immediately at shooting light, but geese might not work a field until later in the morning. If ducks won't finish, turn the spinners off when birds get within about 100 yards. (Hint: Spinners with remote-controlled on-off switches are very helpful in these situations.) In addition, turn off spinners when workable geese approach, as geese do not react well to spinning-wing decoys. Hit the off switch, focus on calling the geese close and then turn the spinners back on for ducks after you've worked the geese.
Water
You can find surprisingly good success on ducks and geese while hunting water. The most consistent spots are loafing areas such as ponds, sloughs, open marshes or small lakes. Ducks feed and roost in these spots, and geese frequent them from midmorning through afternoon after feeding in fields.
Finding geese is the toughest part. Ducks might use several areas on a water body, but geese typically favor a bay, shoreline or sandbar that lets them get a drink and rest safely during midday. Identify that spot, and set up there.
Your decoy spread will depend on the birds you're targeting. Obviously, you'll want a good spread of geese. If mallards or other large puddlers are using the area, you can go with all geese. However, if you're targeting teal or especially diving ducks, you'll want to assemble a good duck spread, too. Keep duck and goose decoys separate, and form the goose spread so it gives the impression of secure, relaxed birds.
Place some spinners with your duck decoys, but as with field hunting, turn them off remotely if ducks won't finish, and switch them off altogether when workable geese appear.
Calling can be important for finishing geese during water hunts. Base your approach on how geese act that day. If they're fairly quiet, react in kind. If they're relatively vocal or skittish about finishing, however, get on that call and convince them.
Two in One
There's nothing quite like scoring a mess of ducks early and then finishing a hunt with decoying flocks of honkers or snows. The only down side is the number of birds you might have to carry to the truck, but I guess that's a problem no waterfowler minds.
Click here for more Realtree waterfowl hunting content. And check us out on Facebook.