Ideal Weather for Some Types of Hunting Might Be Poor for Others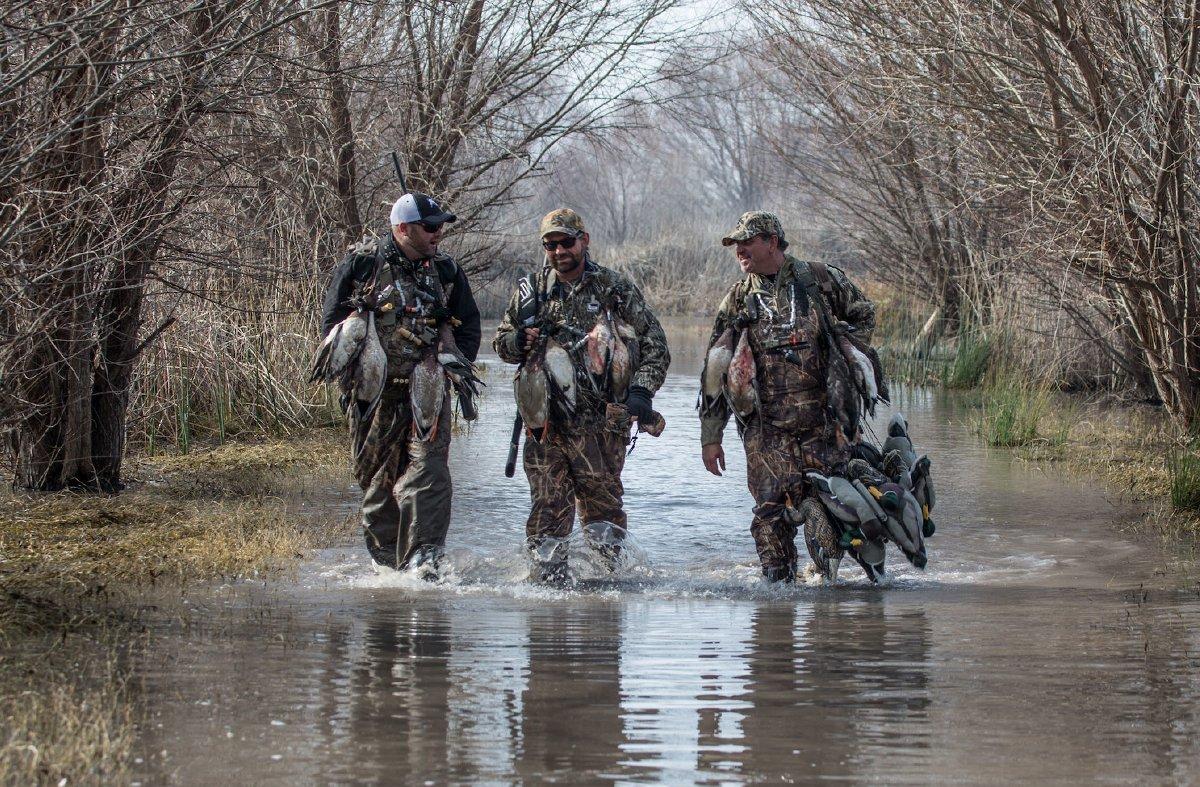 In previous blogs, I've discussed how wind, rain, sun, clouds and temperature extremes affect duck and goose hunting. In fact, I dissected some conditions to the extent that folks might wonder if Lovett considers any day to be ideal for waterfowling.
I sure do. In fact, I think any hunt when you have good action and don't suffer from frostbite or heat stroke is pretty close to perfect. But between those extremes, many weather and environmental factors combine to create conditions that are potentially better than others. Let's examine some.
Early-Season Geese
To me, status quo is about right for locally nesting honkers. When many seasons open, birds are still in late-summer/early-fall feeding patterns, and finding active areas is critical to success. I like a decent wind to define the landing approach of geese, but I don't want a gale. And honestly, temperatures can range from 30s in the morning to 90 at midday. Geese are accustomed to it.
X-factor: Rain. During steady showers, geese often delay their morning feeding flights. However, they might stay in fields all day. Cover up, and wait 'em out.
The First Push
A decent weather front usually prompts the first migration of ducks and geese into many areas. In the North, that might be as simple as a 10-degree drop in temperature and a stiff northwest wind. In the South, hunters usually hope for significant cold and snow to the north.
Either way, I want to hunt as the weather change occurs and immediately afterward. Sometimes, birds seem to ride frontal winds southward and show up as the weather shift hits. Other days, they appear magically overnight after the transition has occurred.
Big-Water Divers
Many divers are calendar birds that seem to arrive at the same time every year, regardless of conditions. It's my impression they're driven more by photoperiodism than weather, at least during early and mid-fall. However, every diver nut knows that weather greatly affects hunting success.
To me, an ideal diver day starts with wind. If I'm open-water hunting, I want enough breeze to put a nice chop on the water but not a blow that pushes me off the lake. If I'm shore hunting, I'll take the big blow. Wind gets birds moving and makes decoys dart and bob like real ducks. Also, I like it cold; not necessarily subzero, but at least crisp at sunrise — say high 20s, low 30s — with highs in the 40s or 50s. And I want sun. Clouds might hold some romance to duck hunters, but they also let sharp-eyed birds pick you out. A brilliant November sunrise in the eyes of approaching divers creates magic. Further, the light makes my black-and-white decoys stand out for miles.
Green Timber
As a Yankee, I've never experienced the thrill of a true green-timber hunt. So, I leaned on frequent Duck Blog contributor James Buice, a veteran of the flooded-timber scene. His perfect conditions? Cold. Clear. Wind. Oh, and of course, water.
I'm guessing that a pretty good freeze in the Midwest would help boost Arkansas timber hunting, too.
Late-Season Puddlers and Geese
I love this period, when ice freezes much of the water and snow covers the landscape. The summer ducks, mid-season migrants and even many diving ducks have left the Midwest, leaving behind hardy mallards, black ducks and Canada geese.
Field-hunting rules during this time. Sunny, windy days usually make for good early-morning duck shooting. Geese sometimes make just one daily feeding flight during frigid conditions, often right before sunset. Because the window is so brief, I sometimes wish for clouds, which might push honkers to feed a few minutes earlier, allowing more gunning time.
My favorite late-season X-factor is snow. It drives ducks and geese crazy, often prompting them to feed all day in hot fields. You've not lived until you've courted greenheads and geese hovering in the relentless winds of a near blizzard.
Enjoy Perfection
You'll likely experience some perfect conditions this season. And you'll certainly hunt many days that seem less than ideal. Go with it. Any day above ground and in a duck blind is a good one. If the weather decides to help out, all the better.
Click here for more Realtree waterfowl hunting content. And check us out on Facebook.