Duck Video Masters Take You Inside the Blind with Insightful Films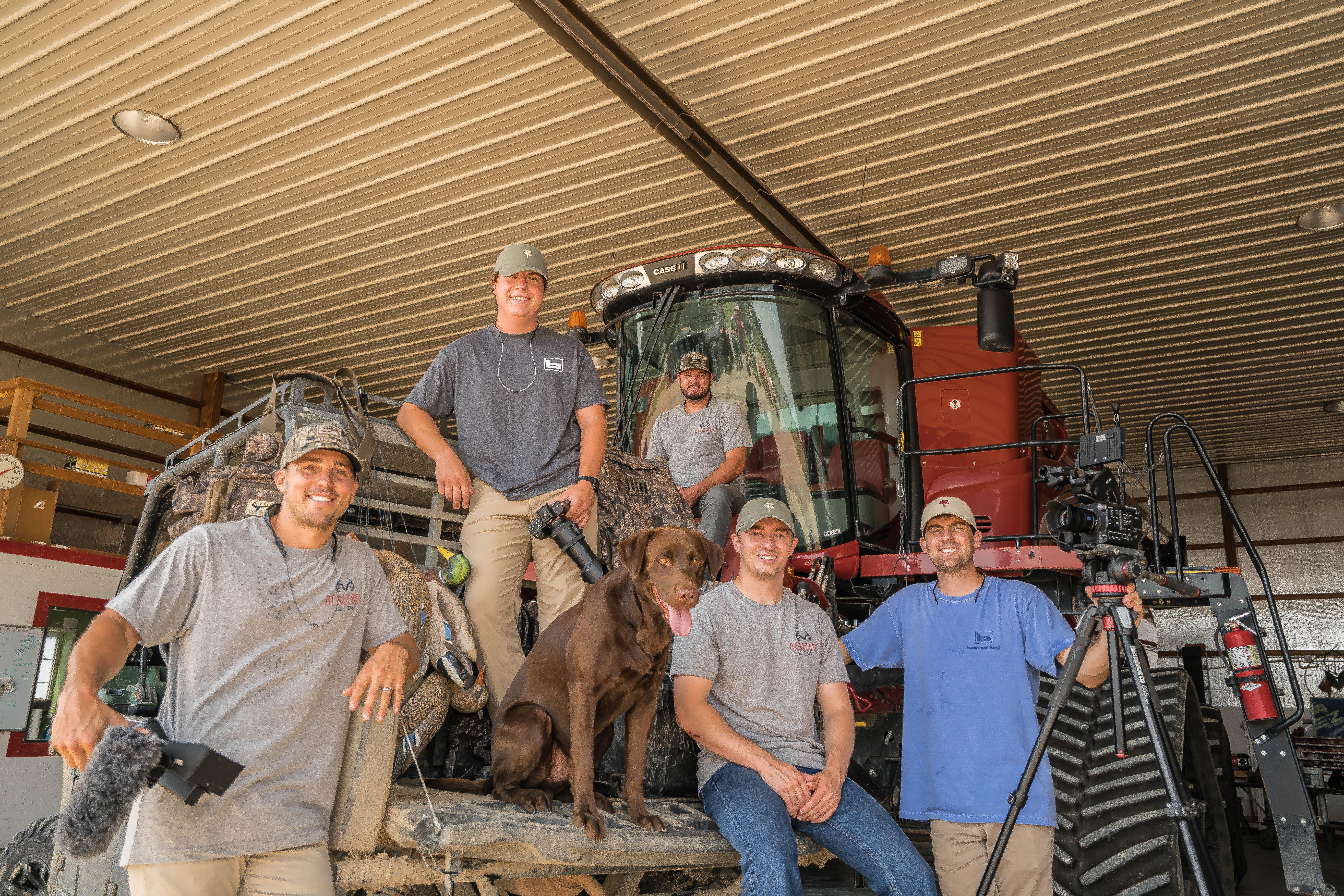 Realtree recently partnered with DayBreak Outdoors, an innovative, up-and-coming outdoor media production group out of southeastern Missouri. We thought you'd like to get to know these waterfowl-crazed hunters and become familiar with their vivid short films, which you can watch on YouTube, Instagram, Facebook and other media outlets.
Here's a quick question-and-answer session with DayBreak's Brandon Martin and Taylor Stewart.
The Duck Blog: So, tell folks about DayBreak.
Brandon Martin: DayBreak is a hunting-based company that offers a different style of production to the outdoors industry. We make our videos fun, entertaining and engaging, to say the least. We produce short films (10 episodes this year from our 2017-'18 waterfowl season), and we also produce several small, minute-or-less Instagram and Facebook videos to keep people engaged and show our relative content through the process — the process of chasing and killing a duck. Basically, we take folks through the whole duck hunting process. Farming and agriculture are our main source of income. So with that, we take viewers through the process of planting duck food, managing the ground we hunt on, prepping the blinds and then the harvest. We let our followers know what we're doing and what steps we are taking to have a successful hunting season. We're trying to be different than every other show. We are trying to bring the uniqueness, the passion and the production to our videos and other content. We're trying to show our audience what they want to see — the down-and-dirty stuff.
Taylor Stewart: We're an outdoor media production company that is mainly focused on not just the hunt, although that's a big part of it, but the thought process behind it all. The thing that's unique about us is showing the backstories — seeing the guts of how it all comes together. We're driving people's perspective and opinions on how it comes together, the whole process. That's how we're trying to relate to our viewers through our short films.
DB: How'd you guys get started?
Martin: I've been filming duck hunts since I was about 13 years old. I started with an old iPhone and put a couple of clips together on my old laptop. Since then, that's all I spend my money on is cameras and camera gear, and through all this, I am trying to produce something that's very special and tells a story. DayBreak started this past spring, in March. Taylor and I are the two principals, but there are a lot more guys behind it. Taylor and I went to high school together. I had always been filming duck hunts under a couple of different names, though this will definitely be the last. Taylor and I have always been obsessed with duck hunting, filming, camera gear and telling a story. One day, we just said, 'We've got the ground to hunt on, we have the personalities in front of the camera, and we've got the professional production everyone is looking for in a show. We've got all the pieces of the puzzle, so let's start doing this for real.' People just love the idea of what we're doing. We get feedback every day from people telling us how much they enjoy the videos we have been producing. It's something we're definitely proud of.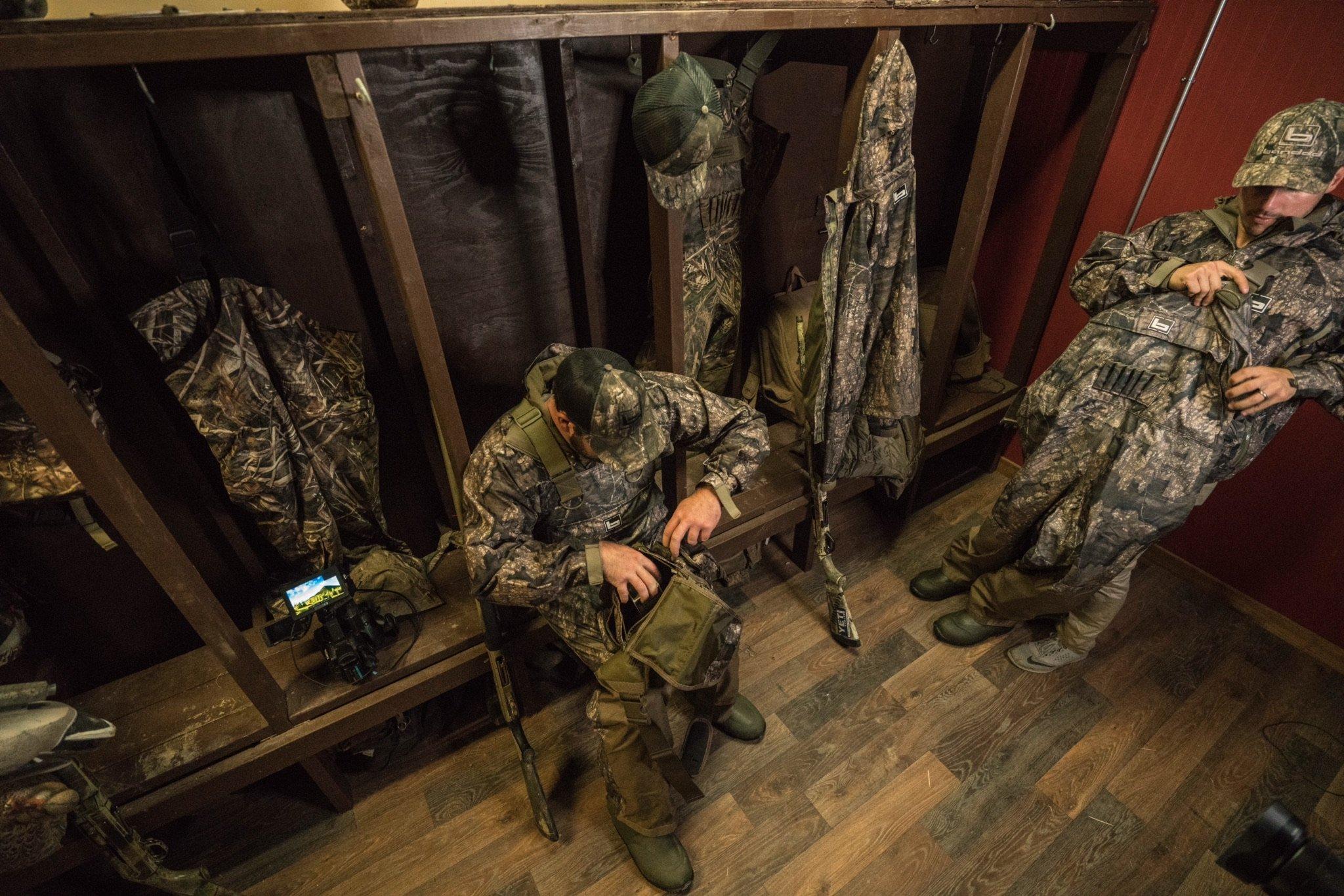 DB: What do you hope viewers will take away from DayBreak videos?
Stewart: We have a really core group of great friends who are completely infatuated with the outdoors. It creates a really unique feel in DayBreak as a brand. They're unique personalities and are extremely hard workers. It's always about one thing though, and that's killing ducks. Many of our guys are farmers. It's their main source of income, and farming for ducks is always in the back of our minds. With every decision that's made, it's considering how it will affect the ducks. Every decision is influenced by what we're going to do in hunting season. In summer, we're making pits, trying to figure out how to hide the pits and what to plant around the pits, and what food sources to plant. That's something we try to show our audience. There's so much more that goes into this thing than just showing up getting in the pit and hunting ducks. Something that's really important to us is how much the outdoors industry means to us. Through these short clips and how we run our brand, we're trying to relive those experiences and memories in this exciting digital world we live in, which is only going to progress so much more. We both believe that this is such a direct way to gain people's perspective and get people's attention. It's in front of them, and it's in their hands at all times. We believe that we bring so much passion and energy to how we represent our brands that it gives people a sense they were there when they watch our hunt because it was so engaging and so jam-packed full of action. It influences people in a positive way and makes them want to get outdoors. That's the main message of what we're trying to get across.
Martin: We're very passionate about what we do.
DB: Can you describe the importance of your partnerships with Banded and Realtree?
Martin: We've always had a relationship with Banded. We started by wearing their first-generation waders. Our relationship with Banded couldn't be any stronger. They've done a lot for us, and vice versa, so it's created a very strong partnership. We're not going to wear stuff that we don't believe in or use stuff we don't believe in, and Banded has always been that brand that has always been there for us. Now Realtree has come along, and we've just started doing stuff with them. We are very excited to start this relationship with Realtree and continue our relationship with Banded, and we're very excited for the future with these two companies.
Stewart: Getting in with the right people is more crucial than anything, whether it comes to growing our brand or having the right people in place for a strong influence in life. We truly feel like we have that.
DB: What can viewers expect to see from DayBreak in 2018 and 2019?
Martin: Oh man, we are excited. We're going to bring the fire, bring the energy and bring the passion. It's going to be something that someone's going to sit down and watch, and they're just going to keep rolling through our videos. When I sit down and edit, I'm not happy until I get goose bumps. And that's how I want the end user to feel. The music, the edits, the production as a whole will get people fired up.
Stewart: Our whole thing is that these films tell a story. Our main focus is expanding on that story and telling more of the backstory and also reiterating the importance of the entire process and how much it truly means to us. We want to bring that energy so people who watch it get so engaged in what they're seeing that they can't stop watching it. We want to engage with people and grab their attention like nobody has done it before in the outdoors industry. The positive influence of the outdoors can make such a strong impact in people's lives, and we want to be a part of that.
Click here for more Realtree waterfowl hunting content. And check us out on Facebook.