The Pros Detail Their Highs and Lows from the Campaign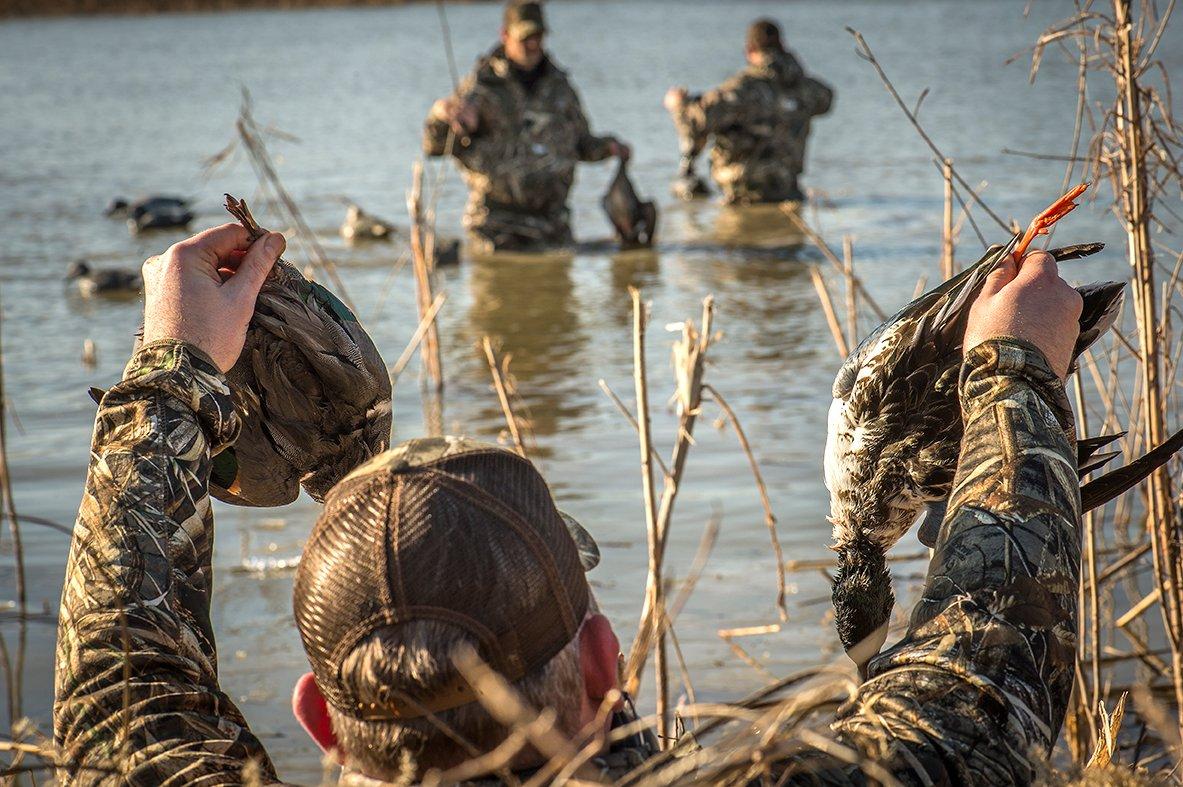 The 2017-'18 waterfowl season brought a bit of everything: an unseasonably warm early season, some arctic freezes after the holidays and plenty of surprises throughout. But the question everyone asks is, How was it?
Of course, when trying to determine the overall quality of any season, the answers are subjective. Everyone has different experiences based on where they hunt and the vagaries of migration. So we decided to survey a few of the country's top hunters to get their season recap. Here are their views of the past year.
Tony Vandemore, Habitat Flats, Sumner, Missouri
"This season overall was above average but far from our best, Vandemore said. It was a season of extremes. We got all our ducks early, and November was very good. December started out with 70 degrees and the super moon, and duck movement was primarily before and after shooting time. Then, when the warm front broke, the bottom dropped out, and it was extremely cold the last three weeks of the season.
I would say overall, I saw the fewest bonus ducks shot of any season I can remember. We started off shooting mallards, and a lot of the bonus ducks had already moved on by the time we opened.
Justin Martin, Duck Commander
"I would say that the season, from a numbers standpoint, was average, Martin said. I keep a record of all hunts I go on. Mallard numbers were down significantly for me due to a lack of water in my traditional mallard haunts. We weren't able to get water there until extremely late in the season. All the other numbers stayed roughly the same, so I would say that overall populations are relatively steady with some slight decreases. A warm early season coupled with a lack of water made it difficult for us to hold any birds for any amount of time. When the cold came, it was so extreme that we locked up, and birds moved to large bodies of water.
I did see eight bands harvested, which is a new record for me. I personally got three, and of that, I killed a mallard drake that was banded on my birthday, so that is a cool story and memory for me.
James Buice, Realtree Duck Blog Contributor
"It was a poor season due to a lot of ice, Buice said. The region experienced multiple hard freezes, which either pushed birds out or rendered hunting much of the timber or fields (non-moving water) impossible. Days after the thaw were the best.
In Tennessee and Alabama, the migration never really got hot. Birds that typically split the Atlantic Flyway and head down our side of the mountain just never came. I don't know why. Ringnecks and redheads made it, but the cans were really late, and the majority of gadwall pushed out early with the first cold front.
Overall, the Delta did not see the numbers. Birds either stayed north or headed south.
"Specklebelly hunting was some of the best we've had, especially in December.
Probably my favorite day was a green-timber hunt with two good friends. We didn't kill a lot of birds, but the ones that did work really committed, and there is nothing quite like public-land flooded-timber hunting to remind you of why we do this.
Jeremy Dersham, Ridge and River Running Outfitters, Wisconsin
It was average, Dersham said. I was expecting another banner year, but the cold snap around Nov. 10 pushed a fair number of birds out quicker than I'd hoped. The early season was good. We hit good numbers of early season geese. The wood duck hatch was strong, and we did well. The migration was pretty typical. Puddle ducks and earlier-season divers showed up right on cue, but the early cold snap — single digits in early November — pushed a good number of birds out sooner than expected. The goldeneyes showed up a lot sooner than expected. We were killing good numbers of 'eyes by the first few days of November. We were still getting good pushes of new birds in mid- and late November, but we couldn't be choosy on particular limits. We had some great days and other days where we struggled mightily. It was a tough year for cans. In most cases, clients that booked for one to two days struggled to put a can in the boat, but clients that booked for three to four days went home with a bird for their wall.
Some of the highlights were early season wood ducks. We had a couple of days where we put a couple of hundred birds in the decoys. Woodies kamikaze-ing through the timber creates awesome sights and sounds. We also had a few days where we put 3,000-plus cans in the decoys, which is an incredible sight to see, but those days were limited. Late season brought an incredible show. Although the majority of birds moved through, the mallards were true to form. We had one day in particular where we put thousands and thousands of mallards within feet of the boat. The conditions were perfect for the above-mentioned days, and it was sights I live for. All in all, it was a successful year. Everyone was safe, and the sights and sounds captured will last a lifetime. Some clients were extremely happy, and others were disappointed they weren't bringing their sought-after bird home. It's hunting.
John Gordon, Banded and Avery
"I hunted in both western Tennessee and the central delta of Mississippi this year, and I would rate this season as excellent, Gordon said. Down here, we are always saying, 'I wish we could get some cold weather.' Well, it happened this season. Several arctic fronts in a row pushed temps to the single digits. Now that means having to fight ice, but in my experience, if ice is not an issue, there are not many birds around. So, the temperature played a huge role in our success this past season.
My favorite memory? Without a doubt, it was New Year's Day. I told you before about my favorite hunting spot; that magic gadwall hole me and my closest friends have been shooting for more than 25 years together. It was cold that morning, and it turned on in there in a big way. We were done before the sun really was up, and the spectacular sunrise through the cypress trees was — and always is — breathtaking. That's always been the great thing for me about waterfowl hunting: camaraderie. There is nothing better to me that enjoying a great hunt or a slow one with guys you have spent a lifetime with. The joy, the sorrow and everything in between that you have shared together — it all comes together on a hunt like that, and the laughter carries you forward into a new year.
Click here for more Realtree waterfowl hunting content. And check us out on Facebook.