This Quick, Efficient Method is Popular, But it Doesn't Work for Every Hunt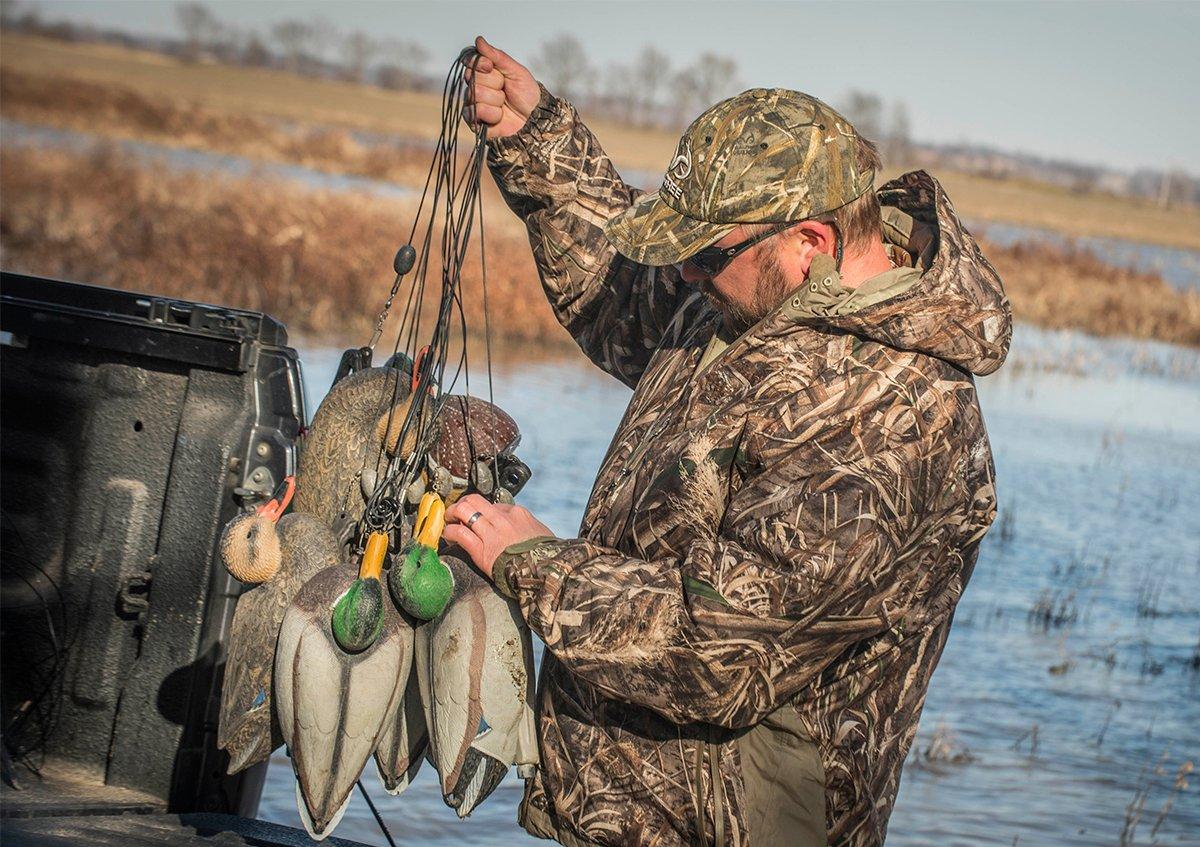 Many hunters Texas-rig decoys nowadays — so many, in fact, that it seems to be the new norm.
That makes sense on many levels. With the system, you use heavy monofilament line instead of traditional Nylon decoy cord, so the lines don't tangle. Further, loops in the mono let you attach several decoy lines together via a carabiner clip, allowing easy pickup and transport.
Still, the handy method doesn't work for every waterfowling scenario. As such, we asked three of today's top hunters when Texas-rigging is ideal and when they prefer other methods.
John Pollmann
Pollmann, a noted outdoors writer and avid waterfowl hunter from South Dakota, has a pretty straightforward list of situations in which he prefers Texas-rigged decoys.
Texas rigs are great to use in permanent-blind setups when you're pulling the decoys every day so the ducks do not become accustomed to them and leave them hanging by or inside the blind, he said.
Pollmann also likes Texas rigs if he can drive close to the water's edge or is using a boat in shallow water. They're also handy when you're hunting in a hurry, such as when you set up on water after birds leave to feed and want to be ready quickly before the first flocks return.
I prefer the traditional line and weight setups for those hunts that require me to walk a considerable distance, he said. I don't like to carry Texas-rigged decoys in a bag, and I find them hard to carry by hand for a long distance, especially if I'm using more than a dozen.
He also likes traditional setups for hunting water when you need lines longer than 3 or 4 feet.
For what it's worth, I keep a dozen or so decoys free of any lines and weights, as there are times when I'm hunting small, really shallow (just inches deep) water when the weight and line would just get in the way and is otherwise not needed, he said.
John Gordon
Gordon, who handles public relations for Banded and Avery, said he prefers Texas-rigged decoys in water shallower than 4 feet. Actually, he got in on the ground floor for Texas rigging during his guiding days.
I remember very well the first time I saw it in use, he said. They call it Texas rigging for a good reason. Guides on the central Texas coast from the Katy and Eagle Lake areas to the bays of Matagorda and Port O'Connor used .095 black weed-eater line to make their decoy rigs. They hunted shin-deep water exclusively, from flooded fields to shallow marshes and the bays themselves. I was trying to get my guiding career started, so I was sent out with an established guide named Jim Brata to hunt teal. This was with Texas Waterfowl Outfitters, the first service I worked for. It was common to send the young wanna-bes out to see what they were made of with experienced pros. We were throwing out his decoys, and I noticed that they were just loose in the bag. But, you could grab a decoy and pull it out with no tangling issues. It made the setup so much quicker and easier to deploy that I was fascinated. The hunt was fast and furious, and soon we were putting the decoys back in the bag. Jim told me just to throw them in, and I couldn't believe it. I rigged all my duck decoys like that using weed-eater line and copper electrician's wire-splicing crimps. We didn't form loops on them then. The lines were just crimped to the decoy keels. Hindsight being 20/20, I should have made them up and sold them. Bottom line, this the best shallow-water (less than 4 feet) rig ever developed.
And other rigs?
This one is easy, Gordon said. If you need more than 48 inches of line, go with more traditional rigging. Simple.
Jeremy Dersham
Dersham, owner of Ridge and River Running Outfitters in southern Wisconsin, uses Texas-rigged decoys to some extent on every hunt, whether with micro-spreads for backwater wood ducks or even as fillers for huge setups on Pool 9 of the Mississippi River. He started using Texas rigs with 6-ounce egg sinkers about 10 to 15 years ago, but found the wind and abundant floating wild celery on the Mississippi often pulled the blocks.
So a friend of mine, Seth, and I made our own Texas-style rigs, he said. We went big 6- to 12-ounce egg sinkers. We drilled them out and used a 100-pound mono.
They also changed the design, letting the decoys instead of the sinker move up and down the line.
We also put a loop at the beginning so we didn't have to submerge our hands in the water each time, he said. We cut the mono to have both 36- and 60-inch lines. We rigged up about 15-dozen floaters and loved them (and) created a design so all of our decoys would travel out of the boat. We also crimped all of the mono to each other so it wasn't allowed to come apart. And we bought heavy-duty carabiners to attach and carry them.
Now, Dersham uses his Texas-style rigs for all types of hunts, as he can easily carry a dozen or more by hand if he's walking miles to a hidden pond or transport them on his boat when setting up on big water.
Still, in many big-water scenarios, Dersham also uses multiple-decoy setups on long mother lines. Held down by large, heavy grapple-hook anchors, the long lines don't drift in wind or current and resist floating vegetation.
The long lines hold in the worst weather and are not bothered by the constant move of celery and weeds entering the decoy spread, he said. We continue to use many long-line decoys in our spreads daily as fillers and micro-spreads. I haven't used a traditional keel line in way over a decade but probably closer to 15 years. The days of having to wind up every decoy are over.
There are many days I'm setting up 150 plus decoys by myself. I want timeliness and ease. You can burn yourself out quickly if you're not watching what your doing. Long lines and Texas-style rigs, in my opinion, are what I'm using on the majority of our hunts.
Click here for more Realtree waterfowl hunting content. And check us out on Facebook.