Backstrap Bites With Sweet and Spicy Chili Dipping Sauce
I love to serve wild game as an appetizer, particularly for a crowd who might be new to game meat. These small, fun bites of crispy fried backstrap are delicious on their own, but dipping them into this Asian-inspired sweet and spicy chili sauce elevates them to an entirely new level. Make several bowls of the sauce and set them around so that everyone can dip to their heart's content.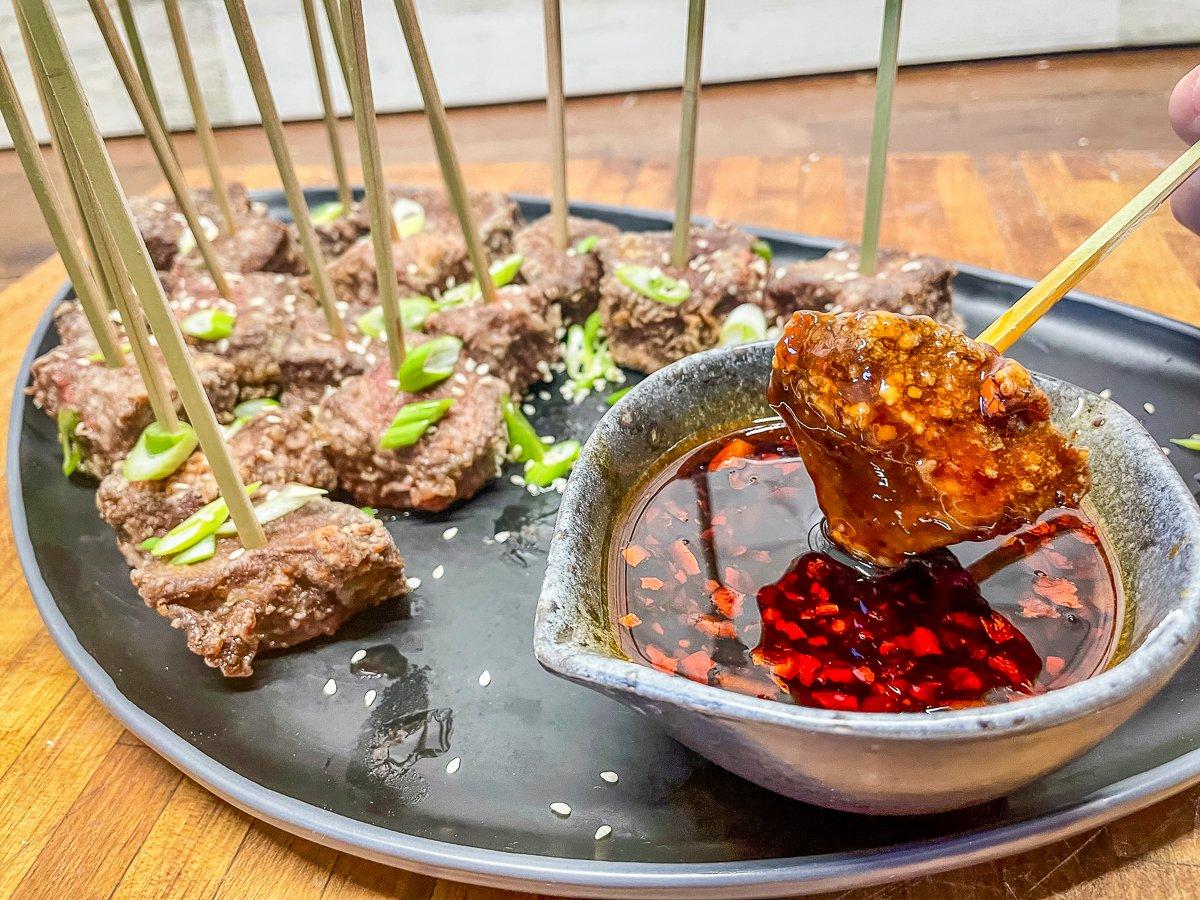 The sauce is based on one of my favorite condiments, chili crisp packed in oil. I find it in my local Asian market, but you sometimes see it in large supermarkets and you can always order online. Tone down the heat of the chili crisp with a bit of hoisin sauce and honey, then add some soy sauce for a salty contrast to the sweet. To release even more flavor from the sauce, heat sesame oil in a small pan until it begins to smoke. Drizzle the hot oil into the other sauce ingredients and stir to blend. The hot oil releases and changes the flavor of the chili crisp and other ingredients.

The best part of this recipe is how quickly it comes together. Total cooking time is under 20 minutes, even when you fry the backstrap in batches. The sauce takes about 5 minutes to make and you can do it while the backstrap fries. Stick a wooden skewer into each backstrap bite to make eating and dipping a breeze.
Ingredients
1 1/2 pounds of any type of venison backstrap, cut into 1 1/2-inch cubes
Salt and black pepper
Oil for frying
Sliced green onions and sesame seeds for garnish
Dredge
1 cup all purpose flour
1/2 cup cornstarch
1 tablespoon salt
1 teaspoon white pepper
1 teaspoon Chinese five-spice powder
1/2 teaspoon garlic powder
Dipping Sauce
1/4 cup sesame oil
3 tablespoons chili crisp (found online or at Asian markets)
2 tablespoons hoisin sauce
2 tablespoons soy sauce
1 tablespoon honey
Cooking Instructions
Cut the backstrap into large bite-size pieces about 1 1/2 inches by 1 1/2 inches. Season the meat well with salt and pepper.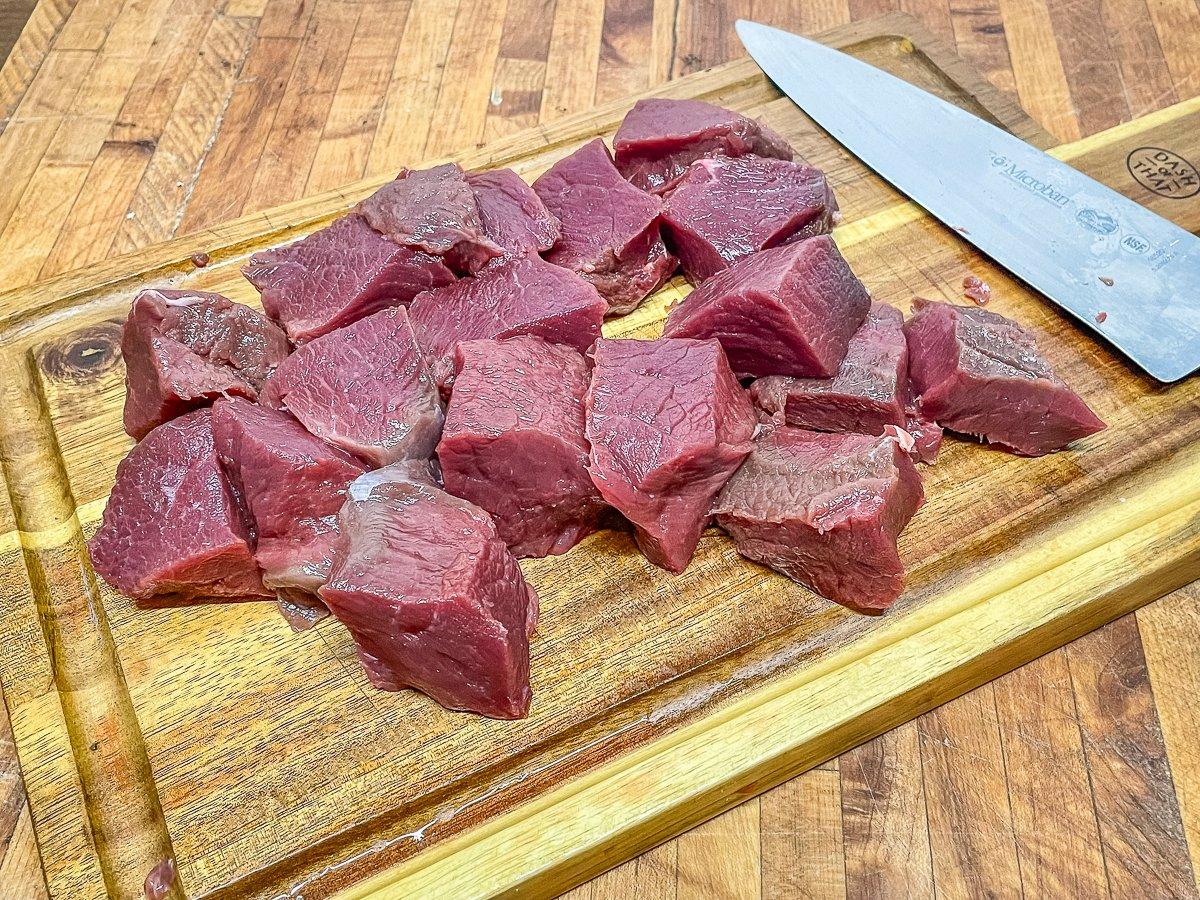 Mix the dredge ingredients in a bowl or shallow pan. Add the seasoned meat to the flour dredge and toss to coat well.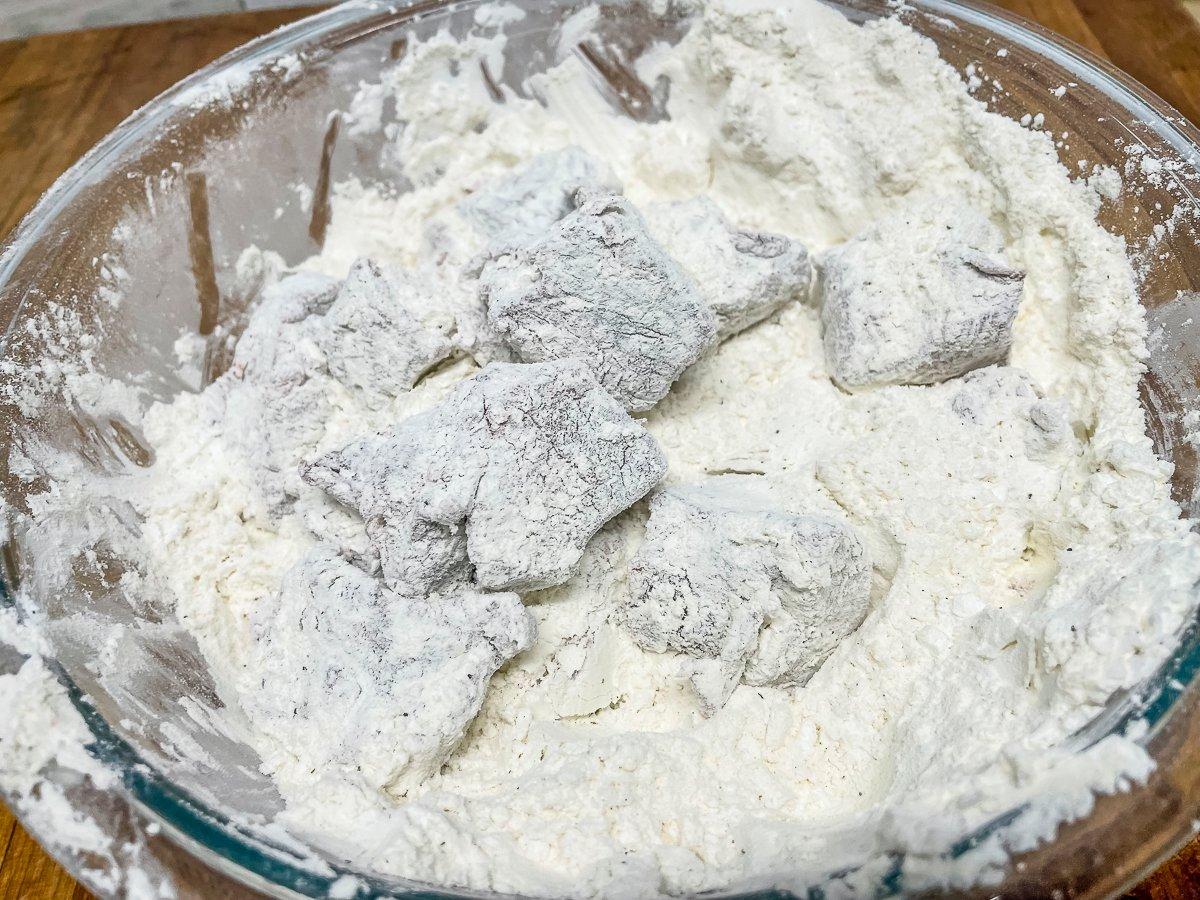 Heat 1/2 inch of vegetable or peanut oil in a large skillet over medium-high heat to about 350 degrees. Add the floured backstrap, cooking in batches to avoid overcrowding the pan.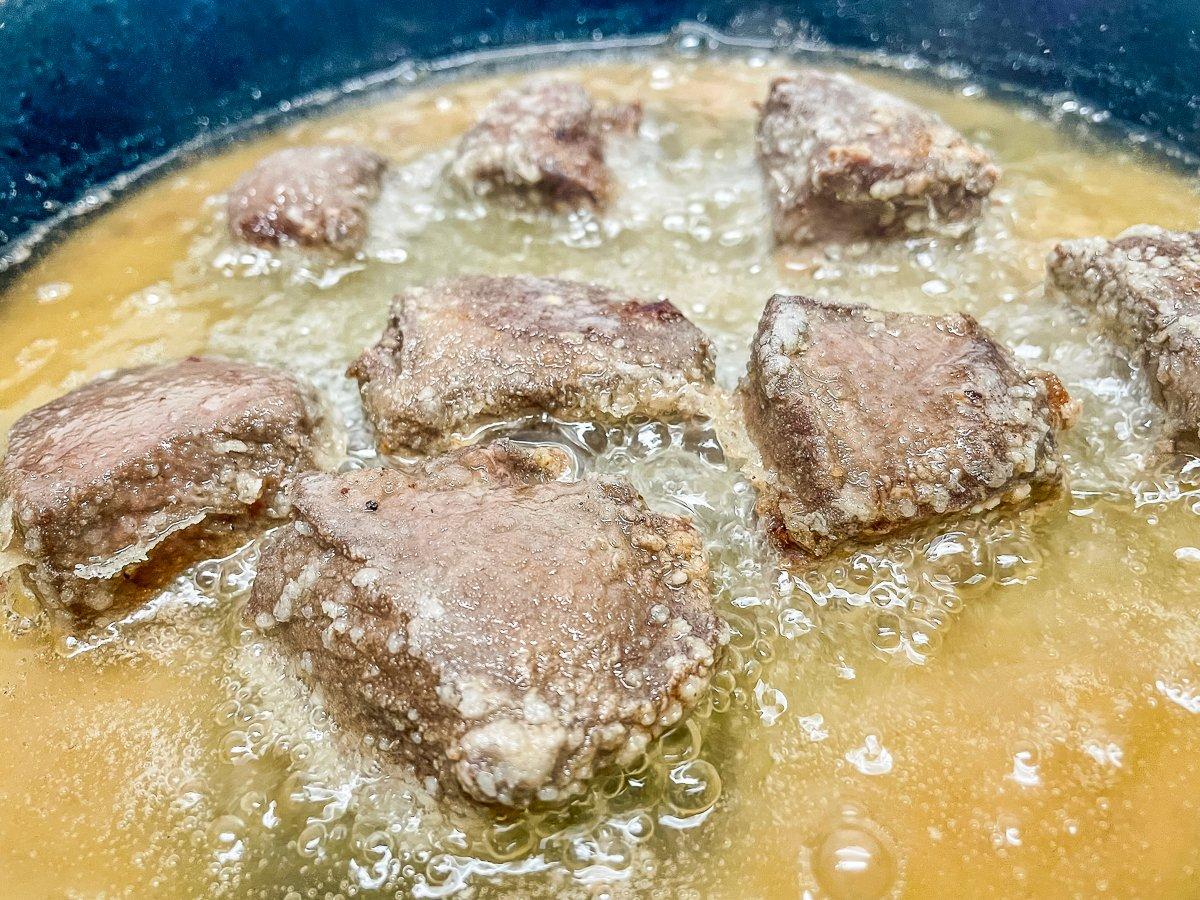 Allow the backstrap to fry on one side for 3 to 5 minutes, then turn and fry for about the same time on the opposite side. Move the fried backstrap to a paper-lined platter and continue until all backstrap is cooked.
While the backstrap cooks, blend all sauce ingredients except sesame oil in a bowl. Heat the sesame oil in a small pan until it starts to smoke. Remove the pot from the heat and drizzle the hot oil into the sauce ingredients. Stir with a fork to blend.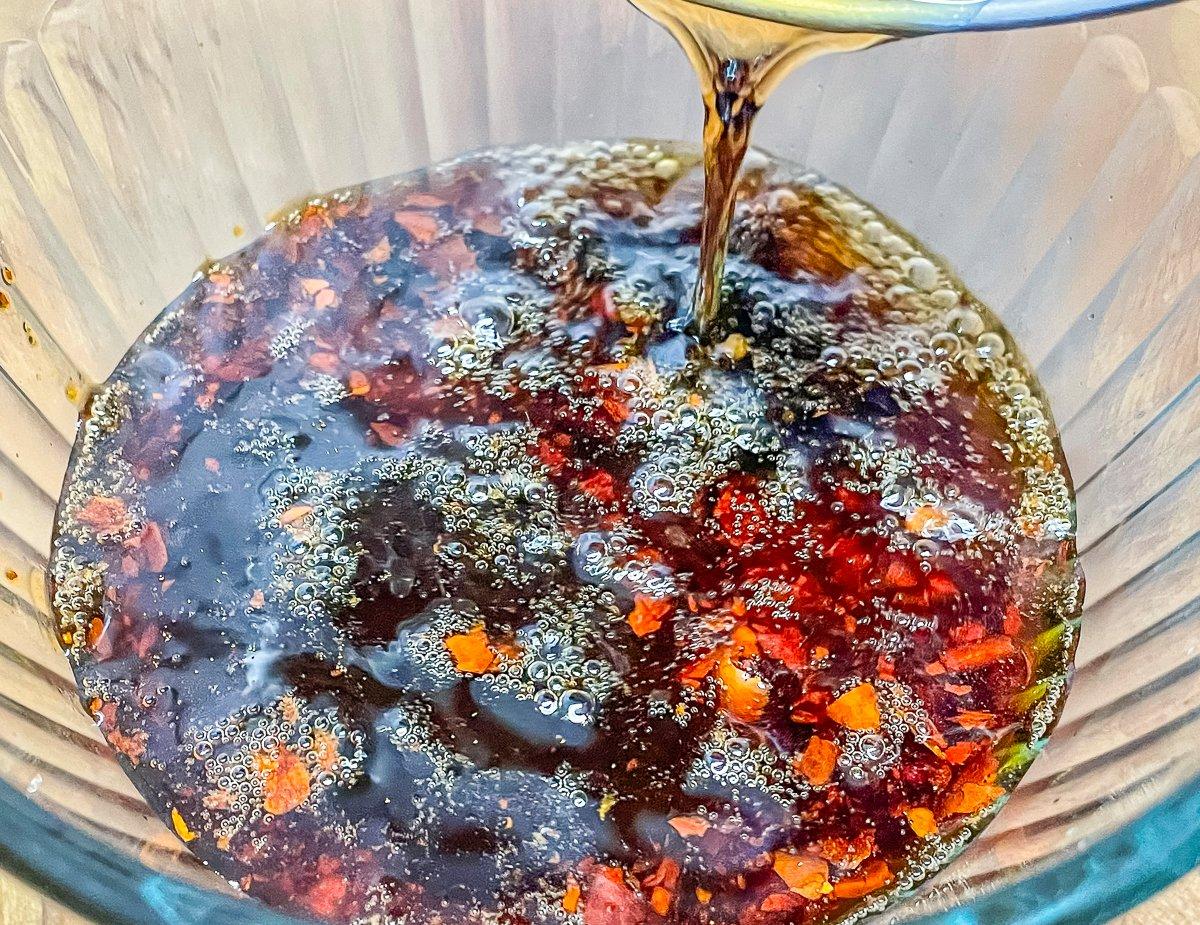 For an easier to serve and eat appetizer, place a wooden skewer in each backstrap bite.