Bacon-Wrapped Venison Loin with Mushrooms and Red Wine Sauce
There is a lot of flavor going on in this simple grilled venison dish. The salty-sweet heat of the brown sugar and cayenne-dusted bacon pairs well with the richness of the medium-rare venison. The sauce recipe comes from good friend and television host Tim Farmer and combines the sweet and tart flavors of red currant jelly with butter-sautéed shallot and a red wine reduction. Mushrooms, of course, always go with grilled venison and add another layer of earthy flavor to the mix. A nice creamy risotto and a mixed green salad make this a meal that even the pickiest of non-game eaters will enjoy. This one is a great way to introduce people to wild game.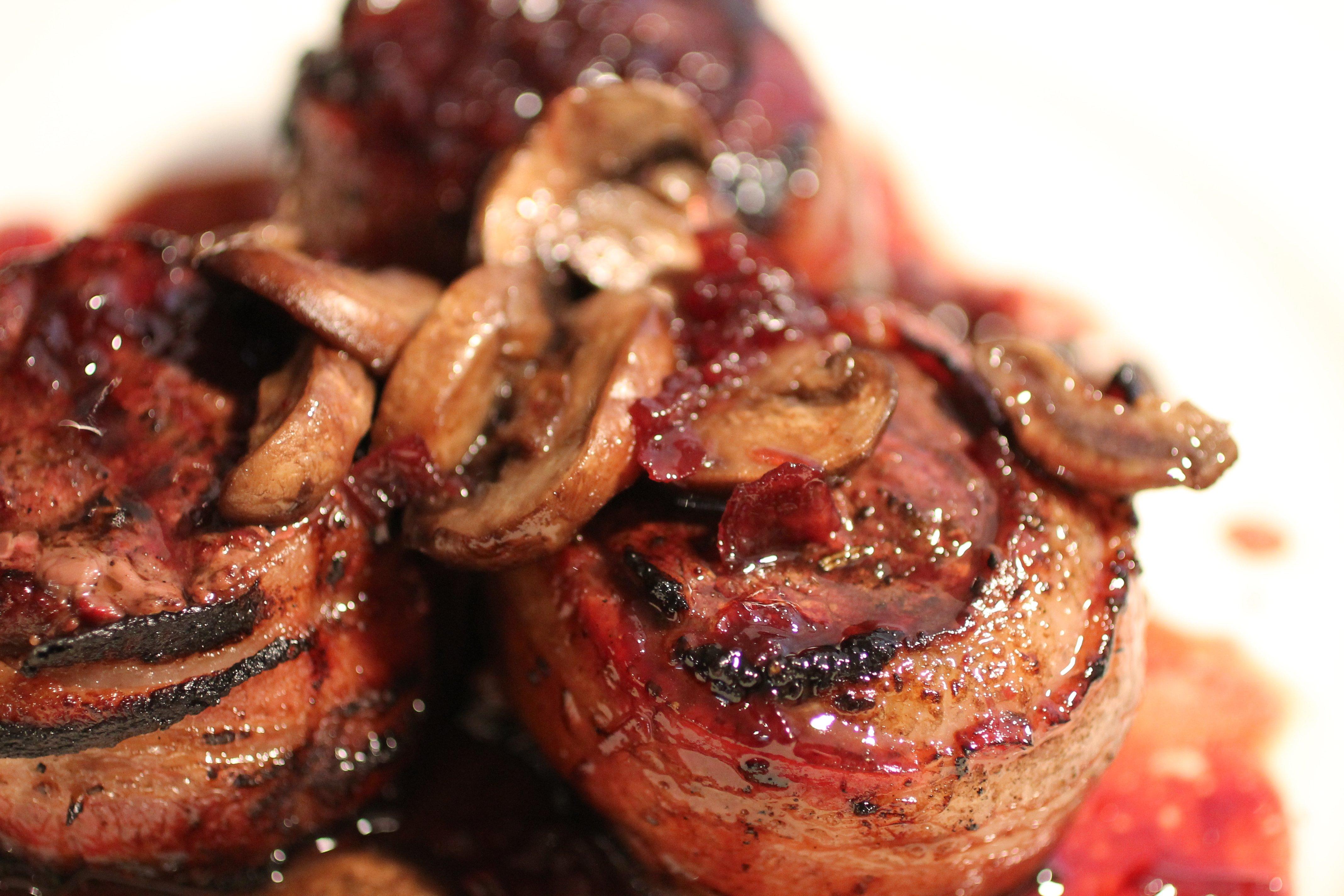 Ingredients
Two pounds of venison loin, well trimmed and sliced into 1.5 thick filets
One or two bacon slices for each venison medallion
Brown sugar and cayenne pepper for dusting the bacon
Kosher salt
Cavender's Greek Seasoning
Dried rosemary
Mushrooms
One pound of your favorite mushrooms, sliced
Butter for sauteing
Sauce
Two heaping tablespoons Red Currant Jelly
1 shallot diced fine
½ stick of unsalted butter
½ to 1 cup Red wine
Beef bouillon granules or beef base concentrate
Cooking Instructions
Sauce
In a saucepan, melt butter and sauté diced shallots until tender. Add wine, jelly, and bouillon to taste, then bring to boil. Maintain a rolling boil until sauce has reduced and thickened to the point that it will coat the back of a spoon.
Mushrooms
Melt ½ stick of butter, add the mushrooms to the melted butter, salt to taste, sauté until softened.
Venison
Lay bacon slices out flat. Dust each slice with brown sugar and a pinch of cayenne pepper. The goal here is to add just a hint of sweet heat, don't go overboard with either.
Seaon both sides of the venison with Cavender's seasoning, Kosher salt and a pinch of rosemary. Wrap each venison medallion with one to two slices of bacon. Secure with toothpick. Grill over hot charcoal coals or a gas grill on high for two to three minutes per side or until bacon just cooks through. If bacon needs to crisp a bit past this point, flip the medallions onto their sides and roll the bacon directly over the hot coals. Watch for flame ups, the bacon will burn quickly. Once the bacon is done, pull venison from grill and cover loosely with foil. Allow the venison to rest for ten to fifteen minutes.
To plate, place one or two venison filets on a plate, top with mushrooms and drizzle sauce over the meat.