Canned Venison Pasta Sauce
Ever needed a quick meal and grabbed a jar of grocery store meat sauce to pour over pasta? Me too. Know what's better? Homemade sauce full of venison and Italian sausage, fresh basil, garlic, and premium canned tomatoes.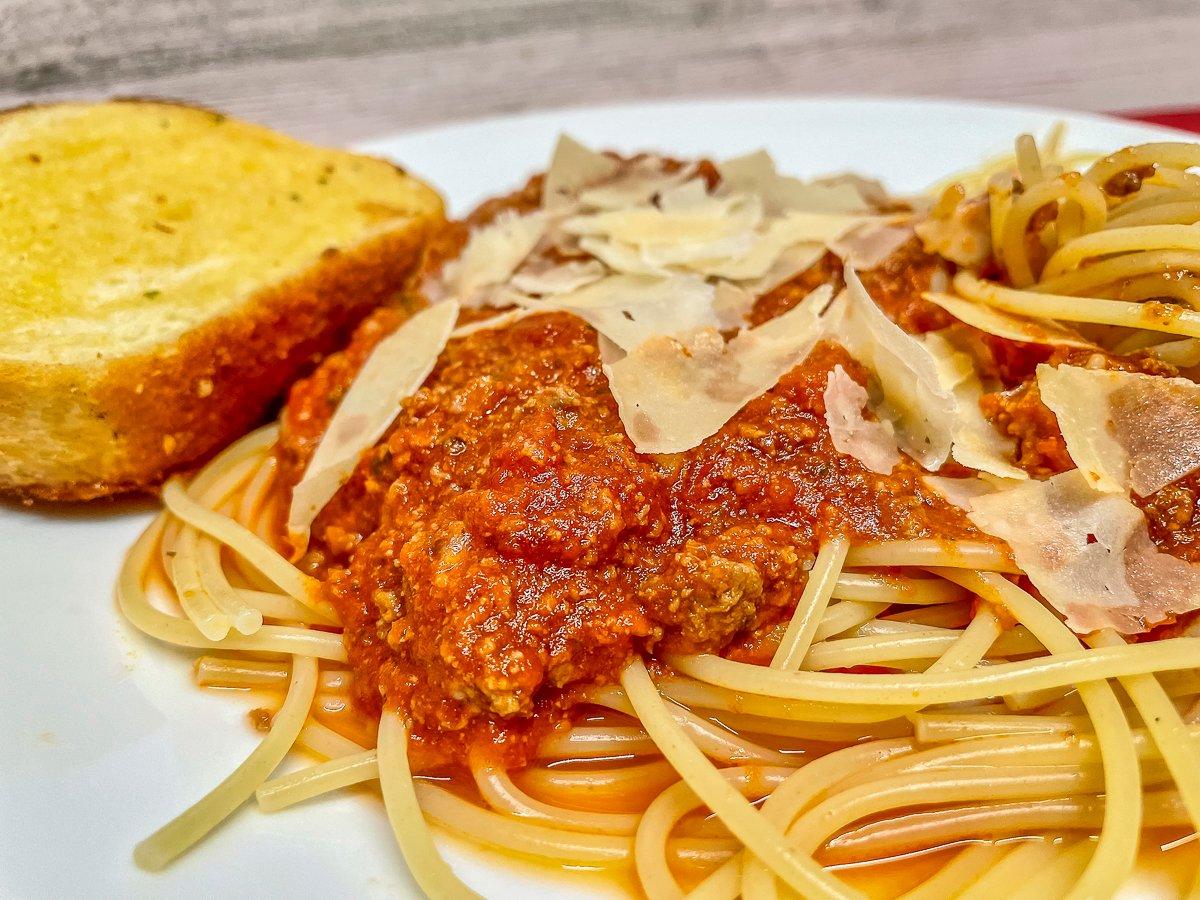 It's easy to make and, if you have a pressure canner, easy to put up in shelf-stable jars that will easily keep for up to a year or two in the pantry. That way, the next time you need a quick meal, grab a jar of your own sauce instead of something from the grocery so you know exactly what you are feeding your family.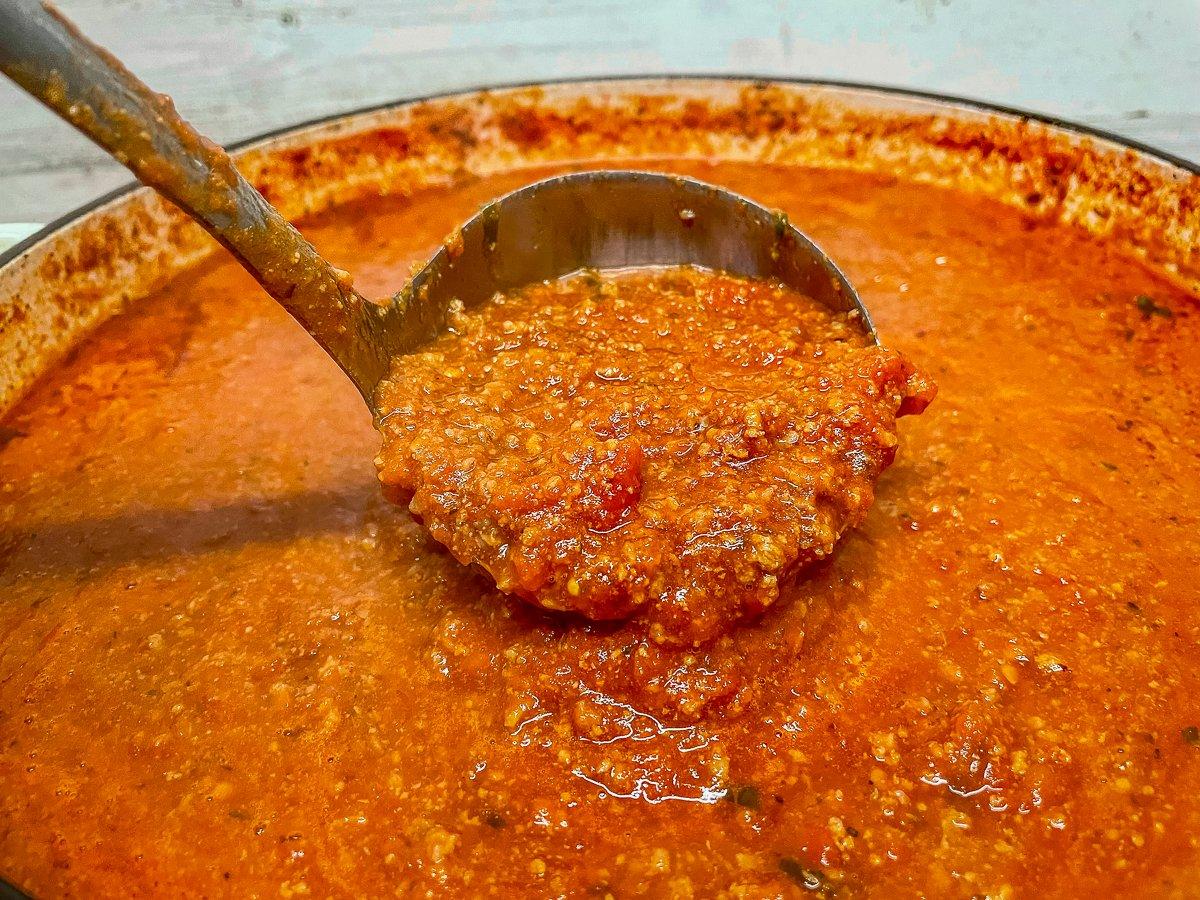 Don't be intimidated by pressure canners. Modern canners are much safer than the canners from our grandparents' era. Locking lids and pressure-relief valves make canning at home a breeze. Always read the instruction manual that comes with your canner and follow the manufacturer's suggestions on time and pressure. For my Mirro 22-quart canner, pint jars can for 75 minutes at 10 pounds of pressure and quarts go for 90 minutes. Once the canning time is up, simply let the canner cool, then move the jars over to a draft-free spot to rest while they seal. You should hear an audible pop from each lid as it seals to the jar. A fully sealed lid will suck down tight to the rim of the jar, even without the ring, and not depress and rebound with pressure from your finger. Any jar that doesn't fully seal should be stored in the refrigerator and used within two weeks.

Ingredients
2 pounds ground venison
1 pound Italian sausage
1 yellow onion, finely chopped
3 cloves garlic, finely chopped
Four 28-ounce cans San Marzano tomatoes
One 6-ounce can tomato paste
2 tablespoons dried Italian seasoning
1 1/2 tablespoons brown sugar
1 tablespoon salt
2 cups water
1/2 cup fresh basil, chopped
3 tablespoons butter
2 tablespoons lemon juice
1 dozen pint jars with new lids
White vinegar for cleaning
Cooking Instructions
In a large pot or Dutch oven, brown the ground venison and Italian sausage, along with the onion. Use a wooden spoon or other utensil to fully break apart the ground meat as it cooks. Once the meat has browned, add the garlic. Cook, stirring often, for 3 to 4 more minutes.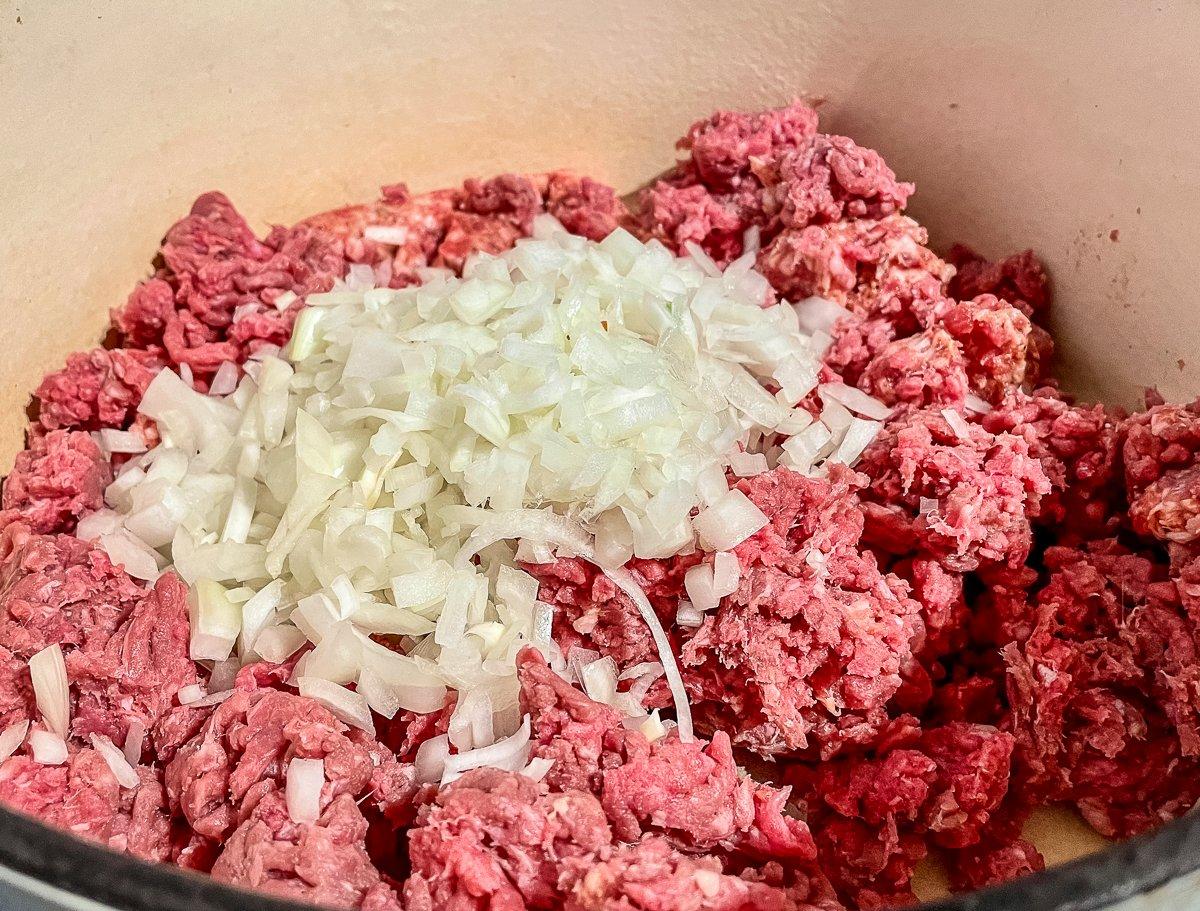 Pour in the tomatoes and tomato paste, then add the Italian seasoning, brown sugar, salt, and water. Bring to a simmer and reduce heat. Hold the sauce at a simmer for 2 hours.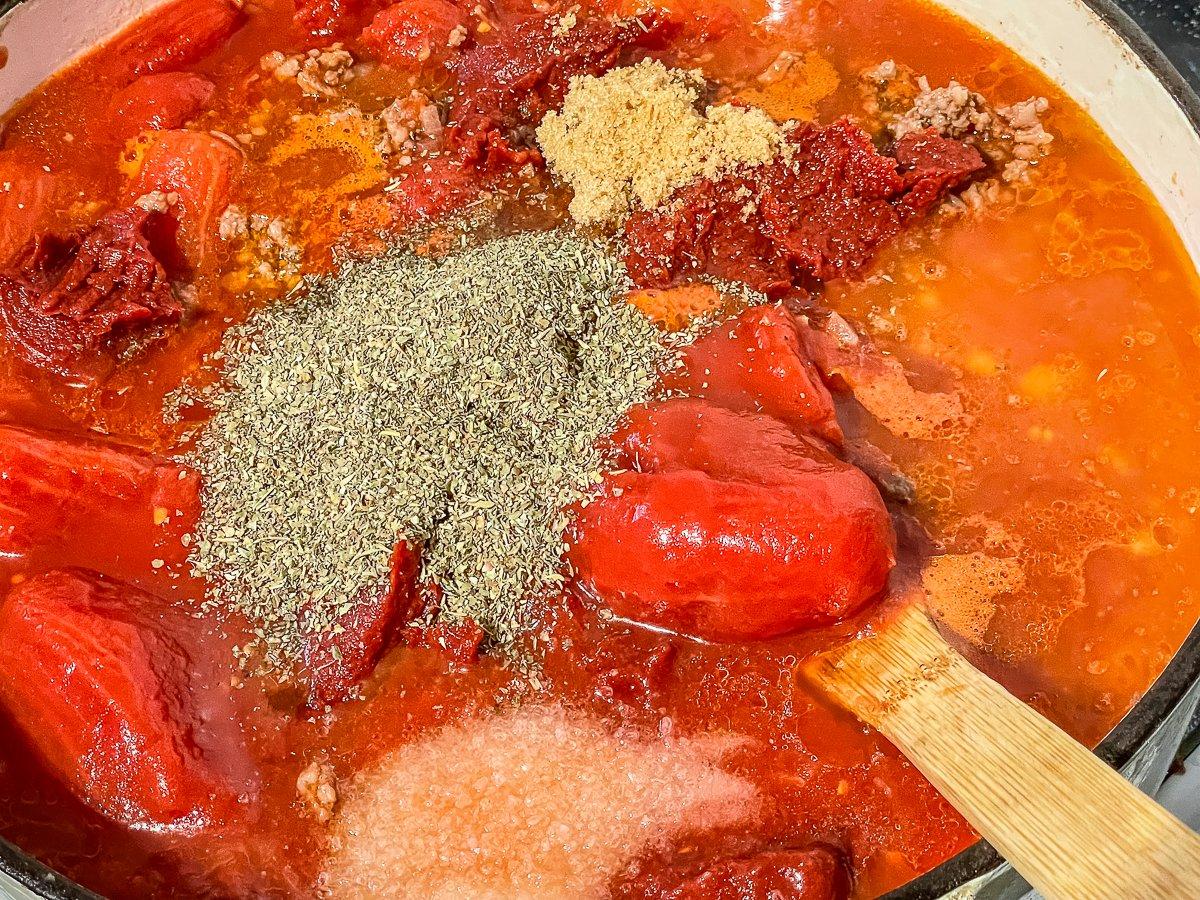 Add the fresh basil, butter, and lemon juice. Stir well to combine. Test for seasoning and add salt, if needed. Remove the pot from the heat and allow the sauce to cool.
Use a ladle and a canning funnel to transfer the sauce to clean, dry pint jars, leaving about an inch of headspace from top of sauce to jar rim. Once all jars are filled, use a clean cloth or paper towel dipped in white vinegar to wipe any sauce that might have gotten on the rims of the jars.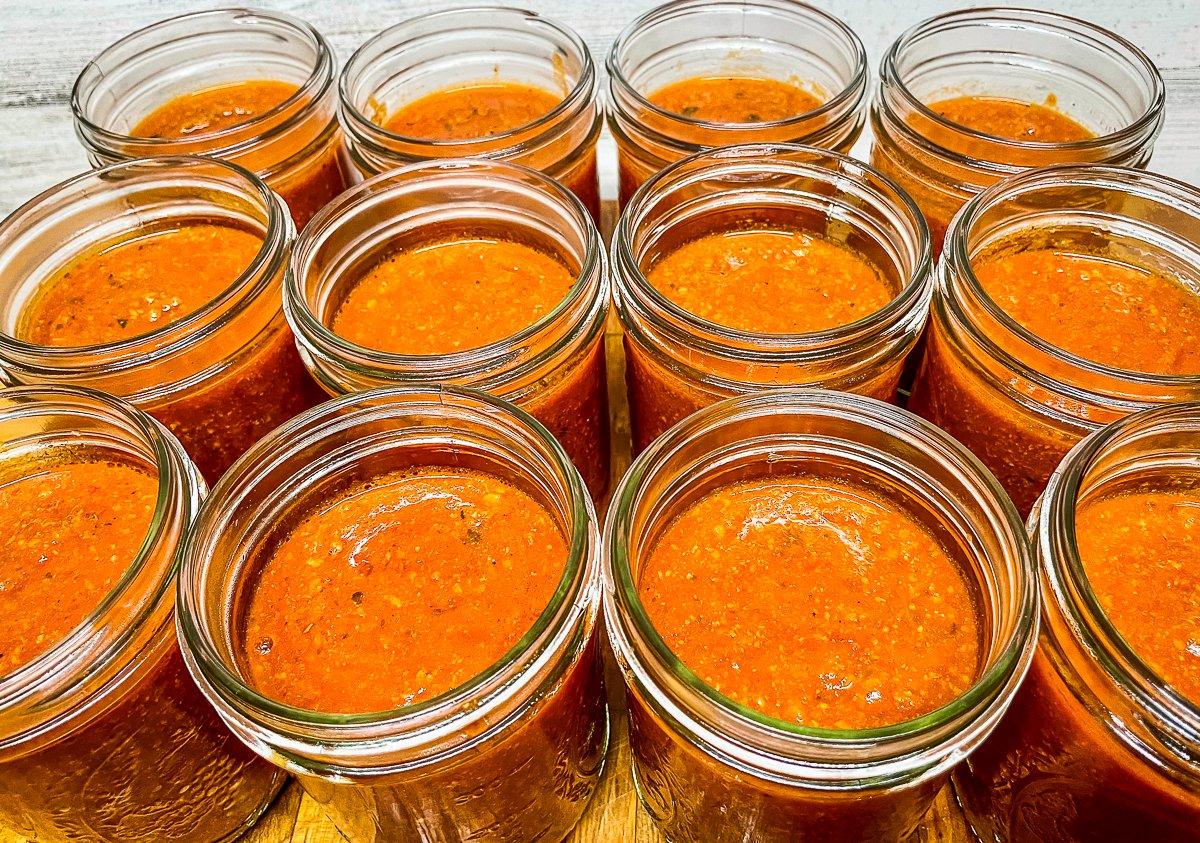 Place a new lid on each jar (the flat lids on canning jars aren't reusable for canning) and screw a ring on finger tight to hold it in place.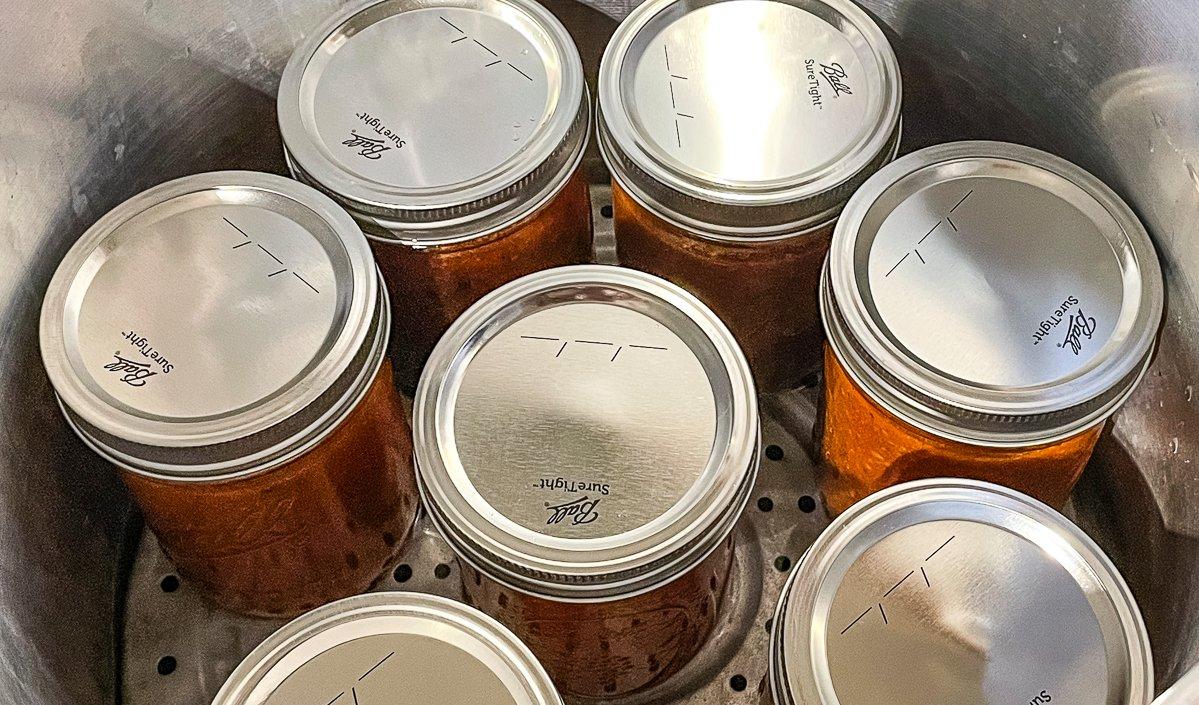 Can the jars according to your canner's instructions. Allow the jars to cool slightly and then move them over to a towel in a draft-free spot to seal. Store your sauce in a cabinet or the pantry.