Coffee- and Cocoa-Rubbed Backstrap with Bacon Whiskey Sauce
There's quite a lot going on with this one. The coffee and cocoa rub has a bit of heat from ancho chile powder and a hint of sweetness from brown sugar. While coffee and cocoa might seem like an odd combination for a dry rub, trust me, it works. The sauce has bacon, heavy cream and whiskey, all favorites of mine.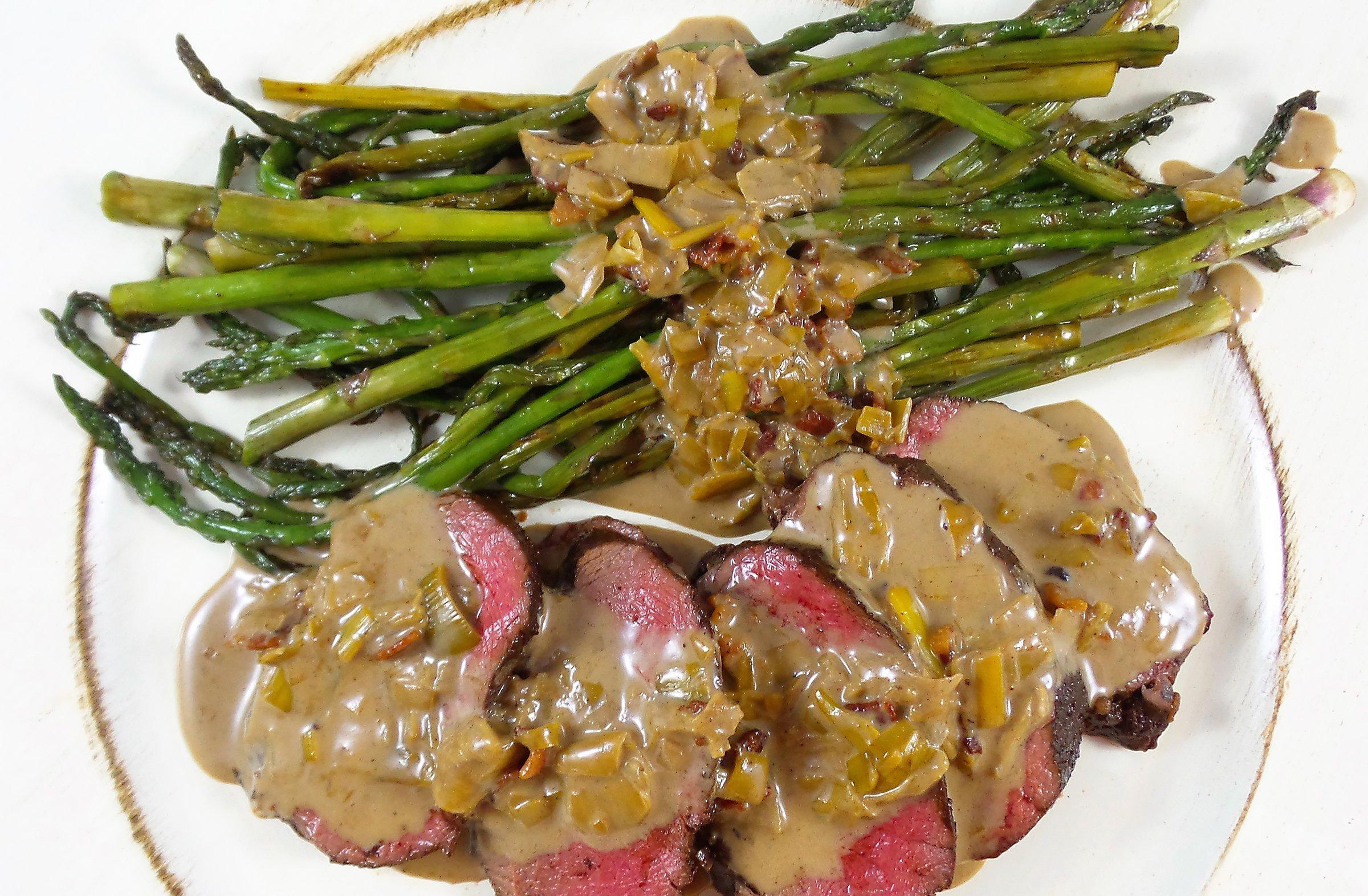 Best of all, you can do it all in one large cast iron skillet, cutting down on clean up time. Cook the backstrap in large pieces and slice just before serving.
Ingredients
2 sections of venison backstrap, around 1.5 pounds each. Trimmed well.
Rub
¼ cup instant espresso coffee
2 tablespoons kosher salt
1 tablespoon unsweetened cocoa powder
2 teaspoons paprika
2 teaspoons packed light brown sugar
1 teaspoon ancho chile powder
Sauce
6 strips bacon, diced
1 leek (white part only), finely chopped (about 1.5 cups)
1 tablespoon all-purpose flour
1/2 cup whiskey
3 cups low-sodium chicken broth
2 bay leaves
1/2 cup heavy cream
1 tablespoon unsalted butter
Kosher salt and freshly ground pepper
Cooking Instructions
Start by cooking the diced bacon in a large cast iron skillet. While the bacon browns, mix the dry rub ingredients and apply heavily to the outer surface of the backstrap.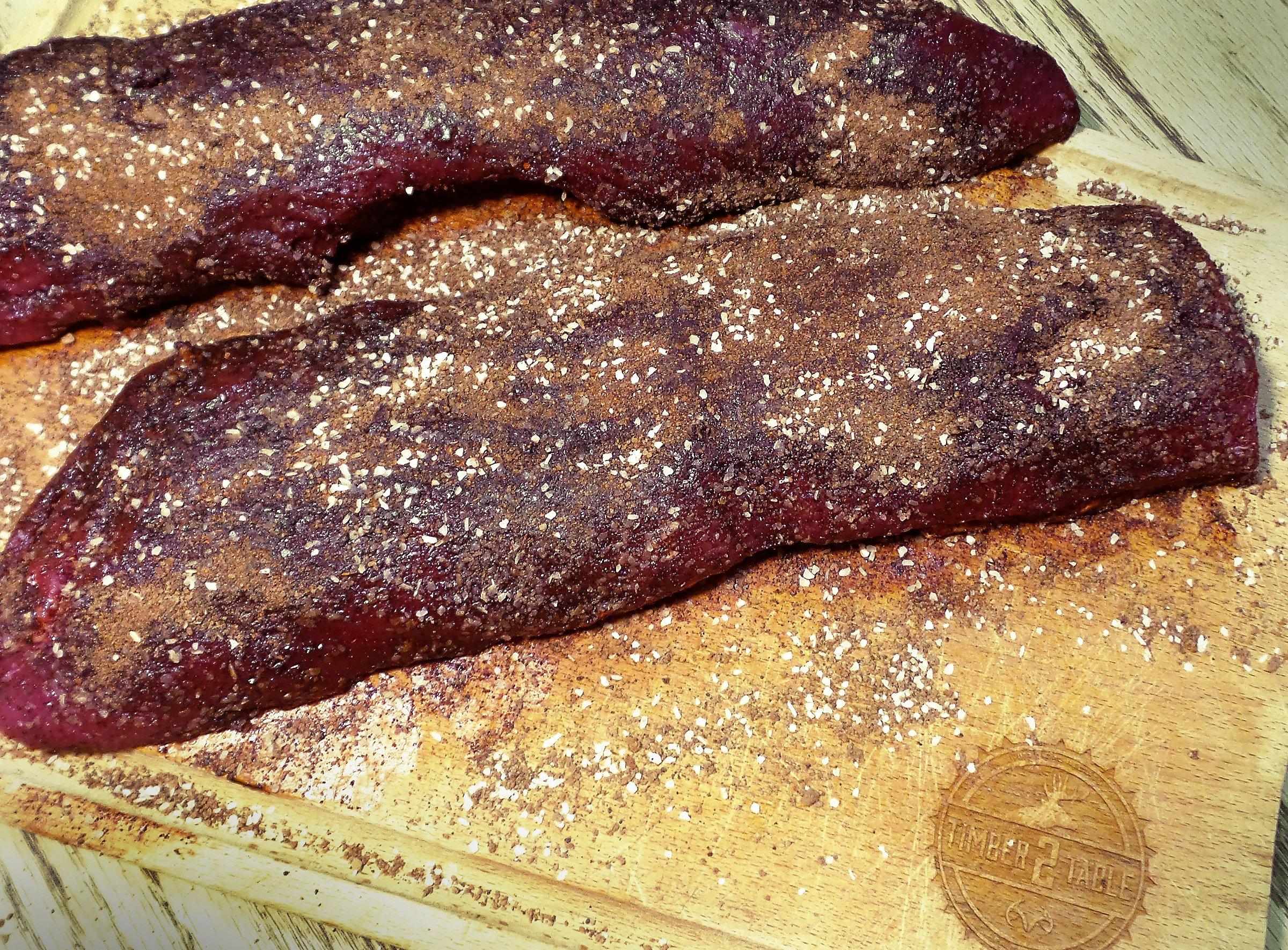 Add two tablespoons of bacon grease back to the skillet. Add the leeks and sauté for 5-10 minutes until translucent and soft. Add the flour and continue to stir till the flour is lightly browned.
Pour in the chicken stock. Remove the skillet from the heat. Add the whiskey, then return it to the heat; if the alcohol ignites, let the flames die out. Add the bay leaves. Bring to a simmer and cook, stirring occasionally, until slightly thickened, about 2 to 4 minutes. Increase the heat to medium-high and cook, stirring constantly, until the mixture is reduced by one-quarter, about 8 minutes. Whisk in the heavy cream and simmer, stirring occasionally until the gravy coats a spoon, about 7 more minutes. Add the reserved bacon, season with salt and pepper to taste. Cook 2 to 3 more minutes, remove from heat and stir in the tablespoon of butter.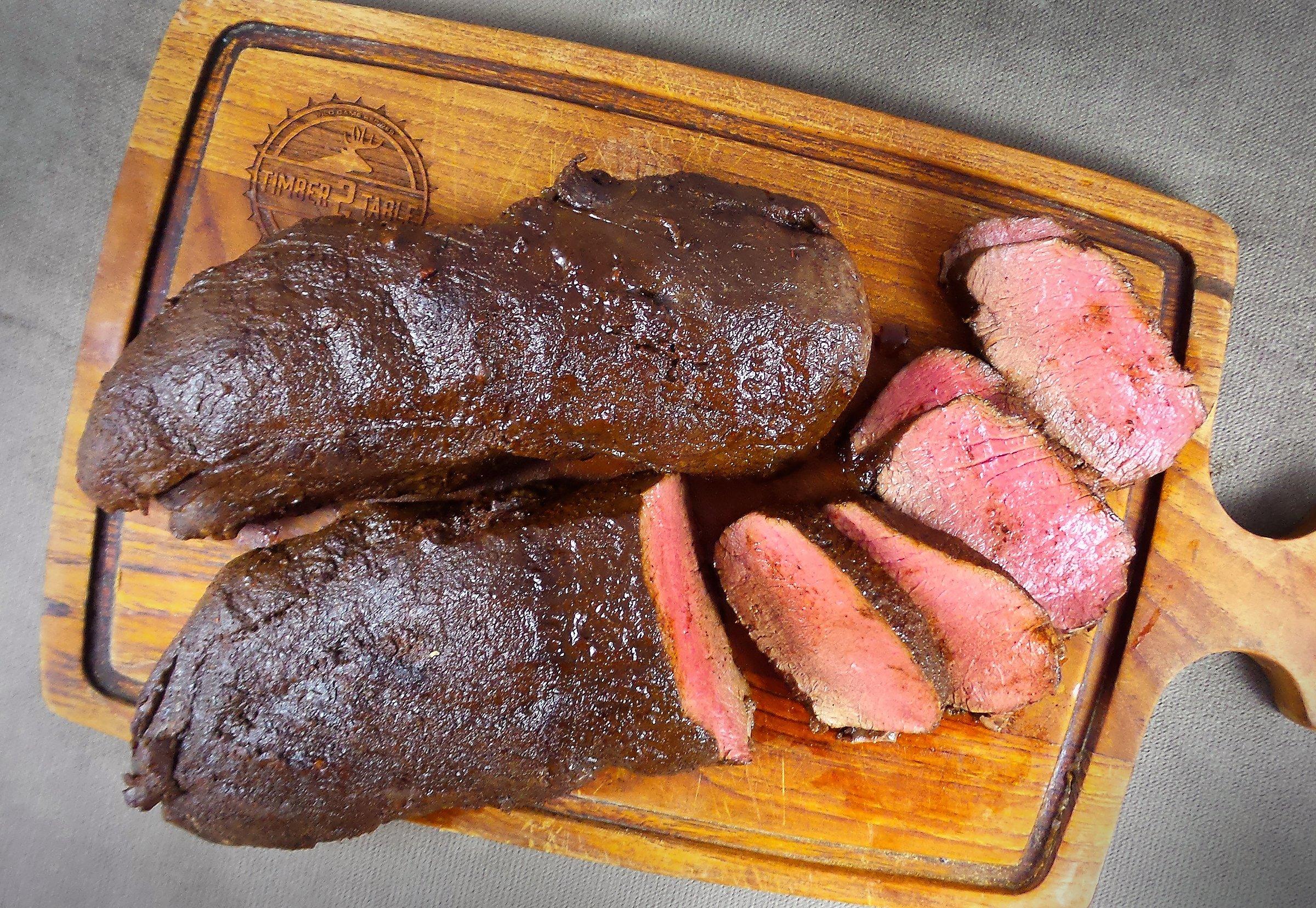 To plate, slice the backstrap into medallions. Spoon the sauce over the meat and garnish with chopped parsley, if desired.