Deep Dish Venison Pizza Pie
Everyone loves pizza. Around our house, pizza of some sort or another shows up on the menu on a regular basis. This deep dish version really piles the toppings onto a meaty ground venison sauce. The pizza topping list round here usually consists of good venison salami or summer sausage slices, banana peppers and mushrooms, but pile on whatever your family likes. We really pile on the cheese with a combination of shredded Italian blend and slices of a good whole milk mozzarella.
Don't have a deep dish pizza pan? Neither do we. But I do have a few well-seasoned Lodge 12 inch skillets, and they make a perfect substitute. Before adding the dough, I warm the pan a bit, either in the oven or on the stovetop and add a teaspoon or so of olive oil, then wipe it around the pan with a paper towel.
Want to make this on a busy weeknight? Use two packages of instant pizza crust mix or two cans of ready to roll pizza crust from the canned biscuit section of the grocery. The sauce can be as simple as browning a pound of ground venison and pouring in a jar of your favorite pizza or spaghetti sauce. The pizza will still be a family favorite.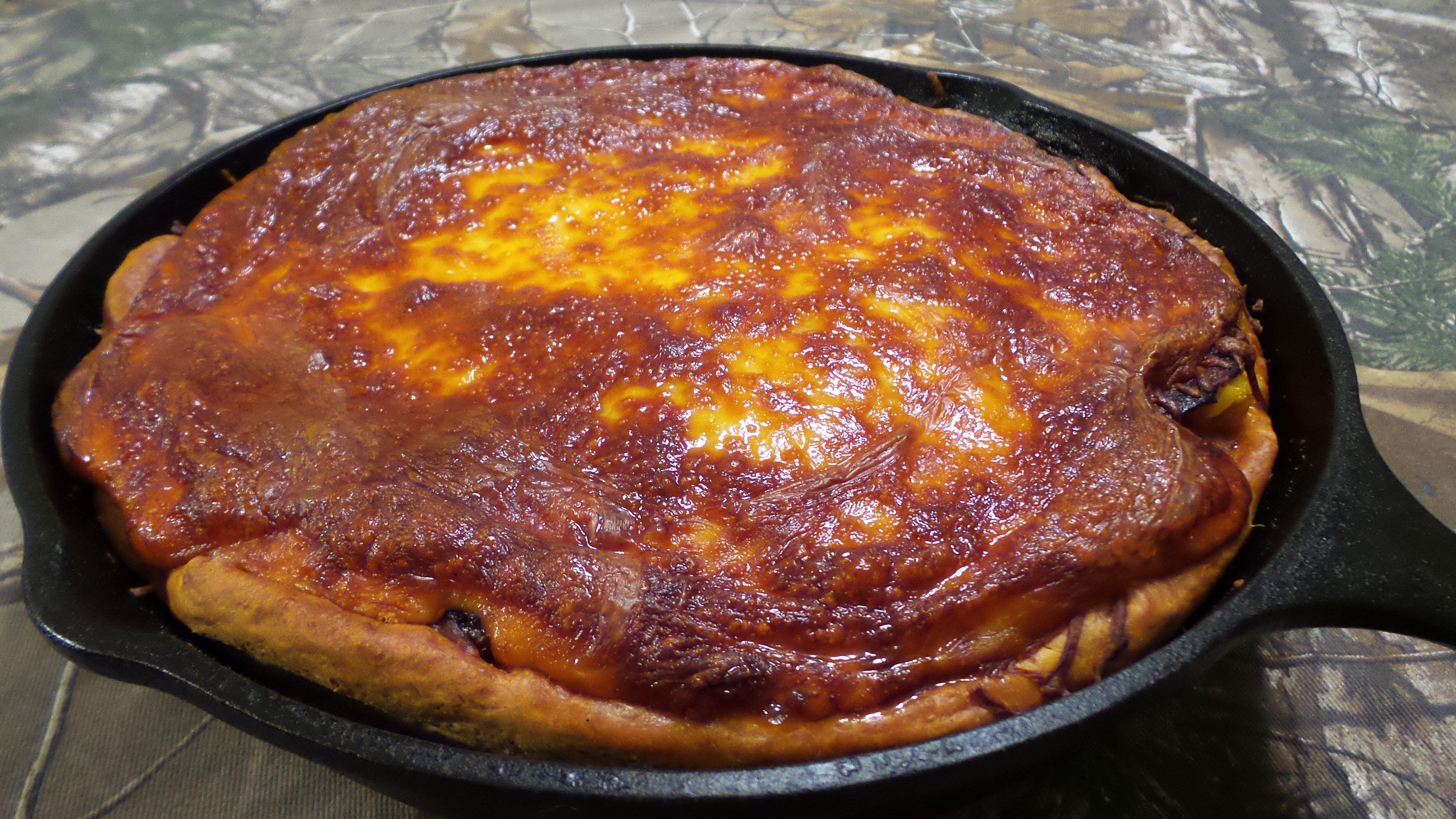 Ingredients
Crust
2 teaspoons active dry yeast
1 teaspoon sugar
1 1/8 cups of warm water (110-115 degrees Fahrenheit)
3 cups of all purpose flour
½ cup olive oil
1 ½ teaspoons kosher salt
Sauce
1 pound of ground venison
1 tablespoon olive oil
½ cup onion, finely chopped
2 cloves of garlic, peeled and finely chopped
1 24 ounce can of crushed tomatoes
1 6 ounce can of tomato paste
1 cup chicken broth
1 tablespoon Italian seasoning blend
2 teaspoons Italian flat leaf parsley, finely chopped
2 tablespoons of butter
Toppings
Thinly sliced venison salami or summer sausage
Banana peppers
1 lb. mushrooms, sliced and lightly sautéed
1 cup shredded Italian cheese blend
8 ounces whole milk mozzarella cheese, thinly sliced
Any pizza topping of your choice
Cooking Instructions
Crust
Dissolve the yeast into the water in large bowl and let it stand for 10 minutes. You should see a foamy reaction as the yeast blooms.
In a stand mixer with dough hook, combine the water/yeast combo with the flour, oil, salt and sugar. Knead for 2 to 3 minutes until a soft dough ball is formed. This can be done by hand in a large bowl with a fork if you don't have a stand mixer, it will just take a bit longer to come together. Transfer the dough ball to a large well-buttered or oiled bowl and roll it around to coat the dough in oil. Cover the bowl with a clean dish towel and set it in a warm, draft free area to rise for 5 to 6 hours or until doubled in size. Punch the dough down and let it rest for 10 to 15 minutes before using. Spread the dough in the warm pan, bringing it all the way up the sides, and then bake for 5 minutes in a 450-degree oven.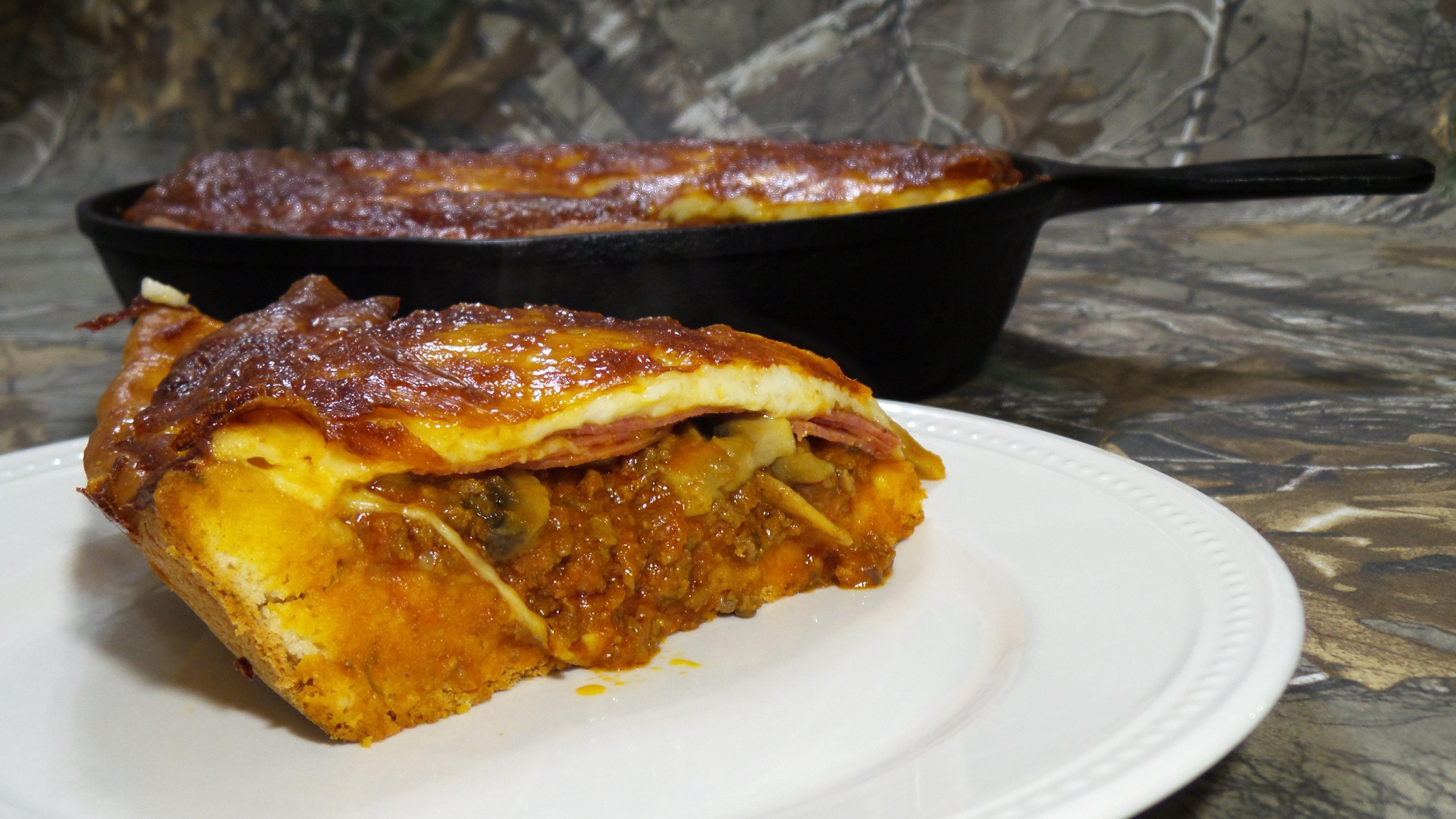 Pizza
Brown the ground venison in olive oil. Add diced onions and garlic and continue to brown until the onions are soft. Salt and pepper to taste. Add the rest of the sauce ingredients, except the butter, and simmer for one hour. Turn down heat at the end of the simmer and stir in the butter. The meat sauce should be fairly thick when finished.
Pour the meat sauce into the prepared crust, add toppings of choice and cover with the shredded and sliced cheese. Bake for 30 to 40 minutes at 350 degrees until cheese is lightly browned and bubbly.