Game Day Spicy Venison Nachos or Tacos
Nothing says game day snacks like nachos or tacos. Using venison makes them that much better. The great thing about nachos and tacos is that they can be customized for each individual's taste. Put out a spread, two or three styles of chips, crunchy taco shells, flour tortillas, chopped onions, several styles and heat levels of peppers, different cheeses, salsas, sour cream -- the possibilities are endless. Let each guest build his or her own plate. They are the ultimate party food.
For this recipe, I used ground venison mixed with a good sliced Andouille sausage and Rotel brand chopped tomatoes with peppers and a clove of minced garlic. This mixture is a great all-purpose meat filling for any Mexican-style dish. Try it in burritos, enchiladas, chile relleno or Mexican lasagna. Grilled and sliced venison steak is another great choice if you prefer a fajita-style nacho or taco.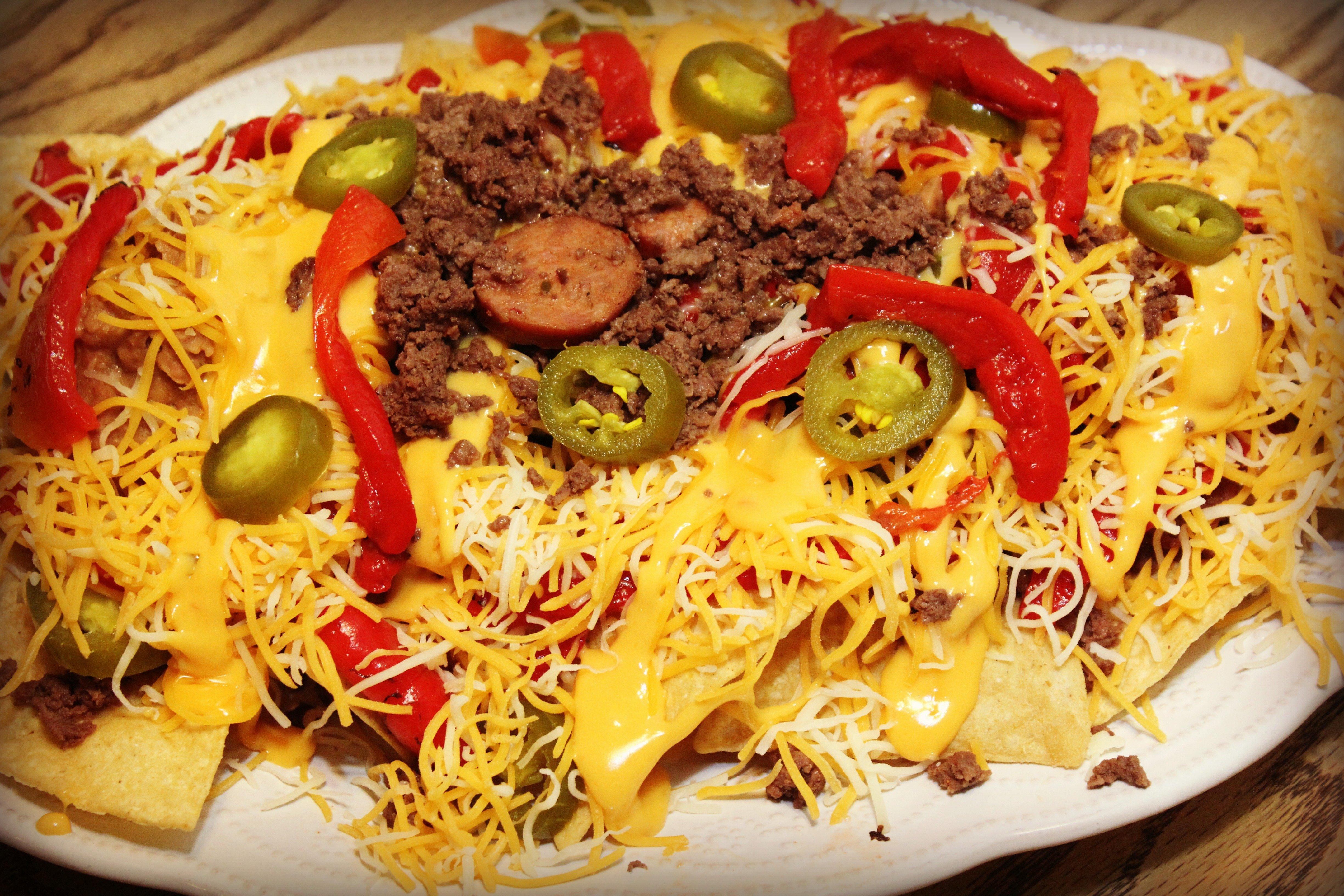 Ingredients
2 pounds of ground venison
1 pound good Andouille or Chorizo sausage, sliced or crumbled
1 or 2 Garlic cloves, finely diced
One onion, finely diced
2 tablespoons, or to taste, of a southwestern-style seasoning. One of my favorites is the Chef of the Future line of seasonings, available online here. Their Southwestern Rub and Seasoning makes outstanding tacos, fajitas and nachos.
Salt to taste
1 can Rotel brand chopped tomatoes with green chilies
Tortilla chips, taco shells or flour tortillas
Toppings
Refried beans
Sliced jalapenos
Roasted bell peppers
Chipotle peppers in adobo sauce
Chopped onions
Shredded cheese
Nacho cheese
Shredded lettuce
Chopped tomatoes
Sour cream
Salsa
Black beans
Corn salsa
Guacamole
Just about anything else you can dream up.
Cooking Instructions
Heat a tablespoon of vegetable oil or bacon grease in a large nonstick skillet. Add the diced onion and garlic, sauté until the onion is soft, then add ground meat. Season the meat with salt and southwestern or taco seasoning. Cook until meat is browned through. Add sausage slices and Rotel. Reduce heat and simmer while you get everything else together.
If you prefer fajita style nachos, season venison steaks well with salt and southwestern seasoning. Grill over a hot charcoal fire or gas grill on high for three to four minutes per side. Remove steaks from heat, cover loosely with foil and let them rest for ten to fifteen minutes. Slice the steaks, across the grain, into thin strips.
Set all of your fixins out on the counter or table and let your dinner guests build their own masterpiece.