Herb-Crusted Elk Backstrap
Sometimes you need a quick and simple recipe for a quick weeknight dinner. This herb-crusted backstrap fits the bill. And it tastes great doing it. A seasoning rub from items you probably already have in your pantry, a quick pan sear, then a quick baste in butter seasoned with a sprig or two of fresh rosemary and a few crushed garlic cloves is all they need.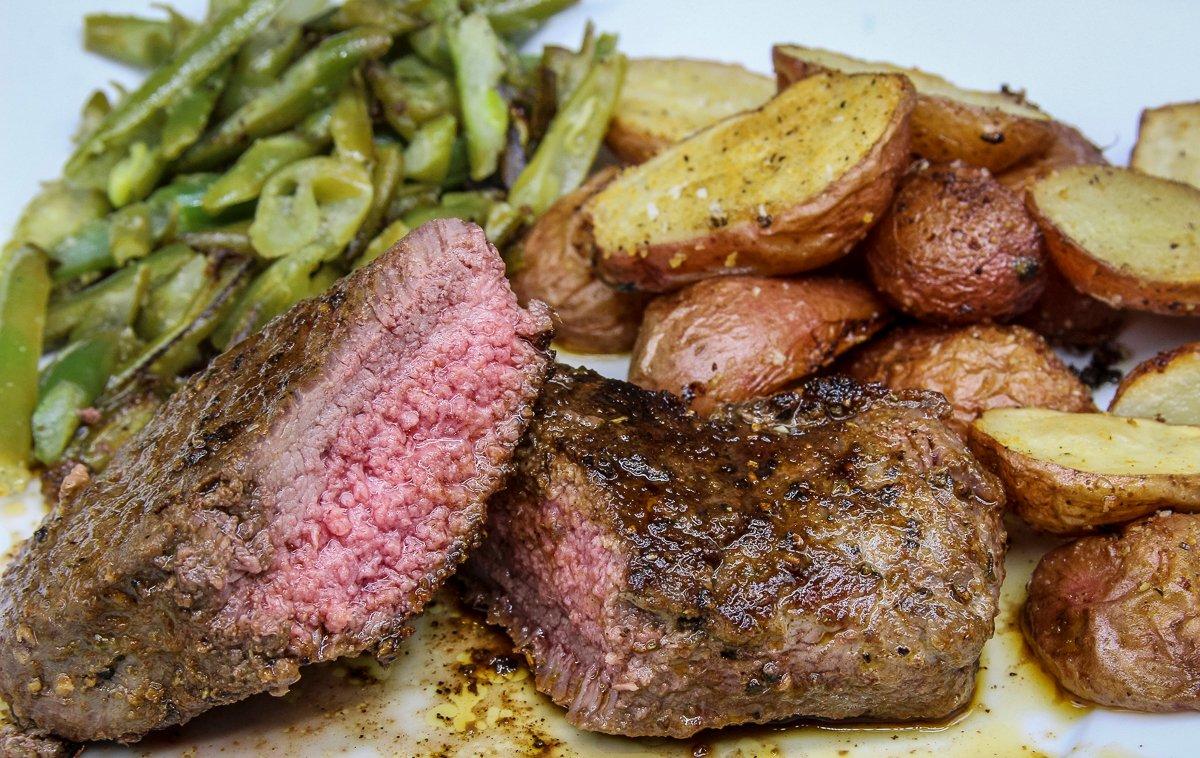 Cooking the backstrap like this gives you a nice medium-rare center at about 130 degrees. If you prefer your elk slightly more done than that, simply slice the steaks thinner or move the cast-iron pan to a preheated 350-degree oven for 7 to 10 minutes. Rest the steaks for 5 to 10 minutes before serving. We like to serve these with oven-roasted new potatoes and pan-seared green beans for a meal you can have ready to go in under an hour.
Ingredients
2 pounds elk backstrap (deer works as well), cut into 4 to 6 1-inch steaks
2 tablespoons kosher salt
1 tablespoon coarsely cracked black pepper
1 tablespoon garlic powder
1 tablespoon smoked paprika
1/2 tablespoon onion powder
2 teaspoons dried rosemary
2 teaspoons dried thyme
1 teaspoon dried marjoram
1 tablespoon peanut, flaxseed, or grapeseed oil
3 tablespoons butter, divided
2 to 3 sprigs of fresh rosemary
2 to 3 garlic cloves, peeled and slightly crushed
Cooking Instructions
Start by mixing the herb seasoning blend for the steaks. To a bowl, add the salt, black pepper, garlic powder, smoked paprika, onion powder, dried rosemary, thyme, and marjoram. Mix well.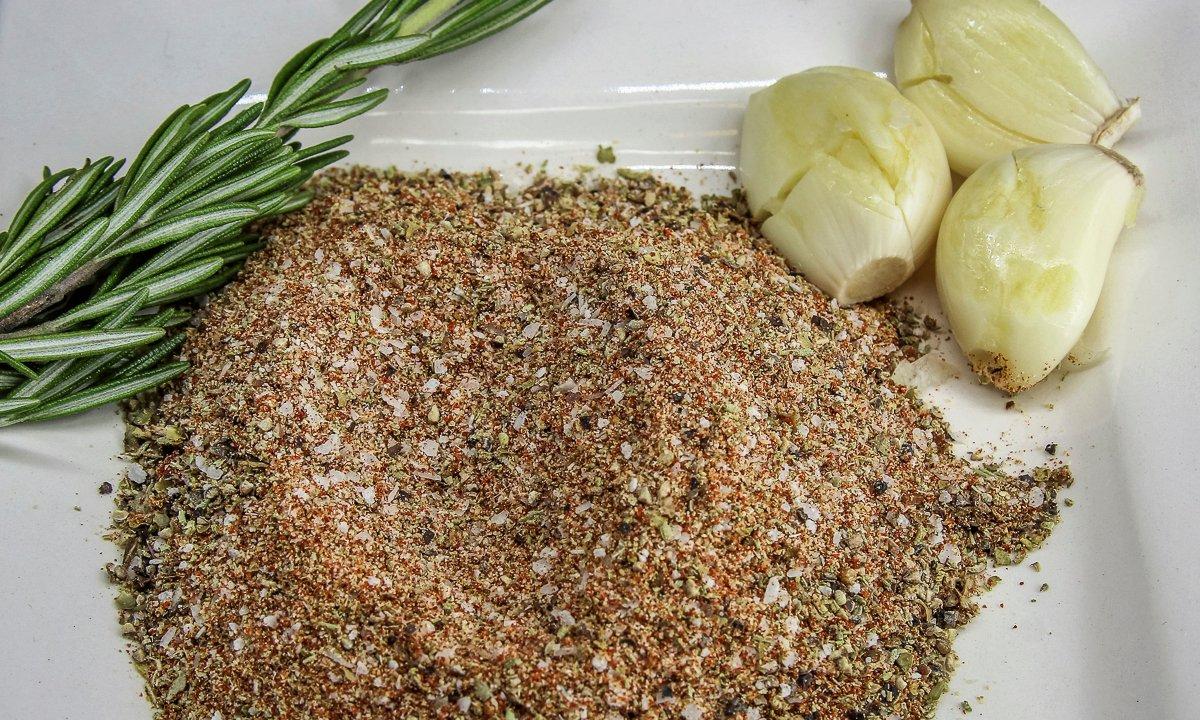 Season all steaks on both sides with the seasoning rub.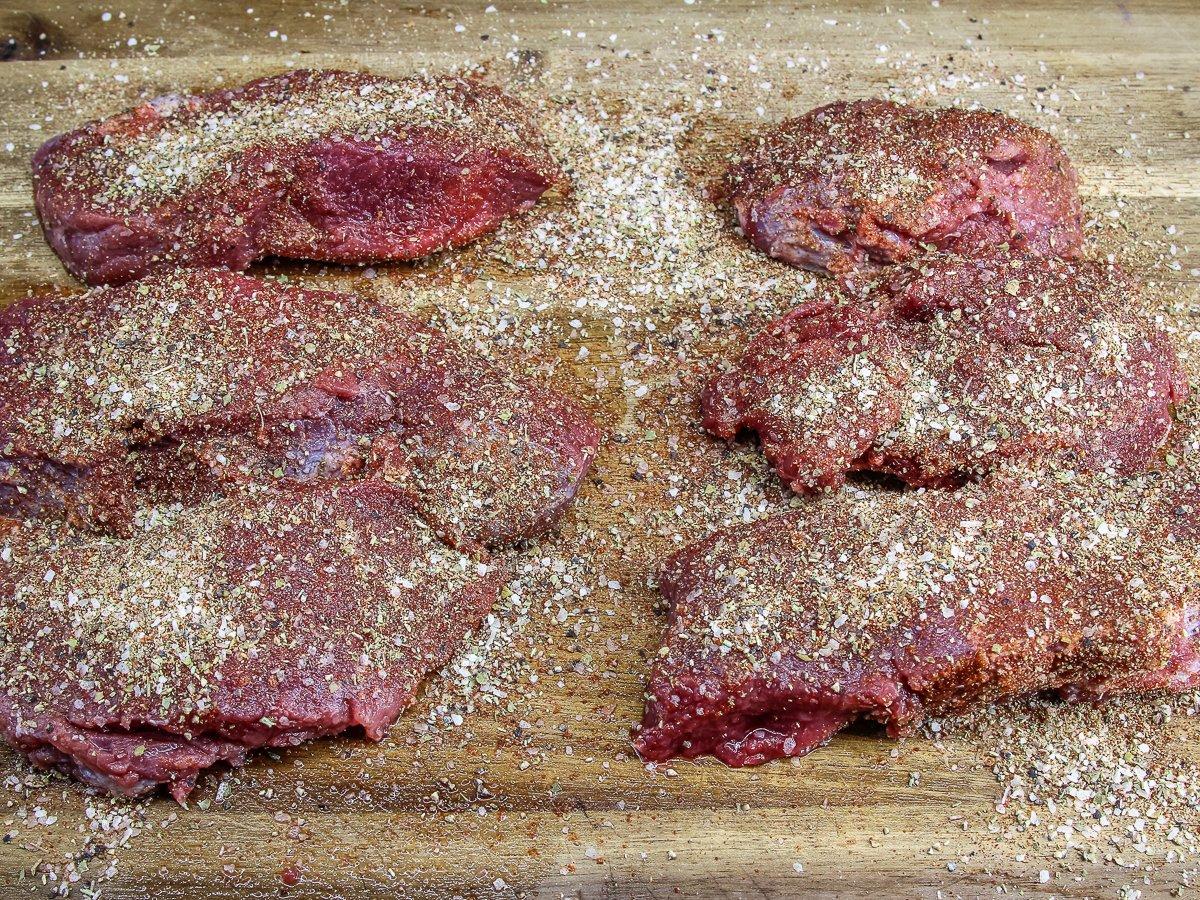 Heat a cast-iron skillet over medium-high heat. Add 1 tablespoon of oil with a high smoke point to the skillet and swirl the pan to coat. Place the steaks in the pan to sear. Don't overcrowd the pan. It's better to cook the steak in two batches, if necessary. Sear for 3 minutes on the first side without moving the steaks.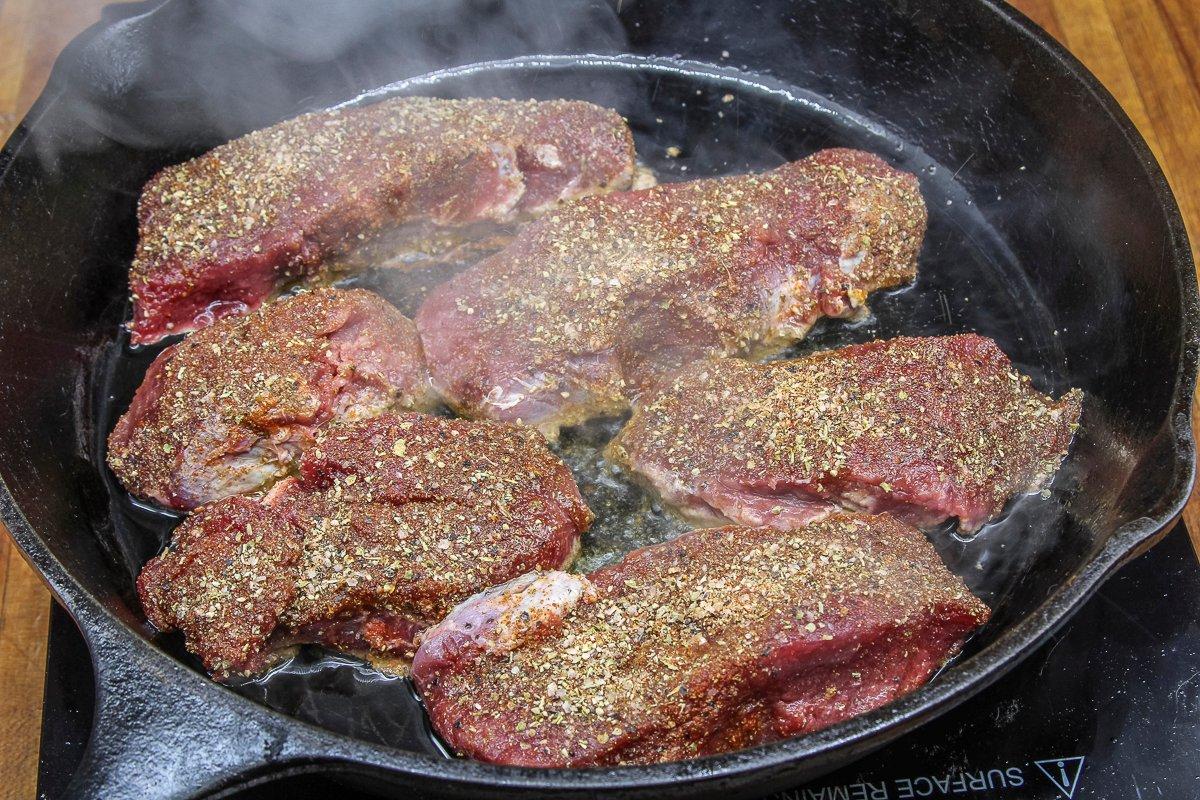 Flip the steaks and cook for another 2 minutes. Add half of the butter to the pan. Add the garlic and a couple of sprigs of rosemary.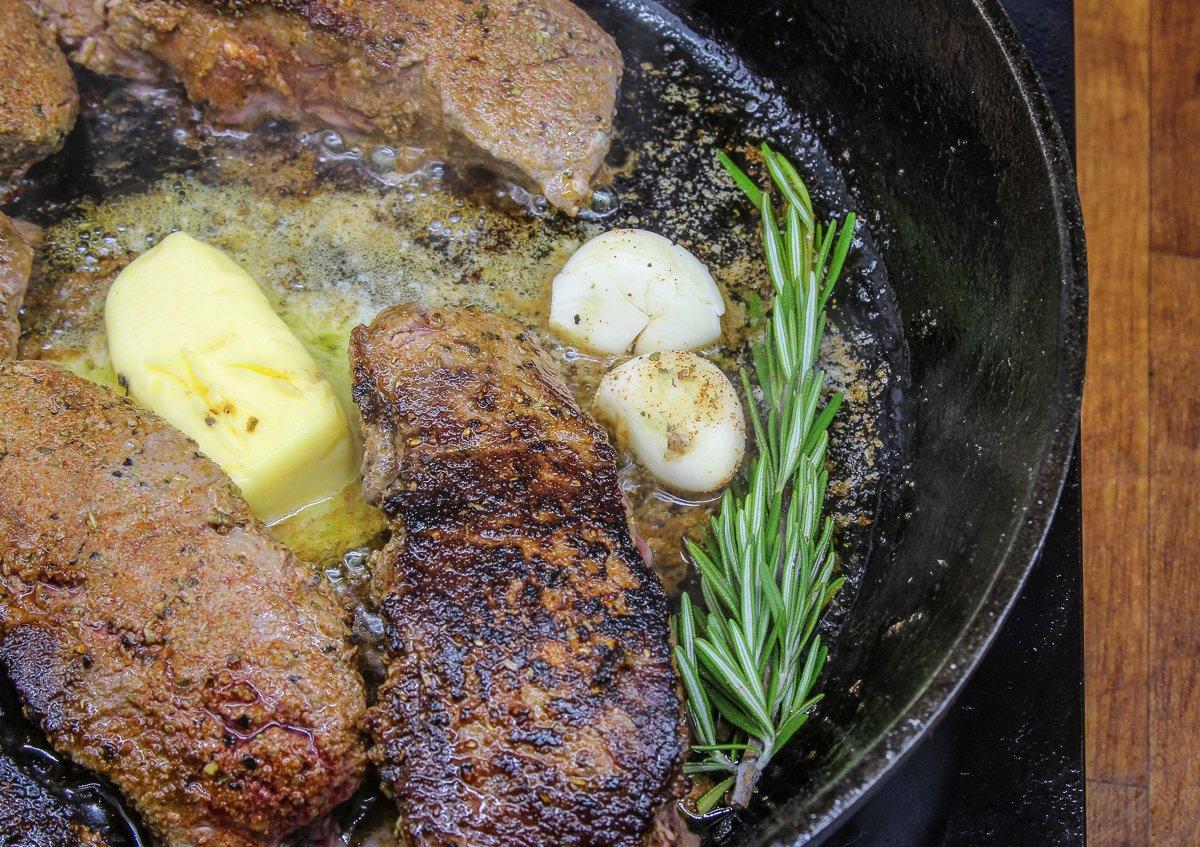 Tilt the pan to pool the butter along one edge and spoon it over the steaks for another 2 to 3 minutes. Move the steaks to a warm platter.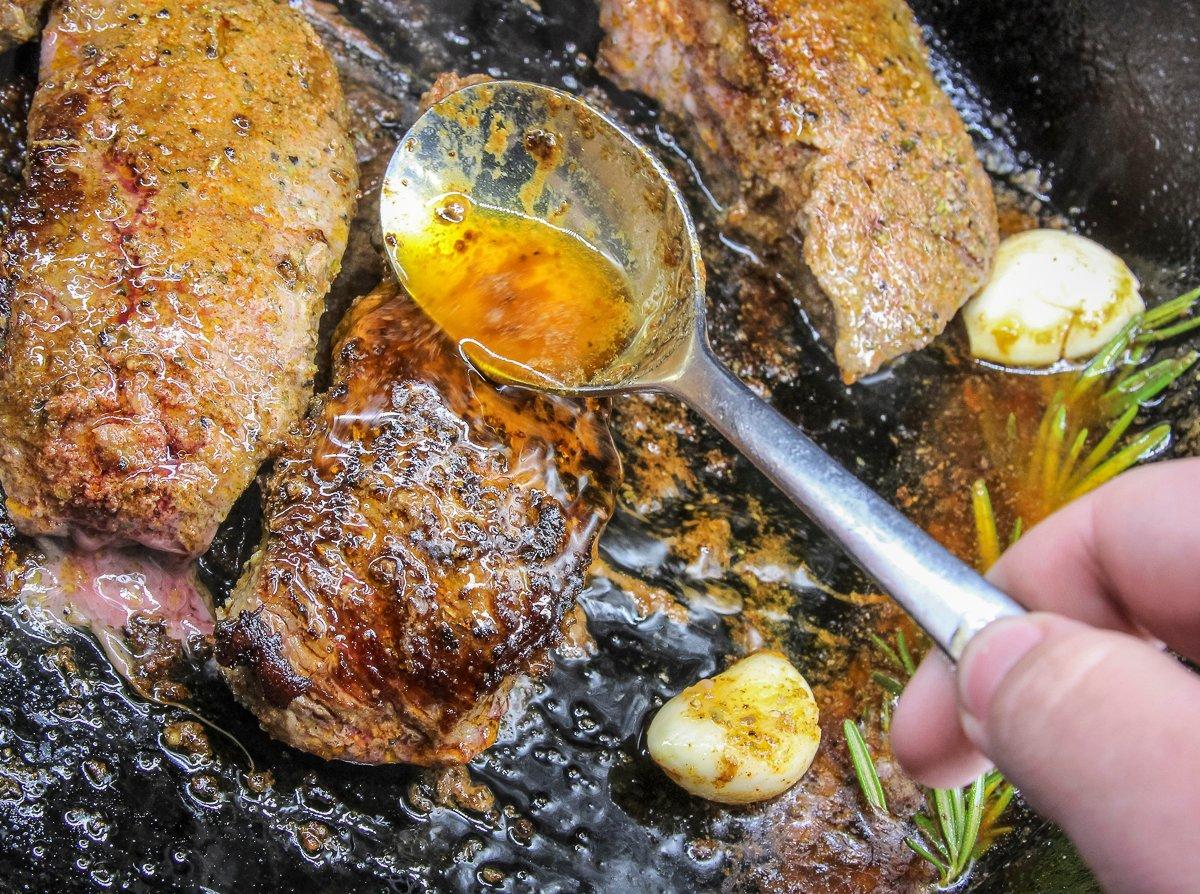 Pour over the remaining butter from the pan, then lightly tent with foil and rest for 5 to 10 minutes. Repeat the process with remaining steaks and butter if all them didn't fit into your pan at once.
Serve with your choice of sides.