Italian Stuffed Backstrap Rolls
Sometimes you just need a nice pasta dish to make you feel good. This venison backstrap version is perfect for a cold winter's day or anytime comfort food seems appealing. We start with a section of backstrap, butterfly and pound it with a meat mallet until it's nice and flat, then layer on thinly sliced Italian cured meats and cheeses. The backstrap gets rolled and tied, browned in olive oil, then slowly simmered in a rich, simple pasta sauce.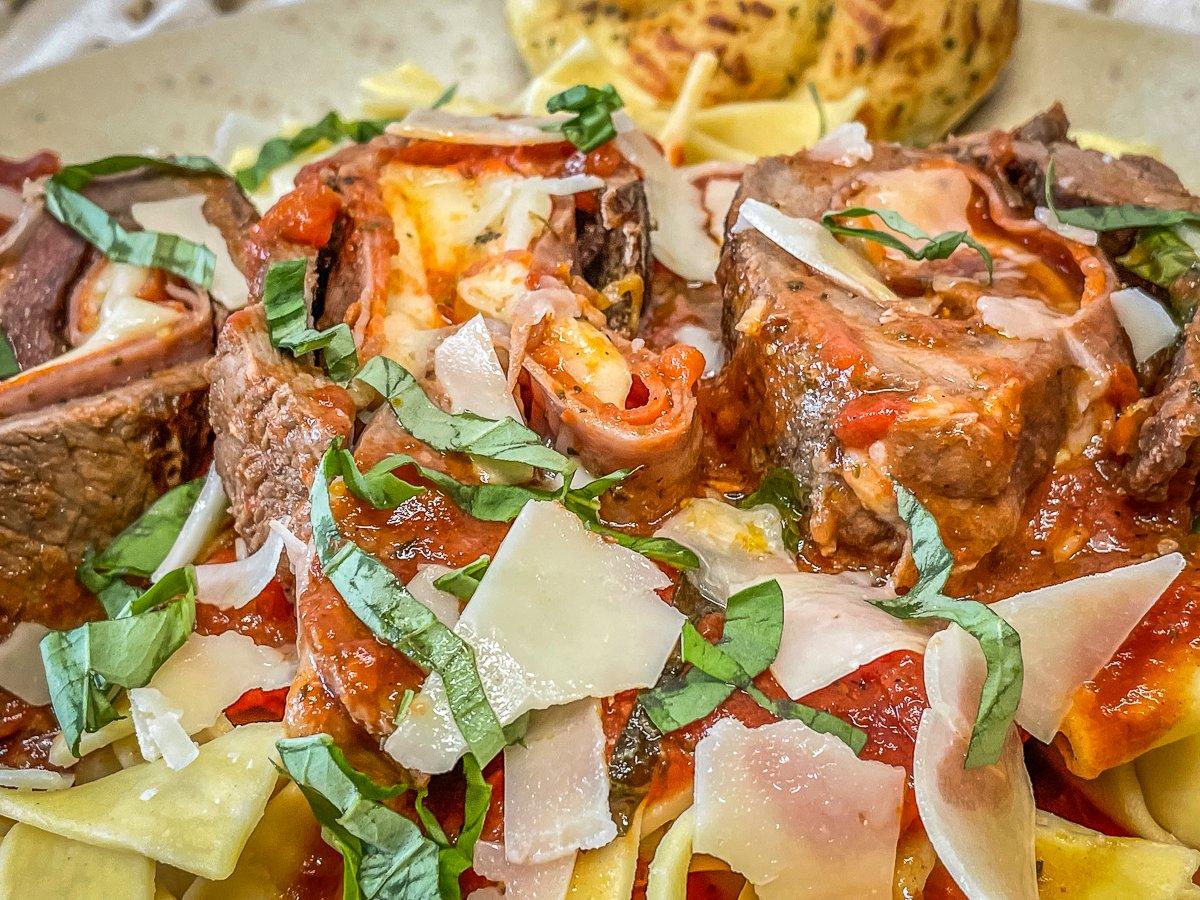 Remove the backstrap roll from the sauce, let it rest a bit, then slice it into thin pinwheels that get returned to the sauce to simmer just a bit longer. Spoon the sauce over pasta, top with 2 to 3 backstrap pinwheels, then add some shaved Parmesan cheese and a sprinkle of fresh basil for garnish.

We stuffed the backstrap in this recipe with both prosciutto and pepperoni, but feel free to substitute your favorite cured meats. Same goes with the cheese if you don't want to use provolone and mozzarella.
Since the sauce is a simple one without a lot of ingredients, use high-quality San Marzano tomatoes, good olive oil, and fresh basil.
Ingredients
2-pound section of backstrap, trimmed
4 ounces sliced prosciutto
4 ounces sliced pepperoni
6 slices provolone cheese
3 slices mozzarella cheese
One 28-ounce can whole San Marzano tomatoes
4 tablespoons olive oil, divided
2 tablespoons tomato paste
2 tablespoons dried Italian seasoning blend, divided
1 1/2 tablespoons salt
3 cloves garlic, finely chopped
1/4 cup fresh basil, julienned, plus more for garnish
Shaved Parmesan cheese for garnish
Cooking Instructions
Start by butterflying the backstrap, then using a meat mallet to pound it out to an even 1/2 inch thickness. Season with a teaspoon of salt and 1/2 tablespoon of Italian seasoning.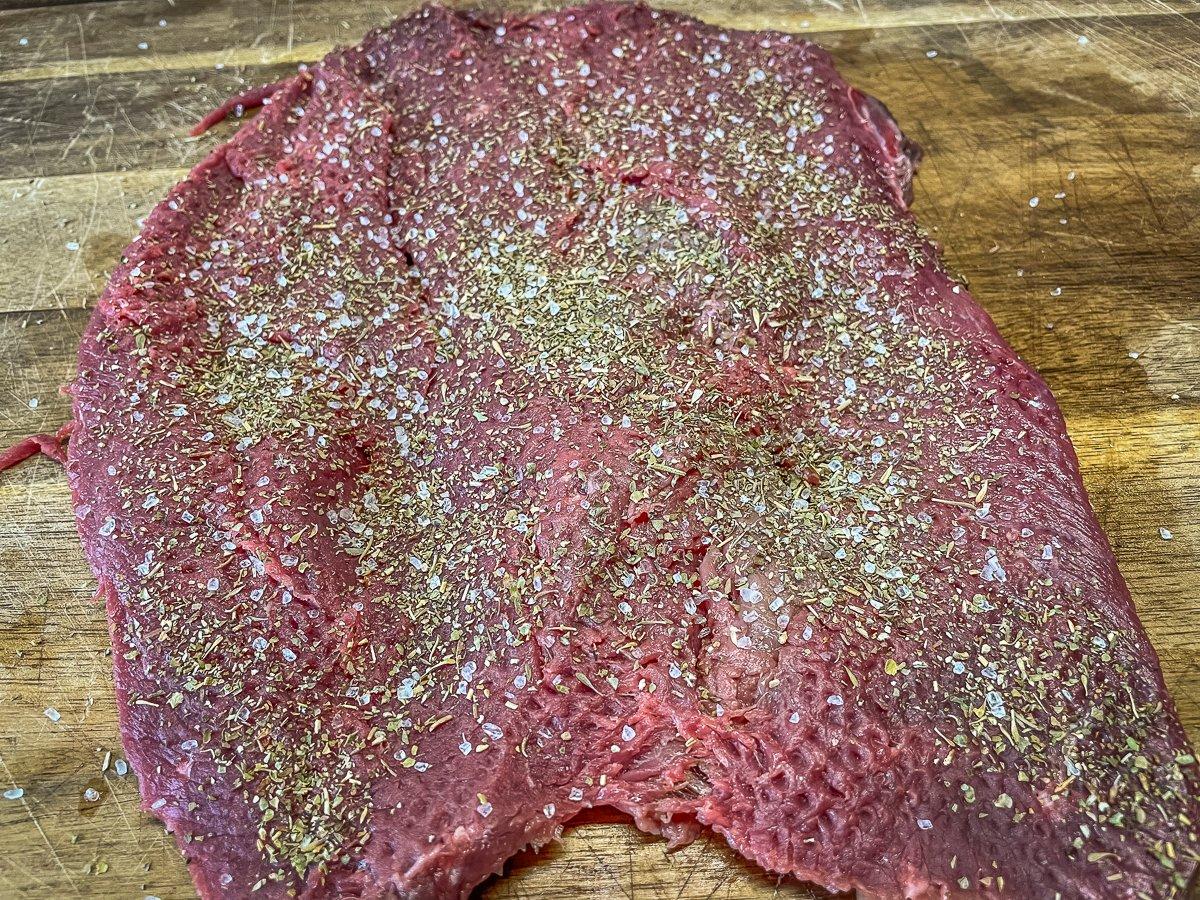 Next, layer on the prosciutto and pepperoni, or your preferred meats.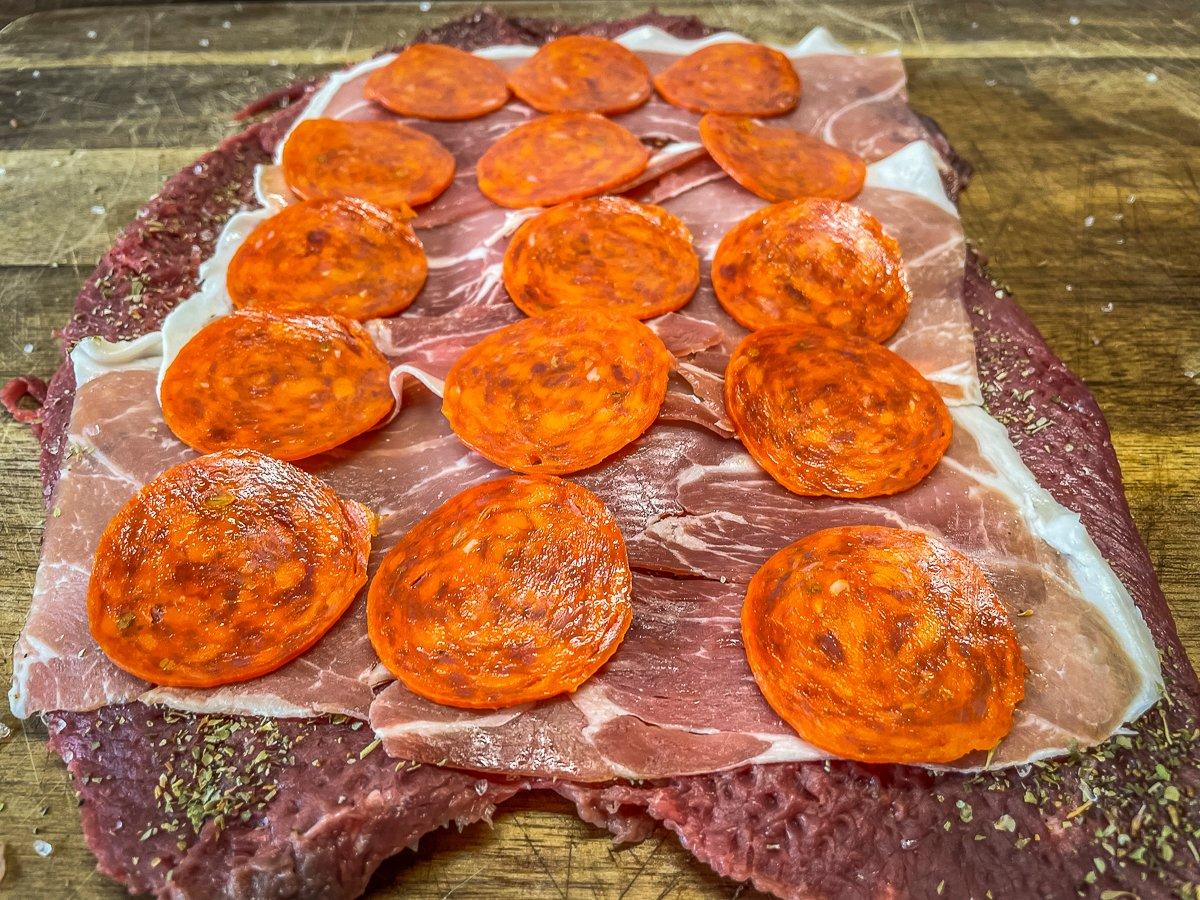 Now add the cheese.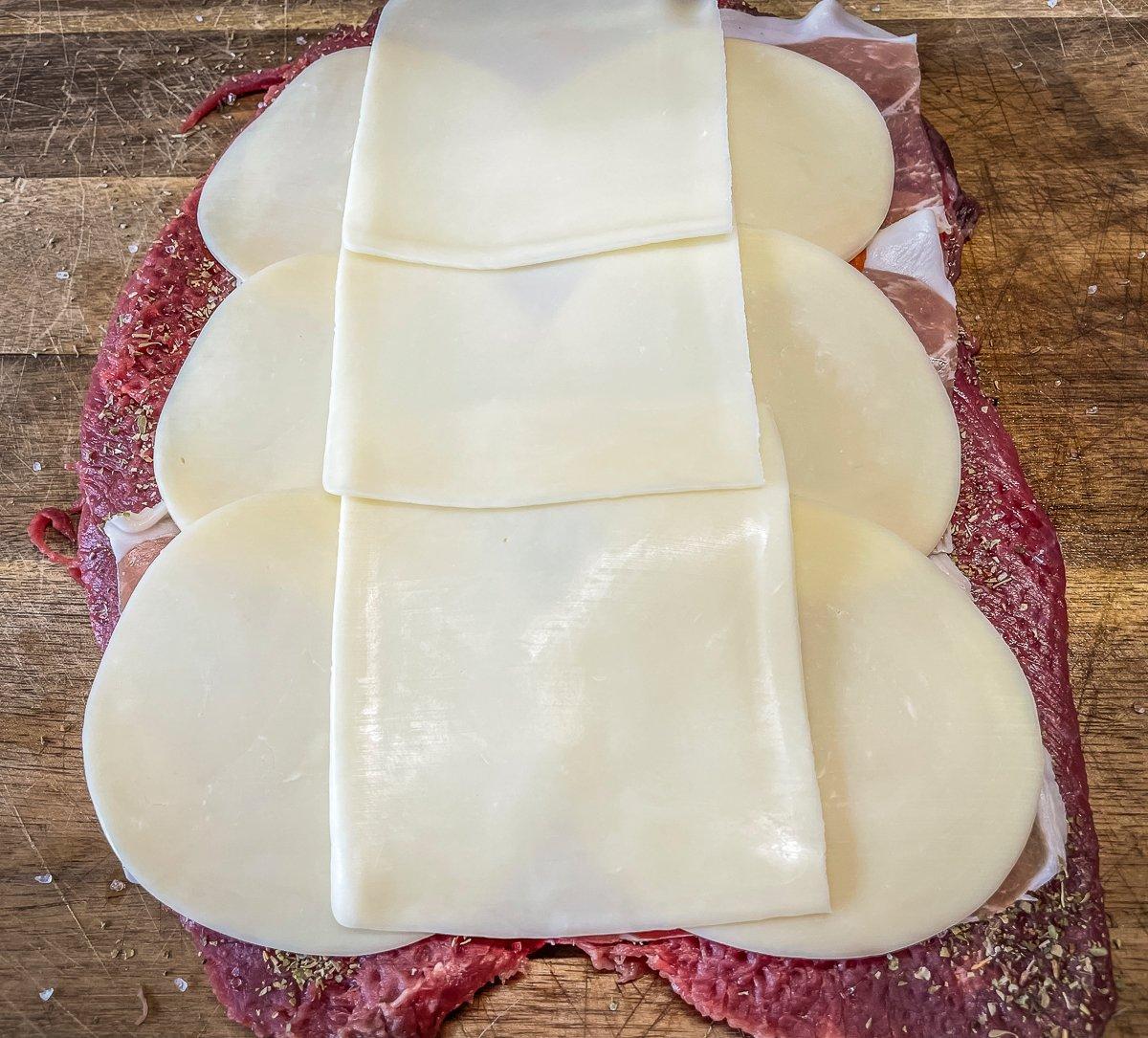 Roll the backstrap tightly so that the cheese and meat are on the inside. Tie tightly with butcher's twine. Season the outside with another 1/2 tablespoon of Italian seasoning and 2 teaspoons of salt.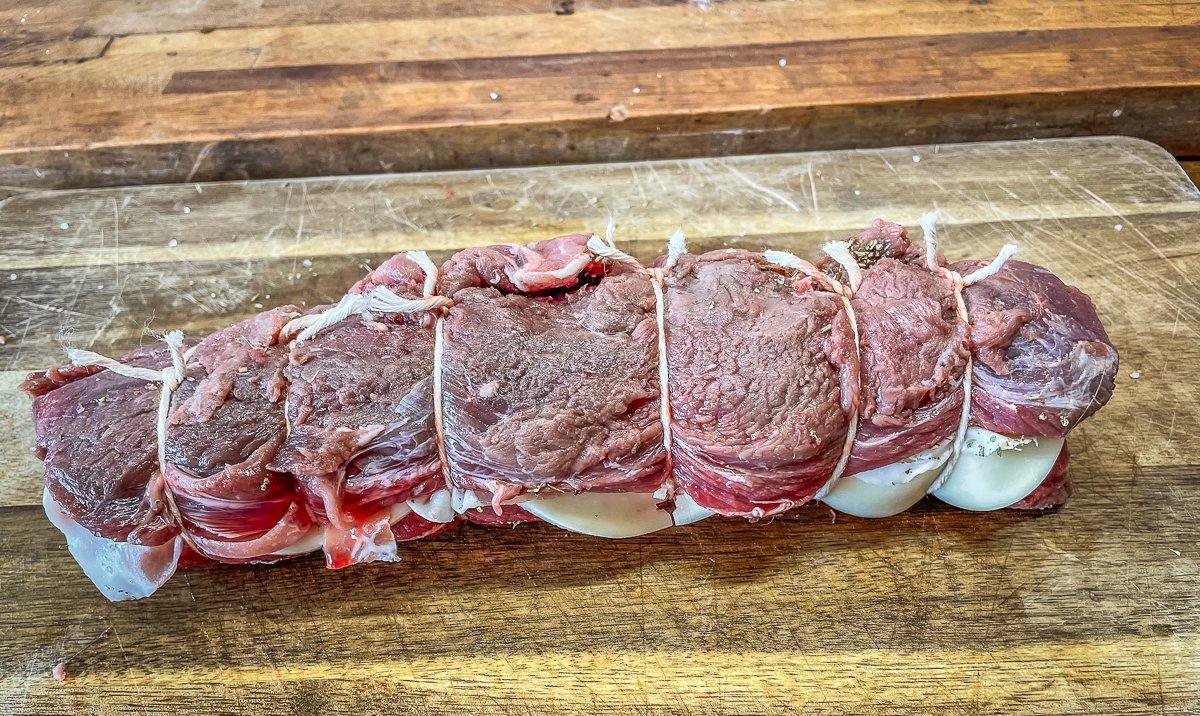 In a large skillet, heat half the olive oil over medium-high. Sear the backstrap, turning a few times to evenly brown the entire surface. Don't worry about cooking it through; just brown it well all the way around. Move the backstrap to a warm plate and tent with foil.
Turn the temperature down to medium. Add the remaining olive oil and the chopped garlic. Cook for 3 to 5 minutes. Add the canned tomatoes, remaining Italian seasoning, and remaining salt. Bring to a simmer and reduce the heat to hold it there. Smash the tomatoes with a spoon or fork. Add the fresh basil.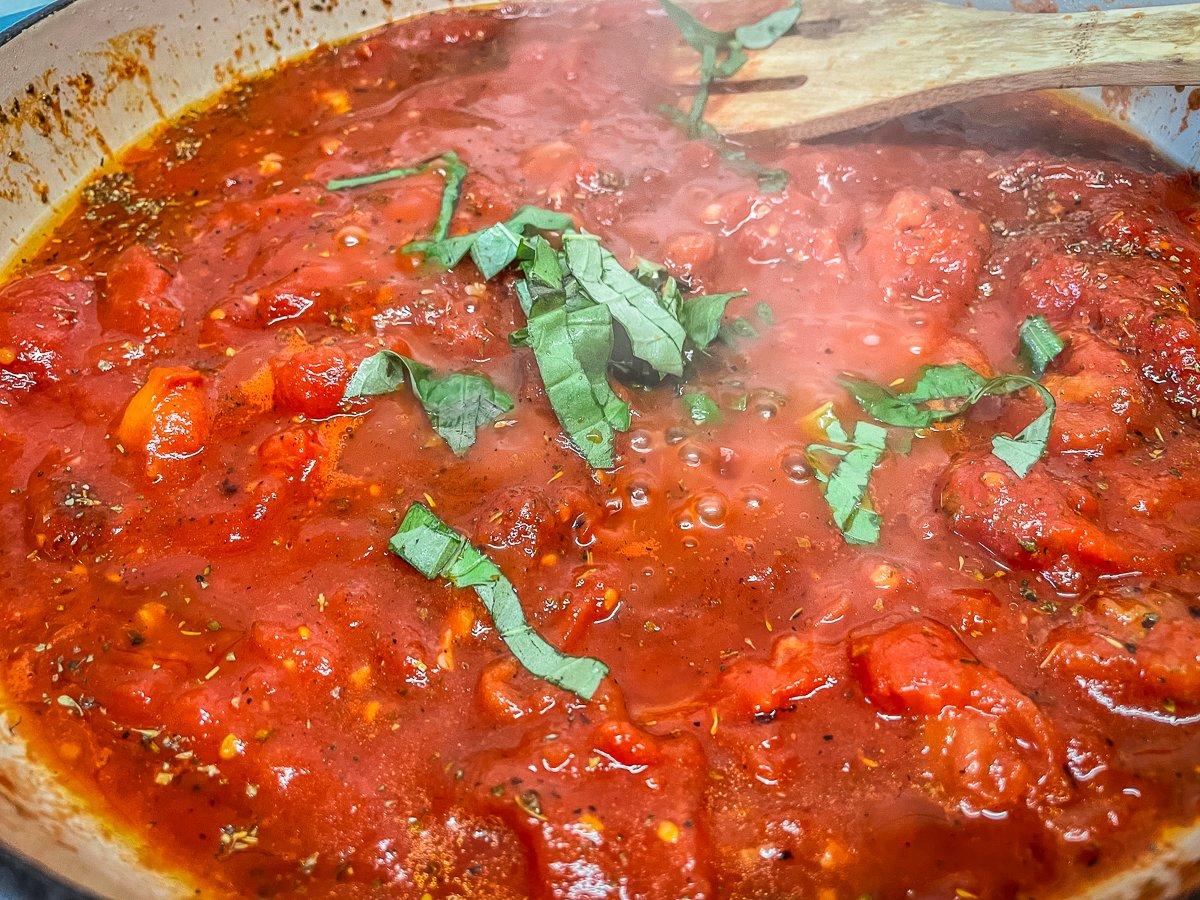 Return the backstrap to the sauce, cover the pan, and simmer for 15 minutes.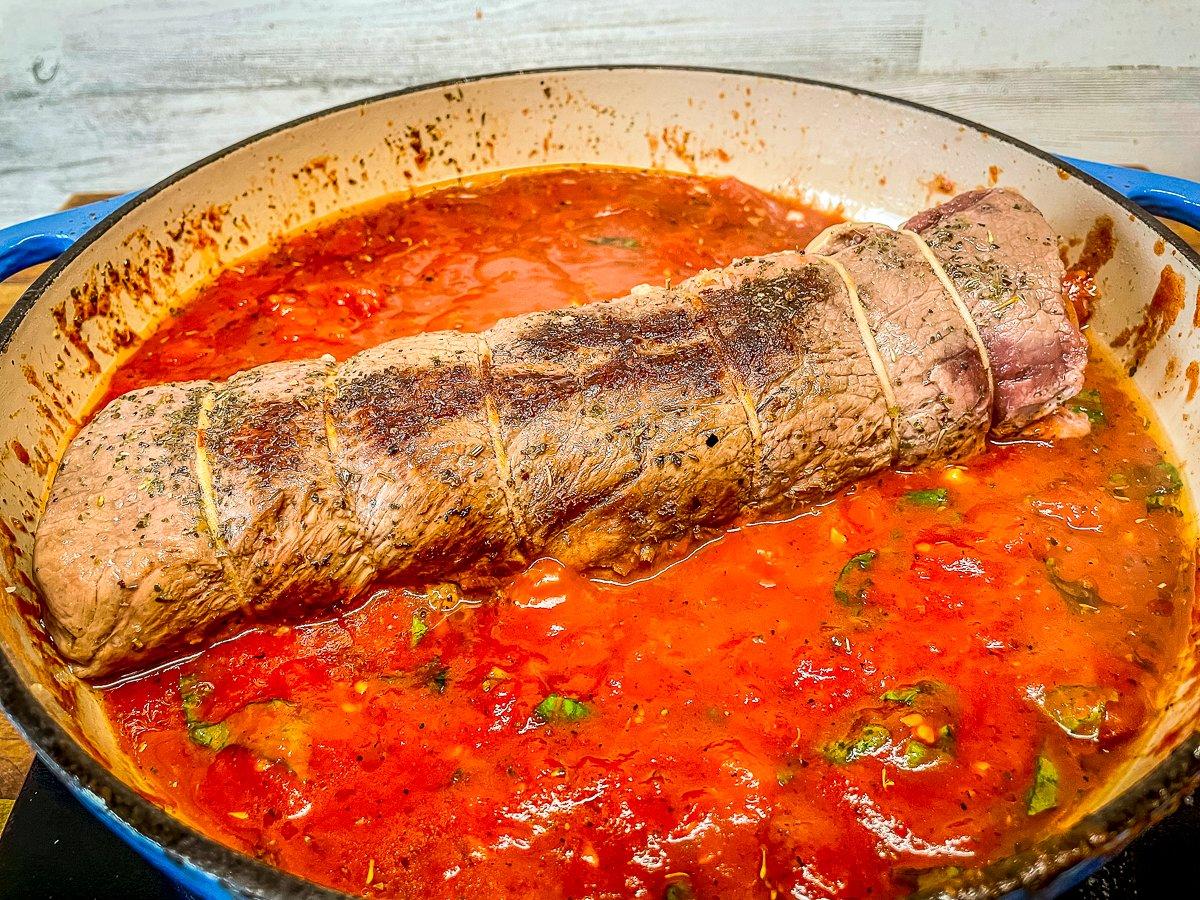 Remove the backstrap and allow to rest for 5 minutes. Remove the butcher's twine. Slice the backstrap into medallions and return them to the sauce. Simmer for 5 more minutes.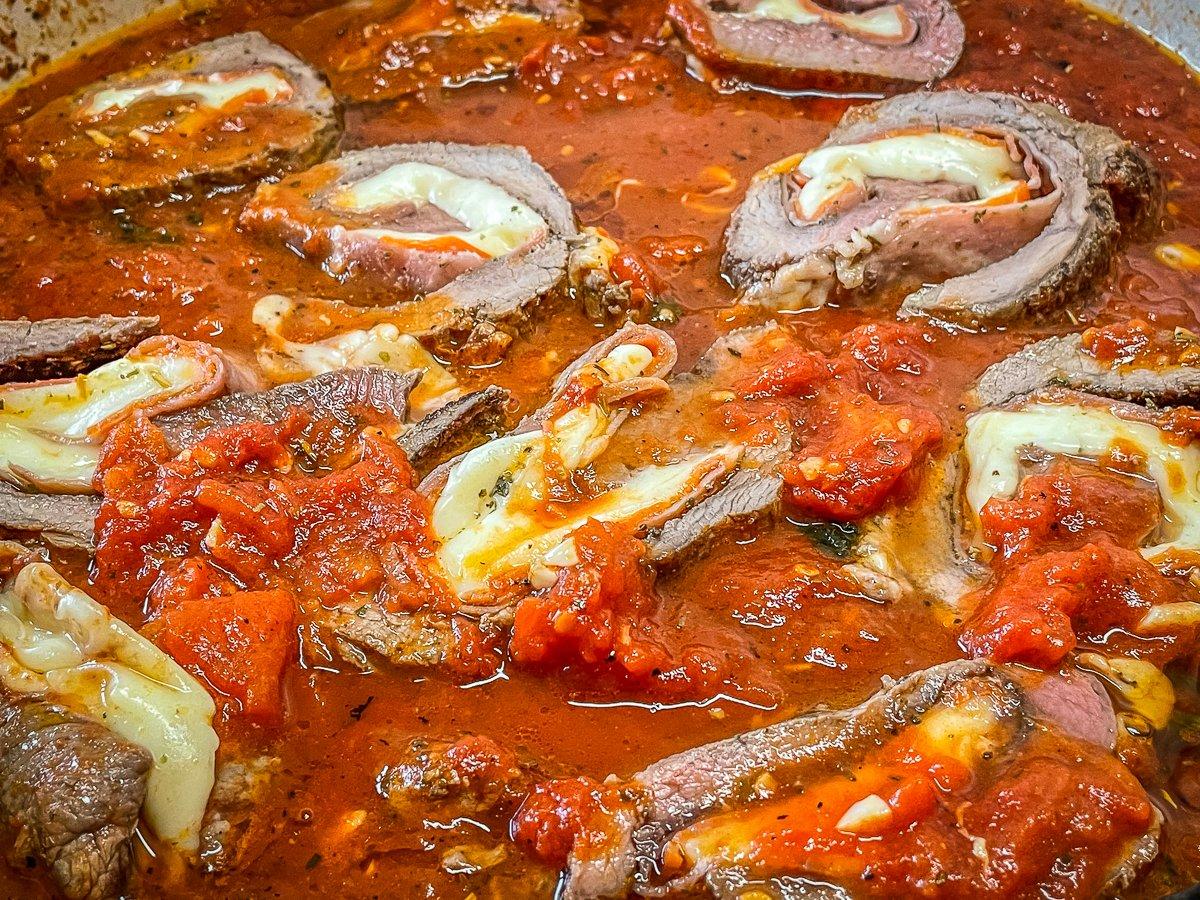 Spoon the sauce over pasta and top with a few medallions of backstrap. Sprinkle over additional julienned basil and shaved Parmesan cheese.