Squirrel and Pumpkin Slow Cooker Stew
The weather for most of us is finally starting to cool off. Leaves are donning their autumn brilliance and hunting seasons are upon us. Nothing says fall like a big bowl of hearty squirrel stew. Add pumpkin to that stew and you can almost smell October.
One of my favorite things about this recipe is the fact that it simmers all day in our Weston Realtree Slow Cooker for slow-cooked flavor without the work. As with all slow-cooked meats, you can build an extra layer of flavor by browning the squirrel in a skillet first. Don't worry about cooking it through; just use high heat and a bit of oil to get a nice, rich color on the surface. Brown the meat in batches so you don't overcrowd the skillet.
Really want to impress your dinner guests? Serve the stew in a hollowed-out roasted pumpkin. No, it isn't completely necessary, but it's a showstopper at the table and not that hard to do. Simply remove the top from small Sugar Pie pumpkins, remove the seeds and a bit of the flesh to form a bowl, rub them inside and out with a bit of olive oil (get the top, too, and roast it along with the bowl), sprinkle with salt and pepper, then roast on a sheet pan for about 30 minutes at 350 degrees. Don't overcook the pumpkins, as you need them to hold their shape to prevent the stew from leaking out.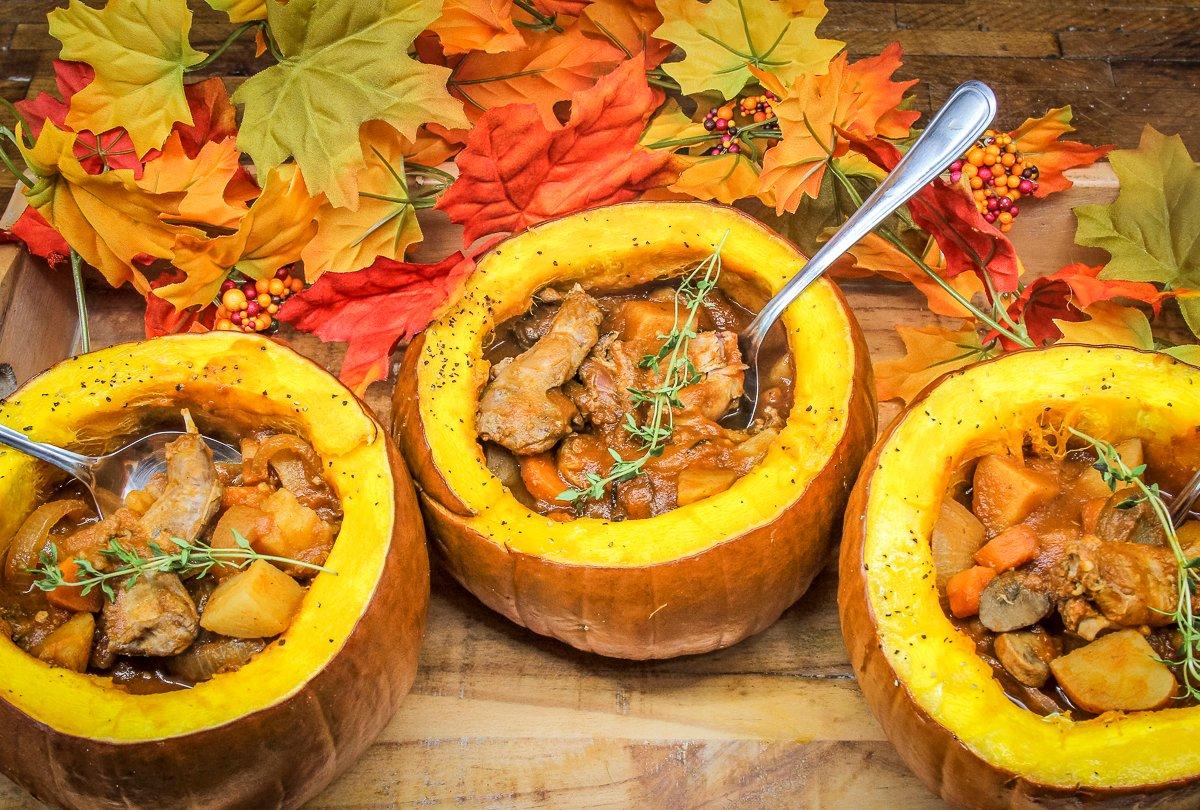 Ingredients
3 squirrels, quartered, rib bones removed from back section
1/2 teaspoon paprika
1/2 teaspoon salt
1/2 teaspoon pepper
Olive oil
3 cups cubed red potatoes
2 cups fresh pumpkin, peeled and cut into 1/2-inch cubes (or one 15-ounce can of pureed pumpkin)
4 carrots, peeled and sliced
4 garlic cloves, minced
1 large yellow onion, halved and sliced
8 ounces mushrooms, quartered or sliced
3 cups beef or venison broth
3/4 cup red wine
3 tablespoons tomato paste
2 teaspoons chopped fresh thyme, plus additional for serving
1/2 teaspoon dried thyme
2 bay leaves
1 sprig fresh rosemary
3 to 6 Sugar Pie (or other small) pumpkins, for serving, if desired
Cooking Instructions
As noted in the ingredients list, always remove the rib bones from squirrels intended for slow cooking by trimming them tightly against the loin meat of the back section. Those bones tend to fall apart into the cooking liquid, only to have to be picked out before serving. You don't lose much meat in a discarded squirrel rib, anyway.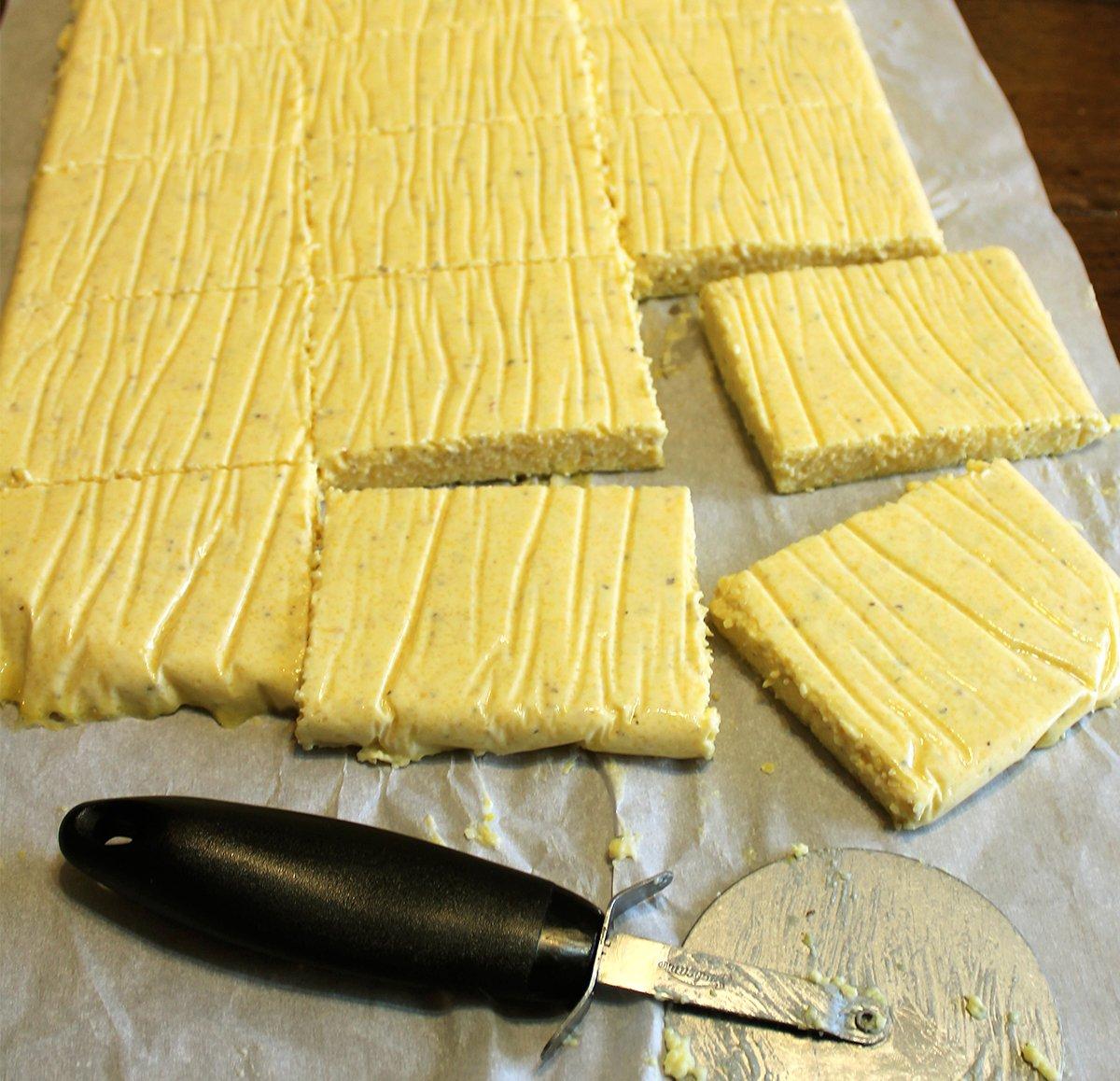 Start by sprinkling the squirrel with paprika, salt, and pepper. Heat a tablespoon or two of olive oil in a skillet over medium-high heat. Add the seasoned meat, in batches, and brown well, turning a few times to cook evenly on all surfaces. Move the browned squirrel from the skillet to the slow cooker. Repeat the process until all the meat has been browned.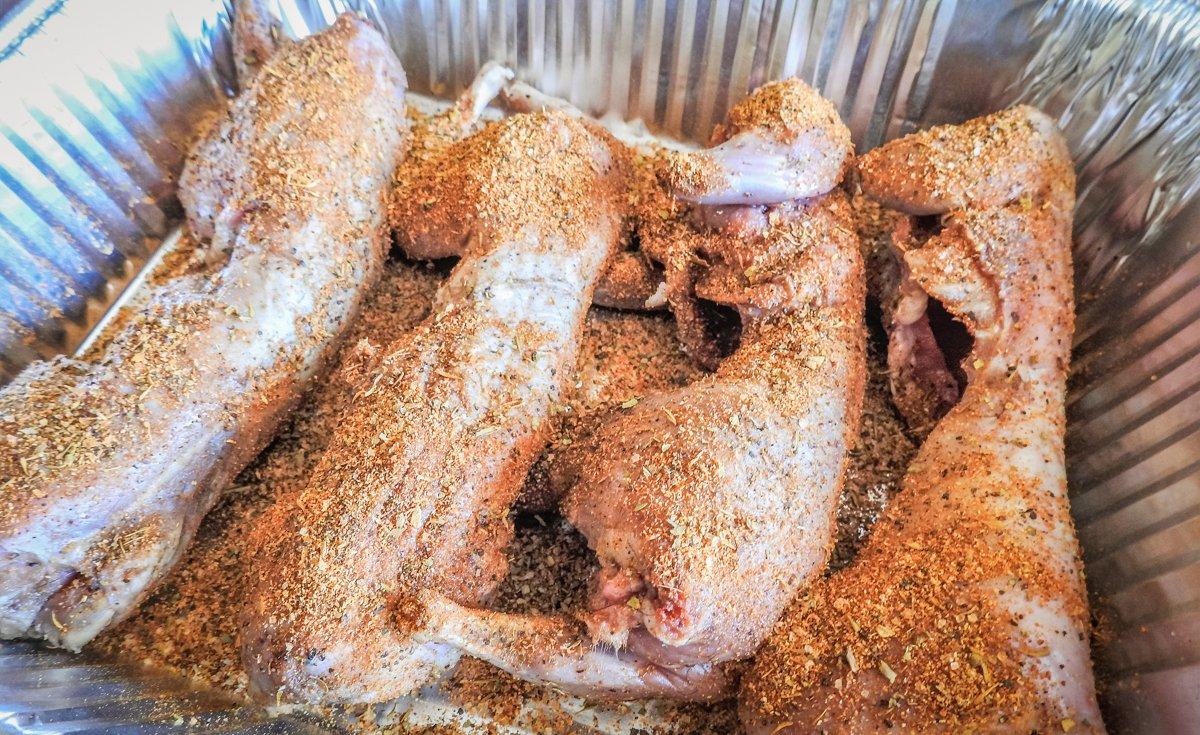 Add all other ingredients (except the small serving bowl pumpkins) to the slow cooker. Cook for 8 to 10 hours on low, or 4 to 6 hours on high. Stir well to blend from time to time. When the stew is nearly finished, prepare the small pumpkins for serving, if desired.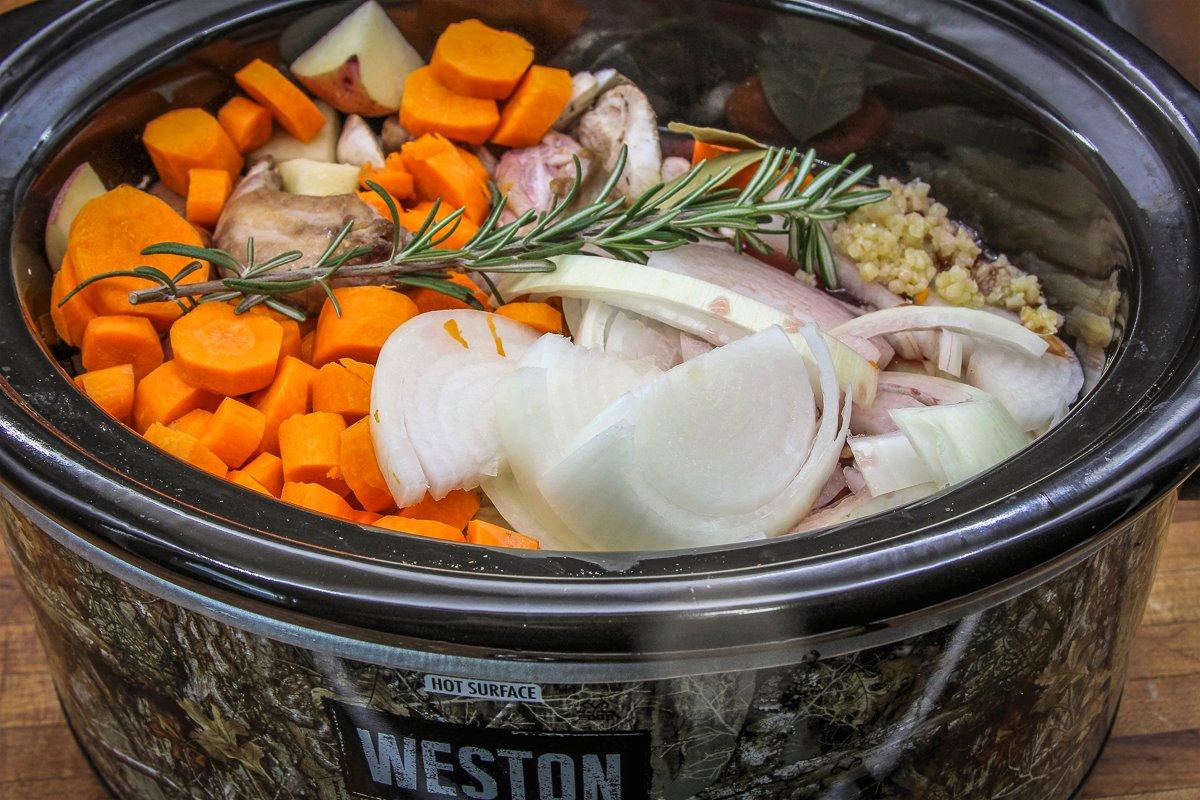 Once the pumpkin bowls have roasted, remove them from the oven and allow to cool for 10 to 15 minutes. Place each pumpkin bowl on a plate, then spoon it full of the stew. Serve immediately. Top with a sprig of fresh thyme for garnish, if desired.