A recent piece in Garden & Gun Magazine about the Savannah, Georgia, classic dish, Country Captain, inspired me to experiment. The original dish uses chicken with a blend of Southern ingredients, but adds a twist with curry powder, nuts, and raisins. The story behind the dish is that the trading port of Savanah blended flavors from around the world.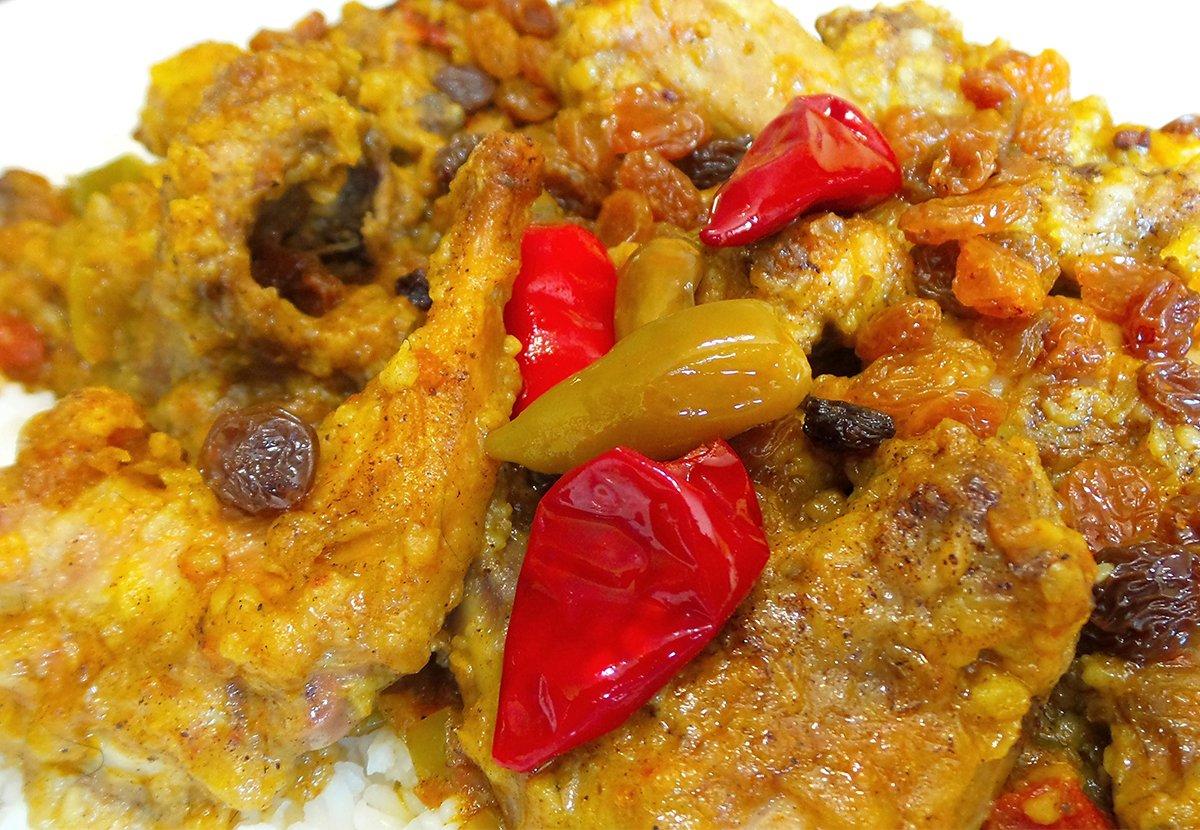 The additional fat was easy, it comes in the form of diced bacon, which also adds a layer of smoky flavor to the finished dish. The additional cooking time takes place in the oven, making a cast iron Dutch oven the perfect vessel for the dish. Start the dish on the stove top, then simply cover and move to the oven to finish the cooking process. Since the cooking time is increased, I added a bit more chicken stock than the base recipe calls for.
Traditionally, the dish to be served over rice with a variety of condiments. We tried crushed, roasted peanuts, raisins, bacon, sweet onion relish, and chili peppers for a blend of sweetness, spice, and salty flavor.
Ingredients
2 large or 3 small squirrels, dressed and quartered, seasoned with salt and pepper and dredged in seasoned flour
8 ounces bacon, diced
2 tbsp. unsalted butter
2 cups diced yellow onion
2 cups diced celery
2 cups diced green bell pepper
1 fresh hot chile pepper, seeded and minced
2 tablespoons curry powder
1 tsp. chopped garlic
2 bay leaves
15 ounce can of chopped tomatoes, with juice
2 cups chicken stock
salt and pepper
Condiments
Diced scallions
Chopped roasted peanuts
Seedless raisins
Sweet onion relish
Chutney
Crisp bacon
Pickled hot peppers
Serve over white rice
Cooking Instructions
Render the bacon in the Dutch oven until it is crisp. Remove bacon from pot and reserve. Brown the squirrel pieces in the bacon grease, in batches, until all the pieces are browned on both sides. Remove from pan and reserve on a warm plate. Don't worry about cooking the squirrel completely, just get it nice and brown all over.
Add the butter to the Dutch oven and add the onions, green peppers, and celery. Season well with salt and pepper. Cook for 10 minutes then add the curry powder. Continue cooking, stirring frequently for five more minutes or until the vegetables begin to soften and the onions become opaque.