Stir-Fried Elk Bowl With Quinoa
This quick and easy meal is perfect for dinner, with a few leftovers that make a great lunch the next day. The secret to super tender bites of elk is the marinade. Not only does this marinade add a lot of flavor, but it includes kiwi fruit, which contains an enzyme called actinidin, which tenderizes meat in a short time.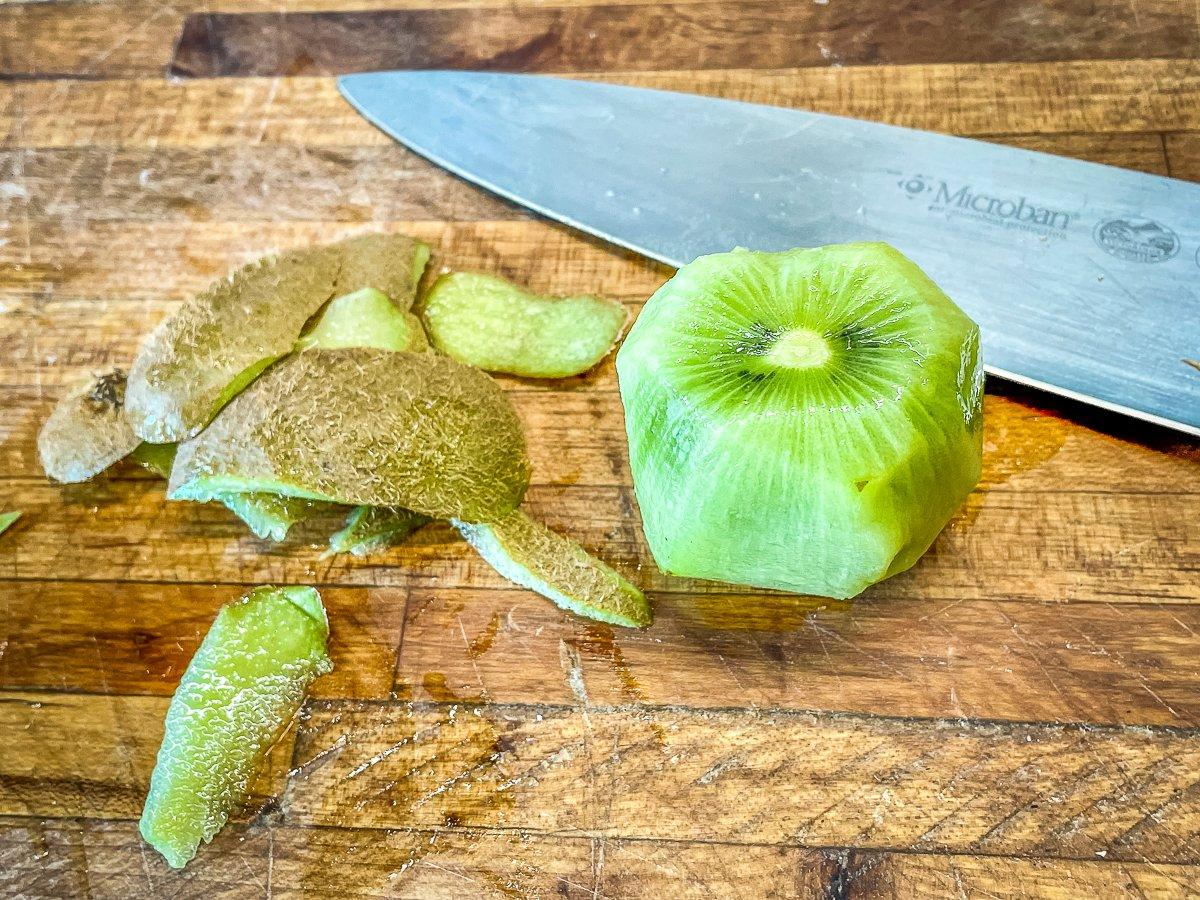 This marinade isn't just for elk; it works well with any red meat. I usually leave the meat marinating between 4 and 8 hours. If you go much more than 12 hours, the marinade can break down the meat too far, leaving it soft and mushy. I make the marinade in a food processor to fully incorporate the ingredients. Reserve a half cup of the marinade to use as a sauce in the finished dish.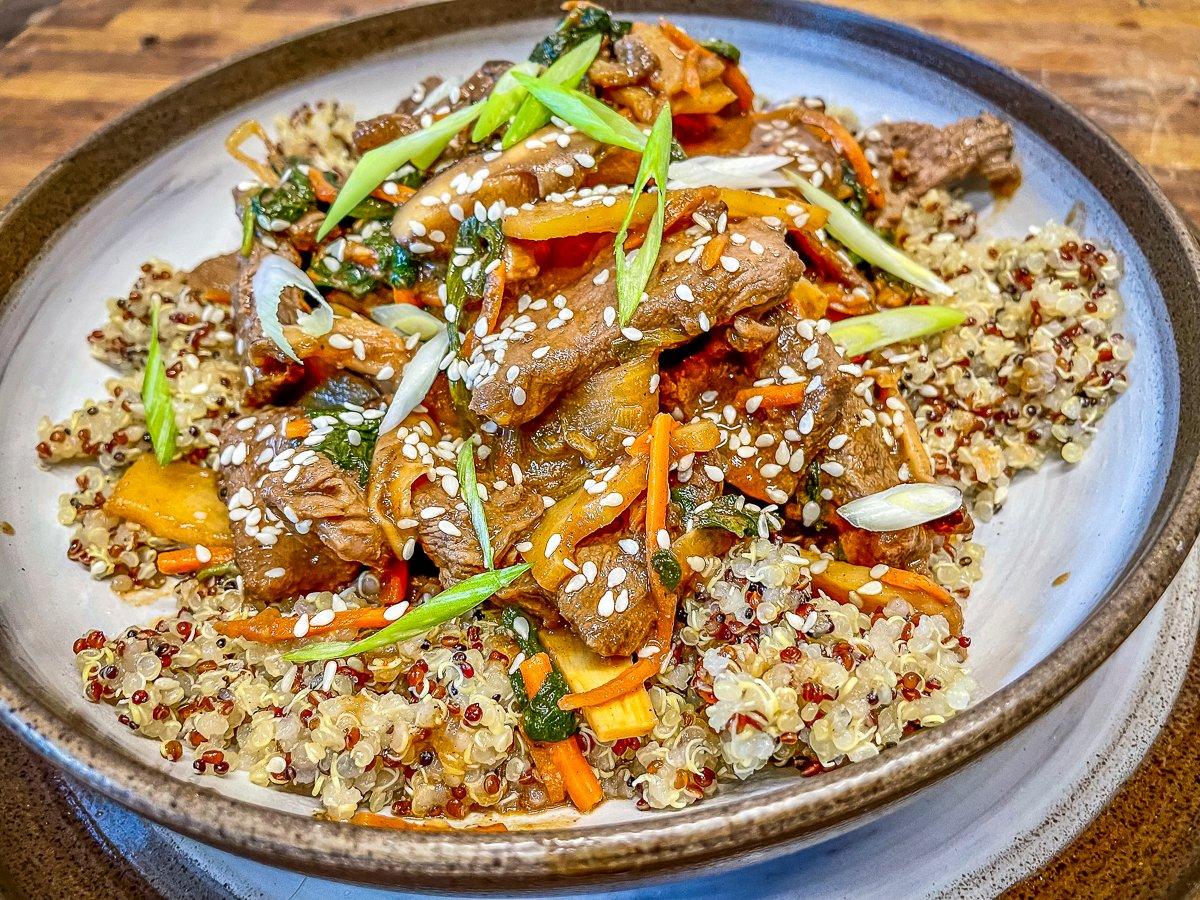 (Prep your meals Realtree style: Realtree 15x10" Bamboo Cutting Board & Serving Tray)
We like to eat this one with quinoa, but brown rice also works well. Cook this dish in a wok, a large skillet, or, my favorite, on an outdoor propane griddle.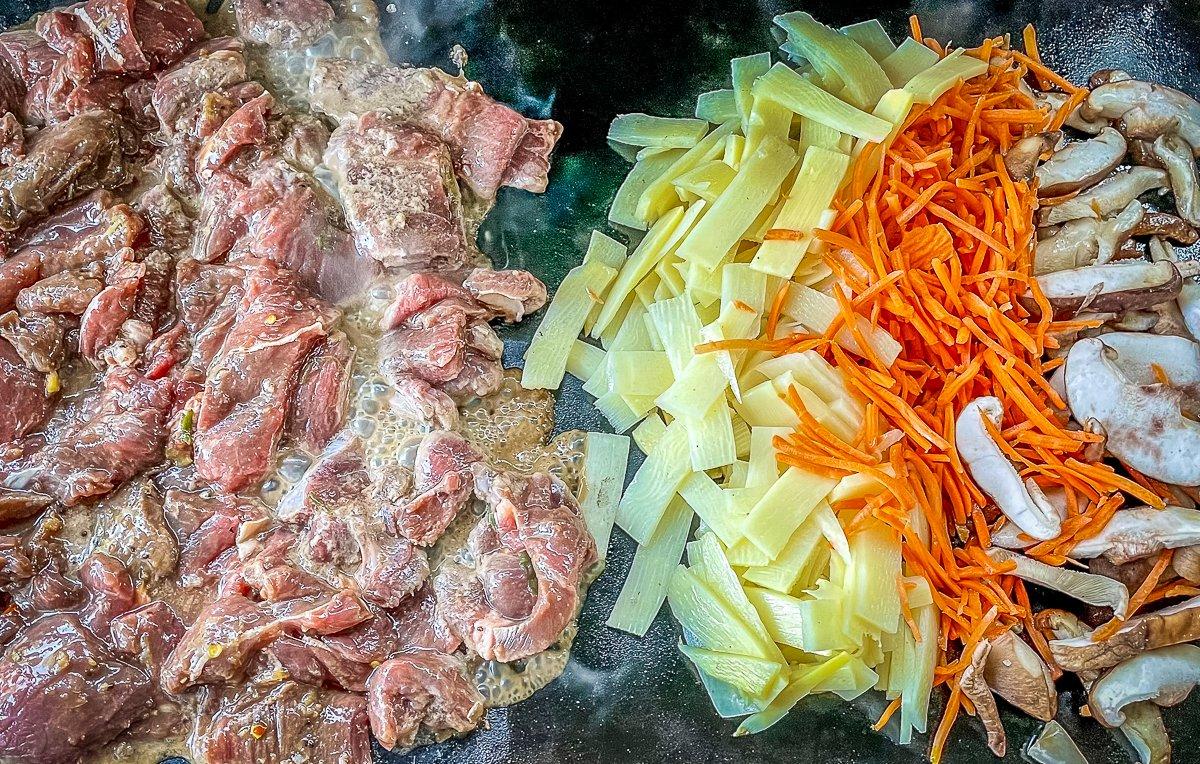 Ingredients
2 pounds elk backstrap, sliced thinly across the grain
8 ounces mushrooms, sliced
2 medium carrots, julienned
3 cups baby spinach
2 cans bamboo shoots, drained
2 tablespoons gochujang paste
3 cups quinoa, cooked
Sesame seeds and sliced green onion for garnish
Marinade
1/2 cup soy sauce
1/4 cup mirin or rice wine vinegar
2 tablespoons honey
2 tablespoons sesame oil
1 tablespoon fresh ginger
1/2 teaspoon salt
Pinch red chile pepper flakes
4 green onions, chopped
3 cloves garlic
1 kiwi, peeled
Cooking Instructions
Start by slicing the elk into thin, bite-sized strips. Always slice against the grain of the muscle for tenderness. Blend the marinade ingredients in a food processor or blender.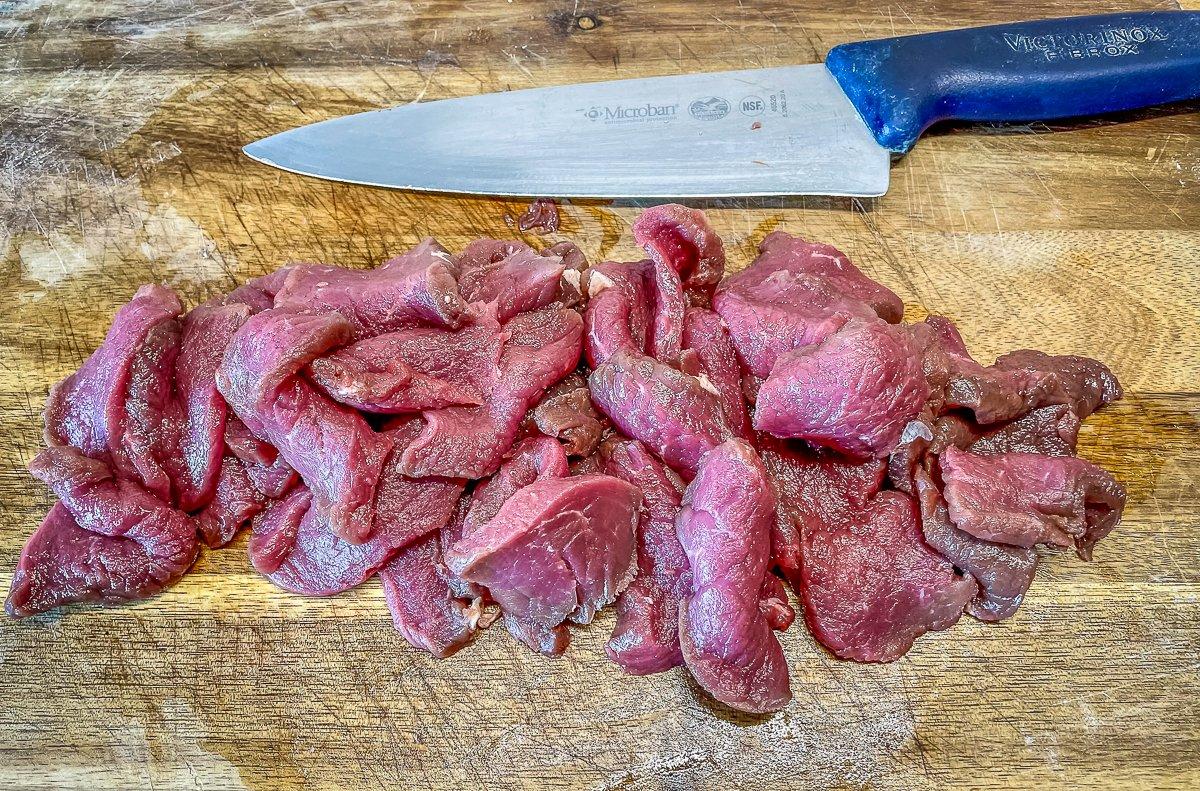 Reserve 1/2 cup of the marinade to use as a cooking sauce. Place the sliced elk in a zip-style bag and pour in the remaining marinade. Refrigerate 4 to 8 hours.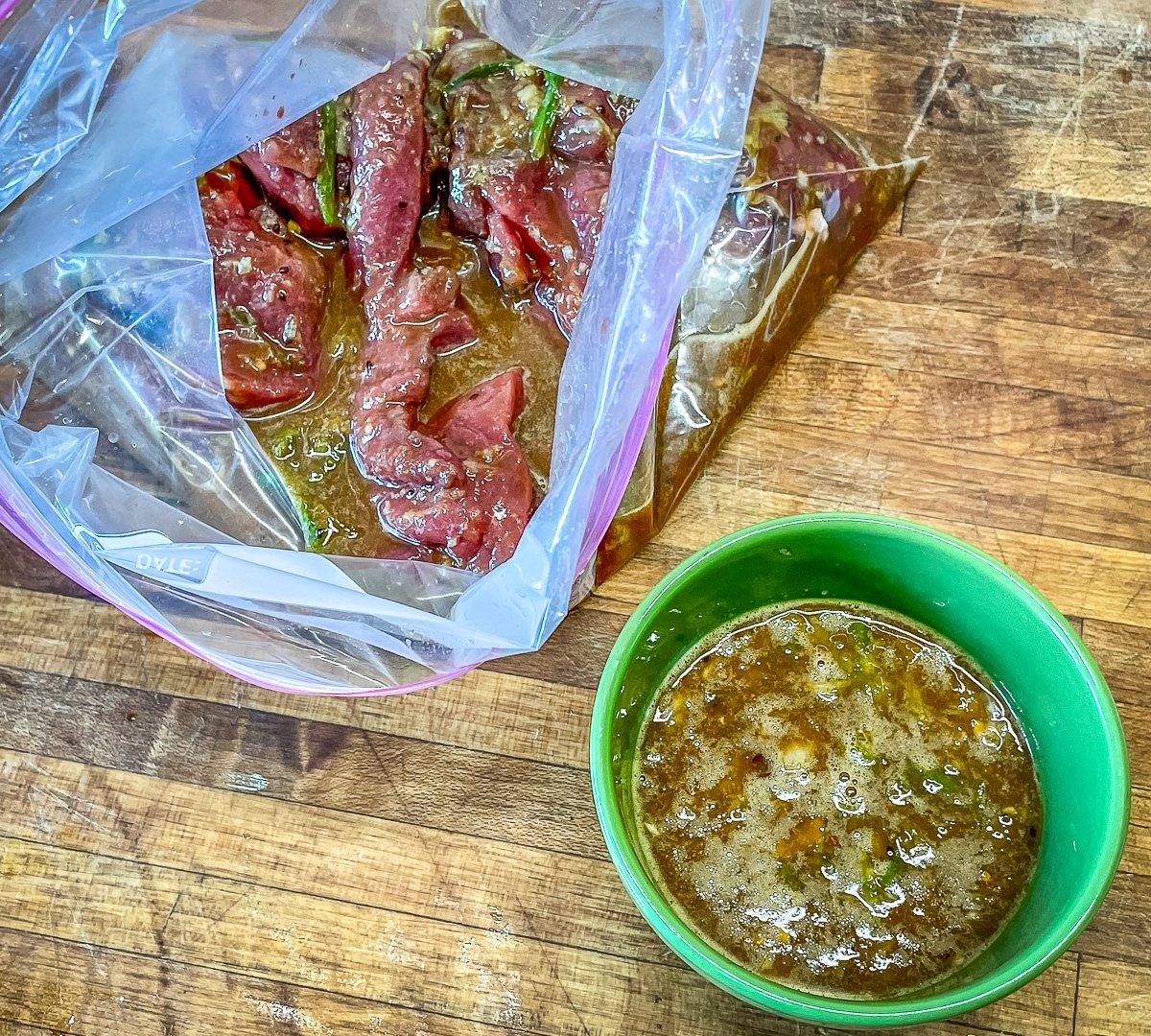 To cook, heat a large skillet, wok, or griddle to medium-high heat. Add the marinated meat, mushrooms, and carrots. Cook until the mushrooms and carrots are soft and the meat is just about cooked through.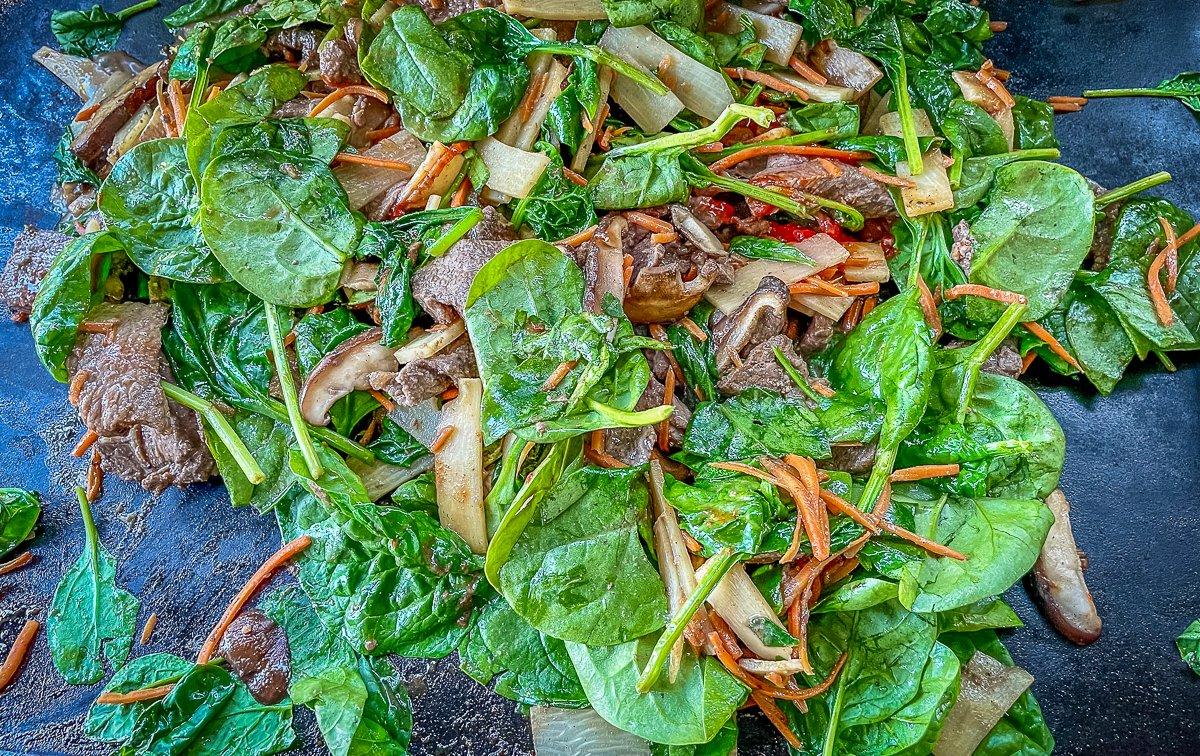 Add the spinach, bamboo shoots, reserved marinade, and gochujang paste. Continue cooking a few more minutes until the spinach has wilted. Serve over cooked quinoa and top with sesame seeds and julienned green onions.