Thanksgiving Stuffed Wild Turkey Roll
It's always nice to serve wild turkey for a Thanksgiving meal, but the super lean meat doesn't always lend itself to traditional roasting methods. This year, we'll serve ours rolled around a mushroom stuffing and grilled on our Traeger.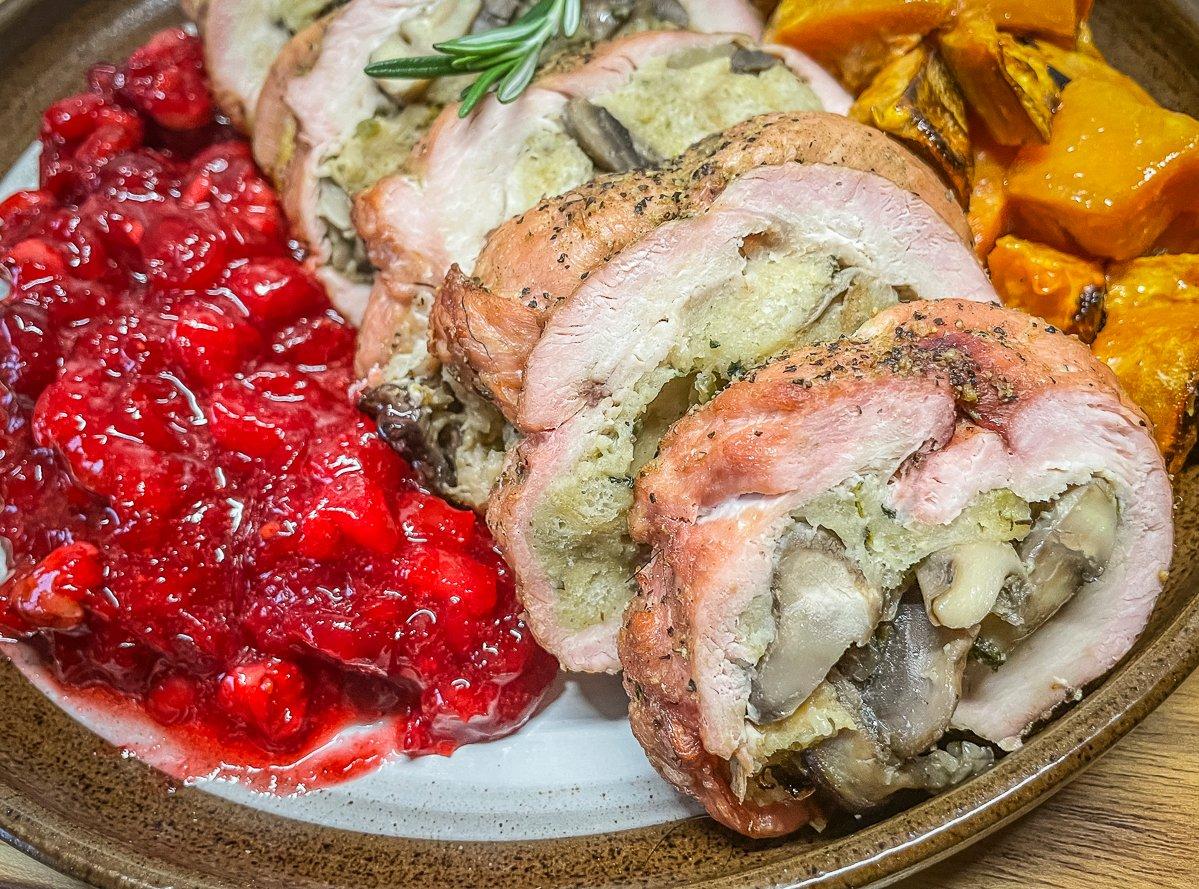 For the stuffing, we use a variety of mushrooms, whatever we can find in season or growing wild. You can fill in with standard grocery store button mushrooms if you wish, or use them entirely if that is what you have on hand. Sauté the mushrooms in butter until they have released all their moisture before adding them to the dressing. The stuffing for this recipe has just enough sourdough bread cubes to bind it together, but the real stars of the show are the sautéed mushrooms.
Ingredients
One side of a wild turkey breast, butterflied and opened into a flat sheet
1 1/2 teaspoons ground dried sage
1 teaspoon dried thyme
1/2 teaspoon dried marjoram
1/2 teaspoon dried rosemary
1/4 teaspoon coarse ground black pepper
1/4 teaspoon ground nutmeg
Mushroom Stuffing
6 tablespoons butter, divided
2 pounds assorted mushrooms, sliced
2 medium or one large leek, white portion, sliced and rinsed
1 tablespoon fresh sage, chopped
1 tablespoon fresh rosemary, chopped
1 tablespoon fresh parsley, chopped
1 1/2 teaspoons salt
2 cups sourdough bread cubes
1 cup chicken broth
2 eggs, beaten
Cooking Instructions
Start by butterflying the turkey breast into a flat sheet. Bring your knife one-third of the way up the side and slice parallel to the cutting board nearly all the way through the breast. Fold it open like a book. Starting at the center of the cut, repeat the process through the thickest side of the breast and fold open again, like a trifold letter. Use a meat mallet to pound the breast flat. Mix the seasoning ingredients and sprinkle half onto the surface of the turkey breast.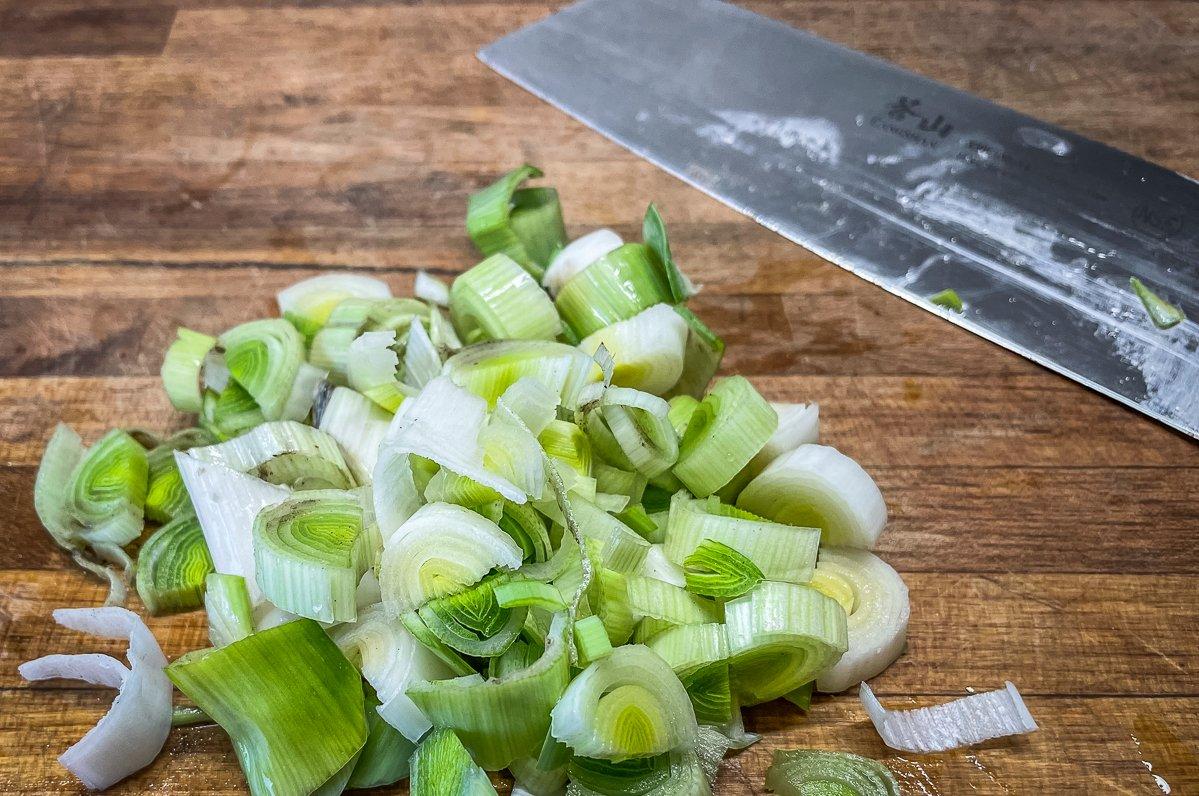 In a large mixing bowl, add the sautéed mushroom mixture, bread cubes, and chicken broth and stir gently until the bread has soaked up most of the moisture. Pour in the beaten eggs and stir gently to combine. Melt the remaining butter and pour into the dressing. Mix well.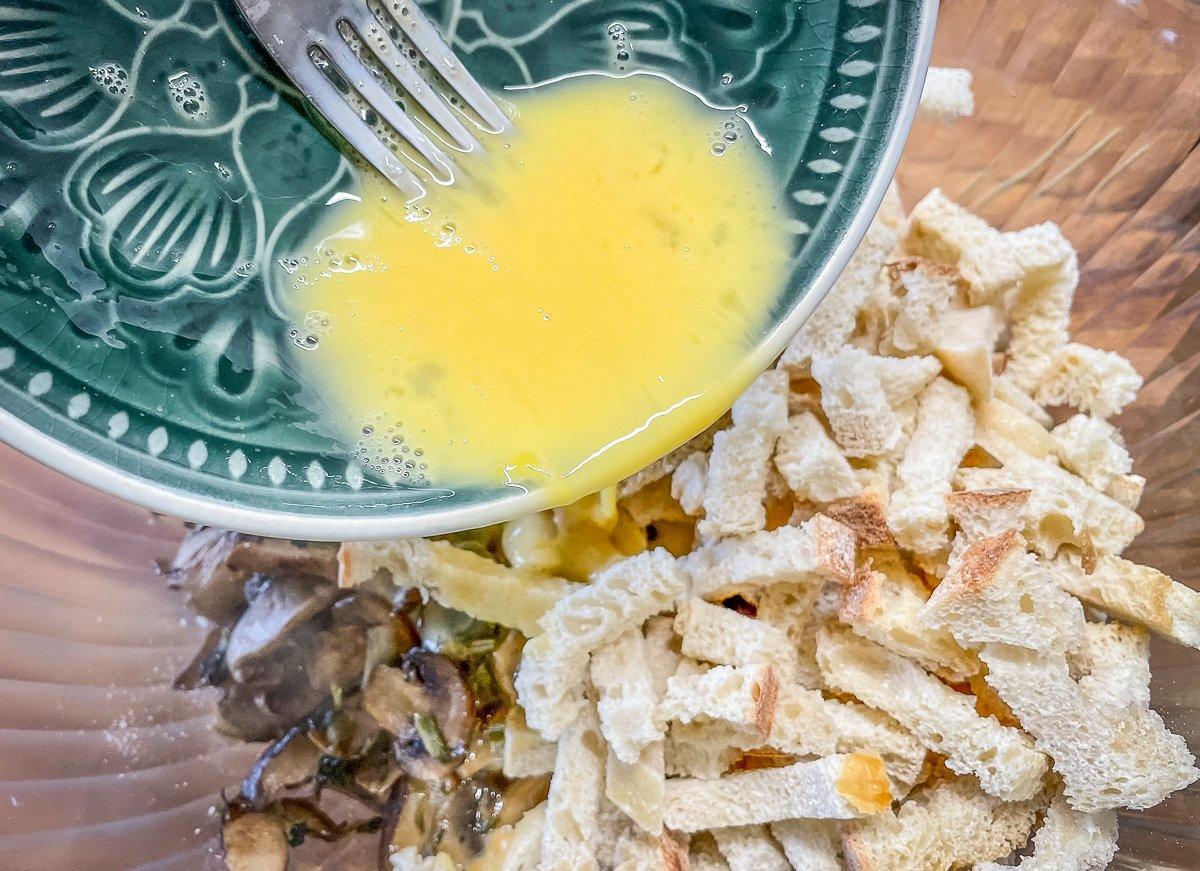 Set your Traeger grill at 350 degrees. Grill the turkey for 45 to 60 minutes, or until the thickest portion of the meat reaches 155 to 160 degrees.